News
Greg's Speed Shop Provides Symco Wristbands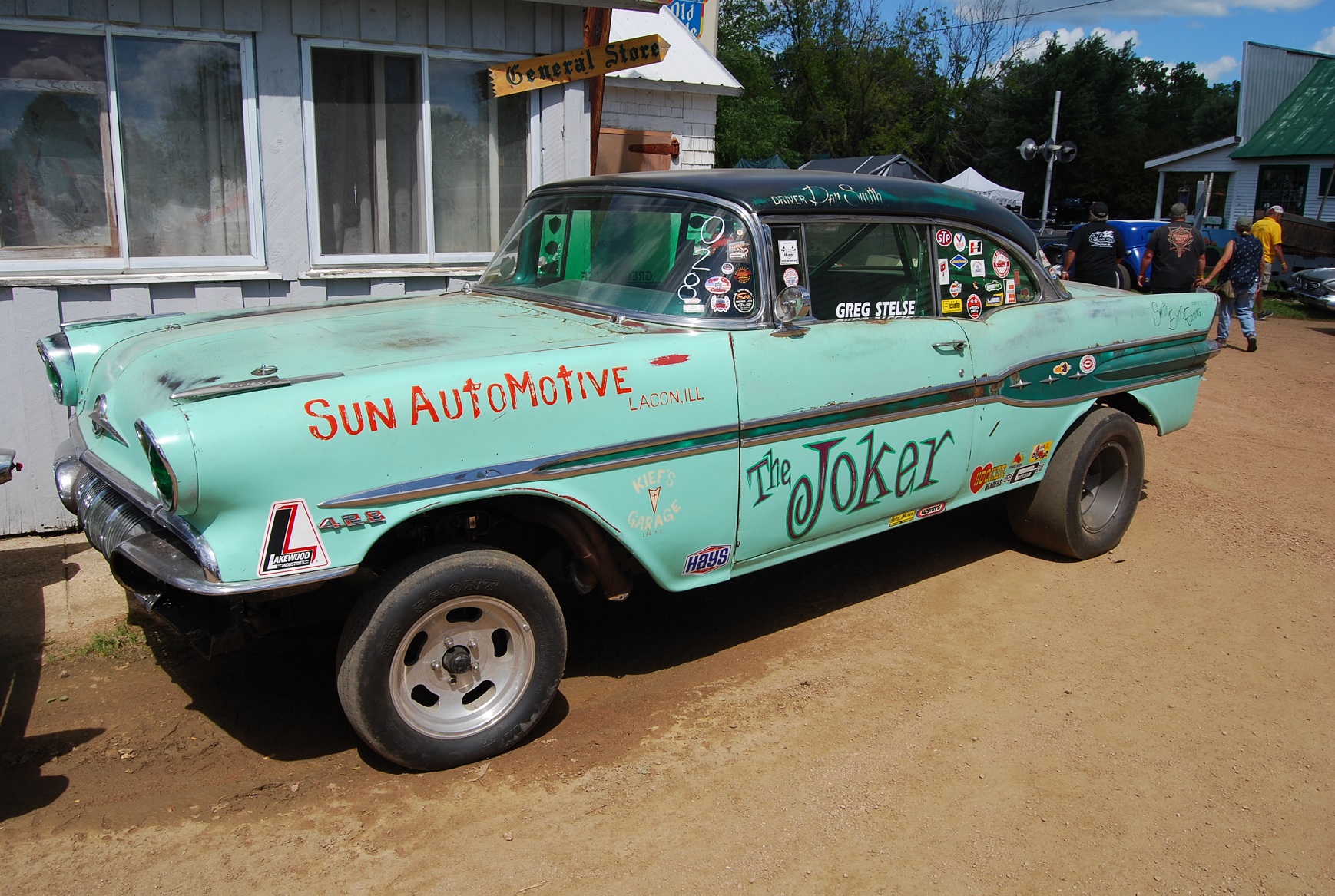 If the hot rodders attending the Aug. 9-10 Symco Hotrod & Kustom Weekender never heard of Greg's Speed Shop before, they know about it now. The fast-growing Waupaca, Wisconsin, hot rod and classic car shop provided wristbands for the show's attendees and the Greg's Speed Shop name was on every single one of them.
Shop owner Greg Stelse also had his 1957 Chevy and 1957 Pontiac drag racing cars on display at the show. Displaying it's racing scars and old school appearance, the Green Pontiac Star Chief called The Joker is another rolling advertisement for the car-building business that's active in both the local and national hot rodding worlds.
Vintage camping enthusiasts Vicki and Rich Tessmer of Weston, Wisconsin, were the lucky winners of the Symco raffle prize, a purple Advance-Design Chevy pickup with a brand-new crate engine that came complete with a written guarantee. Normally a Pontiac buff, Rich said he would have to get a hitch so he can pull his old-fashioned Serro Scotty Sportsman trailer with the Chevy pickup.
It was a sunny weekend at Symco for the Tessmers and many others. The weather was picture perfect and that brought out cars, campers and a big crowd. Symco 2019 had it all from pin-up girls to mini-bike drags. Rockabilly bands provided music and barbers were on hand to provide '50s-style haircuts. There was a vintage clothing for sale, too.
The show took place in Unionville, a tiny tourist village constructed by the Union Thresherman's Club that has such buildings as a post office, fire station, tavern, blacksmith's shop and a church where couples can get married in old-time style. It's like Disneyland for hot rodders who also love the old tractors tooting around the grounds.
Symco 2019 featured more pin-up girls, more dry lake roadster style hot rods, more old pickup trucks and more fun than ever. Also evident at Symco was the fact that non-mainstream cars that have that something different flavor are gaining traction in the sport. Silver Streak Pontiacs and box-on-box Mopars are showing up in droves.
The swap meet across from the main show was also hopping with lots of people shopping for oddball items such as Mountain Dew memorabilia and balloon tires for their vintage bicycles. There were plenty of vehicles, parts and bicycles for sale, too.