Advertise with THE SHOP
Tools to power your brand and drive sales to qualified specialty automotive aftermarket shops…
Reach qualified buyers in the specialty automotive aftermarket industry all year long. The monthly print publication is delivered to a certified B2B audience, including 15,000 qualified print subscribers. THE SHOP's daily eNewsletter is delivered daily to more than 20,000, while the website – theshopmag.com – averages more than 40,000 page views per month.
Product Lines
Street Performance/Hot Rod/Muscle Car
Truck Bed Accessories
Engine Building/Machine Shop Services
Off-road/4×4 Products
Racing Products
Detailing Products/Services
Exhaust Fabrication/Products
Front End, Body & Rear
Wheels/Tires/Wheel Accessories
Sport Compact/Import Tuning Products
Vehicle Graphics and/or Wraps
Dynamometer/Tuning
In-Vehicle Electronics/In-Car Entertainment/Navigation
Suspension Systems/Components
Interior Trim/Seating
Fabrication Services/Chassis
Window Film/Paint Protection Film/Tint
Diesel Performance
Magazine Advertising
Perfect for building and reinforcing brand awareness and aligning your brand with core industry content.
Verified Suppliers Guide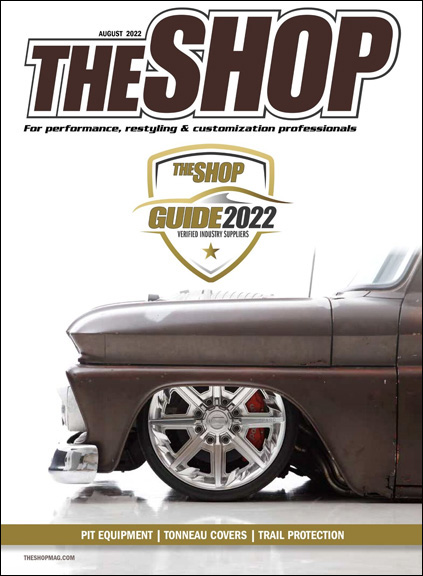 Join THE SHOP Verified Suppliers Guide of more than 500 verified industry suppliers.
The companies listed in this directory are recognized as legitimate suppliers with products or services applicable to the industry and are in good standing with THE SHOP/NBM/National Business Media, Inc. The information contained herein was collected directly from each company as well as other sources deemed reliable. We encourage users to verify information before making final decisions.
» View Verified Suppliers Guide
» Create Your Verified Suppliers Guide Listing
Have Questions?
Feel free to contact any one of our service team members directly: