News
What's Under the Hood of the 2021 Ford Bronco?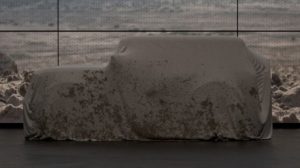 The official reveal of the 2021 Ford Bronco is just around the corner, with the first look scheduled to take place during a special debut event in March, followed by the New York Auto Show in April. But there are still plenty of unknowns regarding the specifications of the revived off-roader.
While it has been confirmed that the Bronco will be built on the same platform as the Ford Ranger, CarBuzz has reported that the two vehicles will not share the same powerplant.
In lieu of the 2.3-liter EcoBoost turbocharged inline-four, producing 270 hp and 310 lb-ft of torque, the manufacturer is opting to use the F-150's 2.7-liter twin-turbo V6, which puts out 325 hp and up to 400 lb-ft of torque, according to the report from CarBuzz. That would top the Jeep Wrangler's most powerful option, a 3.6-liter V6 with 285 hp and 260 lb-ft of torque.
According to Automotive News, Ford informed dealers at the NADA show that the official reveal with take place sometime in March.
See the full report from CarBuzz here.