News
UTI, BMW Partner to Prepare Service Members for Civilian Careers as Auto Techs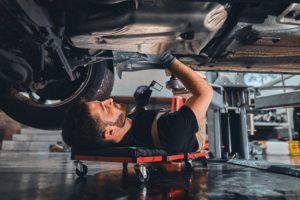 Universal Technical Institute and BMW of North America are partnering to add a program for service members at the U.S. Army's Fort Bragg, N.C. base, the technical school announced.
The BMW MSTEP (Military Service Technician Education Program) provides training for new career opportunities for service members transitioning from military service back into civilian life. The BMW MSTEP program was first launched at Marine Corps Base Camp Pendleton in Southern California in 2018, making BMW the first premium automotive brand to open a workshop and training program for military service members directly on a U.S. military base.
The 16-week BMW technical education program features a specialized on-base curriculum and hands-on technical training on diagnostics and technologies unique to the BMW brand. Upon graduation, BMW assists the new technicians with employment at authorized U.S. dealers.
"BMW is honored to be working with the U.S. Army, helping to provide service members with great professional opportunities to support their transition back into civilian life," said Claus Eberhart, vice president, aftersales, BMW of North America. "The skillset these men and women are bringing to our dealerships is invaluable. Aside from their unwavering team spirit and discipline, many are already highly specialized in some of the most sophisticated technologies, giving them all the right foundations for a successful automotive career. We are proud to be able to give back to U.S. service members through our MSTEP program."
"The Army's Transition Assistance Program offers soldiers who are preparing to enter the civilian workforce the opportunity to learn or enhance their skills and knowledge in a career outside the military," said Fort Bragg Garrison Commander, Col. Scott Pence. "We are thankful for every opportunity provided to our service members that gives an extra advantage to be competitive in their search for a rewarding profession. There is no doubt that with the assistance of the Military Service Technician Education Program, our transitioning service members will be successful in finding employment in a trade they enjoy."
"We're honored to be supporting the brave men and women who serve this country, and to partner with a highly regarded manufacturer like BMW," said Jerome Grant, CEO of Universal Technical Institute. "With the skills they gained in the military, and the hands-on training and the backing of BMW, a true industry innovator, these service members have a promising future. As these service members transition to civilian life, we are gratified that they will be offered jobs at BMW dealers."