News
Two HROT Teams Qualify at Classic Auto Show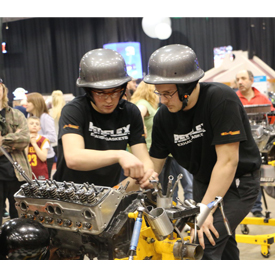 The Hot Rodders of Tomorrow Engine Challenge's second event of the season was held March 2-4 at the second annual Classic Auto Show in the Los Angeles Convention Center.
Two teams from the Los Angeles area qualified for the 2018 Dual National Championship Playoffs, set for November and December at the SEMA Show and the PRI show, respectively.
To qualify for the Dual National Championship, a team must finish disassembling and reassembling a small-block Chevrolet engine in under 33 minutes, including penalties, according to the organization.
Team Motive Gear of Katella High School NOCROP in Anaheim, California won first place with a time of 26:43. Team Speed Pro of Rancho Alamitos High School in Garden Grove, California took second place with a time of 31:05.
The Hot Rodders of Tomorrow Junior Engine Challenge also had its second event at the Classic Auto Show. During the three-day show, Hot Rodders of Tomorrow assisted 88 youngsters with taking apart and rebuilding small Briggs and Stratton engines, according to the organization.
Teams in the Junior Engine Challenge are comprised of two individuals, with one team member being between five and 18 years of age. Together they must completely disassemble and reassemble a complete single cylinder OHV engine, utilizing only basic hand tools. According to the organization, the premise of the contest is to help youngsters develop great communication skills and self-esteem, along with great problem-solving skills and an understanding of internal combustion engines.
Alex George from Hedman Performance brought his family to see what the buzz was about regarding the Junior Engine Challenge. "I had a great time, and so did my kids. Peyton had an absolute blast tearing down the 206. She did it once with me and once again with Ryan. The following day she was pulling me by the leg to get into the garage. It was a real eye opener to watch those kids' gears start to turn."
For more information, visit HotRoddersofTomorrow.com or connect with them on social media.
For additional information about starting a team or about sponsorship opportunities, contact Rodney Bingham at RBingham@hotroddersoftomorrow.com or call 815-722-5460.