News
TMI Names Winners of the 2023 TRIM Awards
Honors celebrate excellence in automotive interior design…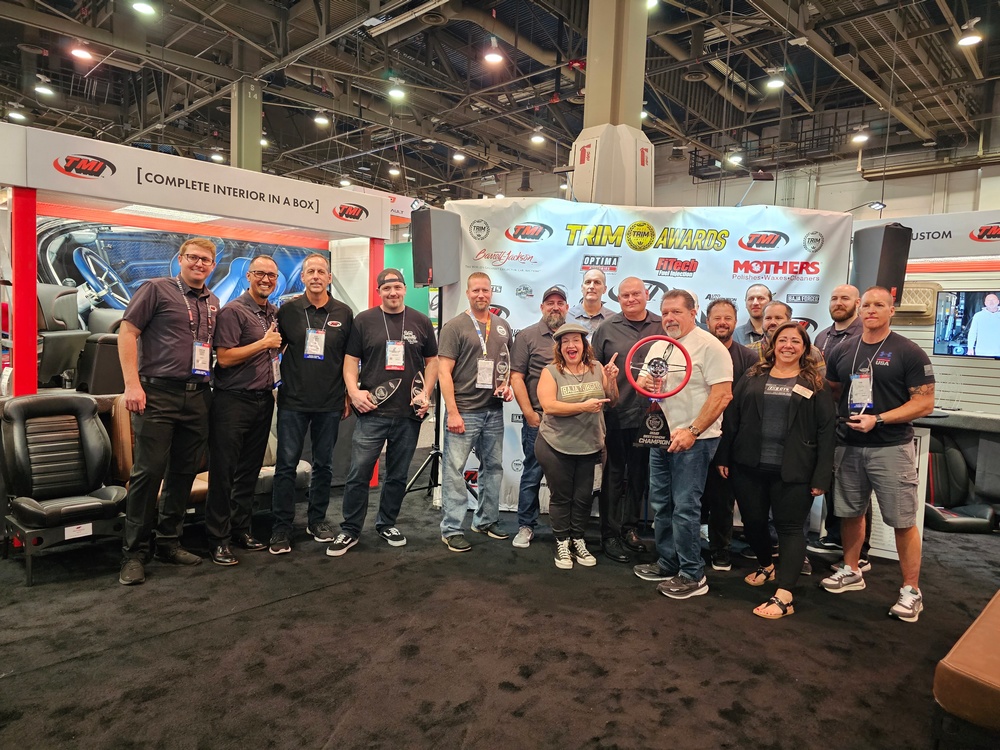 In a celebration of craftsmanship and innovation, the second annual TMI TRIM Awards at the 2023 SEMA Show showcased the pinnacle of automotive interior design.
Awarded by TMI Products in several categories, the awards honor the "hard work of builders who've demonstrated exceptional skill and creativity in crafting interiors that captivate and inspire," the company states.
A PLATFORM FOR EXCELLENCE
The TRIM Awards, created by TMI Products, were designed to provide builders with an opportunity to showcase their talents on a grand stage. The initiative expanded into a four-stop Road Show, culminating in the final awards ceremony at the 2023 SEMA Show.
Ross Berlanga, director of marketing for TMI Products, expressed the company's commitment to giving back to the aftermarket industry by creating an aspirational platform for builders to target.
"The TRIM Awards aim to recognize the best interiors for the builders, regardless of whether TMI interior products were used. We wanted to ensure that excellence in craftsmanship receives the acknowledgment it deserves," stated Berlanga.
EXPERT PANEL DECISIONS
The TRIM Awards' integrity is upheld by a panel of six independent judges, each with decades of experience in the automotive industry. Their combined expertise, amounting to hundreds of years, ensures that only the absolute best interiors are acknowledged.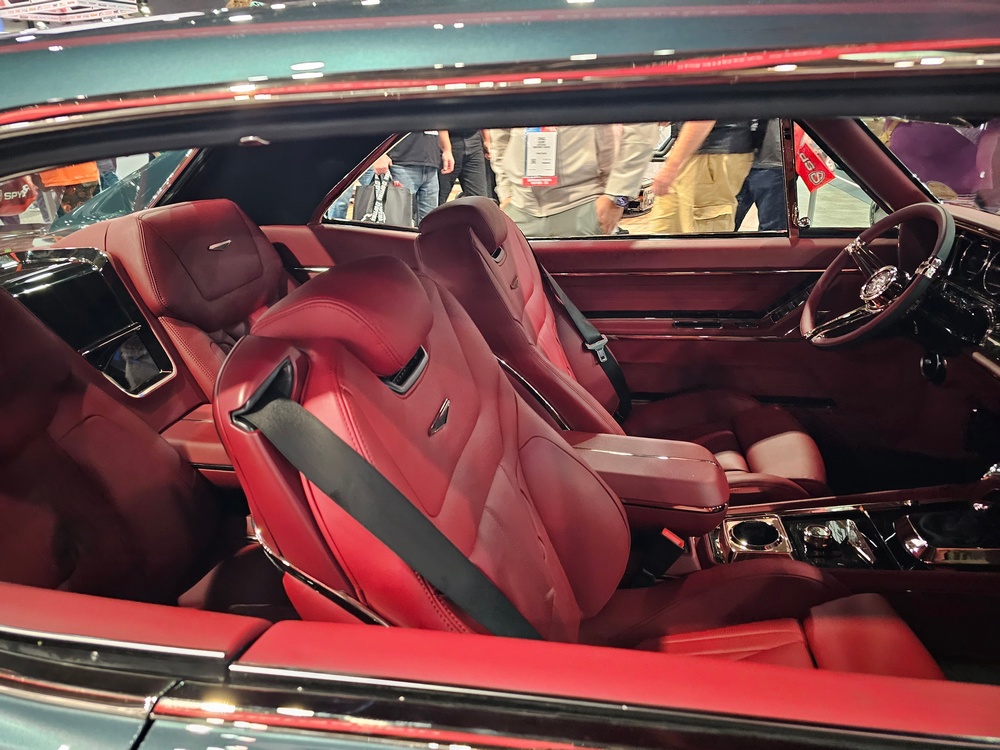 WINNERS ACROSS CATEGORIES
The TRIM Awards featured various categories, highlighting the diversity and creativity of automotive interiors. Some notable winners include:
Best TMI Truck Interior
Winner: Dana Estes, 1969 Chevrolet C10 Stepside
This C10 made the long haul from SoCal to Las Vegas as the TMI TRIM Awards Road Show winner. This truck with a custom gray paint job with pearl metallic flake, featured a TMI 60-inch Deluxe Sport Bench with matching gray leather and black suede inserts that matched the molded door panels, dash pad, headliner, carpet kit and a custom speaker box.
Best TMI Car Interior
Winner: JD Rudisill, 1969 Chevrolet Camaro
This Finale Speed Camaro packs a punch from bumper to bumper with its all-carbon fiber body covered in a custom red candy paint job. This Camaro has a supercharged LT4 under the hood, so the interior needed to match the car's performance. Rudisill chose a pair of TMI Pro-Series Universal Sport-SS Low Back Seats along with matching door panels, dash pad, headliner and universal console.
Best Full TMI Interior
Winner: Rocky Troxell, 1967 Chevrolet Camaro
Troxell had a vision for his Camaro–an amazing restomod build. He chose a complete TMI interior comprised of everything for the first-generation Camaro including Pro-Series Universal Sport VXR Low Back bucket seats in the front with matching rear seat, door panels, carpet, floor mats, one-piece headliner, dash pad, console and even a trunk kit all stitched up in Distressed Brown leather with dark brown inserts and black grommets.
Most Creative Interior
Winner: Rodger Lee, 1967 Ford Mustang Fastback
This amazing build was the 2023 Goodguys Street Machine of the Year winner. The modernized Mustang took inspiration from both old and new, with a red and black interior that is a next-level combination between a Ford GT40 and a Shelby GT500. It's through this fusion that the car was named DS-500R.
Best Color Matching Interior
Winner: Cody Nebeker, 1970 International Travelall
This mint green build was clean, classy and flowed perfectly, adding modern updates to a classic SUV. The brown/tan plaid inserts paired up with green stripes throughout the tan interior grabbed the judges' attention with a level of detail throughout the interior that included a matching rear vintage ice chest.
Best Custom Car Interior
Winner: Cody Nebeker, 1969 Chevrolet Camaro
This Ice Blue Camaro with its bright white interior instantly demanded the judges' attention. Drawn to the unique white hexagon-shaped stitching that went throughout the interior, the custom center console and door panels fit right in on this showstopping ride.
Best Custom Truck Interior
Winner: Mike Barcia, 1996 Chevrolet Silverado C3500
This slammed dually aka "No Compromise" showed great attention to detail starting with the cat-eye front clip. The saddle brown interior includes four custom bucket seats separated by a full-length center console that runs the complete length of the crew cab. This interior set the bar and was noticed.
Fan Favorite
Winner: Alfredo Rios, 1970 Chevrolet C10
This winner was voted on completely online by followers of the TRIM Awards. It was close, but the fans chose this C10 with its saddle brown leather race seats and matching door panels that contrasted the custom blue paint in all the right ways as their favorite.
Best Of Show Champion
Winner: Stephen Aguilar, 1967 Pontiac GTO ("Twisted GTO")
The judges agreed on this Best of Show champion, as the amount of fabricating and work that went into the build was over the top.
This GM A-body was built by Sean Smith Designs and named "Twisted GTO." Its 427 Dart, LS-based, Whipple-supercharged engine was painted to match the interior. The judges loved the color theme carried throughout this European-designed, three-year build.
Everything inside was handcrafted by Sew Cal Interiors to achieve a very custom interior that all started from 3D scans that turned into 3D modeling. The digital process gave the opportunities for refined shapes to create classic-meets-modern amenities such as power windows, modern touchscreen stereo, and climate control.
When the judges realized not only the attention to detail with the upholstery but the sheer amount of design work that it took to create this Goat, they all agreed this was the best interior of the SEMA Show.
ACKNOWLEDGING THE JUDGES
TMI utilized a team of independent and expert judges with decades of automotive aftermarket experience:
Kevin Oeste: V8 Speed & Resto Shop, and the voice of SEMA 2023
Sean Holman: Co-host of The Truck Show podcast and Use For Adventure agency
Sara Morosan: 2021 SEMA Person of the year, multi-Ford Design Award winner, and LGE/CTS Motorsports
Theresa Contreras: PPG brand ambassador, multi-Ford Design Award winner, and Baja Forged
Marcel Venable: Co-owner of Auto Revolution, Car Guy Confessions, OBS Clash
Jason Mulligan: Co-owner of Auto Revolution, Car Guy Confessions, OBS Clash
The TMI TRIM Award winners all received invitations to the 2024 Barrett-Jackson Cup in Scottsdale, Arizona, as well as prizes from Mothers Polish, FiTech Fuel Injection and OPTIMA Batteries.