News
Petersen Museum Revives Podcast, Expands Digital Programming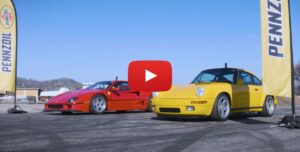 The Petersen Automotive Museum is expanding its roster of digital content with a new video series and the return of its CarStories podcast, the museum announced.
The new video series, "Ultimate Supercar Showdown," recently premiered on the museum's YouTube page. The first episode, hosted by Doug Demuro, pits the world's best supercars from the 80s-90s against each other, including the RUF Yellowbird and Ferrari F40 for a race on a private airstrip, the museum said. New episodes will premiere every other Saturday with additional supporting content throughout the week, the museum said.
This new programming is in addition to the return of the museum's automotive podcast, "CarStories," which premieres twice a week on Spotify and Apple. Recent episodes of the podcast featured automotive influencer Daniel Mac and artist Daniel Arsham, whose exhibit "Arsham Auto Motive" is currently on display at the Petersen.
"Our mission is to preserve the history of the automobile for generations to come," said Petersen Executive Director Terry L. Karges. "This series will give automotive enthusiasts a platform to stay up to date with the ever-changing automotive industry."