News
Lippert Previews SEMA Show Builds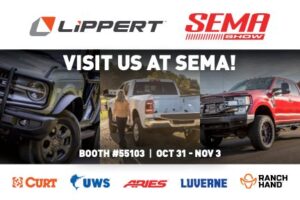 Lippert Components will have four truck builds on display at the 2023 SEMA Show, the company announced, each with differing applications to showcase its Ranch Hand, CURT, ARIES, LUVERNE and UWS brands.
Located in the Lippert booth (#55103), the four distinct build themes include the Overlander, which comes as an outfitted Ford Ranger, the Street Cruiser as a Chevrolet Silverado, the Work Truck as a Ram 2500 and the RV Hauler as a Ford F-350 dually.
The Ford Ranger Overlander build build includes a Pro Series front grille guard, ActionTrac powered running boards and 2-inch LED cube lights from ARIES. The bed will be outfitted with the new CURT Xpedition Series truck bed rack with 5-ft bed-length Molle panels. Atop the rack sits the Barracks rooftop tent. Also included in the Overlander build is a UWS dog box and CURT towing hitch with a 6-inch adjustable ball mount.
The Chevy Silverado Street Cruiser build will feature protection from the Ranch Hand Midnight series, showcasing the Midnight front bumper with full grille guard, rear bumper and running steps. For storage the Street Cruiser will be outfitted with side mount and crossover toolboxes from UWS, as well as a full light setup from ARIES, which will include 30-inch and 10-inch LED light bars along with 2-inch LED cube lights. The Street Cruiser will also include a full towing setup from CURT, with the Rebellion cushion drop hitch, gooseneck ball and Venturer NEXT time-delay brake controller.
The Ram 2500 Work Truck will feature wrap-around protection from Ranch Hand and will be equipped with the Legend series front bumper with a full grille guard, running steps and lighted headache rack, as well as the Sport series rear bumper. The Work Truck will also feature a 75-gallon transfer tank from UWS. The towing setup will feature a 4-inch offset OE cushion gooseneck ball and a Deep-Drop adjustable ball mount hitch from CURT along with the Venturer NEXT brake controller. For lighting, a 30-inch lightbar and 2-inch cube lights from ARIES will be equipped.
The Ford F-350 RV Hauler is equipped with protection from the Ranch Hand Summitt series front bumper, Legend series headache rack and Sport series rear bumper. It will also showcase the Secure Lock crossover toolbox from UWS, as well as the LUVERNE Grip Step and SlipGrip running boards. The towing setup will feature the CURT CrossWing 20K 5th wheel hitch. Also from CURT, the TruTrack 4P trailer-mounted weight distribution hitch and the TriFlex NEXT proportional brake controller will be equipped.