News
GMC Reveals EV Hummer Details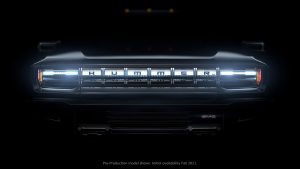 GMC revealed details of the revived Hummer ahead of its debut in a Super Bowl ad over the weekend.
Set to be fully revealed on May 20, the all-electric truck, badged as a GMC, will offer 1,000 horsepower, a 0-60 time of 3 seconds and 11,500 lb-ft of torque.
The Hummer brand was last produced in 2010. The new version will be produced at the General Motors' Detroit-Hamtramck assembly plant in Michigan.