News
Five Features That Make 2019 Blazer Perfect for Fleets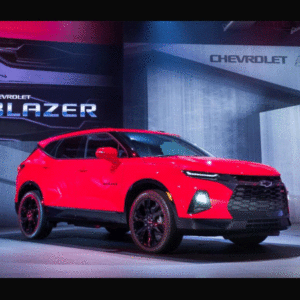 The 2019 Chevrolet Blazer presents an opportunity for commercial fleets that are in the market for a crossover. Fleet interest in the vehicle, at this point, has been somewhat anecdotal, according to Mike Albert Fleet Solutions.
"We've heard from several sources who attended GM Fleet's 2020-MY Solutions Summit, who said they liked the look of the Blazer," according to Mike Albert Fleet Solutions. "They are also optimistic about its chances in the highly competitive midsize SUV segment that also includes the Ford Edge, Jeep Grand Cherokee, and Nissan Murano."
The Blazer is slotted between the Equinox and Traverse in the Chevrolet SUV lineup and offers two rows of seating. Four trims include L, Blazer, RS, and Premier.
"It's a good choice for a driver who does not require 3rd-row seating, but still needs to carry samples or light product," said Steve Armstrong, manufacturer relations manager for Mike Albert Fleet Solutions.
Mike Albert Fleet Solutions provided these five reasons the Blazer would serve as a serviceable fleet vehicle:
1.     Safety Tech & Trim Grades 
The Blazer provides plenty of safety technology and driver-assisting features, and fleets will want to make sure they choose the right model. A rear-view camera is standard as is a traction selection mode.
Available technology includes adaptive cruise control, lane change alert with a blind-spot warning system, forward collision alert and automatic braking with pedestrian detection, lane-keeping assist, and a rear cross-traffic alert system.
"Most fleet clients are also going to want to have the new selection of safety features, which are optional on the 2LT, and standard on the 3LT packages," Armstrong said.
2.     Nine-Speed Transmission Improves Fuel Economy
Higher-gear transmissions take some workload from engines, and the Blazer's nine-speed automatic gearbox is paired with a 2.5L four-cylinder engine and the front-wheel drivetrain on the base model. In that configuration, the vehicle gets an EPA fuel economy rating of 27 miles per gallon in the highway, 22 mpg in the city, and 24 mpg combined.
Buyers can also opt for the 3.6L V-6 that achieved 26 mpg highway and 20 mpg in the city in front-wheel drive and a bit less with optional all-wheel drive.
"The models currently being built are the higher trim levels to support the high retail demand," Armstrong said. "Most fleet clients are going to prefer the AWD version with the six-cylinder engine."
3.     All-Wheel Drive Provides Versatility
Only the V-6 can be paired with all-wheel drive, but this version of the Blazer offers plenty of capability. And fleets with operations in various states and climates could order a mix of AWD and FWD depending on where they need the vehicles.
4.     Residual Value in a Hot Segment
Residual values haven't been pinned down just yet, but Armstrong likes the vehicle's sporty styling. With midsize SUVs continuing to sell well, Chevrolet's design choices should pay off.
"Since this is a new model, there is no reliable residual data available yet," Armstrong said. "However, the vehicle is very distinctive looking, and a fresh look to a very popular retail segment. We have high hopes for the model in our portfolio."
5.     Keeping Costs Competitive
Chevrolet has priced its 2019 Blazer very competitively. The base model retails for $29,995 plus a delivery fee. The vehicle should appeal to fleets in the 2020 model year if price increases remain in check.
"GM will need to make sure the incentives are competitive in the commercial space, as it moves into the 2020 model year," Armstrong said.