Features
KPI — September 2021: State of Business: Automotive Industry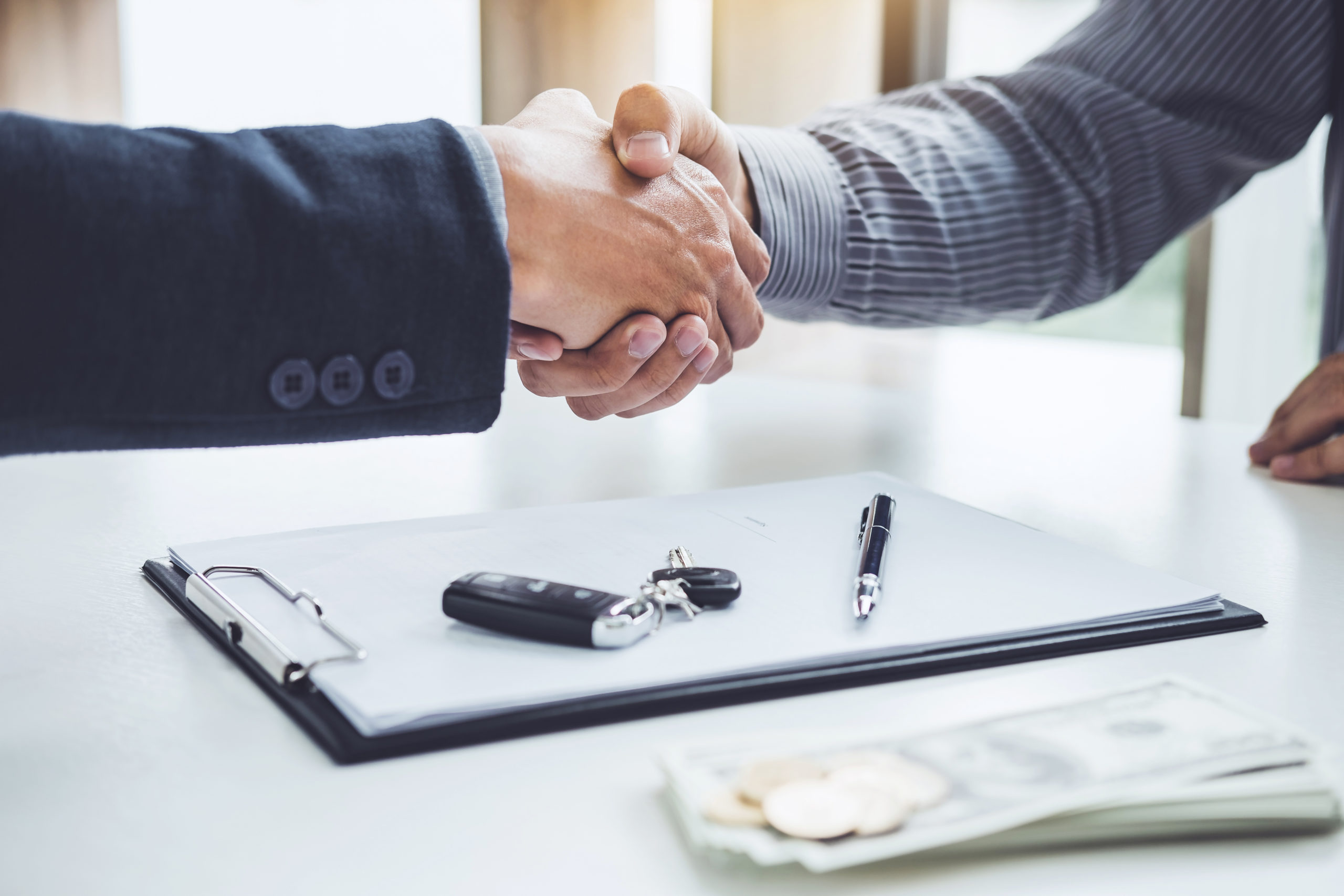 The global chip shortage continues to be a thorn, with increased demand and constrained capacity stifling production – and growth – for the automotive industry. According to CNBC, it is a serious problem that major automakers fear could persist for some time. As reported last month:
During 2020, U.S. semiconductors accounted for half of all global sales, or approximately $193 billion. However, only 12% of those chips are manufactured in the U.S. – a figure that does not include any of the cutting-edge chips required to run more sophisticated technology, according to Fortune.
While the U.S. remains a leader in design, ongoing supply chain challenges, coupled with the development of new semiconductor factories overseas, pose a significant threat – giving China precious leverage, reported Fortune.
"We have fallen very far behind from where we need to be with respect to semiconductors," said U.S. Commerce Secretary Gina Raimondo. "Semiconductors are the building blocks of our entire digital economy and unfortunately, we're vulnerable now because we don't make enough leading-edge semiconductors in America."
As such, President Biden's administration is alleged to be planning the development of several semiconductor plants in the U.S. as a way to combat the immediate semiconductor shortage and better position the country going forward.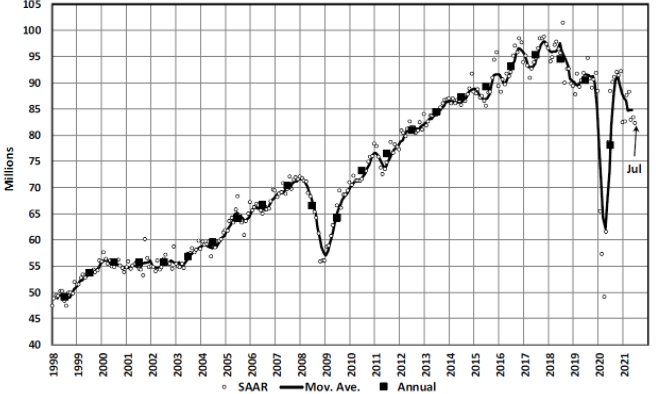 Global Light Vehicle (LV) sales registered 82 mn units/year in July, advancing the downward trend in projections during recent months, according to LMC Automotive.
State of Manufacturing
On the manufacturing side, the August Manufacturing PMI® registered 59.9%, an increase of .4 percentage points from a July reading of 59.5%. Though the index continues to underperform, the data indicates expansion in the overall economy for the 15th month in a row after a contraction in April 2020, according to supply executives in the latest Manufacturing ISM® Report On Business®.
"Business Survey Committee panelists reported that their companies and suppliers continue to struggle at unprecedented levels to meet increasing demand. All segments of the manufacturing economy are impacted by record-long raw material lead times, continued shortages of critical basic materials, rising commodities prices and difficulties in transporting products. The new surges of COVID-19 are adding to pandemic-related issues – worker absenteeism, short-term shutdowns due to parts shortages, difficulties in filling open positions and overseas supply chain problems – that continue to limit manufacturing-growth potential," said Timothy R. Fiore, CPSM, C.P.M., chair of the Institute for Supply Management® (ISM®) Manufacturing Business Survey Committee.
Demand expanded, with the (1) New Orders Index growing, supported by continued expansion of the New Export Orders Index, (2) Customers' Inventories Index remaining at very low levels and (3) Backlog of Orders Index staying at a very high level.
Consumption (measured by the Production and Employment indexes) declined, with a combined 2.3-percentage point decrease to the Manufacturing PMI® calculation.
The Employment Index returned to contraction after one month of expansion; hiring difficulties at panelists' companies were the most significant hurdle to further output in August, as validated by the growth in inventory accounts.
Inputs – expressed as supplier deliveries, inventories and imports – continued to support input-driven constraints to production expansion, at slower rates compared to July.
"Demand remains at strong levels, despite increased prices for nearly everything," explained Fiore.
U.S. New Vehicle Sales
New vehicle retail sales are feeling the squeeze as well. New vehicle retail sales are projected to reach 987,100 units in August, which is a 14.3% year-over-year decrease and a 21.6% decline from August 2019 when adjusted for selling days, according to a joint forecast from J.D. Power and LMC Automotive.
Total new vehicle sales, including retail and non-retail transactions, are forecast to reach 1,094,500 units – a 13.7% year-over-year decrease and a 25.3% drop from August 2019. The seasonally adjusted annualized rate (SAAR) for total new vehicle sales is forecast to be 13.1 million units, down 2.1 million units from 2020 and down four million units from 2019.
"The month of August is historically a peak selling month, as manufacturers launch promotional events to clear inventories of outgoing model-year vehicles and begin sales of the new model year. This year, however, the industry has insufficient inventory at dealerships to meet strong consumer demand. The consequence is that the retail sales pace is depressed, but transaction prices are elevated," said Thomas King, president of the data and analytics division at J.D. Power.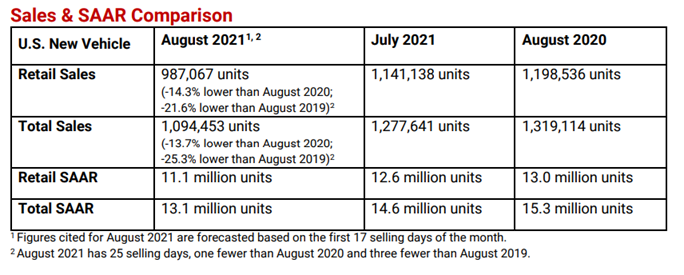 Important Takeaways, Courtesy of J.D. Power:
Consumers are on pace to spend $40.8 billion on new vehicles, down $1.8 billion from August 2020 and down $6.0 billion from August 2019.
The average new vehicle retail transaction price is expected to reach a record $41,378.
Average incentive spending per unit in August is expected to fall to $1,823, down from $3,955 in August 2020 and $4,060 in August 2019. Spending as a percentage of the average MSRP is expected to fall to 4.3%, down 5.3 percentage points from August 2020 and down six percentage points from August 2019.
Trucks/SUVs are on pace to account for 77.4% of new vehicle retail sales in August.
Fleet sales are expected to total 107,387 units, down 7.4% year-over-year and down 48% from August 2019 (when adjusted for selling days). Fleet volume is expected to account for 10% of total light-vehicle sales, up from 9% a year ago.
"Looking forward to September, the dynamics observed in August are expected to continue, with sales being constrained by available inventory. The key question is the extent to which manufacturers can produce enough vehicles to increase – rather than maintain – inventory levels," explained King.
"Ongoing supply chain issues and recent announcements of further production cuts by several manufacturers mean that the aggregate inventory situation is unlikely to meaningfully improve in September. In some instances, it will deteriorate," he added.
U.S. Used Market
Wholesale used vehicle prices (on a mix-, mileage- and seasonally adjusted basis) decreased .4% month-over-month in August. This brought the Manheim Used Vehicle Value Index to 194.5, an 18.8% increase from a year ago.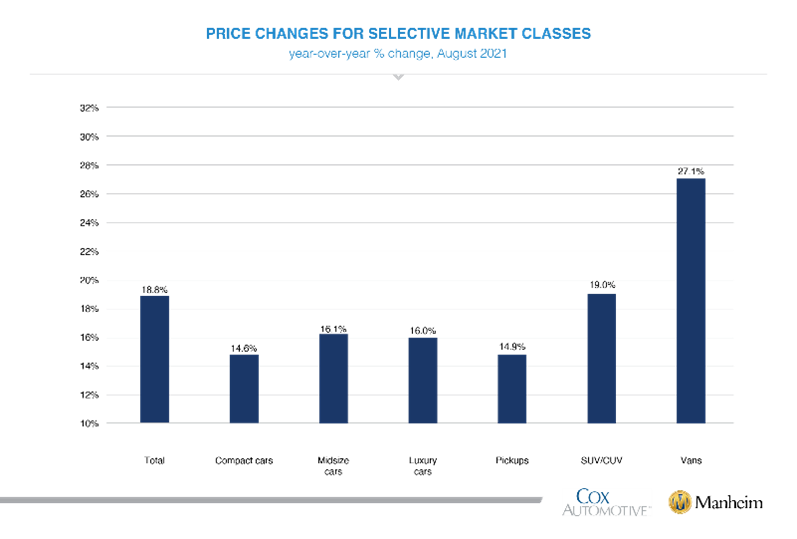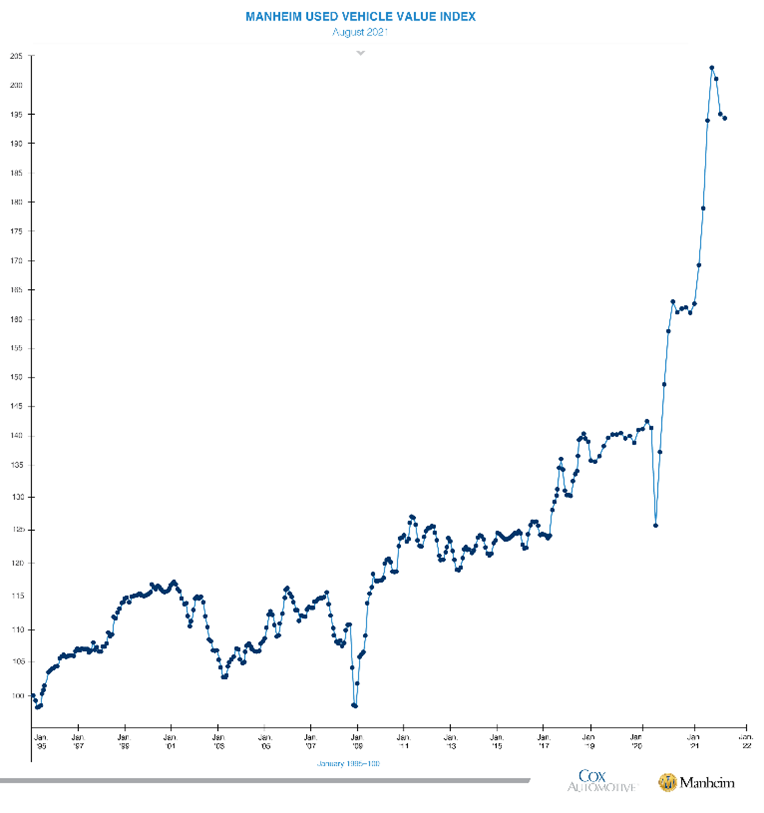 According to the most current report, the Manheim Market Report (MMR) values saw changing trends in August that resulted in stable prices and then accelerating weekly increases. Over the last four weeks, the Three-Year-Old Index increased a net 2.1%.
All major market segments posted year-over-year, seasonally adjusted price increases during August. Vans and sport utility vehicles recorded the largest year-over-year performance, while the remaining car and pickup segments lagged the overall market. Compact car and pickup segments showed month-over-month declines while remaining segments saw modest growth.
Overall, total used vehicle sales were down 12% year-over-year in August. Manheim estimates the August used SAAR to be 36.7 million, down from 41.6 million last August and flat compared to July's 36.7 million SAAR. The August used retail SAAR estimate is 20.1 million, a drop from 22 million last year and flat month-over-month.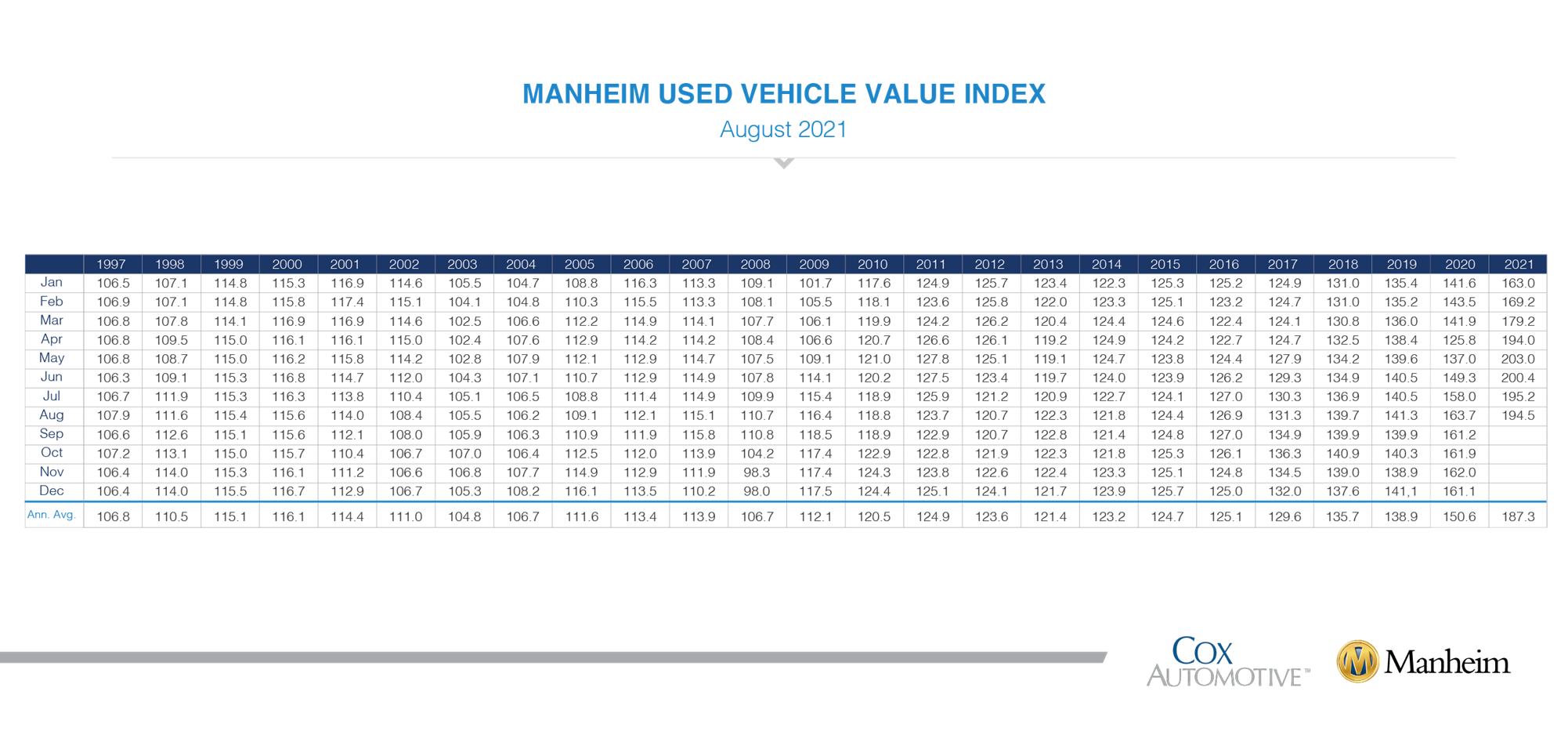 KPI — September 2021: Special Report: SEMA Launch Pad