Features
KPI — September 2021: Special Report: SEMA Launch Pad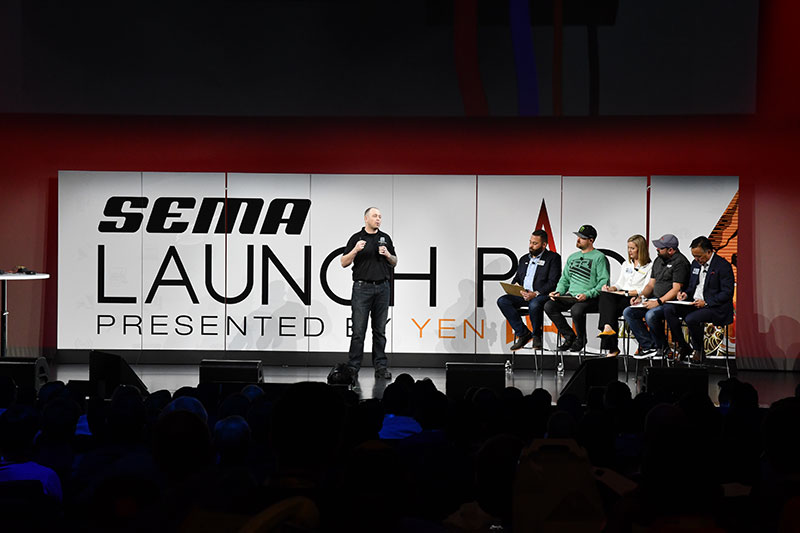 SEMA Launch Pad is gearing up to be a main attraction at this year's SEMA Show. "With an expanded prize package and increased benefits to applicants, the 9th annual SEMA Launch Pad competition included a record-high number of applications from entrepreneurs of new automotive-related products. At 181, the number surpasses the previous high of 120 applications," noted SEMA.
Fifteen applicants were selected as semi-finalists and will advance to the next round, according to a recent press release. From there, the applicants will be narrowed down to five finalists who will pitch their business ideas at the 2021 SEMA Show in Las Vegas, NV. There, a panel of judges will select three winners to receive cash prizes in the amount of $5,000, $20,000 and $75,000 to directly benefit their business.
For Monika Kalenski, CEO of MEK Magnet and one of this year's participants, the opportunity is once in a lifetime. Like many, SEMA Launch Pad left her feeling empowered.
"Overall, this experience has been incredible. It really pushed me out of my comfort zone to step up for my business in a way that I needed to, but hadn't pushed to do yet," she said.
One really nice perk, all SEMA Launch Pad semi-finalists get a booth in the SEMA Launch Pad area of Central Hall. "This is a huge opportunity for SEMA Show exposure, plus being up front and center of all new products showcases," she said.
Kalenski explained the next step for her business: getting ready for all the media exposure due to the competition and having such "a great and showy product."
Right now, she is working alongside Jeep for MEK Magnet to be listed in their new dealer aftermarket accessories portal, which is set to launch in January 2022.
"I am tirelessly trying to get in touch with Ford about making MEK Magnet armor for the new Bronco – plus, a partnership with Ford F150 customers who need removable and reusable signage for their trucks," she said.
According to Kalenski, Ford is making its F150 trucks magnetized. "My new lightweight resin material with nano-hold technology is the solution!" she said. "I have full digital printing and customization capabilities for a new style of removable, reusable and washable signage that will not fall off at high speeds nor cause damage to the paint or clear coat."
Kalenski and fellow SEMA Launch Pad semi-finalists are honored and excited to display their innovative product lines at the upcoming SEMA Show in Las Vegas, November 2 – November 5.
2021 SEMA Launch Pad Semi-Finalists:
• Cameron Crummie, Owner, MDV
Product: Guard – Modular LED Bluetooth-controlled brush guard for trucks and SUVs.
• Adam Gruener, CEO, Off Road In Mind
Product: RGB-Recovery Gear Box – Can be used for recovery gear, emergency gear, or for any other storage needs, and is typically attached to a spare tire on the back of a vehicle.
• Jonathan Hurley, Owner, ToolBox Widget
Product: ToolBox Widget – Modular tool organizers that allow a mechanic to connect as many tool organizers together as needed, making them customizable to the mechanic.
• Monika Kalenski, President and CEO, MEK Magnet
Product: Removable Trail Armor – Printed side body protection paneling utilizing nano-hold technology to stick to aluminum and non-metal vehicles. Protects vehicles from scrapes and scratches when off-roading while adding style with printed graphics.
• Brendan McGrath, CEO, Dyme Performance Systems Inc.
Product: Rattlesnake Toolkit – Toolkit that can measure the exact length and angle of a hose assembly down to the millimeter, significantly reducing time and cost.
• Robert McKeirnan, President and Managing Partner, Stratos Meccanica LLC
Product: Strada and Corsa Concealed Quick Disconnect Interface – Concealed interface for mounting a license plate to the front of a vehicle. Does not require having to drill holes into the front bumper and does not require tools to remove once installed.
• J. Potter, CEO, Sawtooth
Product: Sawtooth STRETCH Tonneau Cover and Sawtooth SURFBOARD Cartop Carrier – Tonneau that loads, secures, and protects cargo taller than the pickup truck bed walls.
• Alan Reyes, Co-founder and President, Xtrusion Designs LLC
Product: Modular Cargo Bedracks – Modular cargo solution that allows the usage of T-Slot aluminum profiles as its main component, allowing a completely customizable platform for the end-user.
• Kevin Robinson, President, TRAC LLC
Product: TRAC Tire Rotation Assistance Cart – Tool designed to simply lift and remove a wheel from a vehicle during service. The tool is designed to reduce workplace injuries while increasing productivity.
• Paul Rooprai, CEO, AutoBio LLC
Product: AutoBio Tags – 2.5-inch round cling that goes inside the windshield and is embedded with technology (QR & NFC) that serves as a portal to a car's story and is scannable with a smartphone.
• Michael Ruhs, Co-founder and CEO, TailHand
Product: TailHand – Customizable platform and accessories system that mounts directly to most pickup truck tailgates, providing an "extra hand" for securing tools and raw materials, transforming a tailgate into a versatile mobile workstation.
• Tom Sawarynski, Owner, Off-Road Research
Product: Smart Cap Module (SCM) – Allows any aftermarket shock absorber with a bridge or remote mounted reservoir to broadcast damper position to an external module or modules.
• Michael Sullivan, Owner, Fox Products LLC
Product: RaZorTop Retractable Cap – Roll open tonneau cover that raises up to a full-size cap when needed and retracts by the press of a button on a wireless remote control.
• Edward Tansingco, President, Thinskinz
Product: Thinskinz Door Protectors – Removable, hard plastic interior door panel protectors that snap onto OEM interior door panels without fasteners or adhesives to protect doors against damage from objects or pets inside the vehicle.
• Dustin Woolf, Owner, Woolfpack Racing
Product: Natural Nitrous – Stand-alone refrigerated system for the air induction of the motor. It lowers the air charge and dehumidifies the moisture, which increases horsepower because there are dense oxygen atoms in the cylinder. It also lowers emissions because of the complete burn of the fuel.
Click here to learn more.
KPI —  September 2021: Recent Vehicle Recalls