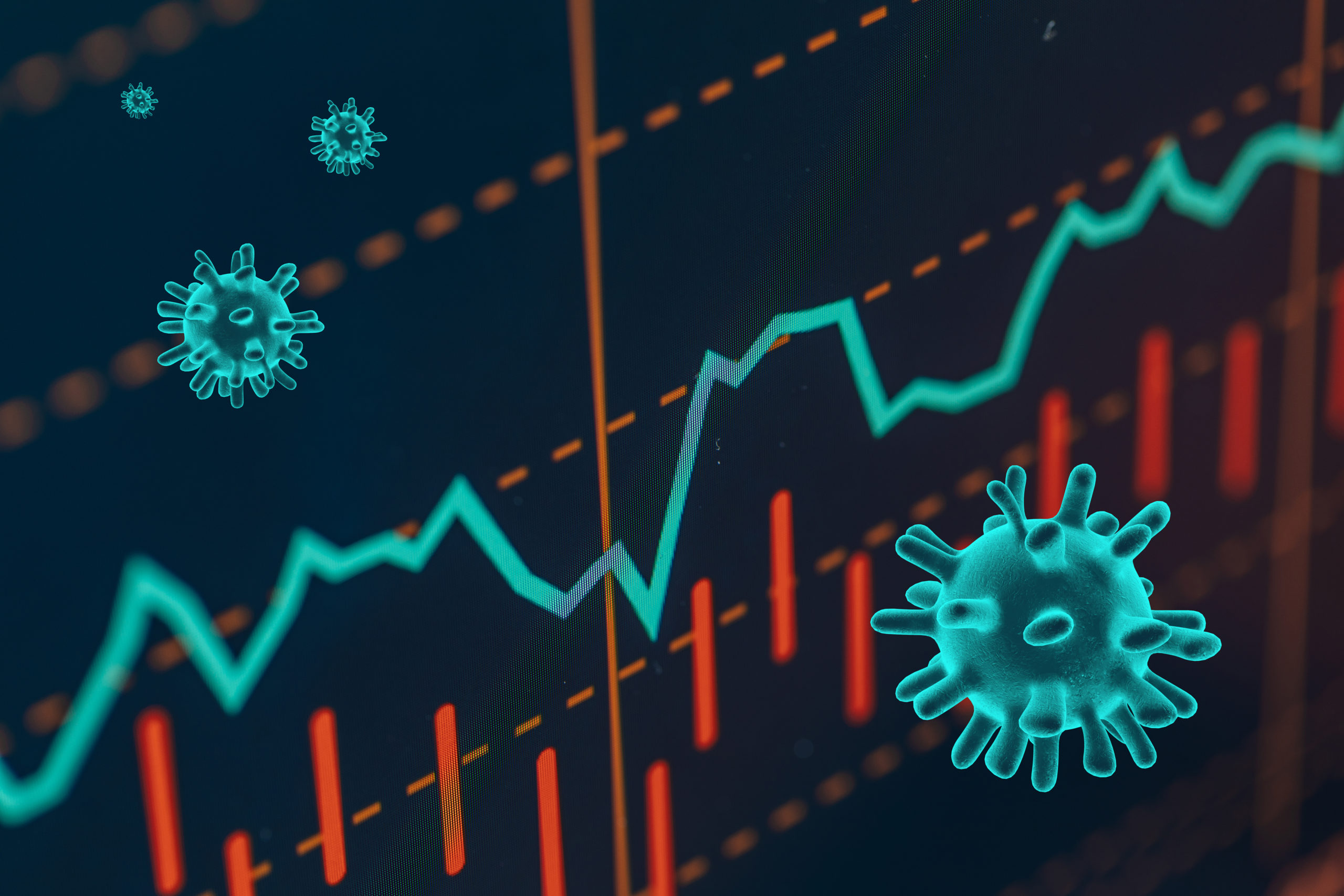 Keeping a cap on COVID-19 cases could be the key to continued economic recovery.
As of October 28, 2020, nearly 8.8 million cases had been reported across the United States, with California, Texas, Florida and New York recording the highest numbers, according to Statista.
While national unemployment dropped to 7.9% in September, the economic impacts remain widespread, with tens of millions left unemployed to face new challenges.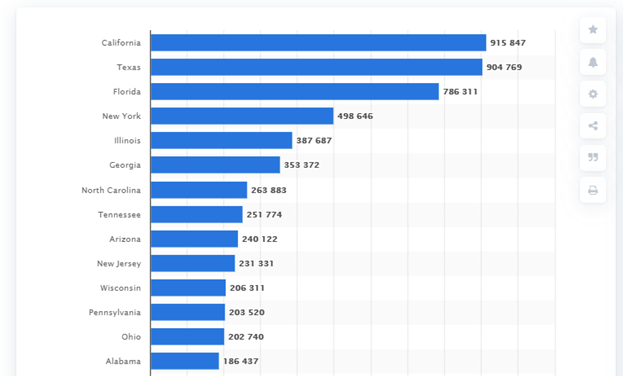 U.S. COVID-19 Cases by State
"Confidence was greater among wealthier Americans than other households, highlighting the wide disparity in who's been hurt most by the coronavirus. Many workers in lower-paying jobs in hotels, restaurants, retail stores and other service-oriented businesses have suffered higher levels of unemployment," reported MarketWatch.
The big picture: Higher confidence has long been associated with stronger economic growth and faster hiring. Throughout the pandemic, consumer confidence has been shaped by the ebb and flow of COVID-19 cases and the steady return of people to work. As long as the virus remains under control, the economy is likely to continue to recover, but if the virus starts spreading faster again or rehiring slows, confidence is bound to suffer another blow. –MarketWatch
According to the Centers for Disease Control and Prevention (CDC), COVID-19 cases continue to increase nationwide. As of October 25, average daily cases in the past seven days increased 26% from a week prior.
Undoubtedly, challenges are ahead as the country steers toward recovery, but the American story is one of perseverance and resilience. While many small businesses across the country are struggling, professionals across the automotive aftermarket, powersports and RV industries—to name a few—are turning to new and improved ways to engage with customers, evolve their business models and grow their brands.
As such, the monthly Key Performance Indicator Report serves as an objective wellness check on the overall health of our nation, from the state of manufacturing and automotive industry to current economic conditions and consumer trends.
For starters, economists predict growth will rise to 34.6% (annualized rate) during the third quarter, following a sharp contraction in the second quarter. Revitalizing economic output to pre-pandemic levels will take time, but "there has been some progress in driving economic activity higher over the summer, despite a sharp uptick in new COVID-19 cases," according to The Conference Board.
In September, total nonfarm payroll employment increased by 661,000. Furthermore, unemployment rates declined among major worker groups and were lower in 30 states, higher in eight states and stable in 12 states (including the District of Columbia), according to the U.S. Bureau of Labor Statistics. The largest job gains occurred in New York (+109,300), California (+96,000) and New Jersey (+60,200).
Below are a few key data points explained in further detail throughout the report:
The September PMI® registered 55.4%, down 0.6 percentage points from the August reading of 56%.
The Consumer Price Index for All Urban Consumers (CPI-U) increased .2% on a seasonally adjusted basis in September after rising 0.4% in August and 0.6% in July. The index for used cars and trucks rose 6.7%, its largest monthly increase since February 1969.
Nonfarm payroll employment increased in 30 states, decreased in three states and was essentially unchanged in 17 states (including the District of Columbia)
Notable job gains occurred in leisure and hospitality, retail trade, health care and social assistance, as well as professional and business services. Employment in government declined month-over-month, mainly in state and local government education.
The Consumer Sentiment Index hit 80.4 in September and is trending up (81.2) in October's preliminary reading conducted by the University of Michigan Survey of Consumers.
Ford F-Series sales climbed 17.2% in September, with more than 76,000 pickups sold. This elevated the Blue Oval's truck line to its best Q3 since 2005, as it looks to secure its 44th straight year at the top.
The affordable sports car market is posting some record gains, namely the Mazda MX-5, with sales up by 68%, and the Subaru BRZ, which increased by 126%. The luxury and supercar markets have been performing exceptionally well too, despite the underlying economic turmoil, according to The Drive. Lamborghini actually had its best September ever, selling 738 units throughout the month.
September's total new vehicle deliveries were up 6.1% year-over-year with two more selling days compared to September 2019. The SAAR registered 16.3 million, a 5% decrease from last year's 17.1 million but an improvement from 15.2 million in August.
The NFIB Optimism Index rose 3.8 points to 104.0 in September, a historically high reading.

Nine of the 10 Index components improved and one declined. The NFIB Uncertainty Index increased two points to 92, up from 75 in April.
"As parts of the country continue to open, small businesses are seeing some improvements in foot traffic and sales," said Bill Dunkelberg, NFIB chief economist. "However, some small businesses are still struggling financially to operate at full capacity while navigating state and local regulations and are uncertain about what will happen in the future."
Readers are encouraged to study the most current Small Business Optimism Index.
Important takeaways, courtesy of NFIB
Earnings trends over the past three months improved 13 points to a net negative 12% reporting higher earnings.
Owners expecting better business conditions over the next six months improved eight points to a net 32%.
Real sales expectations in the next three months increased five points to a net 8%.
Inventory investment plans over the next 3-6 months increased by five points to a net 11%.
The percent of owners thinking it is a good time to expand increased one point to 13%.
The monthly Key Performance Indicator Report is your comprehensive source for industry insights, exclusive interviews, new and used vehicle data, manufacturing summaries, economic analysis, consumer reporting, relevant global affairs and more. We value your readership.
KPI — October: State of Business: Automotive Industry