Features
KPI – October: State of Business: Automotive Industry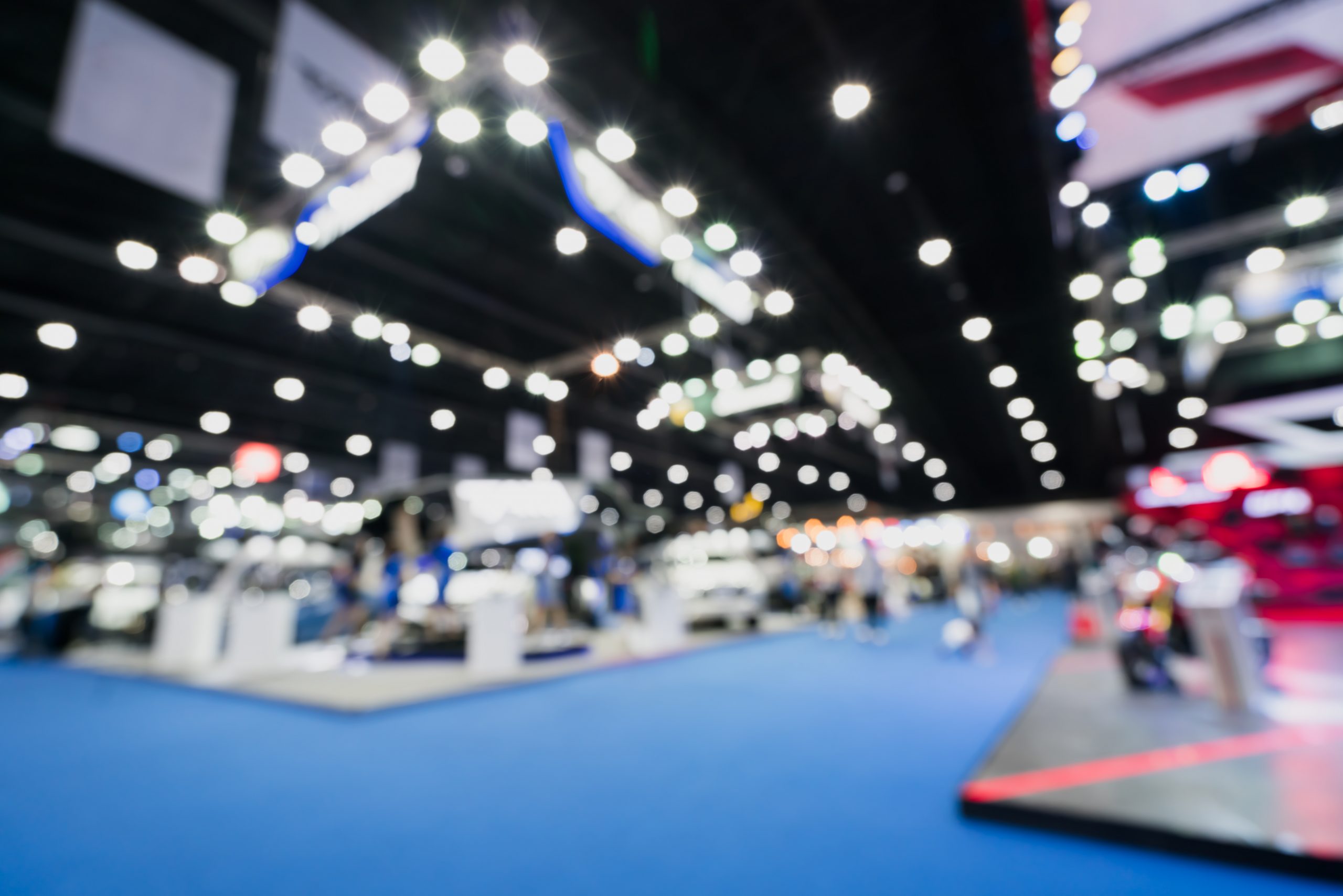 COVID-19 continues to infiltrate, impact and divide every facet of society as countries seek to balance public and economic health. More than 44 million cases and 1.1 million deaths have been confirmed across 235+ countries, areas or territories.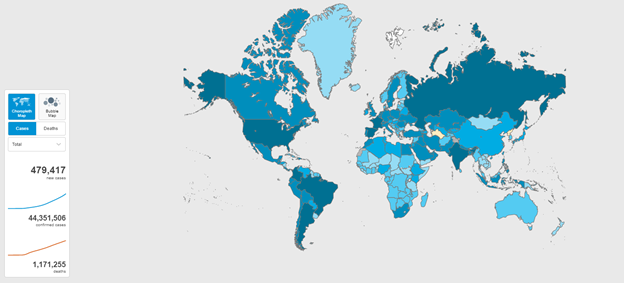 COVID-19 Cases Around the World
A second wave of COVID-19 is being monitored on an international scale, with various countries preparing to impose new stay-at-home mandates. In France, for example, those leaving home must carry a document justifying their presence outside as of October 30. Similarly, Germany plans to enforce a month-long lockdown, closing restaurants, theatres, pools and gyms starting November 2.
The UK is resisting a nationwide lockdown, citing economic hardships attached to such a decision. Car manufacturing output already dropped to its lowest level in 25 years during September, according to data released by the SMMT; another shutdown could prove devastating.
"The SMMT noted that production for export was down by almost 10% at 87,533 units, as companies continued to wrestle with the uncertain economic and political environment, as well as COVID-related challenges in the global market. Exports to key overseas destinations, including China, the EU and U.S. fell 1.2%, 3.3% and 30% respectively," said Graeme Roberts of JustAuto, an online news, insight and research portal for the global automotive industry.
At the time of writing, there were 8.6 million confirmed cases in the U.S., with California, Texas, Florida and New York recording the highest numbers. Certainly, a resurgence of COVID-19, personnel and inventory shortages, as well as fundamental differences in vision and policy between two presidential candidates all threaten to impact short and long-term economic recovery. However, despite a recent rise in cases, many states echo the UK's sentiment and remain opposed to another shutdown.
Global Vehicle Sales
The global manufacturing community has been impacted enormously this year, from facility closures and new protocols to large-scale surges in demand.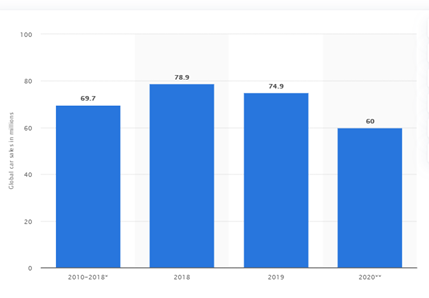 As such, worldwide vehicle sales are expected to drop to 60 million in 2020. Mainland China is expected to decrease by 7.5% between 2019 and 2020, sliding to 23.6 million units by the end of 2020. North American auto sales are projected to fall below 17 million units in 2020. Predictions for the European auto industry include a 20% year-over-year decrease, according to Statista.
Even though global vehicle sales are down, there are positive signs of recovery in the automotive industry.
For example, September's Global Light Vehicle (GLV) SAAR edged out July's high of 87.6m, posting a slight year-over-year gain of .2%, noted JustAuto. Additionally, "U.S. September light vehicle sales grew by 4% on a year-over-year basis, to 1.34 million units, pushing the selling rate to 16.3 mn units and marking the first month above the 16 million threshold since the start of the pandemic," according to LMC Automotive.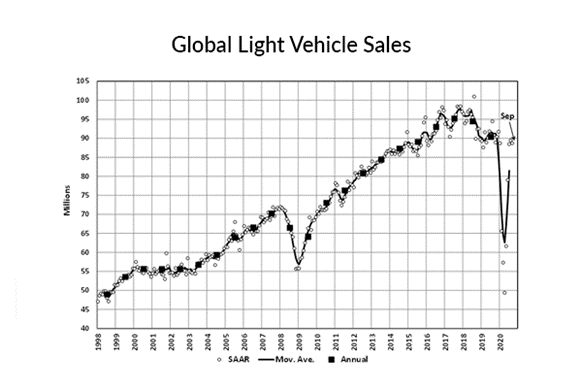 The Global Light Vehicle (LV) selling rate for September finished at 88.7 mn units/year, data consistent with the previous two months. Total sales grew by 0.5% year-over-year, "though results are uneven across the globe," noted LMC Automotive.

Important takeaways, courtesy of LMC Automotive: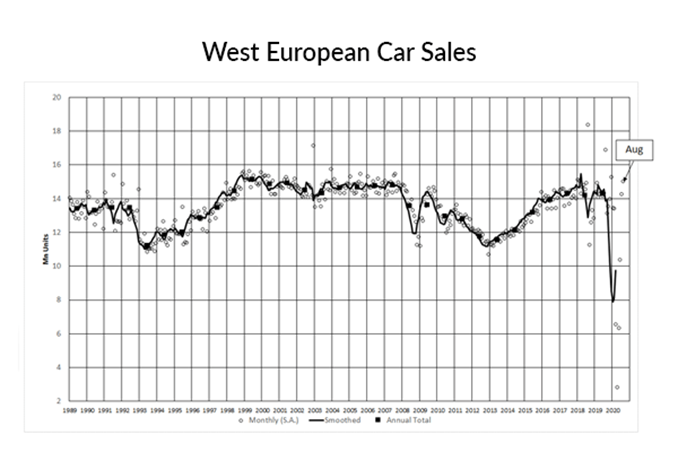 Car registrations in Western Europe grew by a negligible .1% year-over-year during September, despite one additional selling day versus a year prior. The selling rate broke its recent upward trend, slipping to 12.7 mn units/year, as inflated post-lockdown activity made way for sluggish economic recovery.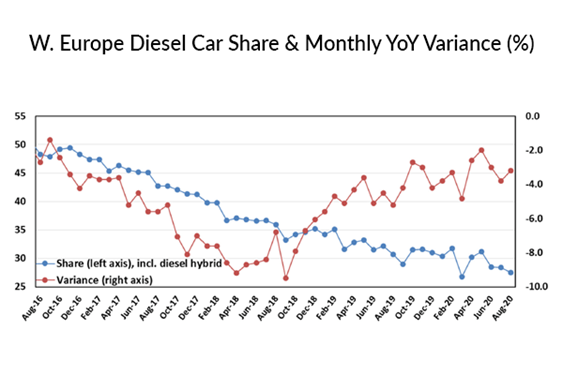 With a steep decline in the UK diesel car market during September (Europe's biggest September market), the region saw a new low point in the current decline. At 25.8%, the market is down 1.8 points of share compared to August. Aside from the UK, volume decline was modest, with the UK accounting for two-fifths of the total year-over-year regional decline.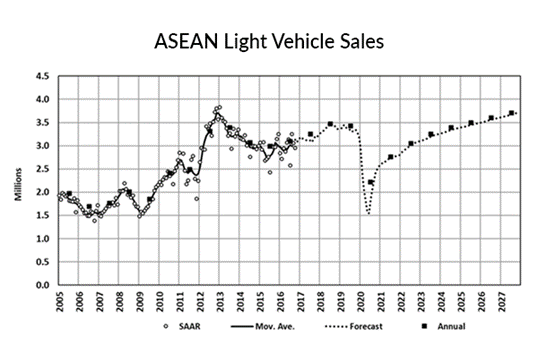 The ASEAN light vehicle market contracted by 24% year-over-year in August. When contrasted with July, however, sales increased by 4%, marking the fourth consecutive month of growth after strong month-over-month upturns in May (+92%), June (+63%) and July (+25%). Sales volume hit 200k units in August, after dropping below 100k units in both April and May.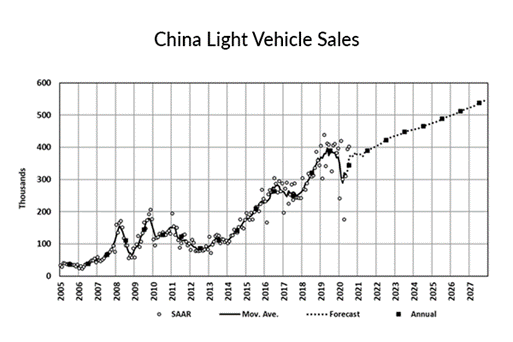 China's Passenger Vehicle (PV) sales (i.e., wholesales) rose by 7.2% year-over-year, or 2.15 mn units, in September, thus lessening the year-to-date decline to -12.6%. Strong momentum in the Light Commercial Vehicle (LCV) segment continued, with year-over-year growth of 25.5%, or .34 mn units. In turn, this upped the January-September outturn to +11.5%.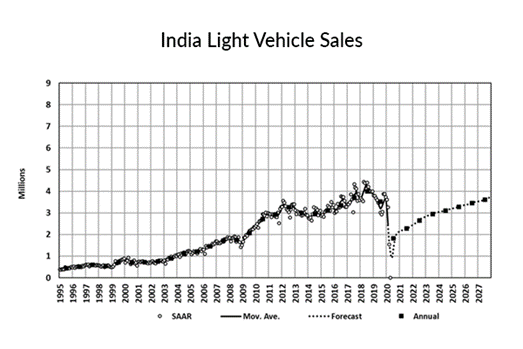 India's Light Vehicle (LV) wholesales improved further in August, climbing by 15% year-over-year, or 268k units. This also marked the first positive growth since December 2018. The rate of recovery in the post-lockdown and pandemic environment reached 91% of the average monthly volume before COVID-19, as OEMs continuously fulfilled pent-up demand and built up inventory volumes in readiness for the festival season.
Overall, on a global scale, "We believe that September will be the high point of the year, with October and November forecast to slip to August's selling rate of 83-84mn. We believe there will be a seasonal rally in December with a SAAR of some 87mn forecast," said Calum MacRae, author at JustAuto.
Automotive Aftermarket News
In a year unlike any other, SEMA is redefining the modern trade show by introducing SEMA360, a fully digital experience the company "created to fulfill the industry's need to have a trade environment exclusively designed to connect manufacturers with qualified worldwide buyers and media."
Taking place November 2-6, SEMA360 is a 100% online event that will feature 2,200 products, 330 vehicles and 650 manufacturers. On Monday, November 2, at 8:00 a.m. (PST), Mike Rowe and Tanner Foust will kick off the inaugural event with a Keynote Q&A, Powered by OPTIMA Batteries. All registered participants of SEMA360 are invited to attend, with Rowe and Foust streaming live from their respective locations.
Unrivaled Media Exposure
Plug into SEMA's vast network of media contacts to amplify news, brands, products and innovations to a worldwide audience.
Worldwide qualified media contacts will see your products and post event editorial.
Highlight New Products
Share your latest product innovations with tens of thousands of qualified buyers in a trade-only environment.
Post images, descriptions and videos of your newest, most popular and specially-priced products on your Manufacturer Showcase page.
You have the option to add products to the SEMA360 New Products Showcase that hotlink back to your page.
Add Vehicles to the Experience
Showcase your brand and products on vehicle builds.
Share vehicle images and videos on your SEMA360 Manufacturer Showcase page.
Supercharge your page by adding optional Feature Vehicles to the Builder Showcase that hotlink back to your Manufacturer Showcase page.
Connect Globally
Lock in sales orders and media exposure for your brand and products.
Connect with buyers across the globe.
SEMA360 allows one-on-one dialogue and group roundtables to connect your staff with qualified buyers and media.
Participate in Industry-Leading Education
Take advantage of 30 SEMA Education seminars focused on professional development and new strategies.
Boost staff skillsets and practical knowledge with education from industry experts.
Learn about best practices, new technology and the latest automotive trends to take your company to a whole new level of competitive strength.
Network Virtually
Make essential connections online with suppliers, buyers and media that will have a lasting impact on you and your business in a private trade-only environment.
Connect, grab a table and move your business forward with video meetings that allow you to share screens, chat and collaborate.
Video chat one-to-one or create a roundtable discussion for the best online networking experience available today.
In the Name of Charity
Truck Hero, Inc., an industry-leading manufacturer of truck and Jeep accessories, recently joined forces with Building Homes for Heroes to auction off a 2018 SEMA Show custom truck build called Ultimate Tailgate. The 2019 Ford F-350 Lariat puts a powerful 6.7-liter Power Stroke diesel with 450 HP and 935 lb.-ft. of torque on display.
But even more impressive, according to aftermarketNews, is its Extang Solid Fold 2.0 tonneau cover fit to conceal a 65" LG OLED 4K TV "that is remote controlled and fully-articulates on a custom bed slide system complete with a gaming table, YETI cooler and grill" for a truly ultimate tailgate experience.
The Ultimate Tailgate fetched a cool $275,000 at the Barrett-Jackson Collector Car Auction in Scottsdale, Arizona, with 100% of the proceeds from the sale benefiting the Building Homes for Heroes organization. Congratulations to the winning bidder, Sam Pack's Auto Group in Dallas, Texas.
KPI–October: New and Used Vehicle Sales