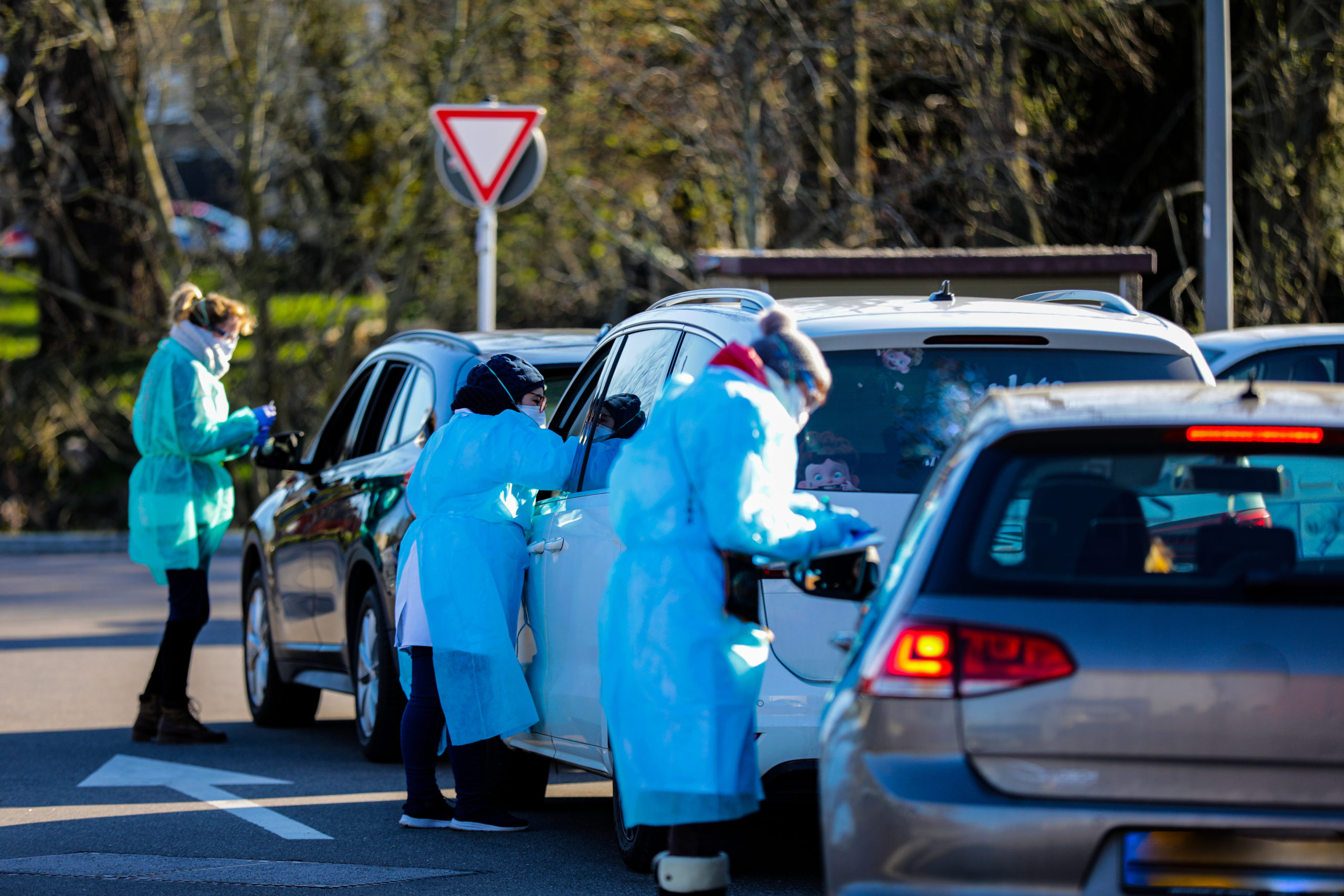 More than 250.7 million COVID-19 cases and 5 million deaths have been confirmed across 235+ countries, areas or territories. Vaccination efforts remain a top priority, with an ultimate goal of reaching herd immunity. Approximately 7 billion doses have been administered globally, with 193 million Americans, or 58.6% of the total U.S. population, now fully vaccinated.
COVID-19 Cases by Country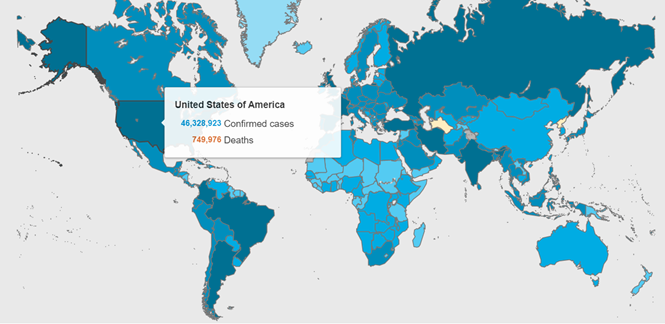 As COVID-19 cases simmer across the U.S., the focus turns to those who are eligible for vaccination but have declined for a variety of reasons. Increased demand for "mandatory vaccination" is of growing concern among those who stand by lawful personal choice in health and medical decisions.
The Biden administration plans to circumvent the unvaccinated by means of immunization requirement through Occupational Safety and Health Administration (OSHA), a move that calls into question the authority vs. overreach of the federal government.
"This isn't OSHA's first foray into vaccine law, but Biden's mandate is by far the most extensive in using OSHA as a vehicle for requirement," said Brian Dean Abramson, a leading expert on vaccine law.
Recently, OSHA released its long awaited emergency temporary standard (ETS), which calls for employers with 100 or more employees to either implement a vaccine mandate or ensure workers are undergoing weekly COVID-19 testing and wearing face masks at work. The rule covers temporary workers, seasonal workers and minors.
According to recent news reports, at least 26 state attorneys general have challenged President Joe Biden's vaccine and testing requirements in five different U.S. appeals courts. Meanwhile, the administration is instructing businesses to proceed with the vaccine mandate despite a court-ordered pause, which was issued due to possible "grave statutory and constitutional issues with the mandate."
Legal teams across the state, as well as companies and religious organizations, argue the requirements exceed the authority of OSHA and amount to an unconstitutional delegation of power to the executive branch by Congress, reported CNBC.
Overall, Americans remain sharply divided over vaccine mandates, a topic sure to unfold even more in the coming months.
COVID-19 Cases by State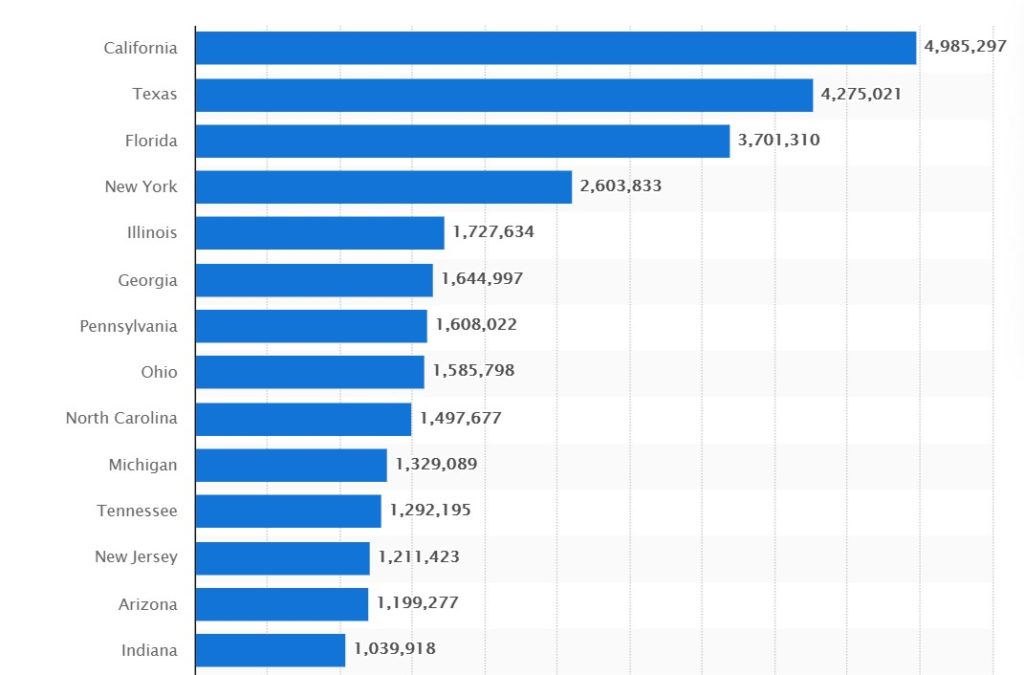 As of November 8, 2021, the state with the highest number of COVID-19 cases was California. Over 46 million cases have been reported across the United States, with California, Texas, Florida and New York reporting the highest numbers. After enduring one of the greatest spikes in COVID-19 cases across the country, Florida now ranks 50th in the country in per capita cases, according to the Washington Post.
COVID-19 restrictions vary by state, county and even city. Review a comprehensive list of current restrictions here.
Vaccination rates are not the only numbers at a crossroads, as consumer sentiment settles, the consumer price index soars and global vehicle sales hit a new low.
The Conference Board Consumer Confidence Index® increased in October, following declines in the previous three months. The Index now stands at 113.8 (1985=100), up from 109.8 in September. The Present Situation Index – based on consumers' assessment of current business and labor market conditions – rose to 147.4 from 144.3 last month. The Expectations Index – based on consumers' short-term outlook for income, business and labor market conditions – improved to 91.3 from 86.7.
Meanwhile, The Consumer Sentiment Index – a survey consisting of approximately 50 core questions covering consumers' assessments of their personal financial situation, buying attitudes and overall economic conditions – stayed relatively unchanged at 71.7, according to the University of Michigan Survey of Consumers.
Despite a range of complex challenges – from consumer confidence and sentiment to supply chain woes and beyond – the National Retail Federation (NRF) is forecasting 2021 holiday sales growth between 8.5% – 10.5% year-over-year. This figure includes online and other non-store sales, which NRF predicts will increase between 11% – 15%.
Furthermore, retailers are expected to hire between 500,000 and 665,000 seasonal workers to service the increase in holiday foot traffic, up from 486,000 seasonal hires in 2020. With 4 in 5 shoppers expecting a seamless omnichannel shopping experience, Buy Online/Pick-Up In Store shopping channels are expected to post double-digit growth rates through 2024 – presenting a whole new revenue stream to automotive shops that seize the opportunity.
Professionals in the automotive, RV and powersports industries remain steadfast in their efforts to evolve their business models and grow their brands in the face of adversity. As such, the monthly Key Performance Indicator Report serves as an objective wellness check on the overall health of our nation, from the state of manufacturing and vehicle sales to current economic conditions and consumer trends. Below are a few key data points explained in further detail throughout the report:
On the manufacturing side, the October Manufacturing PMI® registered 60.8, a decrease of .3 percentage point from the September reading of 61.1%; however, this figure indicates expansion in the overall economy for the 17th month in a row after a contraction in April 2020, according to supply executives in the latest Manufacturing ISM® Report On Business®.
In October, the Consumer Price Index for All Urban Consumers increased .9% on a seasonally adjusted basis after rising .4% in September and .3% in August, according to the U.S. Bureau of Labor Statistics. Over the last 12 months, the all items index increased 6.2% before seasonal adjustment. U.S. consumer prices accelerated at the fastest annual pace in more than 30 years, with prices at the grocery store and pump on most American minds.
LMC Automotive reported Global Light Vehicle (LV) sales plummeted to 73 mn units/year in September, a significant decline compared to the preceding three-month average of 82 mn units/year and a clear sign of the worsening supply crisis.
According to JD Power, total new vehicle sales in October 2021, including retail and non-retail transactions, are projected to reach 1,085,500 units, a 17.2% decrease from October 2020 and an 18.8% decrease from October 2019.
In August, total RV shipments hit 55,014 units – an increase of 32.2% compared to the 41,600 units shipped during September 2020. According to reports from RV PRO, this is a new all-time high for the number of RVs shipped in any previous month and any previous quarter.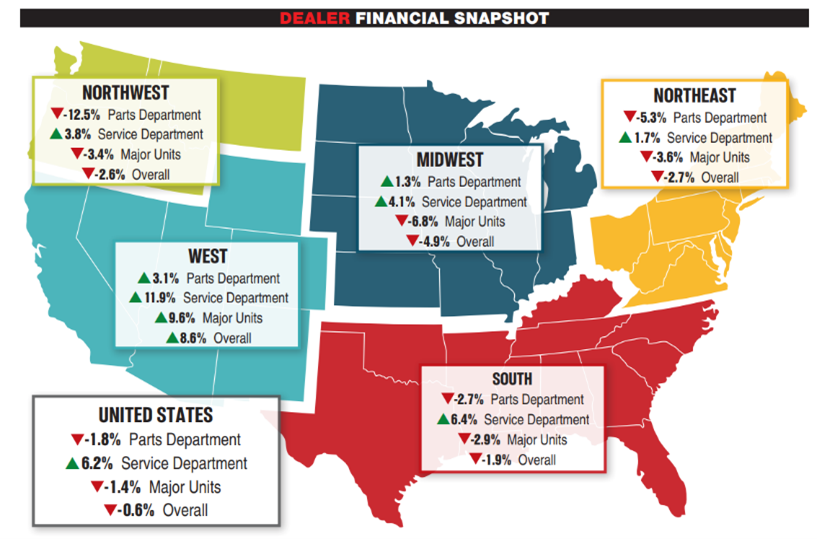 According to Powersports Business, revenue from new and pre-owned Major Units declined 1.4% year-over-year in August 2021. On average, dealerships in the Midwest saw a 6.8% revenue decline in Major Unit sales. The Northeast followed with a 3.6% average decrease, while the Northwest posted a 3.4% decline and the South a 2.9% decline. The lone caveat was an increase in sales throughout the West – 9.6%. Parts sales dipped into the red during the same period by 1.8% on average year-over-year, led by the Northwest at a 12.5% decline. The national average for Service revenue remained strong and saw a 6.2% overall.
The NFIB Small Business Optimism Index decreased from 99.1 in September to 98.2 in October. "Small business owners are attempting to take advantage of current economic growth but remain pessimistic about business conditions in the near future," said Bill Dunkelberg, NFIB chief economist. "One of the biggest problems for small businesses is the lack of workers for unfilled positions and inventory shortages, which will continue to be a problem during the holiday season."
KPI —  November 2021: State of Business: Automotive Industry