Features
KPI — November 2021: State of Business: Automotive Industry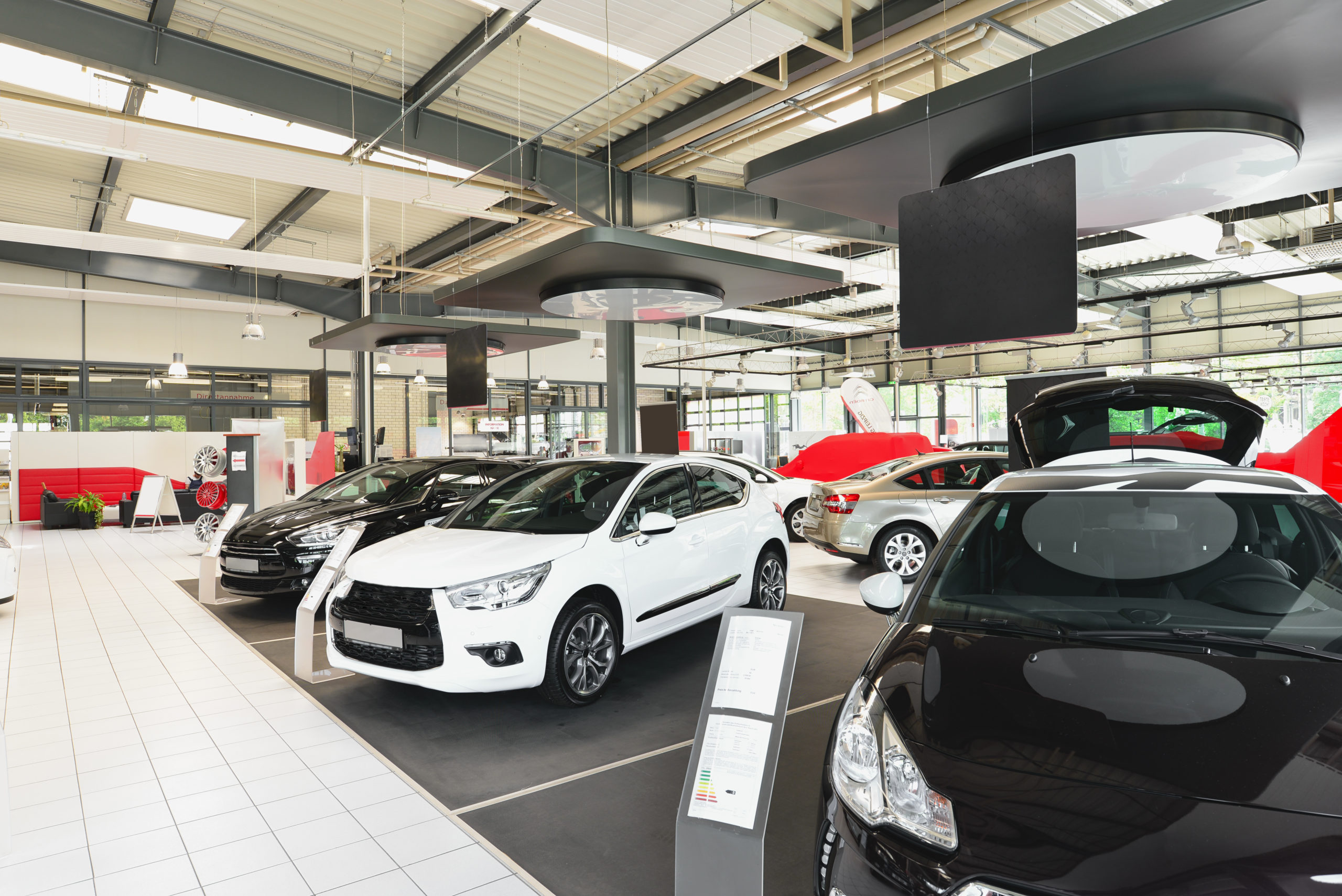 Global Light Vehicle (LV) sales registered 72.6 million units in September – the lowest level since May 2020 and a clear sign of the worsening supply crisis.
"Given that the pause in the recovery will extend through the fourth quarter and given the number of challenges manufacturing faces, we expect the industry will continue to struggle in its quest to return to normal," stated Jeff Schuster, president of Americas operations and global vehicle forecasts at LMC Automotive.
"After the significant cut to our near-term outlook last month, we have trimmed 2021 by an additional 400,000 to 80.2 million units – which cuts the increase from 2020 to just 3%. We have also cut 2022 to 84.8 million units, a reduction of 500,000 units," he added.
While some OEMs have signaled a jumpstart to manufacturing in November, the industry should expect a yoyo effect well into 2022, Schuster noted.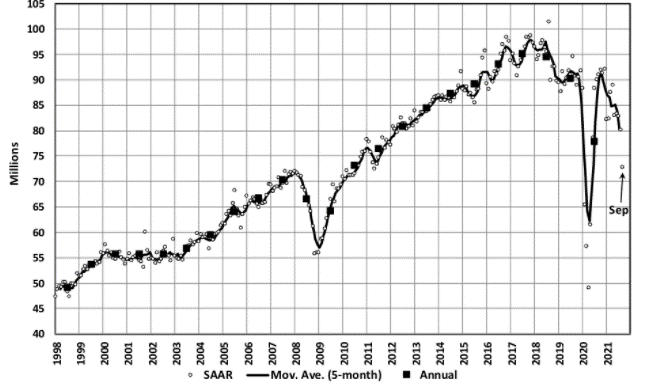 On the manufacturing side, the October Manufacturing PMI® registered 60.8, a decrease of .3 percentage point from the September reading of 61.1%; however, this figure indicates expansion in the overall economy for the 17th month in a row after a contraction in April 2020, according to supply executives in the latest Manufacturing ISM® Report On Business®.
"Business Survey Committee panelists reported that their companies and suppliers continue to deal with an unprecedented number of hurdles to meet increasing demand. All segments of the manufacturing economy are impacted by record-long raw materials lead times, continued shortages of critical materials, rising commodities prices and difficulties in transporting products," said Timothy R. Fiore, CPSM, C.P.M., chair of the Institute for Supply Management® (ISM®) Manufacturing Business Survey Committee.
Global pandemic-related issues such as worker absenteeism, short-term shutdowns due to parts shortages, difficulties in filling open positions and overseas supply chain problems continue to limit manufacturing growth potential.
Demand expanded, with the (1) New Orders Index growing, supported by continued expansion of the New Export Orders Index, (2) Customers' Inventories Index remaining at very low levels and (3) Backlog of Orders Index staying at a very high level.
Consumption (measured by the Production and Employment indexes) grew as well, with a combined 1.7 percentage point increase to the Manufacturing PMI® calculation. Although the Employment Index expanded for a second month, hiring difficulties at panelists' companies show no significant signs of abating.
Inputs – expressed as supplier deliveries, inventories and imports – continued to help constrain production expansion, especially with a contraction in imports, compared to September.
The Supplier Deliveries Index slowed, while the Inventories Index continued to expand faster due to (1) work-in-process inventory held longer due to key part shortages and (2) more finished goods inventory held due to downstream customer issues.
The Prices Index expanded for the 17th consecutive month (at a faster rate in October), indicating continued supplier pricing power and scarcity of supply chain goods.
U.S. New Vehicle Sales
New vehicle retail sales for the month of October 2021 are expected to decline when compared with October 2020 and October 2019, according to a joint forecast from J.D. Power and LMC Automotive.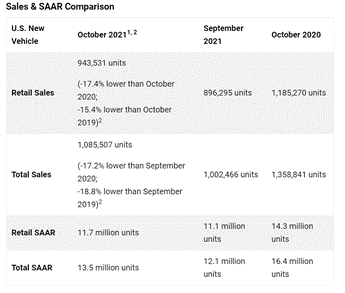 Total new vehicle sales during October 2021, including retail and non-retail transactions, are projected to reach 1,085,500 units – a 17.2% year-over-year decrease and a 18.8% decline from October 2019.
"October results demonstrate that new vehicle sales are still being constrained by how many vehicles are delivered to dealerships each month. However, strong consumer demand and a lack of inventory is leading to record transaction prices and profit for each unit sold. Month-end inventory of vehicles on dealer lots is expected to remain below one million for the third consecutive month," said Thomas King, president of the data and analytics division at J.D. Power.
Important Takeaways, Courtesy of J.D. Power:
Buyers are on pace to spend $41.5 billion on new vehicles, down $2.2 billion from October 2020 but up $3.3 billion from October 2019.
Truck/SUVs are on pace to account for a record high of 80.9% of new vehicle retail sales in October.
The average new vehicle retail transaction price in October is expected to reach a record $43,999. The previous high for any month was $42,921, set in September 2021.
Total retailer profit per unit – inclusive of grosses and finance & insurance income – is on pace to reach a record high of $5,129, an increase of $2,937 from a year ago and the first time above $5,000.
Fleet sales are expected to total 142,000 units in October, a 15.2% year-over-year decline and 35.8% decrease from October 2019 (on a selling day adjusted basis). Fleet volume is expected to account for 13% of total light-vehicle sales, flat from 13% a year ago.
"Looking forward to November, the overall industry sales pace will continue to be constrained by procurement, production and distribution. Put simply, November sales will be determined by the number of vehicles shipped from plants and ports to dealerships, but all indications are that shipments will not rise materially. This means November will likely be another month of lower sales volumes offset by record prices and profitability," King noted.
U.S. Used Market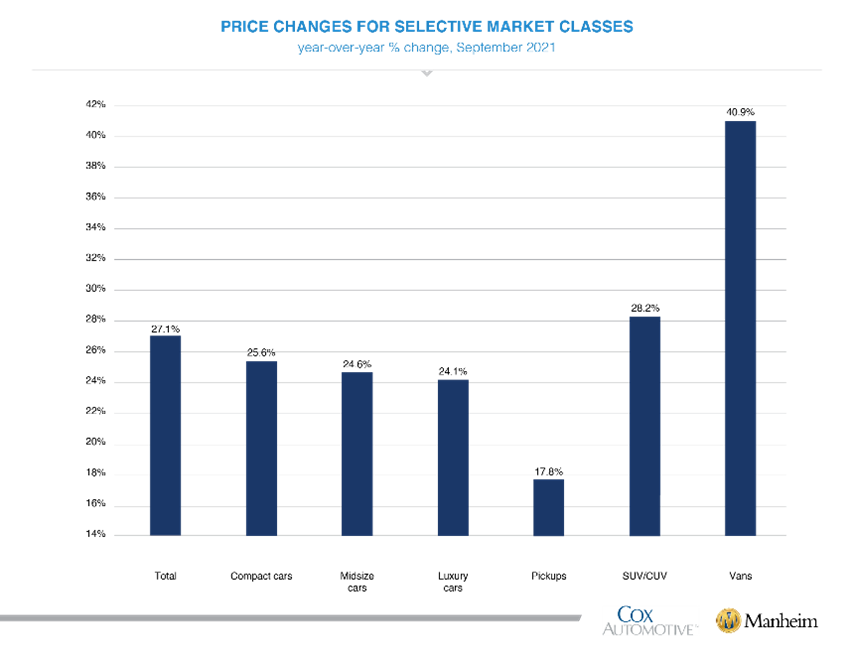 Wholesale used vehicle prices (on a mix-, mileage- and seasonally adjusted basis) increased 9.2% month-over-month in October – bringing the Manheim Used Vehicle Value Index to 223.7, a 38.1% increase from a year ago.
According to the most current data, Manheim Market Report (MMR) values saw weekly price increases accelerate and peak in mid-October.
All major market segments recorded year-over-year, seasonally adjusted price increases. Midsize cars and vans had the largest year-over-year performance, while the pickup and luxury car segments lagged the overall market, according to Manheim. On a month-over-month basis, no segment saw declines, while compact cars outpaced the market and remaining segments.
According to Cox Automotive estimates, total used vehicle sales were down 10% year-over-year in October. The used SAAR is estimated at 35.9 million, down from 39.9 million last October and flat compared to September's 35.9 million SAAR. The October used retail SAAR estimate is 19.6 million, down from 21.1 million last year and flat month-over-month.
"The used-vehicle market continues to buck historic seasonal trends and exhibit great strength as the industry moves deeper into the fall selling months. Wholesale prices are expected to close out October up by more than 4%, on average, and this will mark the first-time used prices have increased for the period in the last 25-plus years. The importance of used vehicles continues to progress as both dealers and consumers alike turn to pre-owned to help fill in the gaps created by current new-vehicle production and distribution constraints. Moving into November, expect used prices to remain near all-time highs as competition in the wholesale marketplace remains fierce due to lower levels of available units flowing through auction lanes and industry challenges remain in place." – Jonathan Banks, vice president of Valuations Services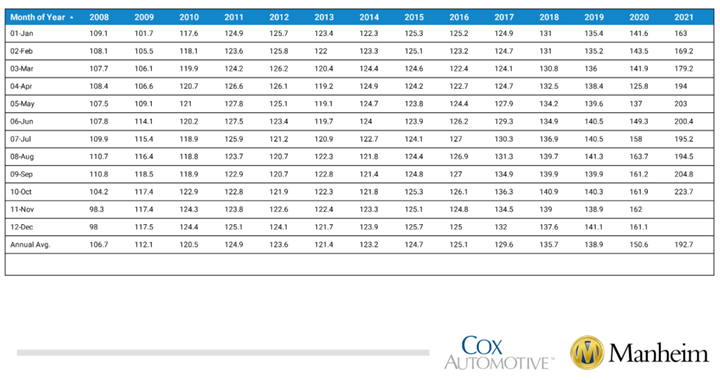 KPI — November 2021: Recent Vehicle Recalls