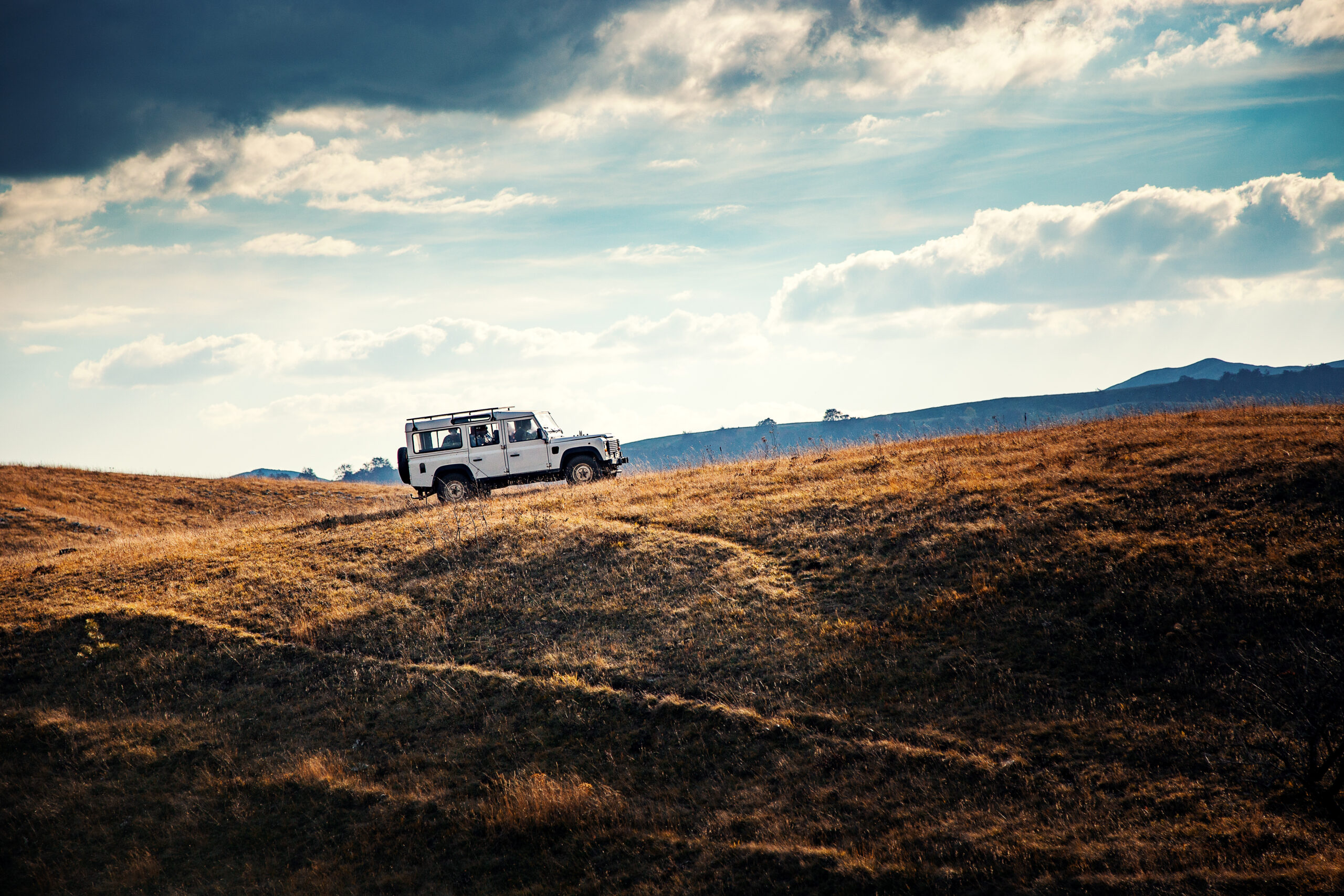 More than 440.8 million COVID-19 cases and 5.9 million deaths have been confirmed across the globe. Vaccination efforts remain a top priority among health and government officials, with the ultimate goal of reaching herd immunity. Approximately 10.5 billion doses have been administered around the world, with 215 million Americans, or 65.3% of the total U.S. population, now fully vaccinated.
COVID-19 Cases by Country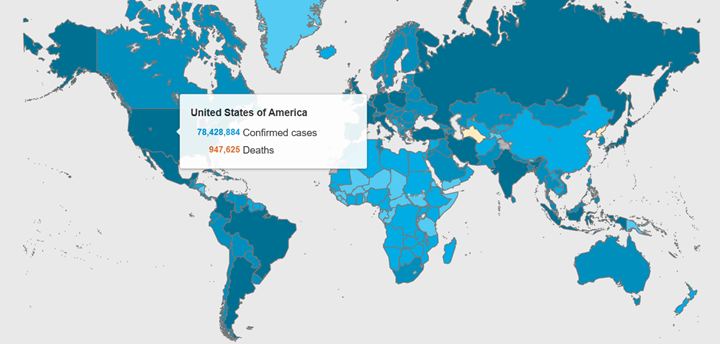 COVID-19 Cases by State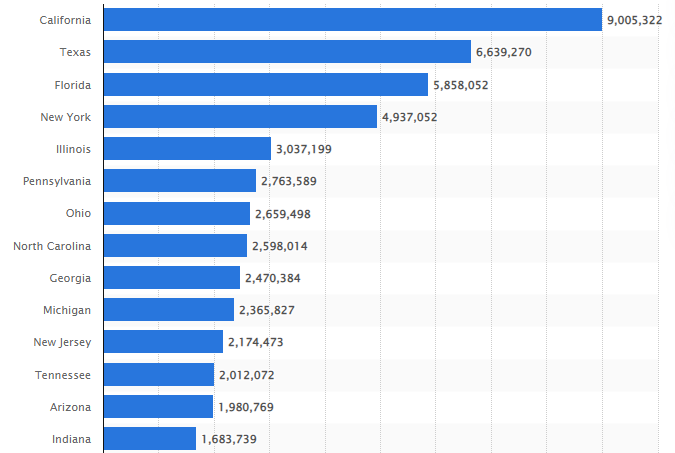 The Conference Board Consumer Confidence Index® decreased again in February. The Index now stands at 110.5 (1985=100), down from 111.1 in January and 115.8 in December. The Present Situation Index – based on consumers' assessment of current business and labor market conditions – improved to 145.1 from 144.5 last month. The Expectations Index – based on consumers' short-term outlook for income, business and labor market conditions – declined to 87.5 from 88.8.
Similarly, The Consumer Sentiment Index – a survey consisting of approximately 50 core questions covering consumers' assessments of their personal financial situation, buying attitudes and overall economic conditions –decreased to 62.8 in February from 67.2 in January – the lowest level in the past decade, according to the University of Michigan Survey of Consumers.
"The February descent resulted from inflationary declines in personal finances, a near universal awareness of rising interest rates, falling confidence in the government's economic policies and the most negative long-term prospects for the economy in the past decade," says Richard Curtin, Surveys of Consumers chief economist.
The Ukraine-Russia war is expected to result in further economic impacts, from higher prices to dampened spending and investment, says Federal Reserve Chair Jerome Powell. Economic simulations show reason for concern. Reuters says the jump in oil from approximately $75 a barrel in late December to more than $120 a barrel in March could add a 0.9 percentage point, or higher, to headline inflation and cut nearly half a percentage point, or more, in economic growth.
"What we know so far is that commodity prices have moved up significantly, energy prices in particular. That is going to work its way through our U.S. economy" in the form of higher inflation at least in the short term, Powell told the Senate Banking Committee. "In addition, we could see risk sentiment decline so you could see lower investment. You could see people hold back on spending. It is hard to see what the effect on both supply and demand will be."
The International Monetary Fund (IMF) is more transparent in its public economic assessment, warning that ongoing war in Europe and associated sanctions will have a "severe impact on the global economy." The IMF's report says there is "extraordinary uncertainty" in the air, and the international financial institution believes "economic consequences are already very serious."
Professionals in the automotive, RV and powersports industries remain steadfast in their efforts to evolve their business models and grow their brands in the face of adversity. As such, the monthly Key Performance Indicator Report serves as an objective wellness check on the overall health of our nation, from the state of manufacturing and vehicle sales to current economic conditions and consumer trends. Below are a few key data points explained in further detail throughout the report: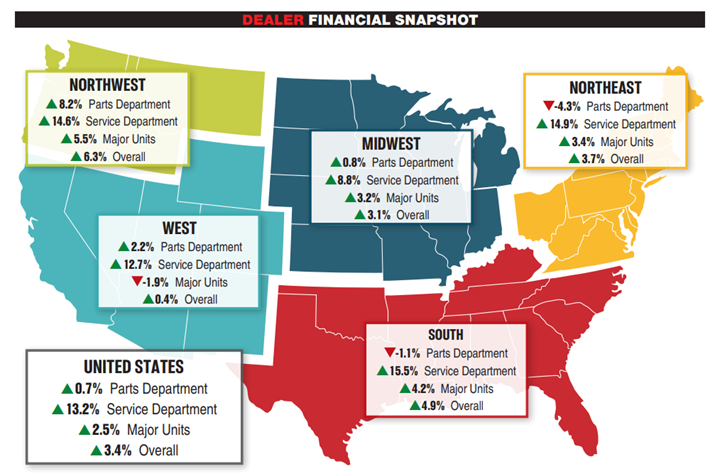 The February Manufacturing PMI® registered 58.6%, an increase of one percentage point from the January reading of 57.6%, according to supply executives in the latest Manufacturing ISM® Report On Business®.
LMC Automotive reports Global Light Vehicle (LV) sales improved to 84 million units per year during January 2022.
According to JD Power, total new-vehicle sales for February 2022, including retail and non-retail transactions, are projected to reach 1,057,300 units – an 11.1% decrease from February 2021. The seasonally adjusted annualized rate (SAAR) for total new vehicle sales is expected to be 14.1 million units, down 1.7 million units year-over-year.
The RV industry continues to set record-breaking numbers. In January, manufacturers reported a total of 53,290 units shipped – a year-over-year increase of 16%.
Powersports Business reports the Major Unit sales market moved into positive territory in December, following a decline in November. Revenue from new and pre-owned Major Units grew, on average, 2.5% year-over-year. Service posted strong numbers in December, with the average service department revenue growing by 13.2%. Parts, after a 7.2% increase in November, leveled out to .7% growth. Combined, the average dealership experienced a revenue increase of 3.4% during December, up from .4% in November. Dealerships in the Northwest (5.5%) and South (4.2%) posted the largest revenue increase in Major Unit sales. In service, the South (15.5%) and Northeast (14.9%) are clear leaders. In parts, dealers in the Northeast averaged 8.2% revenue growth.
The NFIB Small Business Optimism Index decreased slightly in January to 97.1, down 1.8 points from December. "More small business owners started the New Year raising prices in an attempt to pass on higher inventory, supplies and labor costs," says Bill Dunkelberg, NFIB chief economist. "In addition to inflation issues, owners are also raising compensation at record high rates to attract qualified employees to their open positions."
Key Takeaways, Courtesy of NFIB
Owners expecting better business conditions over the next six months increased two points to a net negative 33%. Small business owners remain pessimistic about future economic conditions as this indicator has declined 13 points over the past six months.
11% of owners cited labor costs as their top business problem, while 23% said that labor quality was their top business problem.
A net 50% (seasonally adjusted) reported raising compensation (a 48-year record high reading), yet 47% of owners reported job openings that could not be filled – a decrease of two points from December.
Inventory accumulation plans fell five percentage points.

KPI — March 2022: State of Business — Automotive Industry