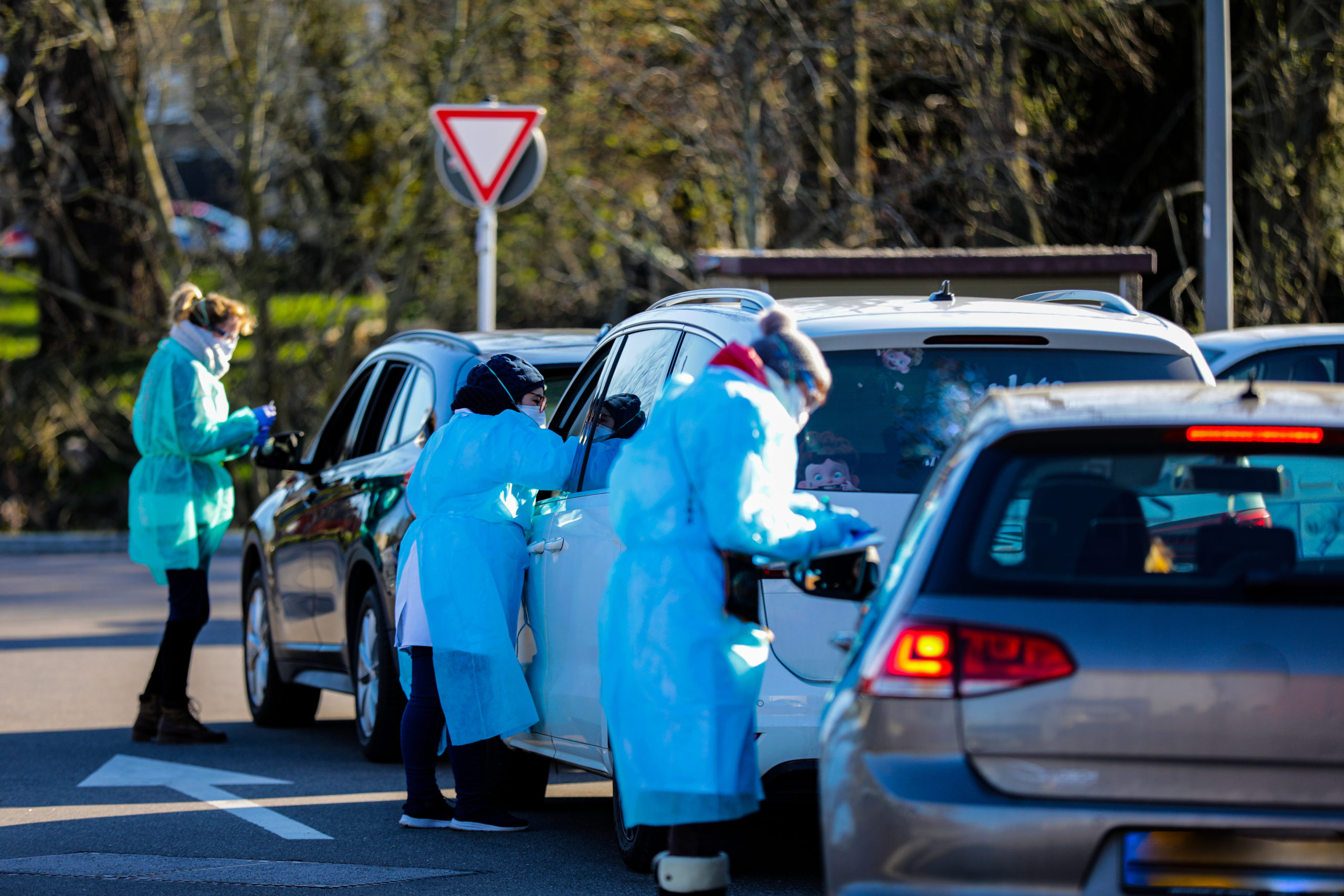 Nearly 115 million COVID-19 cases and 2.55 million deaths have been confirmed across 235+ countries, areas or territories.
Global markets remain hopeful of curbing the pandemic, leaning on the successful, albeit slow, deployment of Pfizer-BioNTech, Oxford-AstraZeneca and Moderna vaccines. Most recently, the U.S. Food and Drug Administration issued an emergency use authorization (EUA) for Janssen Pharmaceuticals, a pharmaceutical company headquartered in Beerse, Belgium and owned by Johnson & Johnson.
"The authorization of this vaccine expands the availability of vaccines, the best medical prevention method for COVID-19, to help us in the fight against this pandemic, which has claimed over half a million lives in the United States," said Acting FDA Commissioner Janet Woodcock, M.D.
While public health officials "hail" the vaccine for its efficiency—one dose without cumbersome, cold-storage obstacles—some groups are pushing back on issues of morality.
Furthermore, as reported last month, a UK trial was launched to determine if administering different COVID vaccines for first and second doses is as effective as using the same type of vaccine twice, reported BBC News.
"The idea is to provide more flexibility with vaccine rollout and help deal with any potential disruption to supplies. Scientists say mixing jabs could also possibly give even better protection," added BBC News.
Global COVID-19 Cases

U.S. COVID-19 Cases
Stateside there are 28,403,416 confirmed cases and 513,071 deaths, with California, Texas, Florida and New York reporting the highest numbers.
COVID-19 restrictions vary by state, county and even city. Review a comprehensive list of current restrictions here.
U.S. COVID-19 Cases by State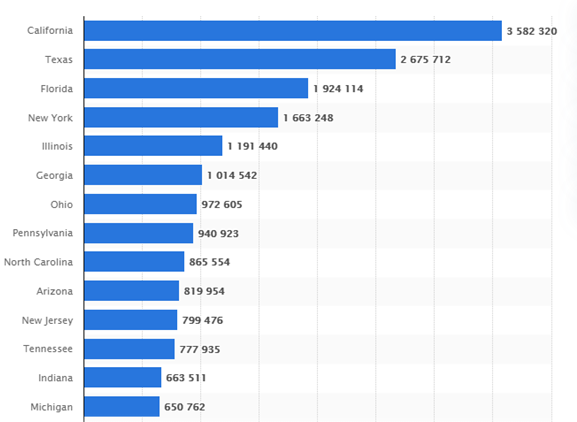 As of March 4, 2021, the state with the highest number of COVID-19 cases was California which, coincidentally, also imposed some of the strictest government orders throughout the pandemic. Almost 28.8 million cases have been reported across the United States, with California, Texas, Florida and New York reporting the highest numbers.
The U.S. is navigating toward recovery, with increased vaccination and stimulus plans underway, but economic impacts remain widespread and challenges are ahead. The Consumer Sentiment Index—a survey consisting of approximately 50 core questions covering consumers' assessments of their personal financial situation, buying attitudes and overall economic conditions—finished at 76.8 in February, a month-over-month decline, according to University of Michigan Survey of Consumers.
Conversely, The Conference Board Consumer Confidence Index® improved. The Index now stands at 91.3 (1985=100), up from 88.9 in January.
A rise in consumer confidence is evident across the retail sector. The National Retail Federation (NRF) calculation of retail sales, which excludes automobile dealers, gasoline stations and restaurants, posted a 5.9% month-over-month gain (seasonally adjusted) and a 10.7% year-over-year increase (unadjusted) in January.
Economists are optimistic that as Americans get past the worst of the pandemic, they will be eager to act upon pent-up demand. NRF forecasts put 2021 retail sales between $4.33 trillion and $4.4 trillion. Online sales, which are included in the total, are expected to grow between 18% and 23% ($1.14 trillion and $1.19 trillion). Read the full report here.
Despite progress, many small businesses across the country continue to struggle. Professionals in the automotive aftermarket, powersports and RV industries remain steadfast in their efforts to evolve their business models and grow their brands in the face of adversity. As such, the monthly Key Performance Indicator Report serves as an objective wellness check on the overall health of our nation, from the state of manufacturing and automotive industry to current economic conditions and consumer trends.
Below are a few key data points explained in further detail throughout the report:
The February Manufacturing PMI® registered 60.8%, an increase of 2.1 percentage points from the January reading of 58.7%. This figure indicates expansion in the overall economy for the ninth month in a row after contraction in March, April, and May, according to the nation's supply executives in the latest Manufacturing ISM® Report On Business®.
The Conference Board forecasts that US Real GDP growth will rise by 2% (annualized rate) in Q1 and 4.4% year-over-year in 2021.
The Consumer Price Index for All Urban Consumers (CPI-U) increased .3% in January on a seasonally adjusted basis after rising .4% a month prior, according to the U.S. Bureau of Labor Statistics.
Global Light Vehicle (LV) sales increased by 1.9% year-over-year in January, while the selling rate dropped to a "lackluster" 82 mn units/year, well below the 91 mn units/year average in Q4 2020, according to LMC Automotive.
The Cox Automotive full-year forecast is 15.7 million sales, up from 14.5 million in 2020. In February, new light-vehicle sales are forecast to fall nearly 128,000 units year-over-year, or 9.4%. However, sales are expected to increase nearly 12% when compared to last month.
The NFIB Small Business Optimism Index declined in January to 95, down .9 from December and three points below the 47-year average of 98.

Owners expecting better business conditions over the next six months declined seven points to a net negative 23%, the lowest level since November 2013, according to NFIB. The net percent of owners expecting better business conditions has fallen 55 points over the past four months.
"As Congress debates another stimulus package, small employers welcome any additional relief that will provide a powerful fiscal boost as their expectations for the future are uncertain," said Bill Dunkelberg, NFIB chief economist. "The COVID-19 pandemic continues to dictate how small businesses operate, and owners are worried about future business conditions and sales."
Readers are encouraged to study the most current Small Business Optimism Index.
Important Takeaways, Courtesy of NFIB
The NFIB Uncertainty Index decreased eight points to 82.
The percent of owners thinking it is a good time to expand decreased four points to 8%.
Sales expectations over the next three months declined 14 points to a net negative 4%.
Earnings trends over the past three months declined seven points to a net negative 14% reporting higher earnings.
The monthly Key Performance Indicator Report is your comprehensive source for industry insights, exclusive interviews, new and used vehicle data, manufacturing summaries, economic analysis, consumer reporting, relevant global affairs and more. We value your readership.