Features
KPI — March 2021: State of Business: Automotive Industry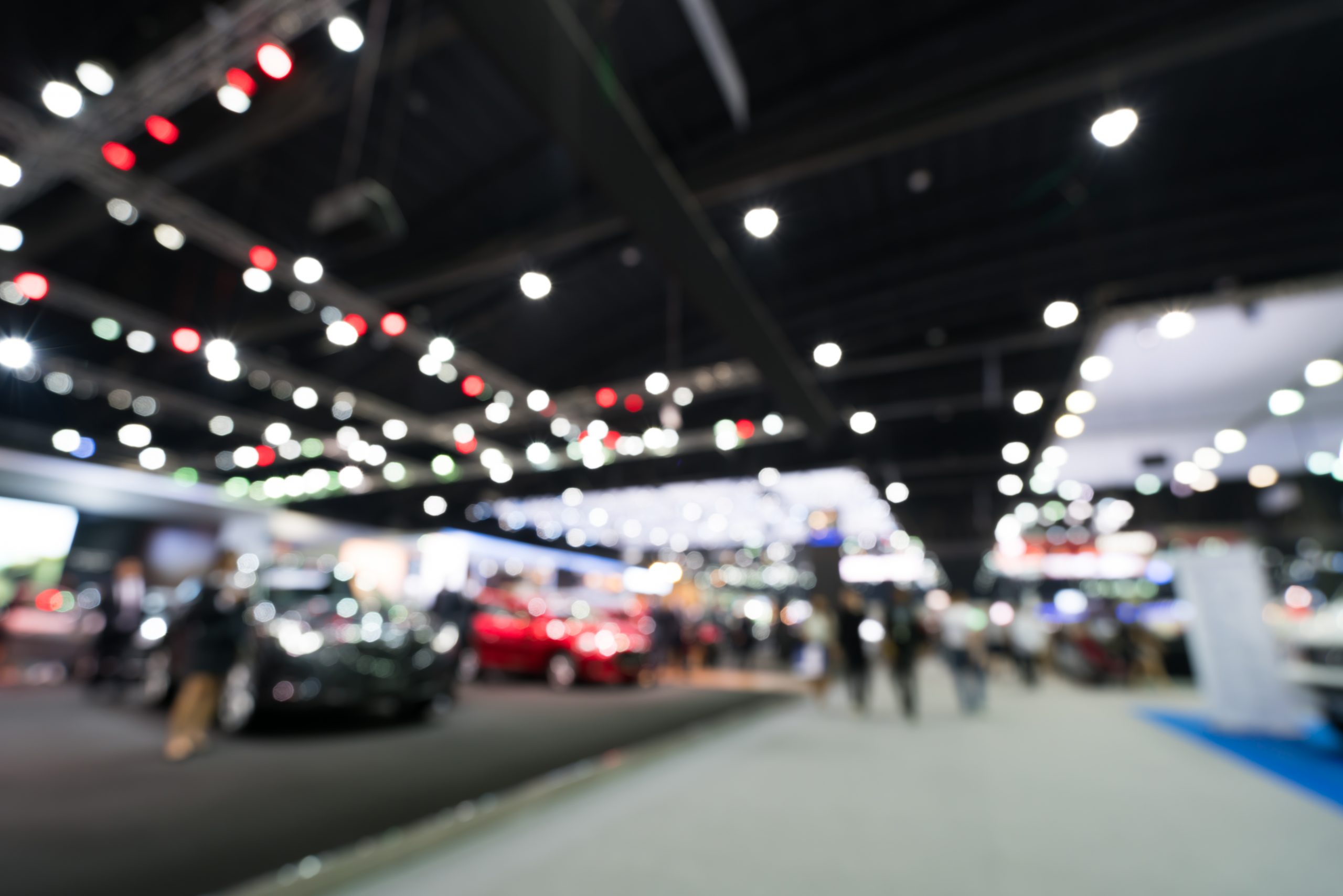 The 2021 global light vehicle forecast is a theme of continued recovery.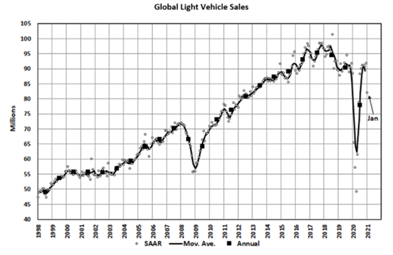 After finishing 2020 on a high note, Global Light Vehicle (LV) sales posted a modest 1.9% year-over-year gain in January. The selling rate dropped to a "lackluster" 82 mn units/year, well below the 91 mn units/year average in Q4 2020, according to LMC Automotive.
Volume is projected to increase to 86.4 million units, an 11% bump from 2020, but the impacts of the pandemic are not behind us.
"There are new risks emerging, such as the global semiconductor shortage and the potential for additional disruptions. Our initial assessment suggests there could be weakness in the first quarter due to vehicle production losses related to the lack of chips, but we don't expect a lasting negative effect on the year," said Jeff Schuster, president of Americas operations and global vehicle forecasts at LMC Automotive.

U.S. New Vehicle Sales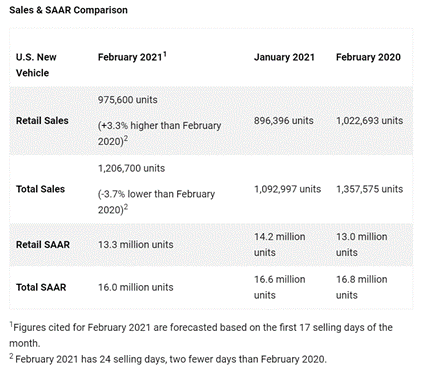 Stateside, February total new vehicle sales are projected to equal 975,600 units, a 3.3% year-over-year increase when adjusted for selling days, according to J.D. Power.
"Despite challenges posed by inclement weather in most of the country, retail sales demand continues to be strong, with the industry posting a second consecutive month of year-over-year gains," said Thomas King, president of the data and analytics division at J.D. Power.
Important Takeaways, Courtesy of J.D. Power:
Consumers will spend an estimated $36.6 billion on new vehicles, up $2 billion from February 2020 and the highest ever for the month of February.
Lean inventories mean vehicles are selling quickly once they arrive at dealerships—and they are selling with lower discounts. The average number of days a new vehicle sits on a dealer lot before being sold is approximately 53 days, down 18 days from last year.
The average manufacturer incentive is roughly $3,562 per vehicle, a decrease of $614 from a year ago.
Average transaction prices are expected to hit another monthly high, rising 9.8% to $37,524—the highest ever recorded for the month of February. Disciplined incentives and dealer discounting, along with the shift towards more expensive trucks and SUVs, remain the key drivers of higher prices.
Low interest rates and higher trade-in values also are supporting higher transaction prices. The average interest rate for loans in February is expected to fall 121 basis points from a year ago to 4.3%.
SUVs and trucks are trending toward a combined 78% of retail sales compared with 74% a year ago.
"The combination of strong retail sales, higher transaction prices and smaller discounts means that February 2021 likely will be one of the most profitable Februarys ever for both retailers and manufacturers," said King. "Overall, the retail sales outlook for 2021 remains extremely positive. Strong sales volumes, coupled with record transaction prices and profitability, are expected to continue."
Used Market
Wholesale used vehicle prices (on a mix-, mileage- and seasonally adjusted basis) increased 3.31% during the first 15 days of February compared to the month of January. This brought the mid-month Manheim Used Vehicle Value Index to 168.4, a 17.4% increase from February 2020, according to Manheim.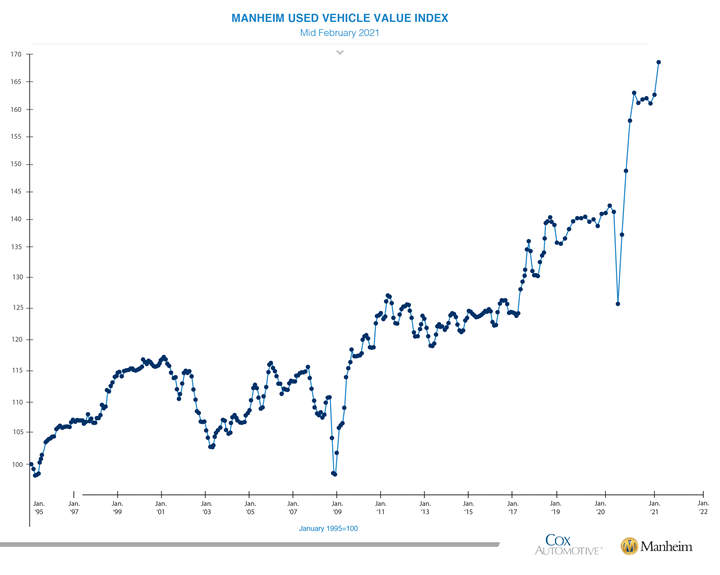 According to the most current Manheim report, Three-Year-Old MMR Index, which represents the largest model year cohort at auction, experienced a 1% cumulative increase over the last two weeks. Over the first 15 days of February, MMR Retention, which is the average difference in price relative to current MMR, averaged 100.9%. The sales conversion rate also increased. Sales efficiency last week was more than seven percentage points higher than the average sales efficiency in February 2020. The latest trends in the key indicators suggest used vehicle values are likely to continue to see appreciation in the days and weeks ahead. Traditionally, values do increase each spring, but the increases typically start in March and coincide with the distribution of tax refunds.
All major market segments posted year-over-year, seasonally adjusted price increases during the first 15 days of February. Pickup trucks outperformed the overall market, while most other major segments underperformed the overall market.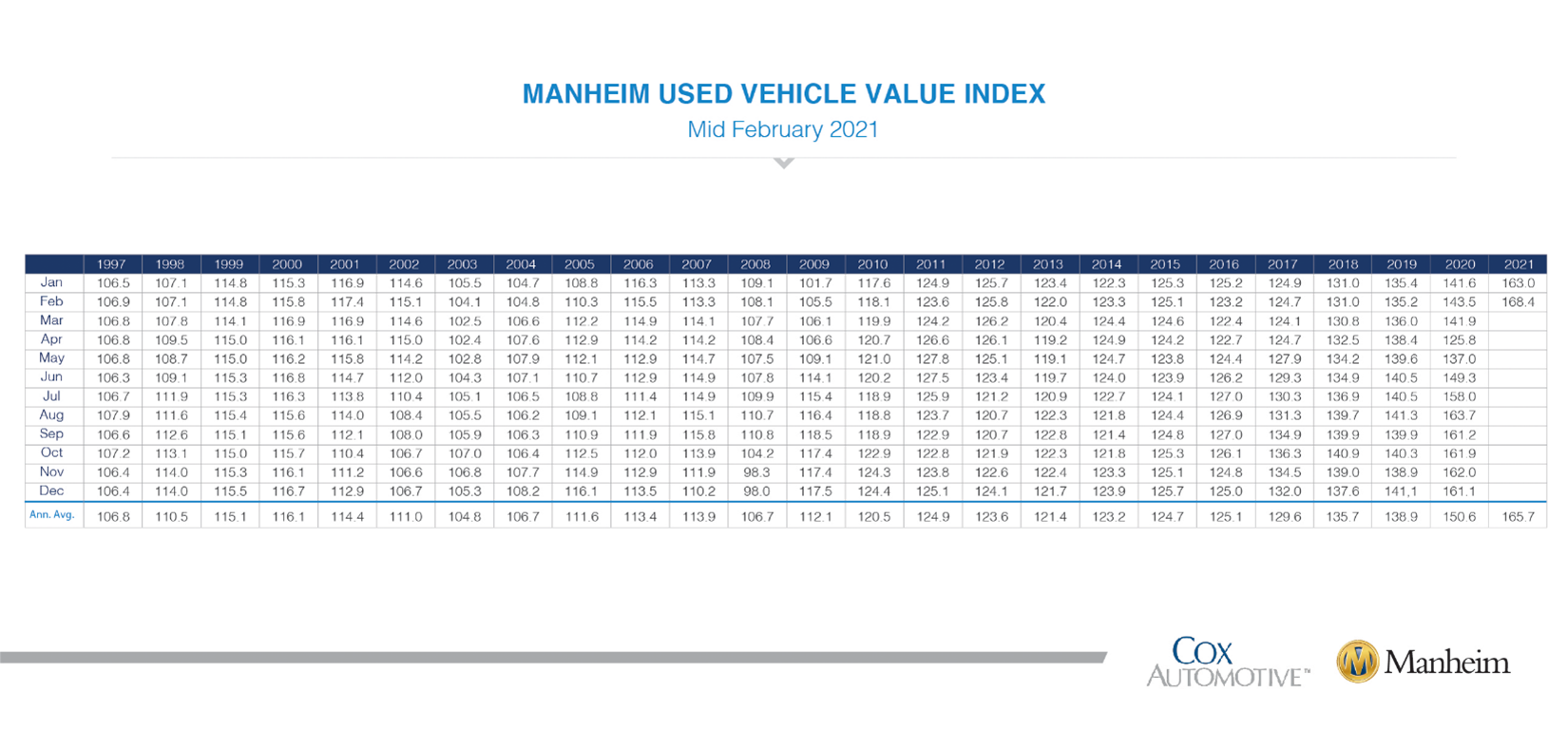 This month's "Manheim Synopsis" confirms auto loan performance deteriorated in January. Though performance remains better than last year and much better than what would have happened in a typical recession. Loan delinquencies and defaults have been low because of stimulus support and loan accommodations. In January, 1.44% of auto loans were severely delinquent, which was an increase from 1.40% in December, and 5.21% of subprime loans were severely delinquent, which was an increase from 5.03%. Sixty-day delinquencies have increased in each of the last six months, but delinquencies were down 12% year-over-year in January. Better than normal loan performance and strong vehicle values have helped auto credit access improve in recent months. The Dealertrack Auto Credit Index measured loosening of credit in September, October, November and December, but credit conditions tightened in January and credit remains tighter than a year ago. In combination with dips in consumer sentiment and consumer confidence, buying conditions for vehicles plunged to the lowest level since 2008.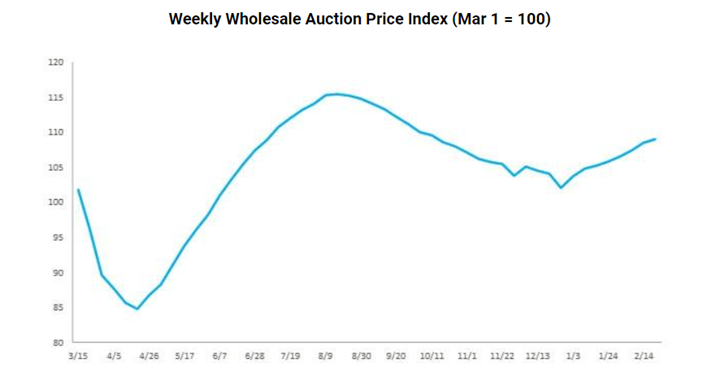 After increasing 1% the week ending Feb. 14, wholesale auction prices continued to rise during the week ending Feb. 21, according to J.D. Power. Prices last week improved 0.4%, which extends the streak of week-over-week price increases in the wholesale marketplace to eight weeks. Wholesale prices are now 5% lower than their peak back in August 2020. Review the full report here.
Automotive Aftermarket
The nation is living through historic times, with the pandemic presenting a number of challenges. Recently, SEMA Market Research released its "SEMA Future Trends—January 2021" report, answering questions like "What's the path moving forward? How does recovery look for the economy and our industry? How are consumers reacting? When can we expect to move past COVID-19?" laying out potential pathways forward, noted Kyle Cheng in SEMA eNEws.
The report is comprised of detailed information and forecasts to help companies make sound business decisions rooted in data and analytics, according to Cheng. The report is available for download here, with a preview included below. All slide and caption information is fully attributed to SEMA Market Research.
SEMA Future Trends Report:
The likely scenarios for economic and industry recovery
Projections for the automotive and specialty-equipment industries
Timelines on when we can move past the pandemic
The latest economic forecasts
Consumer spending behavior and industry outlook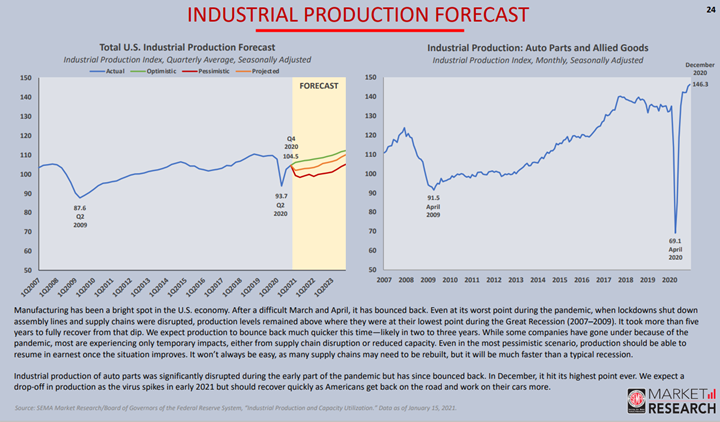 Manufacturing has been a bright spot in the U.S. economy. After a difficult March and April, it has bounced back. Even at its worst point during the pandemic, when lockdowns shut down assembly lines and supply chains were disrupted, production levels remained above where they were at their lowest point during the Great Recession (2007–2009). It took more than five years to fully recover from that dip. We expect production to bounce back much quicker this time—likely in two to three years. While some companies have gone under because of the pandemic, most are experiencing only temporary impacts, either from supply chain disruption or reduced capacity. Even in the most pessimistic scenario, production should be able to resume in earnest once the situation improves. It will not always be easy, as many supply chains may need to be rebuilt, but it will be much faster than a typical recession. Industrial production of auto parts was significantly disrupted during the early part of the pandemic but has since bounced back. In December, it hit its highest point ever. We expect a drop-off in production as the virus spikes in early 2021 but should recover quickly as Americans get back on the road and work on their cars more.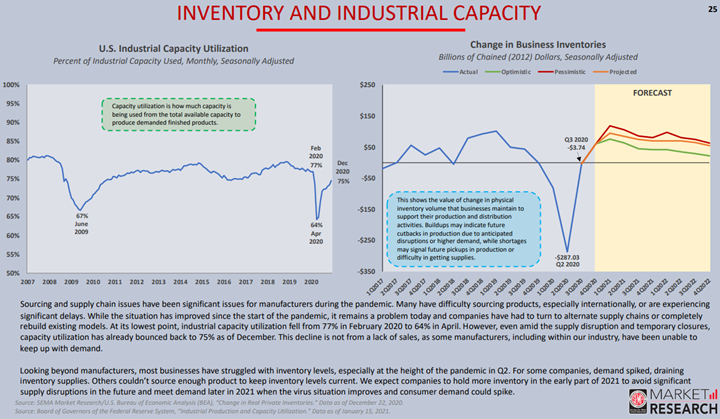 Sourcing and supply chain issues have posed significant challenges for manufacturers during the pandemic. Many have difficulty sourcing products, especially internationally, or are experiencing significant delays. While the situation has improved since the start of the pandemic, it remains a problem today and companies have had to turn to alternate supply chains or completely rebuild existing models. At its lowest point, industrial capacity utilization fell from 77% in February 2020 to 64% in April. However, even amid the supply disruption and temporary closures, capacity utilization has already bounced back to 75% as of December. This decline is not from a lack of sales, as some manufacturers, including within our industry, have been unable to keep up with demand. Looking beyond manufacturers, most businesses have struggled with inventory levels, especially at the height of the pandemic in Q2. For some companies, demand spiked, draining inventory supplies. Others could not source enough product to keep inventory levels current. We expect companies to hold more inventory in the early part of 2021 to avoid significant supply disruptions in the future and meet demand later in 2021 when the virus situation improves and consumer demand could spike.
Important Industry News
Keystone Automotive Operations, Inc., a distributor and marketer of automotive aftermarket products and services, is hosting its annual 2021 BIG Show. The company returns to the Gaylord Texan Resort and Convention Center in Grapevine, Texas this weekend, March 5-6, followed by a virtual event from March 15-19. "While many industry sectors are facing their share of challenges, the automotive aftermarket continues to thrive," said Bill Rogers, Keystone Automotive Operations President. "Nothing replaces doing business in person and our team, customers and suppliers are looking forward to the opportunity to safely connect at the BIG Show in Texas."
Goodyear Tire & Rubber Company and Cooper Tire & Rubber Company have entered into an agreement under which Goodyear will acquire Cooper for approximately $2.5 billion, the companies announced. The transaction will expand Goodyear's product offering by combining two portfolios of complementary brands, the company said, and will also create a stronger U.S.-based manufacturer with an increased presence in distribution and retail channels while combining both companies' strengths in the highly profitable light truck and SUV product segments.
According to Powersports Business, Polaris teased its plans to debut a new 2022 electric Ranger utility side-by-side in late 2021, with product arriving at dealerships by early 2022. The full-size Ranger is the first electric vehicle Polaris developed through its partnership with Zero Motorcycles.
IBISWorld predicts the U.S. recreational towing market will hit $8.3 billion in 2021—an 11% hike over 2020 and significantly higher than the 4.7% average growth rate for the towing market between 2017 – 2019. As such, dealers, jobbers and installers should prepare for another bump in sales by evaluating inventory, merchandising and staffing needs.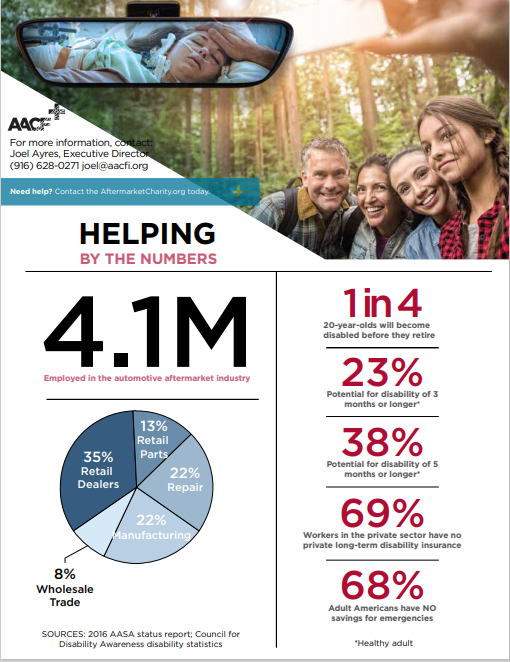 The Automotive Aftermarket Charitable Foundation was founded in 1959 to assist automotive aftermarket members and their families who, due to catastrophic illness or terrible accident, have exhausted all other available resources in maintaining a reasonable existence. The organization's mission is to provide sustainable solutions for those in calamitous situations.
Joel Ayres, Executive Director, asks for companies and individuals to join their cause of paying it forward—whether participating through the awareness partner program, hosting company fundraisers, becoming a sponsor or making a personal donation. For more information, contact Ayres at joel@aacfi.org.