Features
KPI — June: The State of Business — Automotive Industry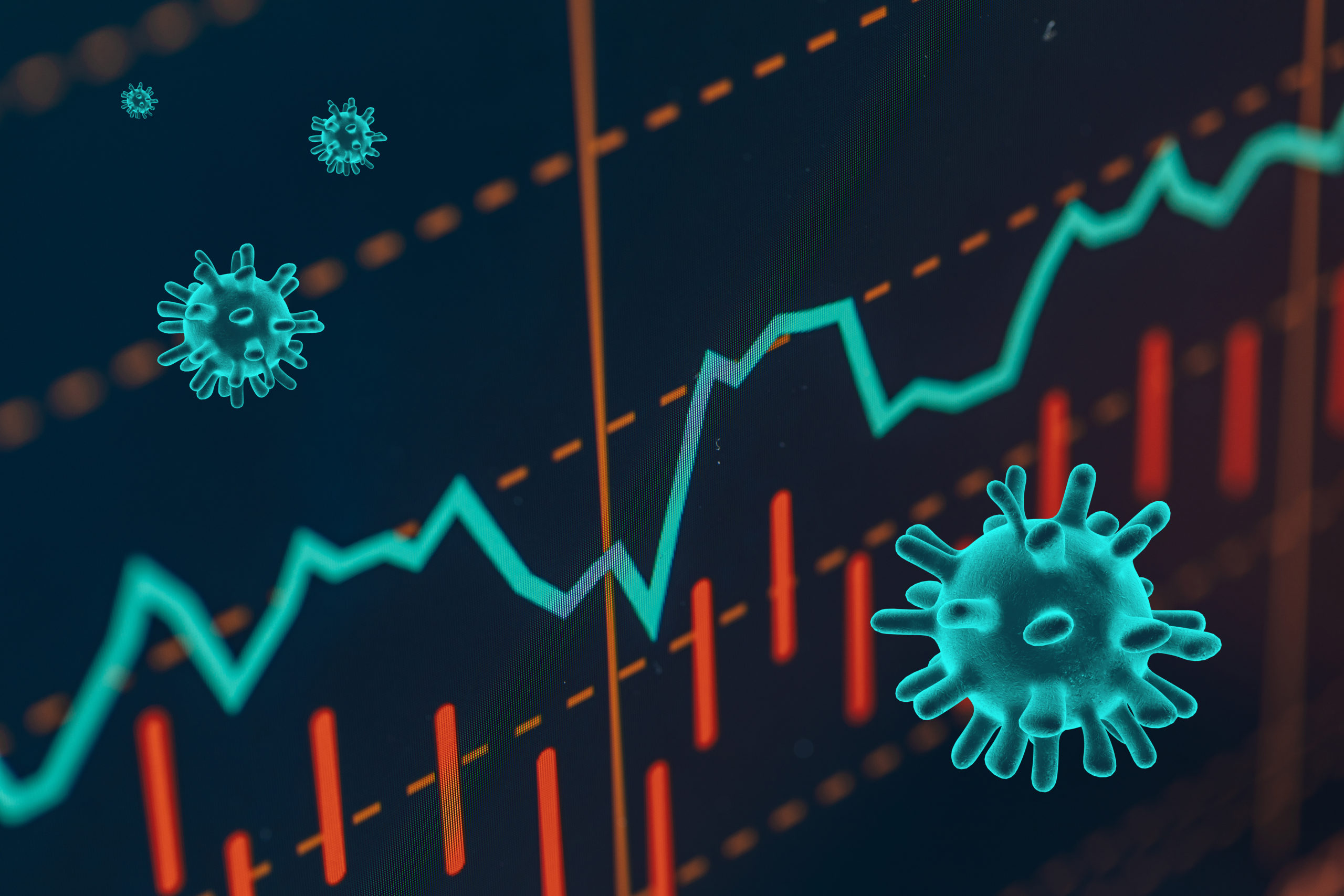 With more than 9 million COVID-19 cases worldwide, countries seek to balance necessary public health measures and economic recovery.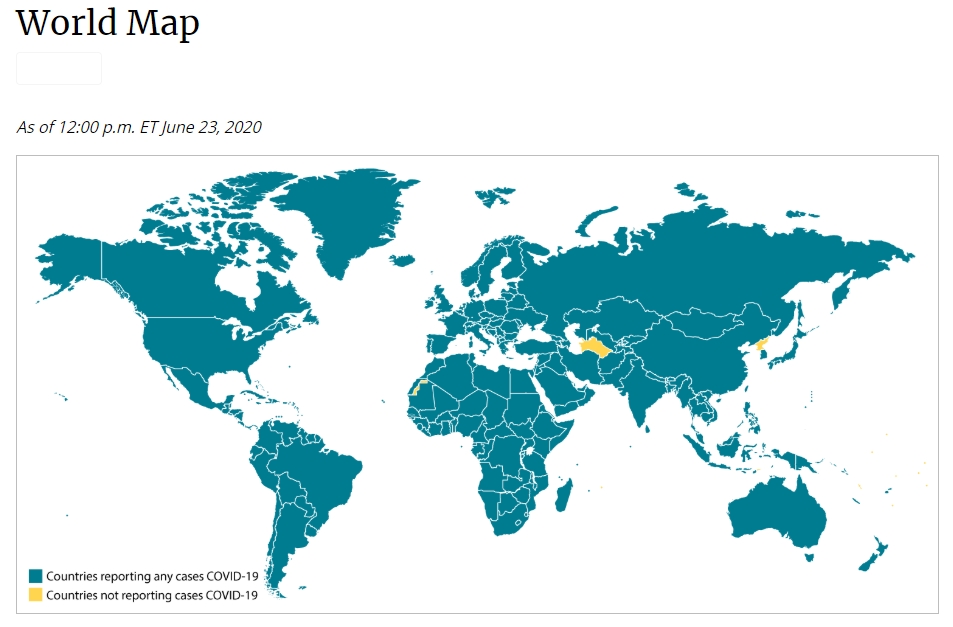 Visit the following pages for global case numbers (reported by the World Health Organization) and CDC's COVID-19 travel recommendations by country. CDC recommends that travelers avoid all nonessential international travel.  The list of countries below is organized based on regions defined by the World Health Organization. For U.S. information, visit CDC's COVID-19 in the U.S.
As reported last month, the U.S. economy shrank more than expected during the first quarter of the year, falling at a seasonally adjusted annual rate of 5% in the three-month period January – March. Unfortunately, that number pales in comparison to unofficial estimates for the second quarter. According to recent CNBC coverage, the Atlanta Federal Reserve predicts a 52.8% decline following reports that U.S. manufacturing remains firmly in decline, which will weigh on investment and consumption.
Furthermore, while the country is on the move to reopen and resume business, the Institute for Supply Management (ISM) warns of long-term impacts as a result of the pandemic:
Economic downturn to continue through 2020
Manufacturing expected to contract in 2020
Revenue to decrease 10.3%
Capital expenditures to decrease 19.1%
Capacity utilization currently at 75.9%
Non-manufacturing expected to contract in 2020
Revenue to decrease 10.4%
Capital expenditures to decrease 13.4%
Capacity utilization currently at 73.3%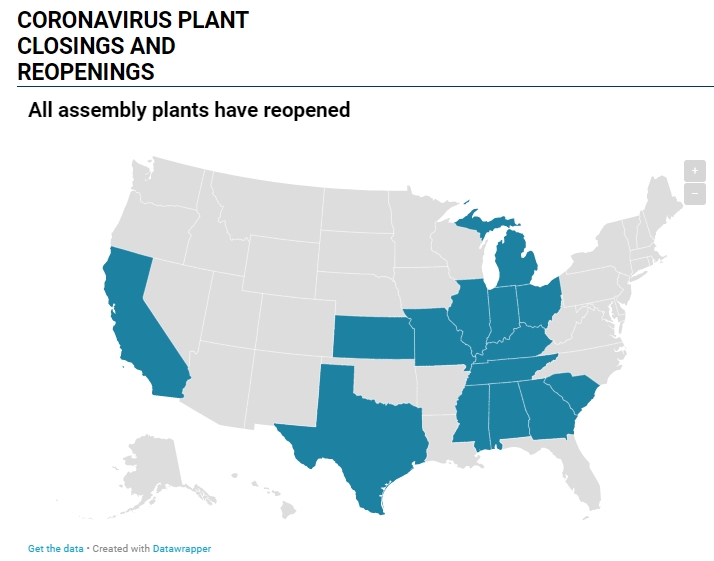 Visit https://www.autonews.com/topic/coronavirus-plant-closings for up-to-date assembly plant details. SEMA continues to track state-level reopening as well, posting government and industry guidance about best practices on its website–click here for details.
"The extent of the downturn and the pace of recovery remain extraordinarily uncertain," said Federal Reserve Chairman Jerome Powell. "We all want to get back to normal," he added, "but a full recovery is unlikely to occur until people are confident that it is safe to reengage in a broad range of activities." That includes vehicle purchases.
Global Automotive Industry Impact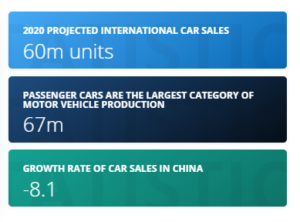 Did you know commercial vehicles and passenger cars are among the auto industry's most important industry segments?
Now imagine the financial significance of global passenger car sales, for example, being forecast at 59.5 million units in 2020, down from a peak of 79.6 in 2017.
The global decline in vehicle sales, according to Bank of America Corp.'s annual Cars Wars forecast, "is a massive number and really harkens back to the idea that the crisis we're all sitting in the middle of is everywhere and anywhere, which is a lot different than what the industry has gone through in the past 20 or 30 years where it has been localized," explained John Murphy, the bank's senior automotive analyst.
The impact has been widespread, from North America to Asia and Europe. As such, there is a growing consensus to expect a years-long recovery for the global automotive industry.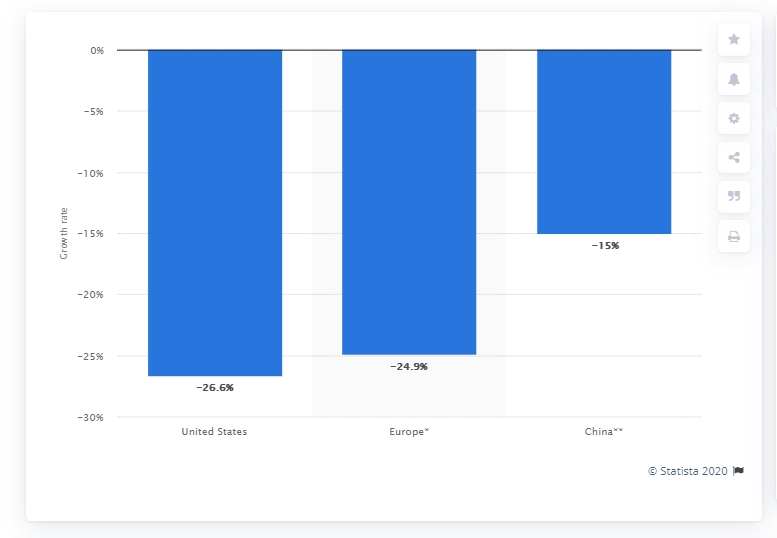 The chart indicates that light vehicle sales in mainland China are anticipated to decrease by 15% between 2019 and 2020, sliding to 21 million units by the end of 2020. U.S. auto sales are projected to fall below 13 million units in 2020, while it is expected that the auto industry in Central and Western Europe will shrink by 24.9% year-over-year.
Take, for example, fewer than 332,000 vehicle sales in Canada during the first quarter of 2020—a year-over-year reduction of 82,000 units, according to Automotive News Canada. More specifically, DesRosiers Automotive Consultants noted that March volume was down 48% in comparison to the previous year, contributing to the worst first-quarter performance of Canadian auto sales since the Great Recession.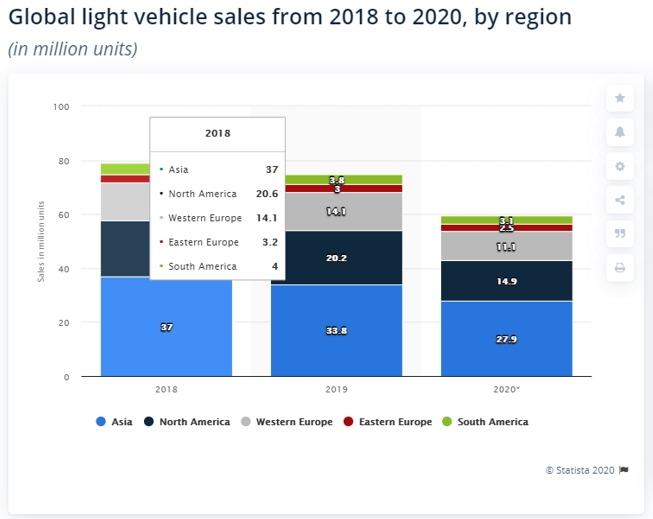 Statista reported that light vehicle sales in 2020 will drop approximately 20%, with Bank of America predicting a slightly-higher decline of 25%. Light vehicle sales in North America are anticipated to fall to 14.9 million units. Light vehicle sales are projected to be around 13 million units in the United States, North America's largest market, down from nearly 17 million units one year earlier.
At a more granular level, Global Light Vehicle (LV) sales decreased by 33% year-on-year (YoY) during May. While an astonishing dip, it is an improvement when compared to April. For Statista, it suggests that the post-pandemic recovery—lengthy as it might be—is underway.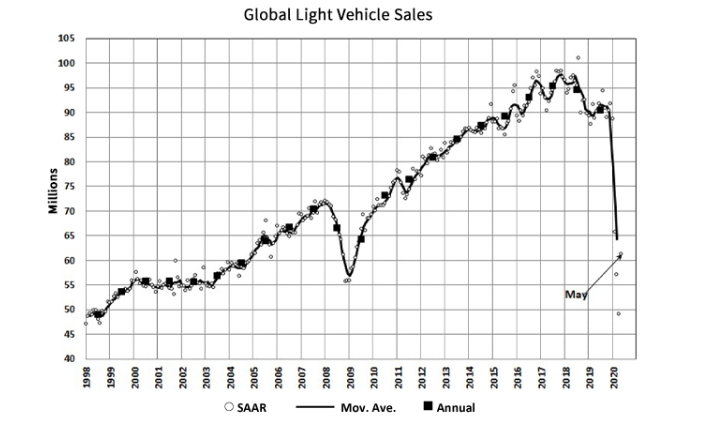 According to recent market reporting from MarkLines Co., Ltd.—a provider of online information services and B2B promotional support specific to the automotive industry—Korea and China continue on a path toward recovery, posting positive year-over-year changes in May. Headwinds remain significant across various regions, noted MarkLines Co., but there are indicators that the very worst is behind us—though what lies ahead is uncertainty.
Below is an insightful excerpt from "Auto industry recovery from COVID-19 could take years, signaling slow climb back," authored by Breana Noble of The Detroit News. In it, Noble presents the incredible challenges and pressure that automotive manufacturers are under during these unprecedented times.
This year, stay-at-home orders limited production and dealer sales. Low inventory levels, particularly on popular trucks, also may affect sales. With automakers hoping to ramp up production to normal by the end of June or in early July, inventory levels may return to normal by the fall, Murphy said. The next month will be critical for the companies and their supplies, said Kevin Nowlan, chief financial officer for Auburn Hills-based BorgWarner Inc.
"I think the challenge we're seeing is, there's a lot of volatility in production schedules from OEMs, and week-to-week they're changing," Nowlan said Thursday during Deutsche Bank's Global Auto Industry Conference. "Plants aren't necessarily running at the most efficient (levels). You might be running one shift, two shifts — it really depends on the demand."
Early challenges with supplier constraints are easing, especially as parts and vehicle production in Mexico has resumed, added David Dauch, CEO of Detroit-based American Axle & Manufacturing Holdings Inc.
"Probably the biggest uncertainty for all of us is just understanding where the consumer demand will settle in not only for the second half of the year but in 2021 and beyond," Dauch said. "We're prepared to adjust our operations accordingly—up or down."
Noble and The Detroit Times are not the only ones basking in theoretical questions these days. In its most recent quarterly report, Experian Automotive posed similar questions, including "What is occurring in the vehicle market and what will the recovery be like? Can we learn from the past? Where are we today? Who will recover the quickest?" That insight is captured in the screenshots below, courtesy of Experian Automotive.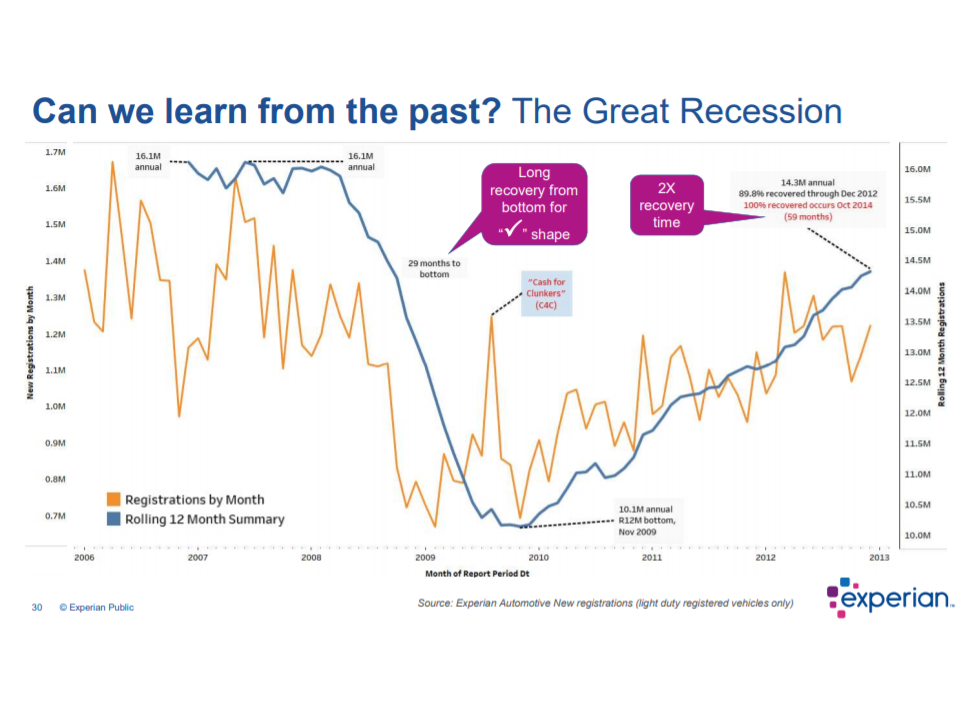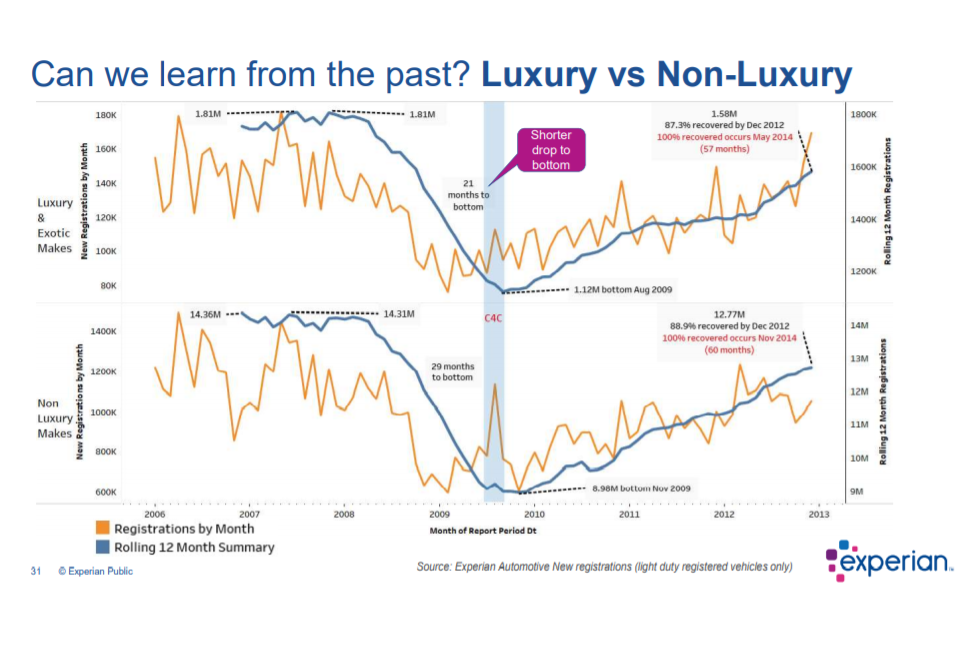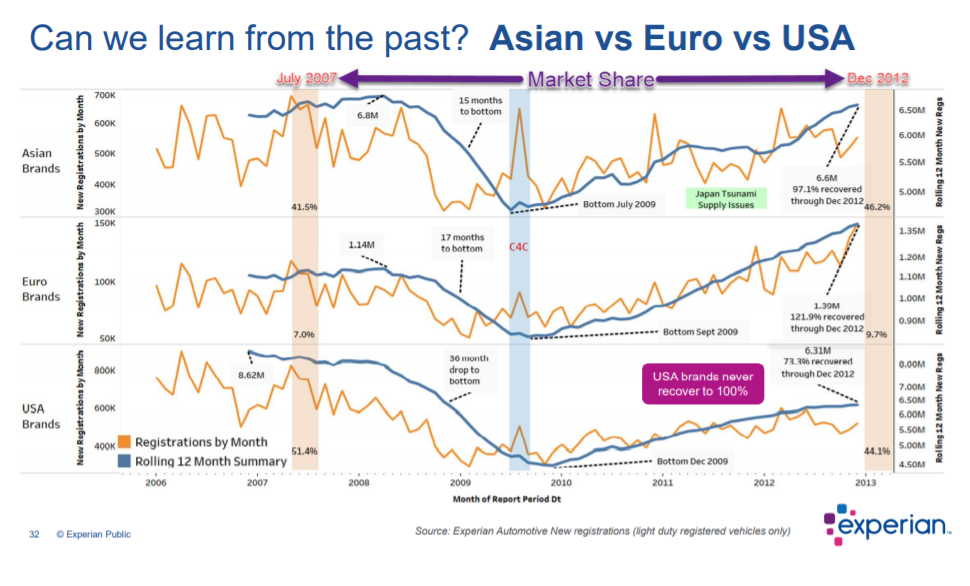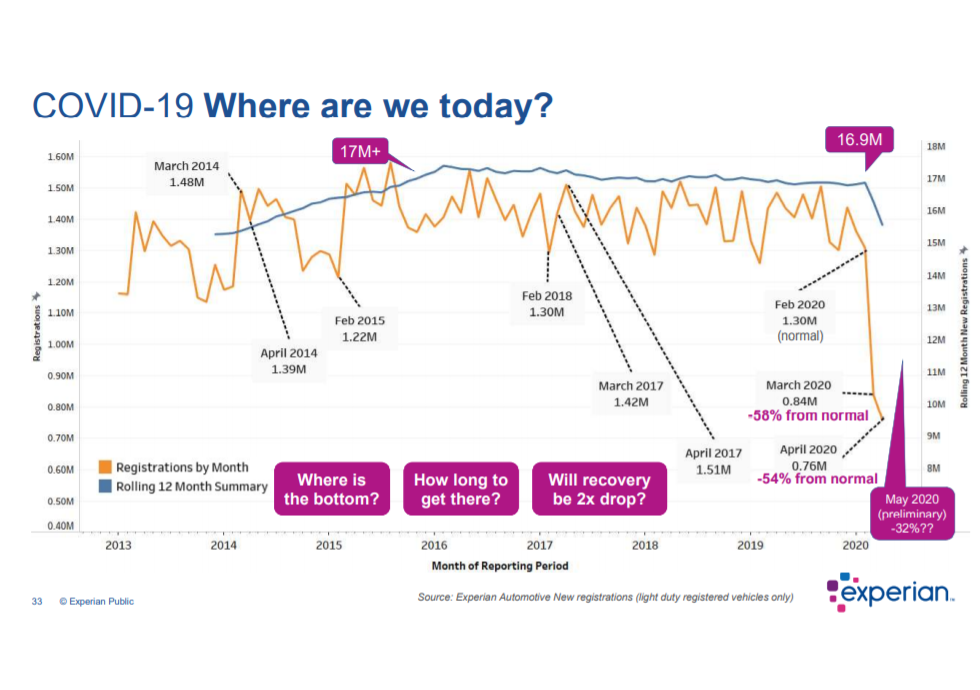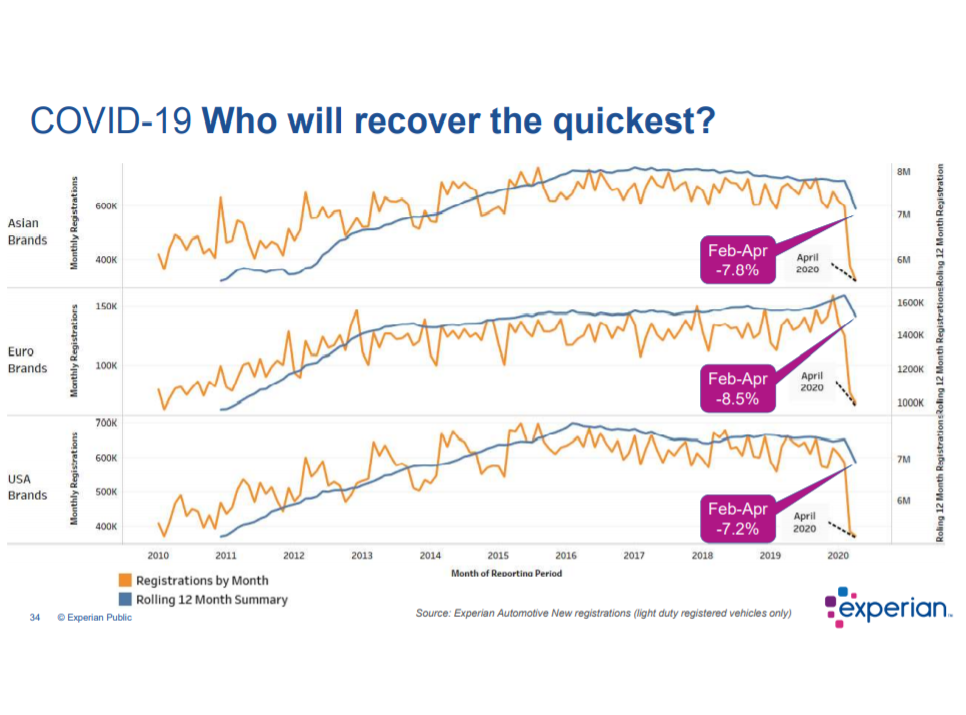 Automotive Aftermarket Impact
Undoubtedly, automakers across the globe are faced with largescale, complex challenges as a result of the pandemic and subsequent economic turmoil. While the aftermarket is in no way immune from impact, it has proven nimble. Case in point, online purchases for parts and accessories soared as vehicle sales entered freefall and traditional automotive aftermarket retailers grappled with an unprecedented loss in showroom foot traffic.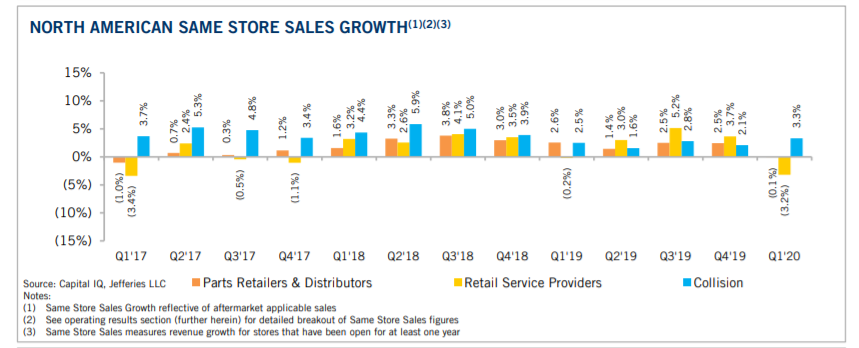 Hedges & Company—a digital marketing agency serving the automotive aftermarket, OEM parts and powersports industries—has been tracking and analyzing the weekly eCommerce activity of nearly 17 million user sessions and approximately 275,000 online purchases from parts and accessory websites across the U.S. and Canada, including retailer websites as well as manufacturer websites selling direct to consumer (DTC). Hedges & Company broke down online sales into five market segments, including OEM replacement parts, light truck and off-road parts and accessories, performance and racing parts, aftermarket accessories, as well as powersports parts and accessories.
"Data shows the aftermarket eCommerce channel has seen a significant year-over-year (YoY) increase due to the coronavirus pandemic. That trend has been holding steady for nearly three months. Online revenue the week of June 14-20, 2020 had a 48% increase from the first week of March 2020. Online sales the week of June 14-20, 2020 for parts & accessories are showing a 65% year-over-year increase, in line with the recent 67% trend cited at the top of this page. By contrast, this same week last year (June 16-22, 2019) was up just 8% from the first week of March 2019," the company said.
Below are sales increases for the week of June 14-20 compared to the week of March 1-7, which serves as a baseline before the coronavirus pandemic forced widespread shutdowns of retail businesses.
Overall aftermarket eCommerce sales, including parts and accessories for automotive, light truck and powersports: Up 48%
OEM replacement parts sales: Up 32%
Light truck and off-road parts sales: Up 44%
Performance/racing parts sales: Up 34%
Powersports: Up 114%
Automotive aftermarket accessories: Up 41%
In addition, recent SEMA data suggests the automotive aftermarket is on the rebound. Between May 20–29, SEMA conducted a survey of more than 1,800 professionals within the specialty-equipment industry, the results of which are below. *All data, analysis and charts are fully credited to Kyle Cheng of SEMA.
Overall, our industry continues to maintain a positive outlook and is beginning to move past the disruption. The number of companies that are "mostly business as usual" jumped from 17% in early April to 28% at the end of May. Overall, almost 90% of companies said they are "mostly business as usual" or "impacted short-term, but will get through it." As restrictions start to lift, businesses are beginning to return to more normalcy.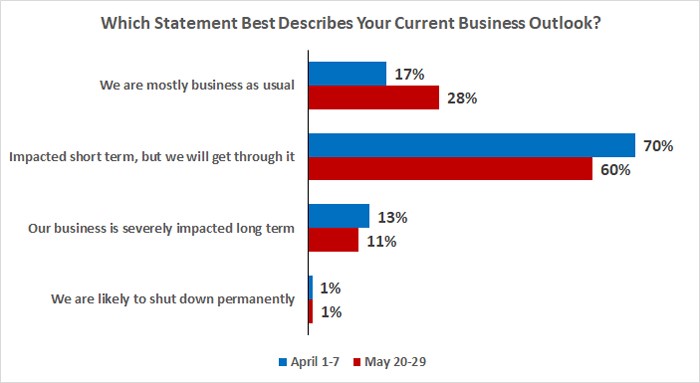 In the coming months, businesses that experienced setbacks will undertake a variety of plans to return to full operations. Approximately 42% plan on taking measures to increase customer and employee safety, and 30% are allowing employees to work remotely. Few businesses chose to close facilities or lay off staff during the pandemic, and most plan to completely re-open or re-hire some staff in the coming months.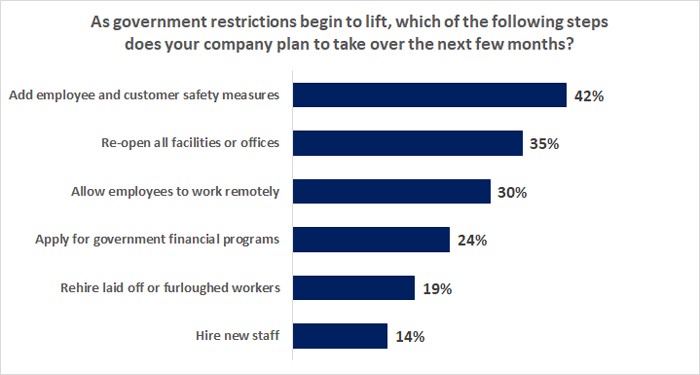 By the end of 2020, 69% of companies anticipate having the same or more staff as they had before the virus outbreak started.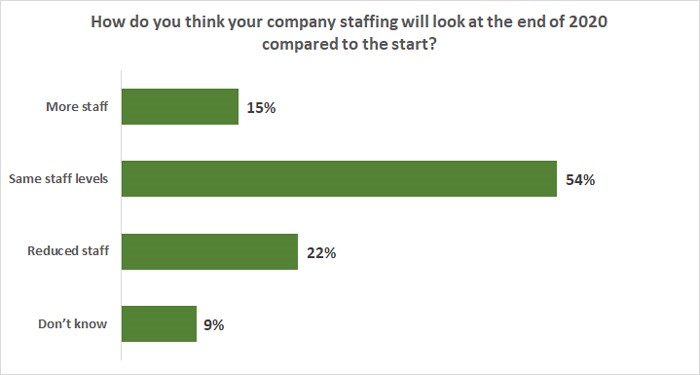 About half of all companies surveyed applied for financial assistance over the last few months, particularly the Payment Protection Program (PPP) and Economic Injury Disaster Loans (EIDL) from the Small Business Administration. More than 70% of companies applying for aid report that they have received at least some of the funding.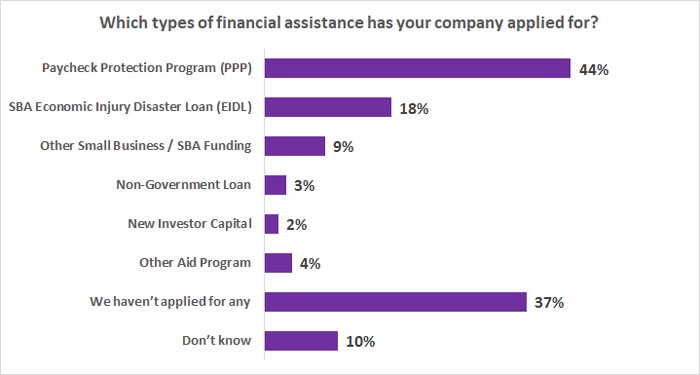 Companies primarily turned to banks to apply for financial assistance, with nearly half using small local banks or credit unions.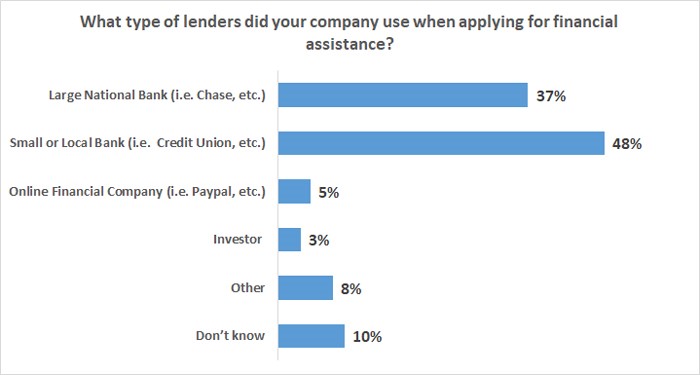 Despite the disruption over the past few months, our industry remains optimistic about their ability to push through. Three-fourths of those surveyed said they are confident in their company's plan moving forward.