Features
KPI — July: State of Business — Automotive Industry
The public is engaged in a tug of war between visible signs of recovery (such as assembly plant and showroom re-openings) and unrelenting outbreaks of COVID-19 due to insufficient containment.
With more than 14 million cases and 609,000 deaths worldwide, the virus continues to infiltrate, impact and divide every facet of society as countries seek to balance necessary public health measures with economic recovery.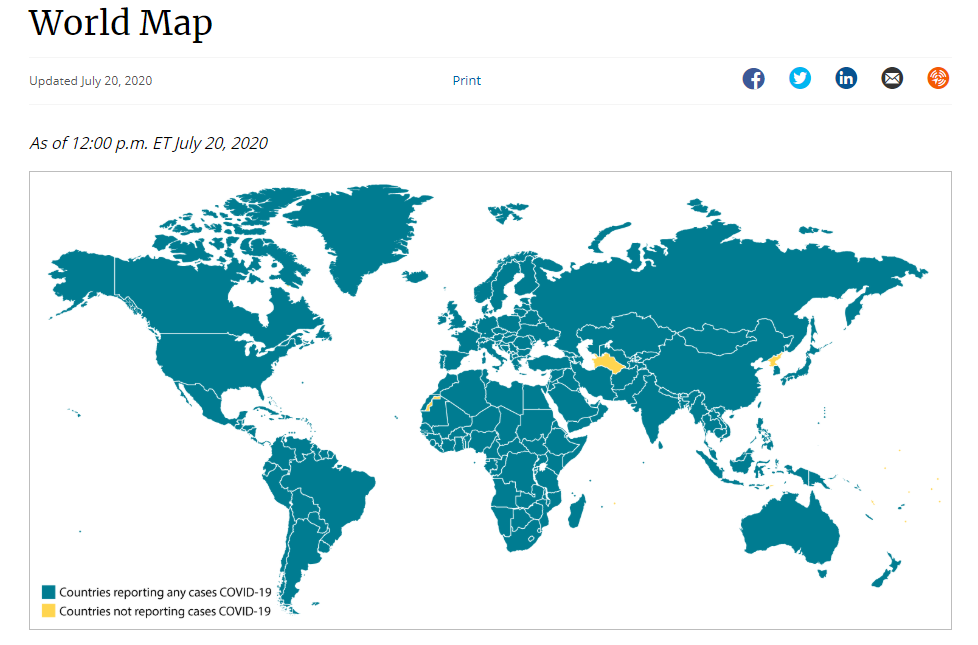 Visit the following pages for global case numbers external icon (reported by the World Health Organization) and CDC's COVID-19 travel recommendations by country. CDC recommends that travelers avoid all nonessential international travel. The list of countries below is organized based on regions defined by the World Health Organization. For U.S. information, visit CDC's COVID-19 in the U.S.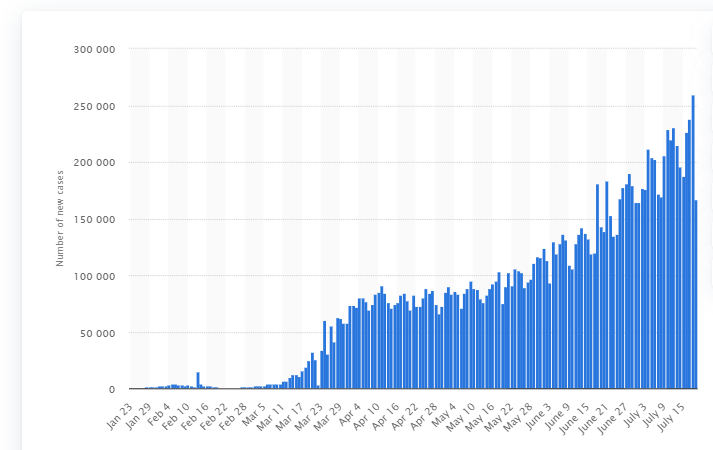 "The extent of the downturn and the pace of recovery remain extraordinarily uncertain. We all want to get back to normal, but a full recovery is unlikely to occur until people are confident that it is safe to reengage in a broad range of activities," said Jerome Powell, Federal Reserve chairman.
That confidence extends itself to the automotive industry, which has experienced large-scale challenges around the world due to the pandemic.
Global Automotive Industry Impact
Global light vehicle sales fell 18.1% in June 2020, according to LMC Automotive. While a selling rate of 75.6 mn units/year is representative of steady improvement since April, it remains well below healthy market levels and points to a long-term recovery effort.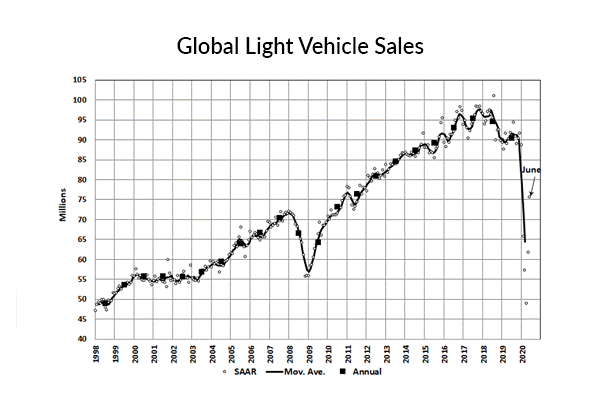 "With lockdowns being lifted across much of the world, recovery appears to be underway, though a sizeable risk of deterioration remains," warned LMC Automotive.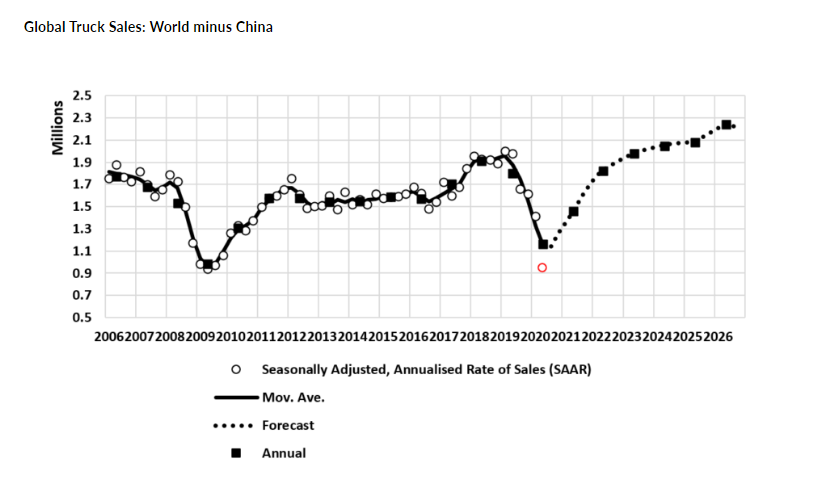 Furthermore, global truck sales fell by 24% in Q1. North American forecasts have been reduced further, as the U.S. tries to control the spread of COVID-19. Thus, full-year sales are projected to decrease by nearly half in comparison to 2019.
"However, we are also taking into account some recent green shoots. These include a 57% rebound in May's Class 8 net order intake, compared to April," added LMC Automotive.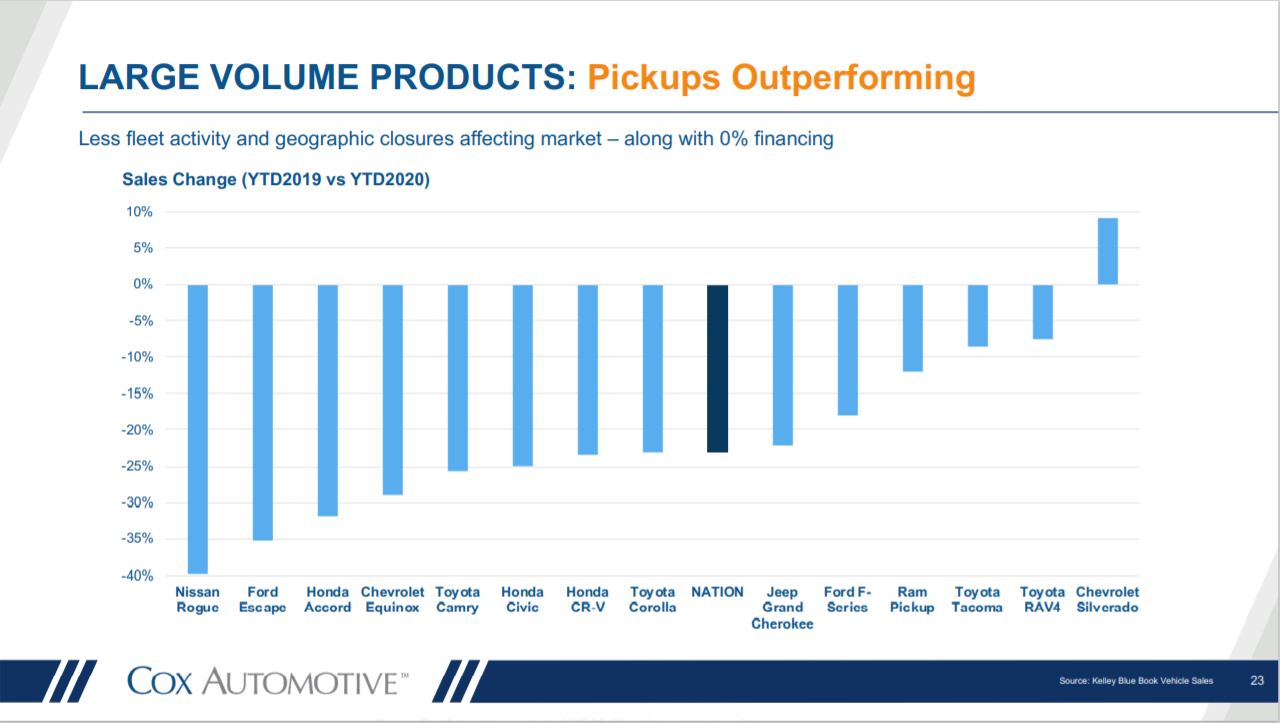 A positive takeaway: though global truck sales are down by 24% in Q1—and the North American forecast was revised down—pickups (Ford F-Series, Ram, Toyota Tacoma and Chevrolet Silverado) are outperforming other models on a national average, according to Cox Automotive.
The global passenger vehicle (PV) industry continues to suffer enormous losses worldwide as well.
Even as China was showing encouraging signs of a possible V-shaped recovery, June sales slipped significantly, indicating a bumpy ride ahead. The US industry, despite having turned in some encouraging numbers in May, retreated last month. Europe, the UK and India remained sluggish and stuttering, with sales volumes expected to be under last year's by over 25%, while South Korea remains a bright spot, tracking ahead on a year to date basis in June," explained Aman Madhok, analyst at Counterpoint Technology Market Research, a global industry analysis firm headquartered in Asia.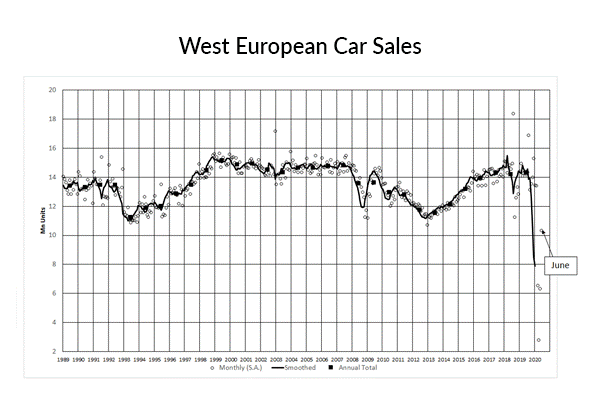 West European car registrations dropped by 24.8% year-over-year. While the regional selling rate stands at 10.3 mn units/year, "It is clear that demand remains very depressed and COVID-19 continues to weigh heavily on the regional economy," said LMC Automotive.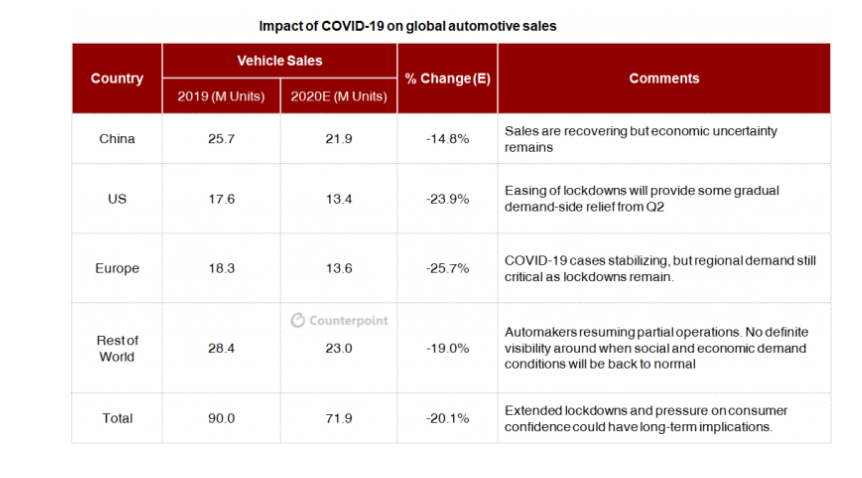 While some varied signs of recovery emerged in June, Counterpoint Research remains cautious in its predictions, with a sales outlook of approximately 72 million units for 2020—a 20.1% decline from 2019.
Recently, Madhok offered an industry-wide check-up in his article "Weekly Update: COVID-19 Impact on Global Automotive Industry," the analysis of which is paraphrased below and fully credited to Madhok and Counterpoint Technology Market Research. Various mid-year data from Cox Automotive complements the U.S. section and, therefore, was included to provide additional clarity.
• China: Passenger vehicle sales registered 1.68 million units in June 2020, a 6.5% year-over-year decline. Sales of new-energy vehicles (NEVs), which includes electric cars, continue to decline as well. NEV sales dropped 35% year-over-year to 85,600 units during the same timeframe—following a decline of 26% in May and 30% in April. After growing rapidly for several years, electric car sales have lost momentum, with the government rolling back subsidies in mid-2019 and prevailing lower oil prices, making typical internal combustion engine (ICE)-powered vehicles more economical to operate. Electric vehicles (EVs), however, remain a priority for China and authorities are considering fresh stimulus measures to support their recovery. Interestingly, Tesla accounted for nearly 23% share of electric car sales during the reporting period. Counterpoint analysts are monitoring Tesla's rise in China and the impact its operations and popularity are having on other domestic EV manufacturers, as well as the market at large.
• United States: Experts say U.S. recovery is fragile, with a question mark of additional social restrictions and possible stay-at-home orders to quell the virus. Counterpoint analysts forecast an annual decline that could reach north of 24%. The silver lining: COVID-19 impact on the US EV market has been limited due to the strong sales of Tesla during Q1 2020. "Tesla's market capitalization now exceeds Toyota's, making it the most valued carmaker in the world and underscoring its sustained global EV sales momentum over the pandemic period."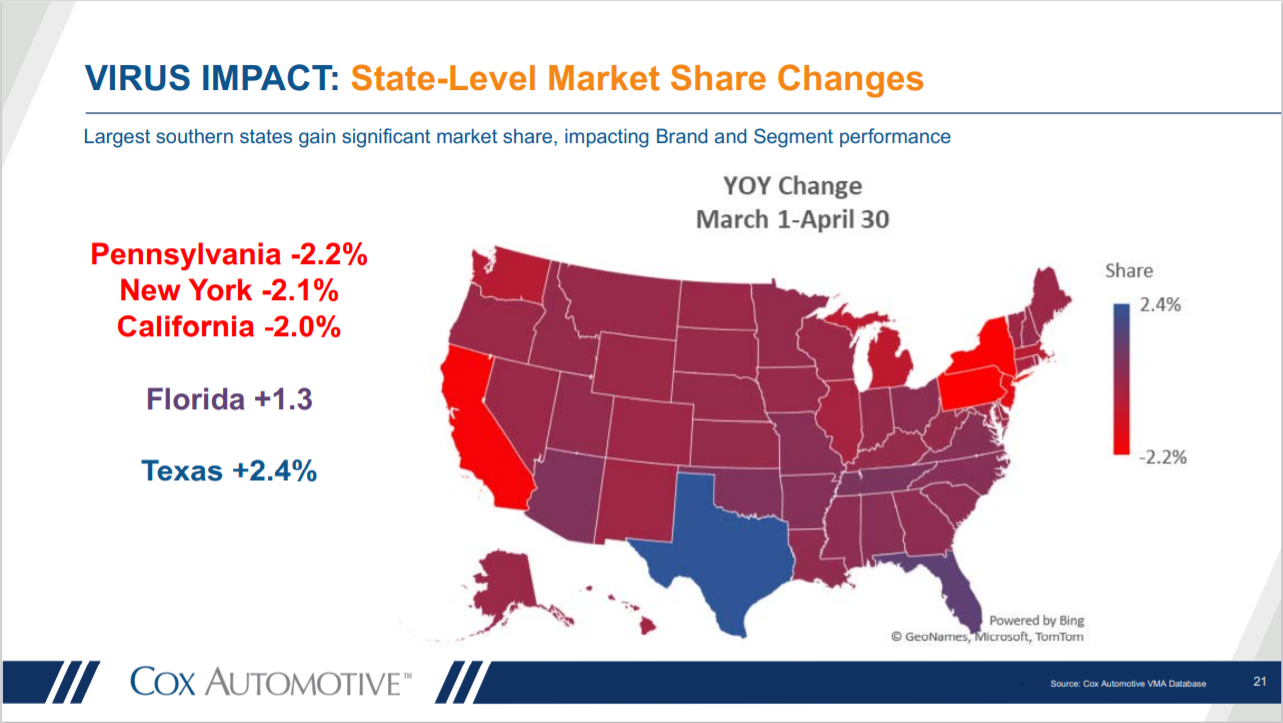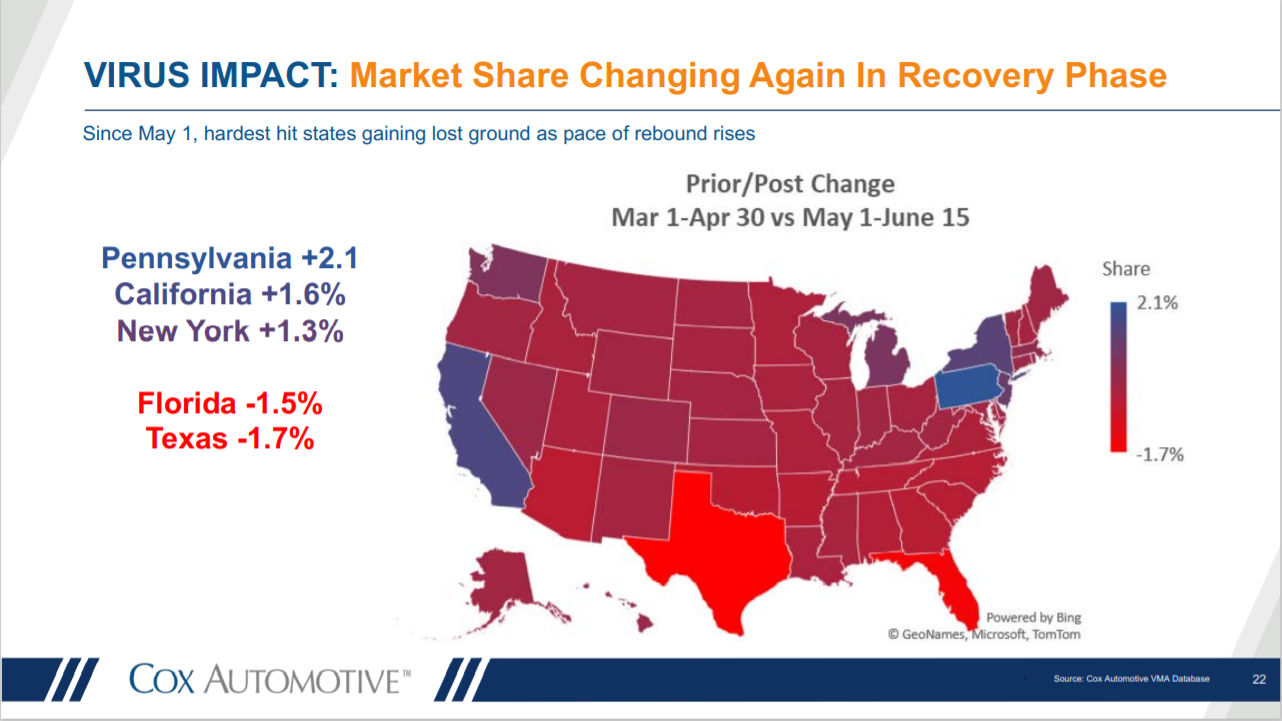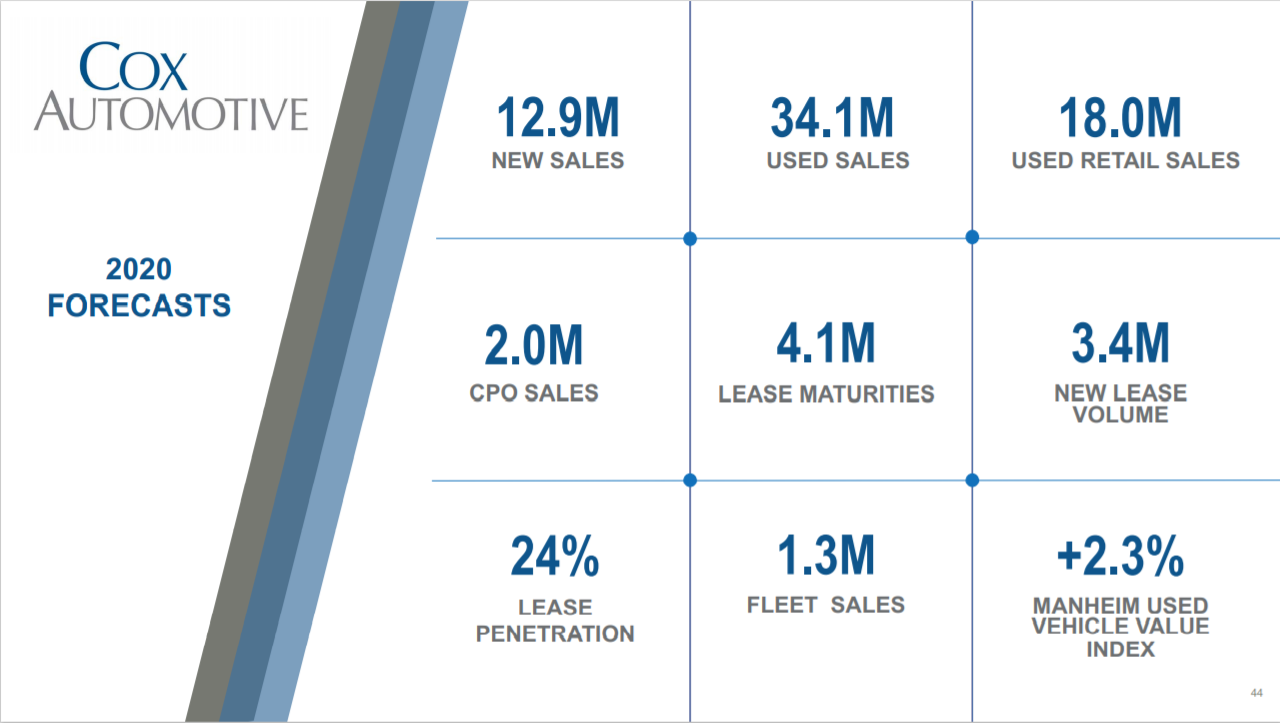 • Europe: Vehicle markets attempt to stabilize, trying to maximize pent-up demand and various government subsidy programs. In France, for example, car sales increased for the first time this year, recovering by 1.2% year-over-year in June, which is approximately 234,000 units. In an effort to mirror some of the success in France, Germany and Spain are rolling out similar incentives for their respective automotive industries.
• United Kingdom: The UK car industry showed small signs of improvement as well, connected, in part, to the reopening of more showrooms. According to reports of the Society of Motor Manufacturers and Traders (SMMT), June registrations fell 35% year-over-year to 145,377—a big tumble but an improvement over prior months when demand fell by 89% in May, 97% in April and close to 45% in March.
• Asia: "South Korea remains a bright spot in Asia, with domestic production and sales rebounding in June by over 41% year-over-year to 176,468 units." Leading automakers in India, like Maruti Suzuki, Hyundai and Mahindra, look to ramp up production and sustain incremental wholesale shipments month-over-month, but sales are dismal compared to pre-COVID-19 levels. For example, June wholesale volumes for each of these automakers point to more than 50% year-over-year decline. "While PV production schedules for July may be higher, disruptions to the supply chain on account of COVID-19 induced restrictions and manpower availability continue to challenge their manufacturing stability."
Counterpoint expects electric vehicles (EVs) to weather the pandemic storm better than the conventional vehicles due to the commitment of governments to meet their overall emission targets, explained Madhok.

Despite the uphill battle to resume standard vehicle production and sales, Kyle Cheng of SEMA recently noted, "Consumers are more confident, optimistic and in a better financial position today than they were during the last recession in 2007–2009. They are shopping more and, as restrictions ease, returning to in-store retail. In May 2020, retail sales at motor vehicle and parts dealers jumped 44% from April—the highest increase ever recorded. Additionally, most consumers think it is a good time to buy a car," like the all-new 2021 Ford® Bronco.
Automotive Aftermarket News
While global automakers brace for long-term recovery, the specialty-equipment market targets a faster rebound. A recent SEMA eNews headline read, "What will go down in the record books as one of the steepest and deepest economic declines in U.S. history will likely also be the shortest."
Indeed, industry professionals remain hopeful after coming off a banner year. American consumers spent $46.2 billion on parts for upgrading, modifying and customizing their vehicles—a new historical high.
While SEMA estimates a 12% decrease in retail sales during 2020, "Most economists think that the recession hit its lowest point in mid-April, and companies within the specialty-equipment industry are optimistic about sales moving forward. By Q4 of 2020, nearly 50% of industry businesses expect their sales to be the same as or even better than 2019," reported aftermarketNews (AMN).
"It's still early to predict exactly how things will play out over the next couple years," added Gavin Knapp, SEMA director of market research, "but the positive news is that as the country re-emerges from the shutdown, we can expect that sales should rise back towards previous levels."
Takeaways from the "2020 SEMA Market Report" include:
Independent specialty shops accounted for 20% of all retail dollars spent on specialty auto parts.
Pickups accounted for 31% of U.S. specialty auto aftermarket sales dollars.
59% of specialty-automotive consumers are under age 40.
63% of all specialty parts bought for SUVs were installed DIY.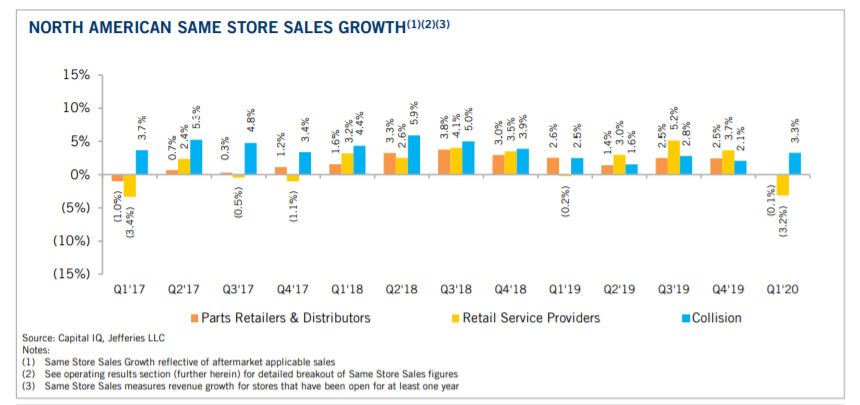 e-Commerce Contribution
Online vehicle, part and accessory sales were a source of steady revenue in the wake of retail closures across the country due to stay-at-home directives.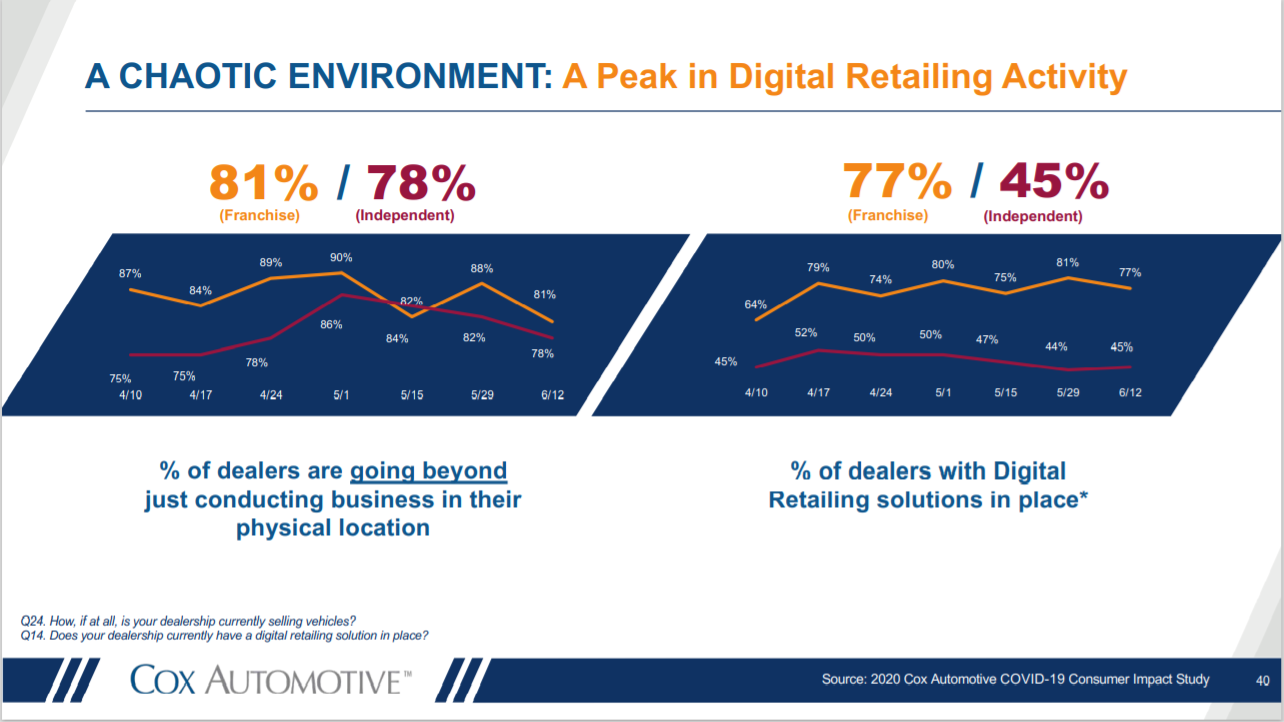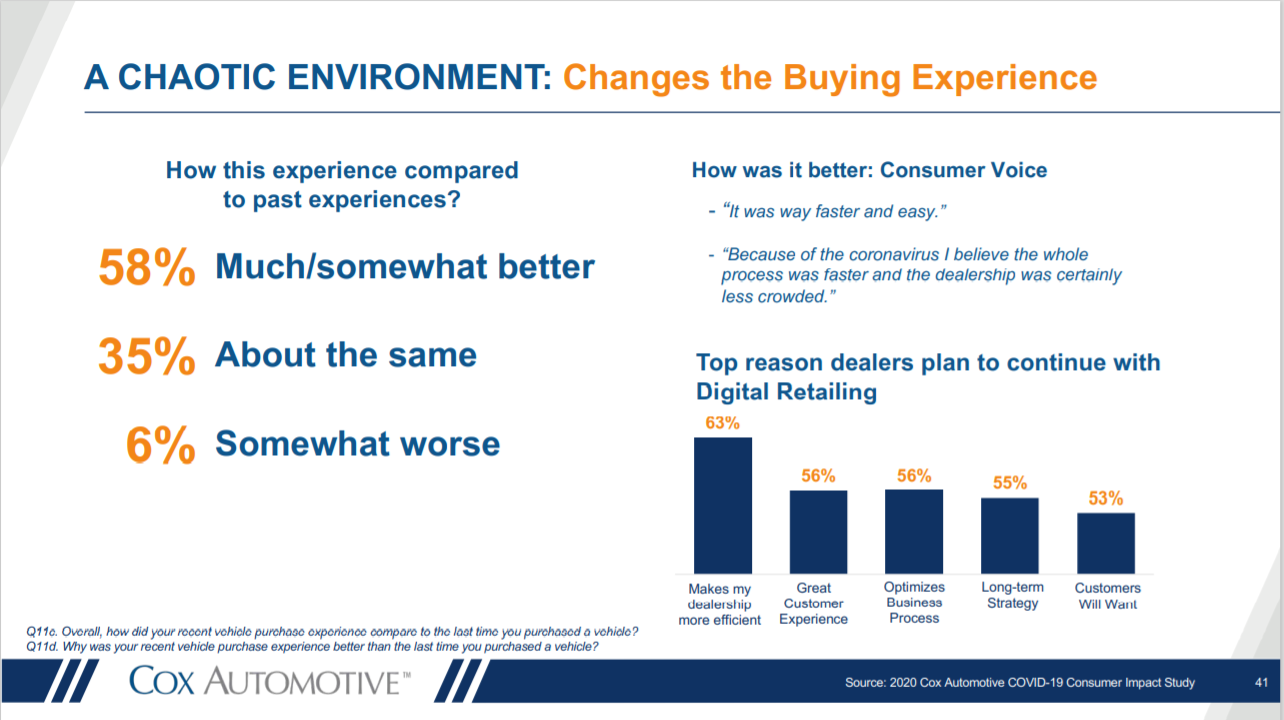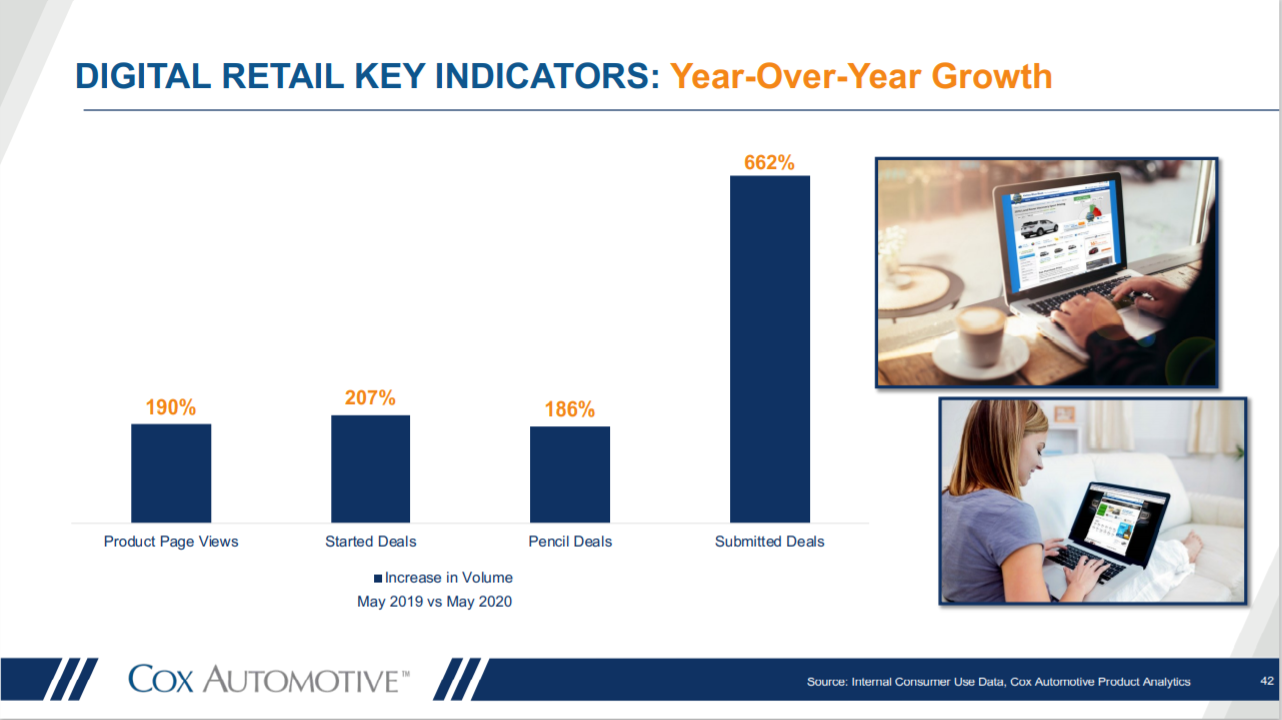 One company in particular is tracking and analyzing the weekly eCommerce activity of nearly 17 million user sessions and approximately 300,000 online purchases from parts and accessory websites across the U.S. and Canada, including retailer websites as well as manufacturer websites selling direct to consumer (DTC).
Hedges & Company—a digital marketing agency serving the automotive aftermarket, OEM parts and powersports industries—is categorizing the online sales into five market segments, including OEM replacement parts, light truck and off-road parts and accessories, performance and racing parts, aftermarket accessories, as well as powersports parts and accessories.
Data shows the aftermarket e-commerce channel is up significantly year-over-year, a trend holding steady for months. Below are sales increases for the week of June 28 – July 4 compared to the week of March 1-7, which serves as a baseline before the coronavirus pandemic forced widespread shutdowns of retail businesses.
Overall aftermarket eCommerce sales = 59% increase
Powersports = 101% increase
Light truck and off-road parts sales = 33% increase
Automotive aftermarket accessories = 61% increase
OEM replacement parts sales = 43% increase
Performance/racing parts sales = 61% increase
Enthusiasts Get Creative
The extent of the impact on public health and economic recovery remains to be seen, prompting companies to get creative.
Recently, aftermarketNews (AMN) reported Barrett-Jackson is launching exclusive Collector Car Road Tours—the first of which begins October 7 at Summit Racing in McDonough, Georgia, and ends on October 13 in Key West, Florida. Barrett-Jackson Collector Car Road Tours will include weeklong and weekend tours, open to all types of collectible vehicles, according to AMN.
Participants in the Barrett-Jackson-led tours will drive scenic routes, visit national landmarks and museums, enjoy exclusive activities and excursions, as well as stay at comfortable, luxurious hotels and have fine dining experiences.
"The Barrett-Jackson experience has become something truly unique in the collector car world," said Craig Jackson, chairman and CEO of Barrett-Jackson. "Our auctions are the heartbeat of this hobby, but the Barrett-Jackson experience encompasses so much more. Our Collector Car Road Tours will be another example of how the Barrett-Jackson experience brings this community together to enjoy our shared passion for collector cars. We have some incredible stops and activities planned throughout the 2020 Tour. It promises to be a fun way to enjoy the camaraderie of fellow collectors and make memories that will last a lifetime."
To request an application and to stay up-to-date with information on future tours, visit BarrettJacksonRoadTours.com.