Features
KPI — July: New and Used Vehicle Sales
New Vehicle Market
Cox Automotive reported a 27% decline in total new vehicle sales during June, resulting in a SAAR of 13 million. That is a decrease from last year's 17.2 million but up from the 12.3 million recorded in May.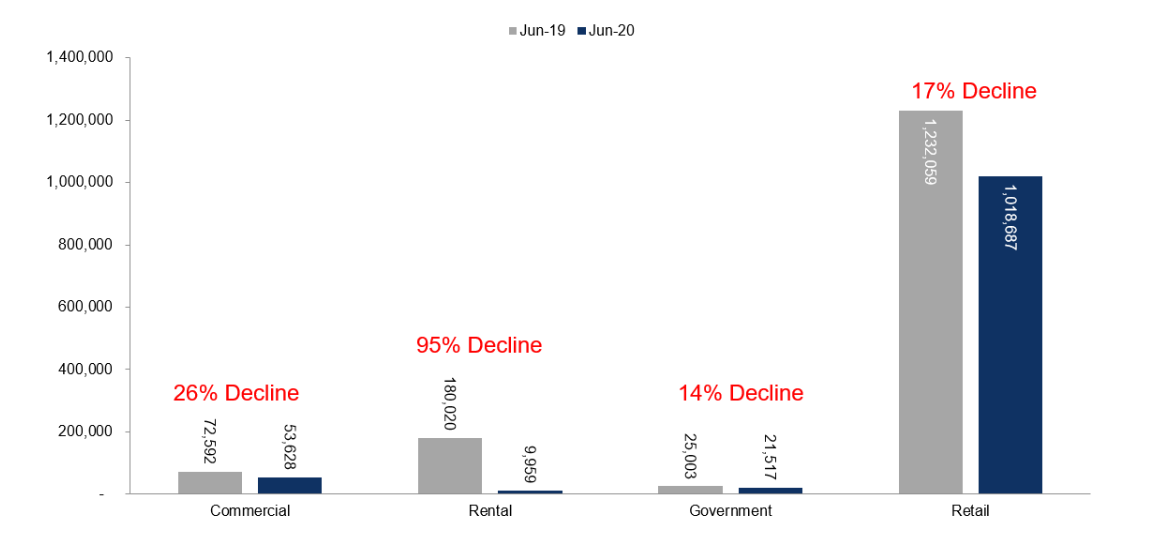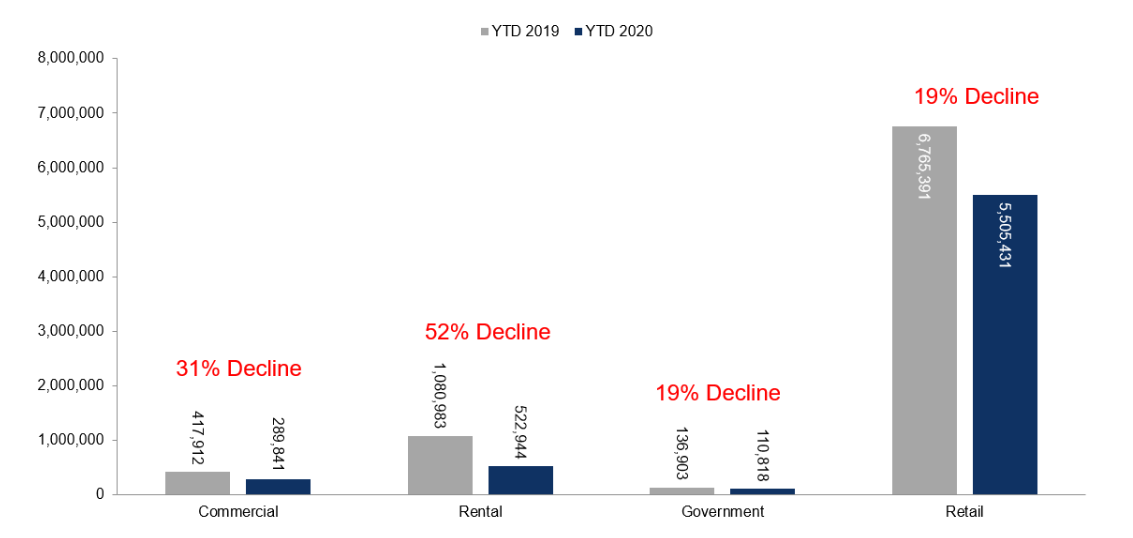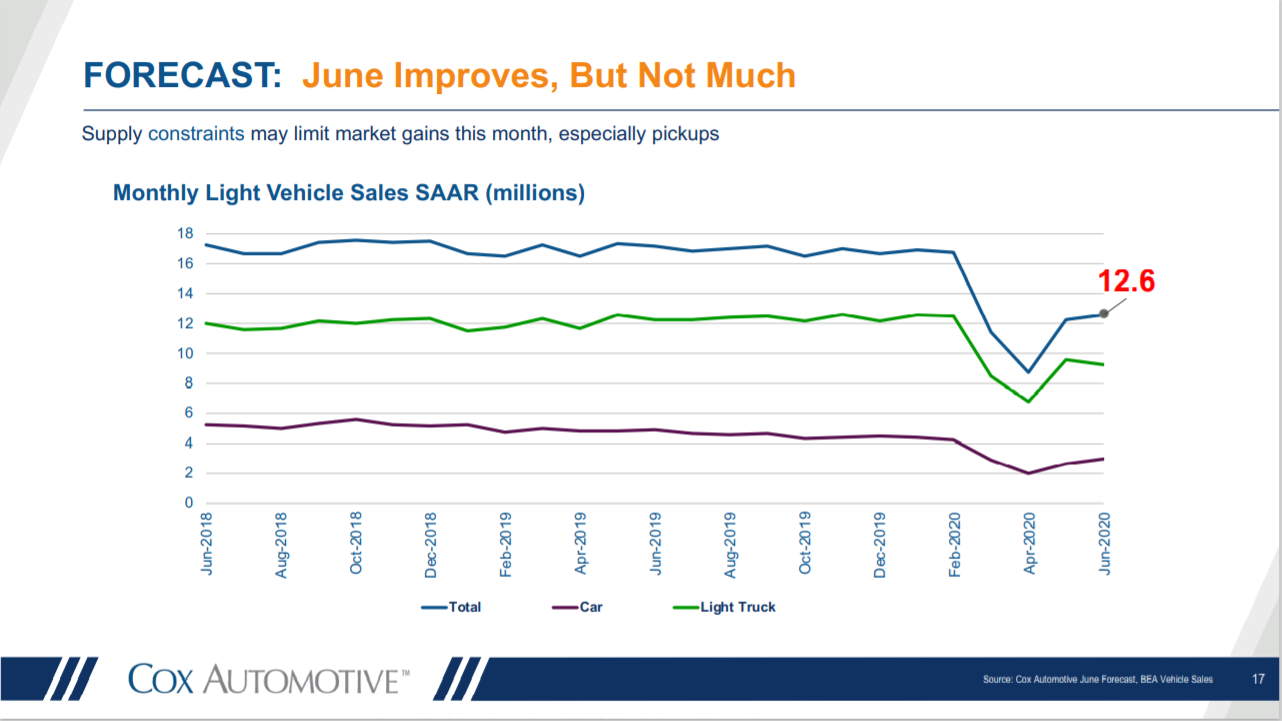 Moreover, fleet sales—down a staggering 44% the first half of 2020—continue to capture headlines each month. Combined rental, commercial and government purchases of new vehicles were down 69% year-over-year in June, while total fleet volume was 85,104, significantly less than 277,615 posted in June 2019.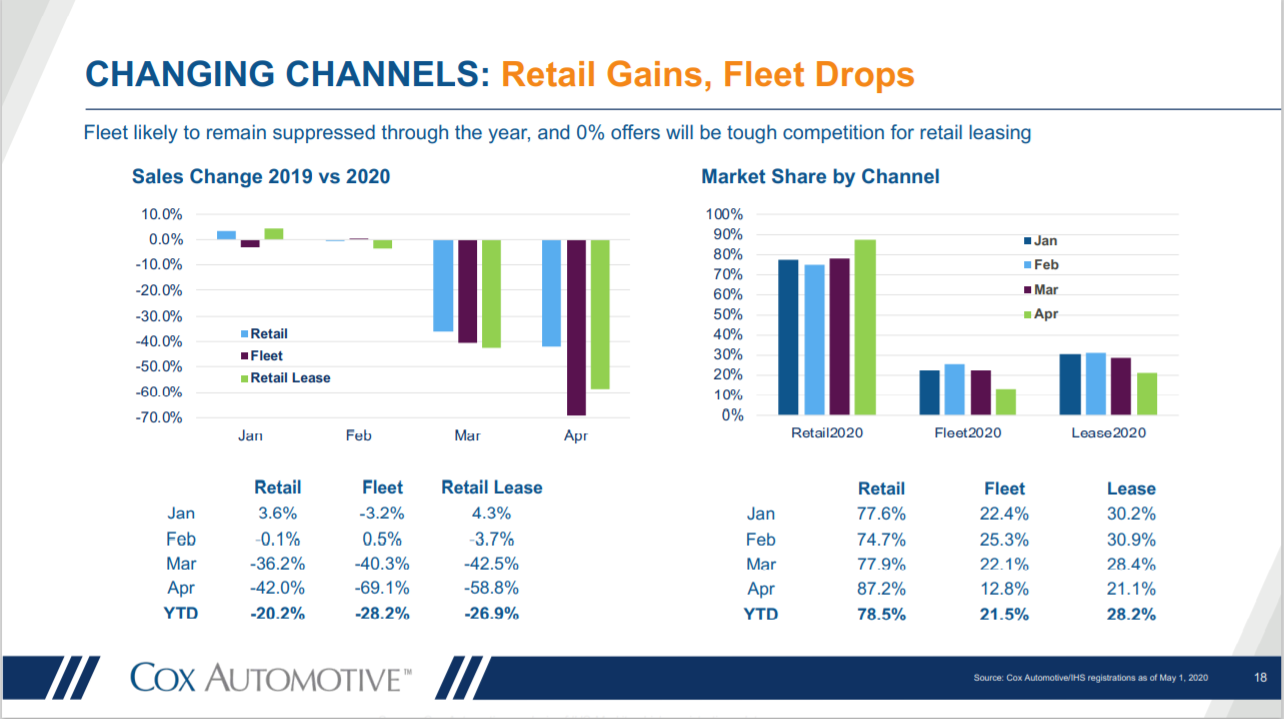 The 2020 fleet forecast sits at 1.3 million, albeit it is subject to change during such unpredictable times. "Looking at automaker's mid-year performance, all manufacturers saw large year-over-year declines in fleet sales year to date, ranging from -62.5% to -91.8% due to the impact of the COVID-19 pandemic. Nissan saw the largest decrease in fleet sales this year, according to our data analysis, compared to year-ago levels," according to Cox Automotive.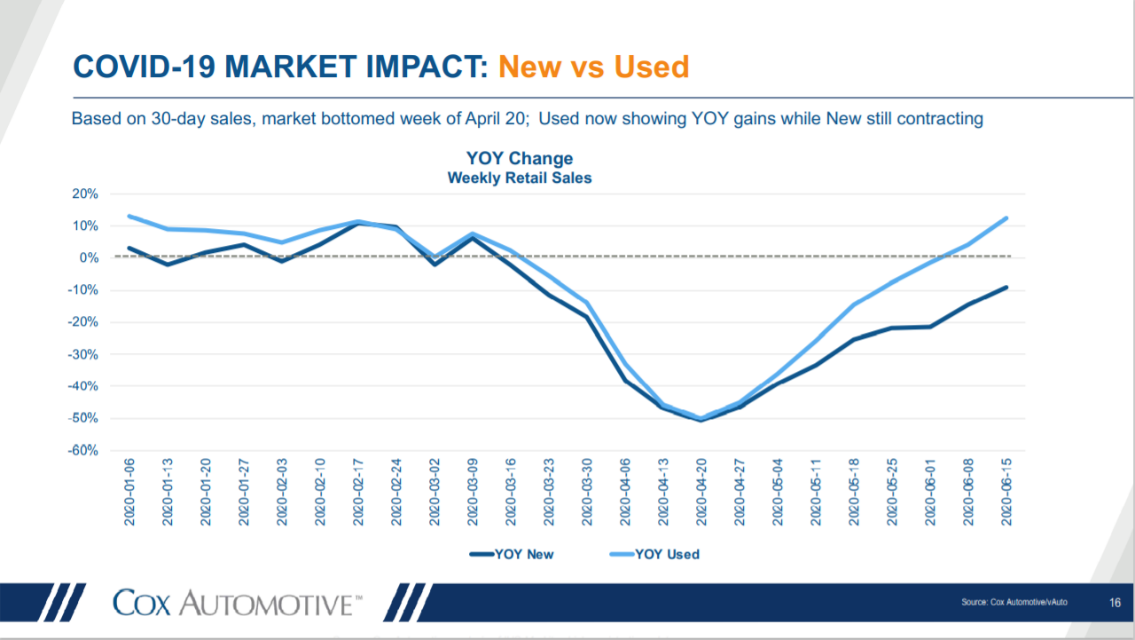 Clearly, the new vehicle market faces many challenges, including supply chain delays, new regulations, inventory hurdles and an increasing number of shoppers who are turning to the used market, noted Edmunds.
On the upside, Kelley Blue Book estimates that while sales were down in June compared to the previous year, the new vehicle average transaction price (ATP) was up.
"In fact, at $38,530, ATPs in June 2020 are estimated to have increased by $1,141 (up 3.1%) from year-ago levels and are also up $160 (up 0.4%) from last month," the company said.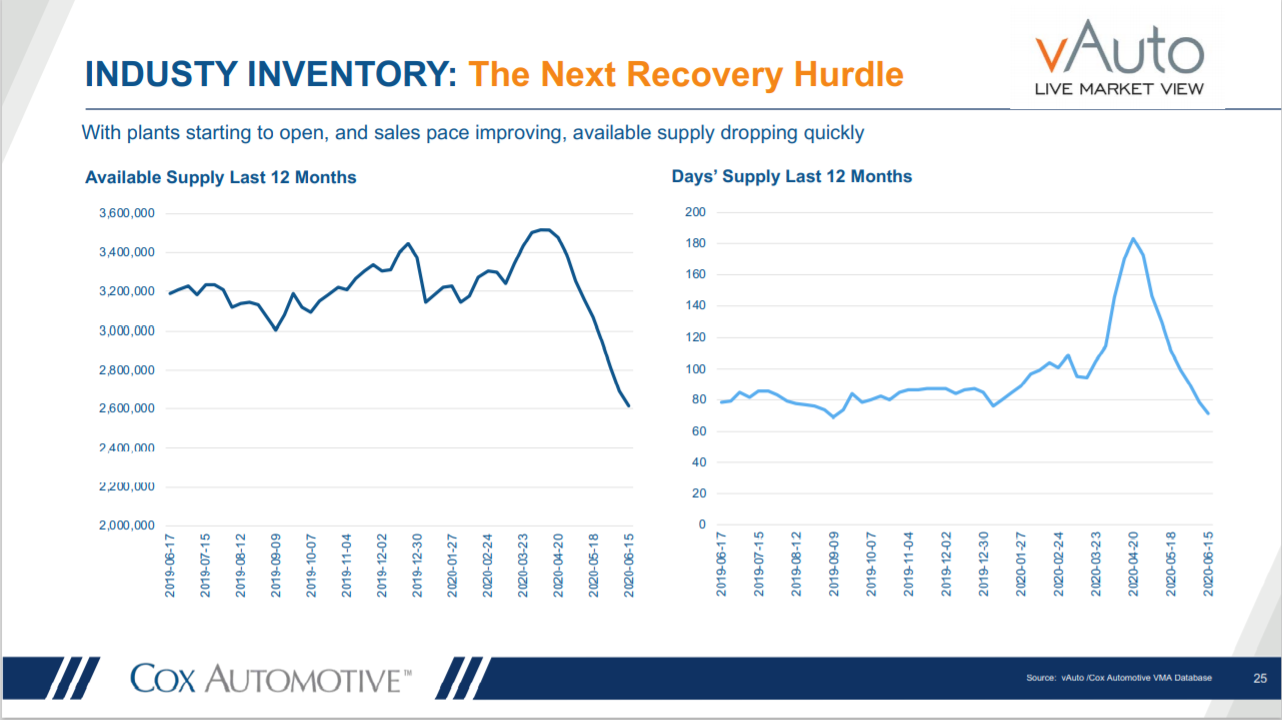 Used Vehicle Market
Wholesale used vehicle prices (on a mix-, mileage- and seasonally adjusted basis) increased 4.4% in the first 15 days of July compared to the month of June, which brought the mid-month Manheim Used Vehicle Value Index to 155.9—an 11% increase compared to July 2019.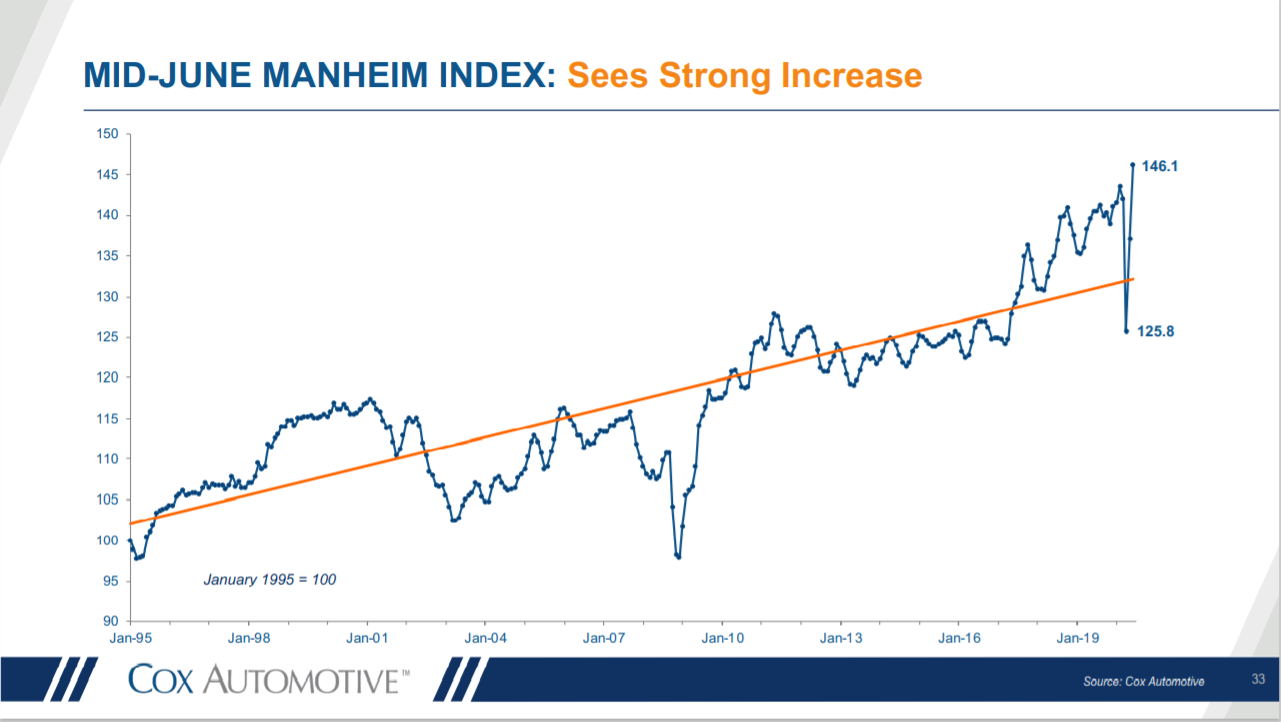 If the mid-month value of the Manheim Index holds for the full month, the Index will set a record high for the second consecutive month.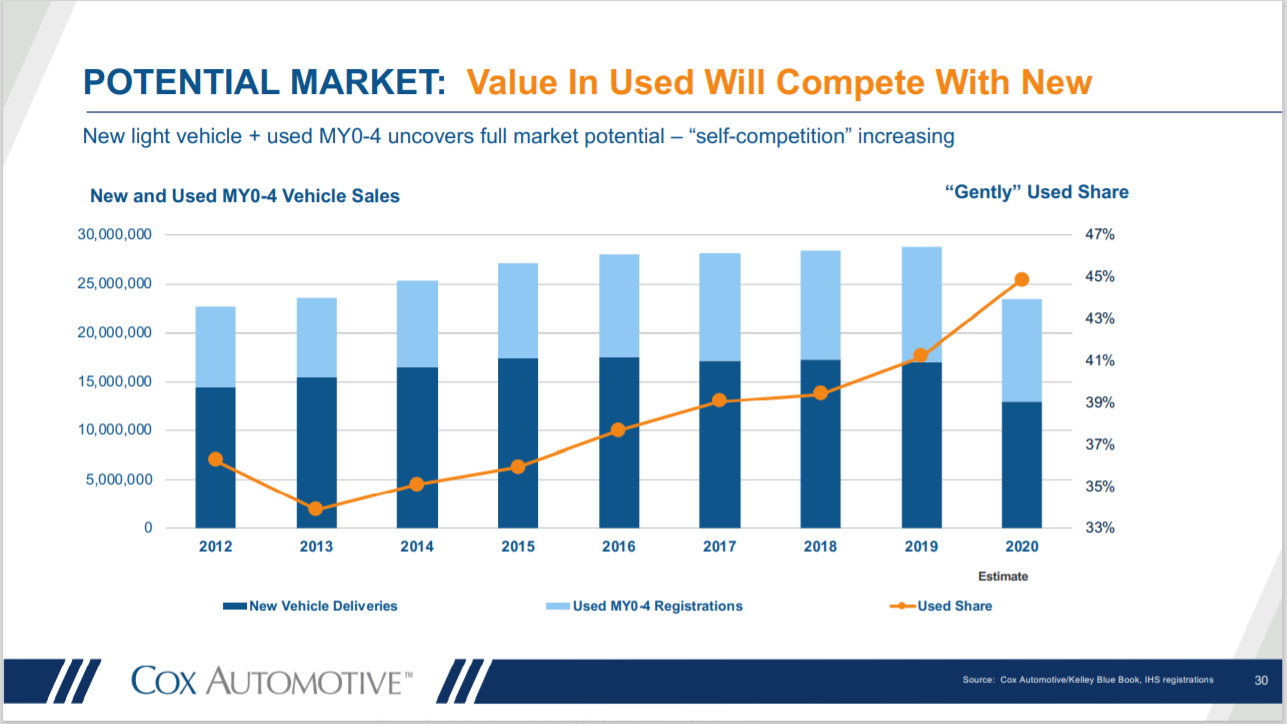 Additionally, Manheim Market Report (MMR) prices improved over the previous two weeks, resulting in a 2.9% cumulative increase in the first two weeks of July on the Three-Year-Old Index. "Over the first 15 days of July, MMR Retention, which is the average difference in price relative to current MMR, was above 100% every day and averaged 102%. Price appreciation was strongest this year in the first three weeks of June but has remained consistent over the last three weeks," explained Manheim.
Furthermore, most major market segments experienced year-over-year, seasonally adjusted price increases during the reporting period. Luxury cars and pickup trucks outperformed the overall market, while most other major segments underperformed the overall market, according to Manheim.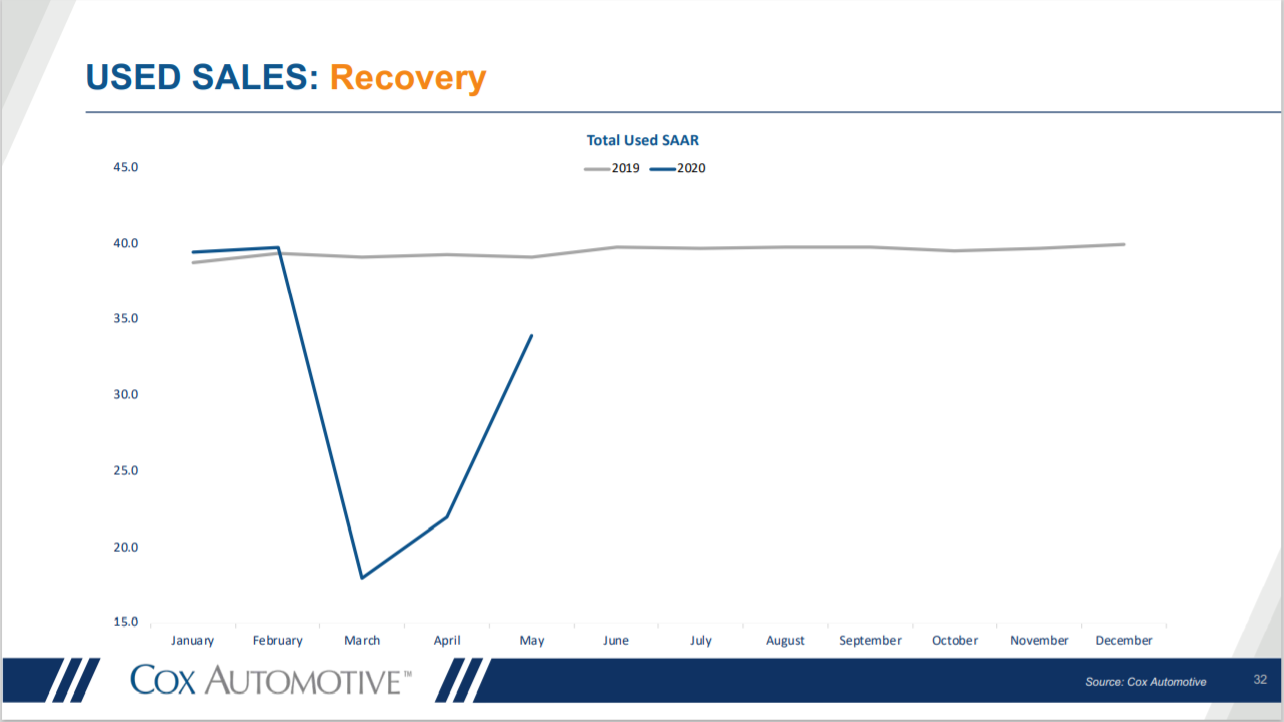 As used retail sales continue to recover, both retail and wholesale supply have decreased. Manheim explains—using a rolling seven-day estimate of used retail days' supply based on vAuto data—used retail supply peaked at 115 days on April 8. Normal used retail supply is about 44 days' supply, but the most recent seven-day estimate of used retail supply is at 34 days. Wholesale supply peaked at approximately 149 days on April 9, when normal supply is 23. It was down to 24 days for the most recent seven-day period.
The Professionals Weigh In:
• "After a topsy-turvy quarter, first-half auto sales appear to be ending close to our forecast, down roughly 24% from year-ago levels. The vehicle market shouldn't expect things to change much during the next quarter. Potential shortages on some products, a second wave of COVID-19 cases and continued high unemployment will make Q3 challenging. However, we still believe the very worst of the crisis in terms of sales impact is behind us. The question for the rest of the year is the pace of the recovery, not the direction," said Charlie Chesbrough, senior economist at Cox Automotive.
• "Consumers and dealers were amazingly resilient in the first half. Dealers quickly adjusted to accommodate nervous shoppers by doing much, if not all, of the sales process online and providing services beyond dealership walls, like pickup and delivery of vehicles. Sales were down significantly in the half, but without a lot of hard work and dedication by the U.S. auto dealers, it might well have been worse," said Michelle Krebs, executive analyst at Cox Automotive.
• "The first half of 2020 confirms it: even when the vehicle market goes completely sideways, the truck market stays straight and true. Most brands are down between 20% – 30% this year, but trucks range from approximately half that decline. The Chevy Silverado is actually positive year-to-date in 2020. This is particularly good news for domestic brands like Chevrolet, Ford and Ram, all of which rely heavily on high-profit truck sales. This trend will likely continue as the economy recovers and consumers look to start delayed home improvements, relocations and other truck-friendly activities," said Karl Brauer, executive publisher of Autotrader and Kelley Blue Book.
• Heavy incentive spending was a big driver of sales in the first half, explained Brad Korner, general manager of Cox Automotive Rates & Incentives. "We will likely see the major automakers using more employee pricing and 'percent-off' pricing to package attractive deals on scarce inventory in July and August. The special 0%-financing deals are a proven winner and will stay around, but we expect to see fewer going forward. In the months ahead, the focus will be on marketing and messaging. There are plenty of good deals out there. Breaking through all of the noise will be the real challenge," he added.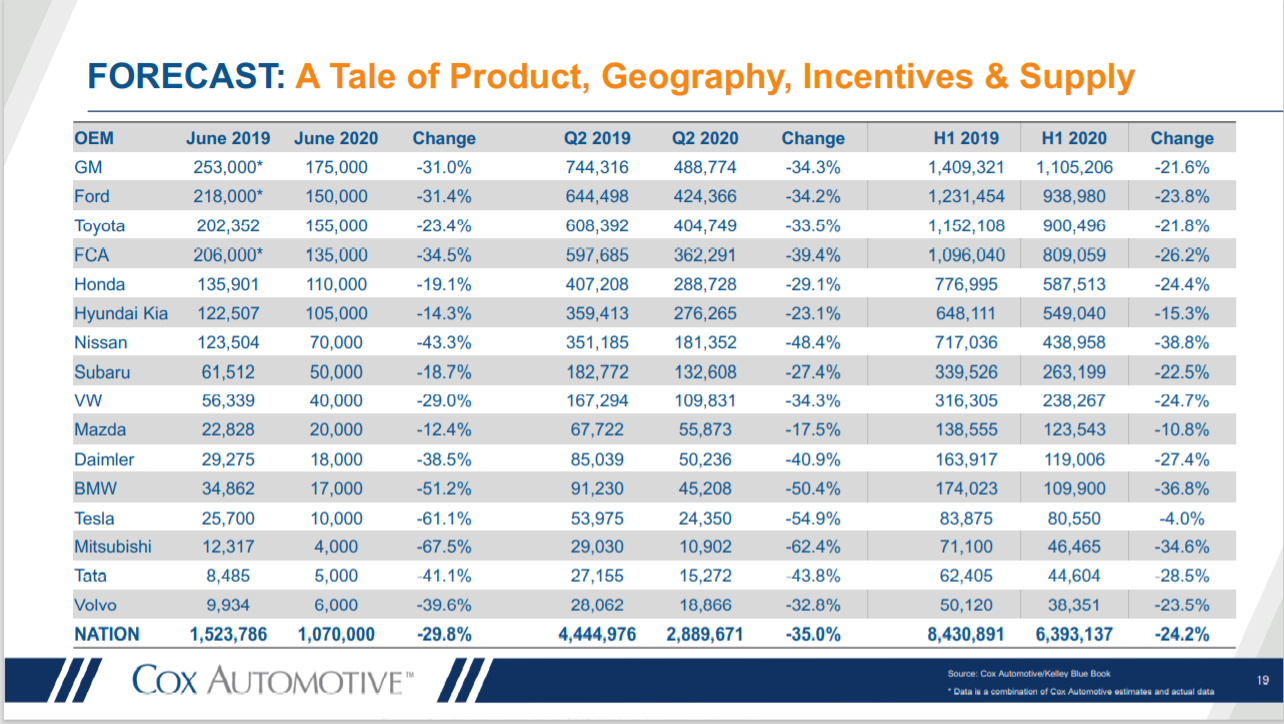 Despite relatively positive feedback above, Jonathan Smoke, chief economist at Cox Automotive, believes the market is losing its upward momentum from May and early June. An uptick in COVID-19 cases is impacting consumer sentiment, and "it also appears the pent-up demand that gave us a much stronger recovery in May and June is waning. Dealer inventory remains challenged as well. When you add it up, it looks like the industry will be heading into an even more challenging sales environment in July," he commented.