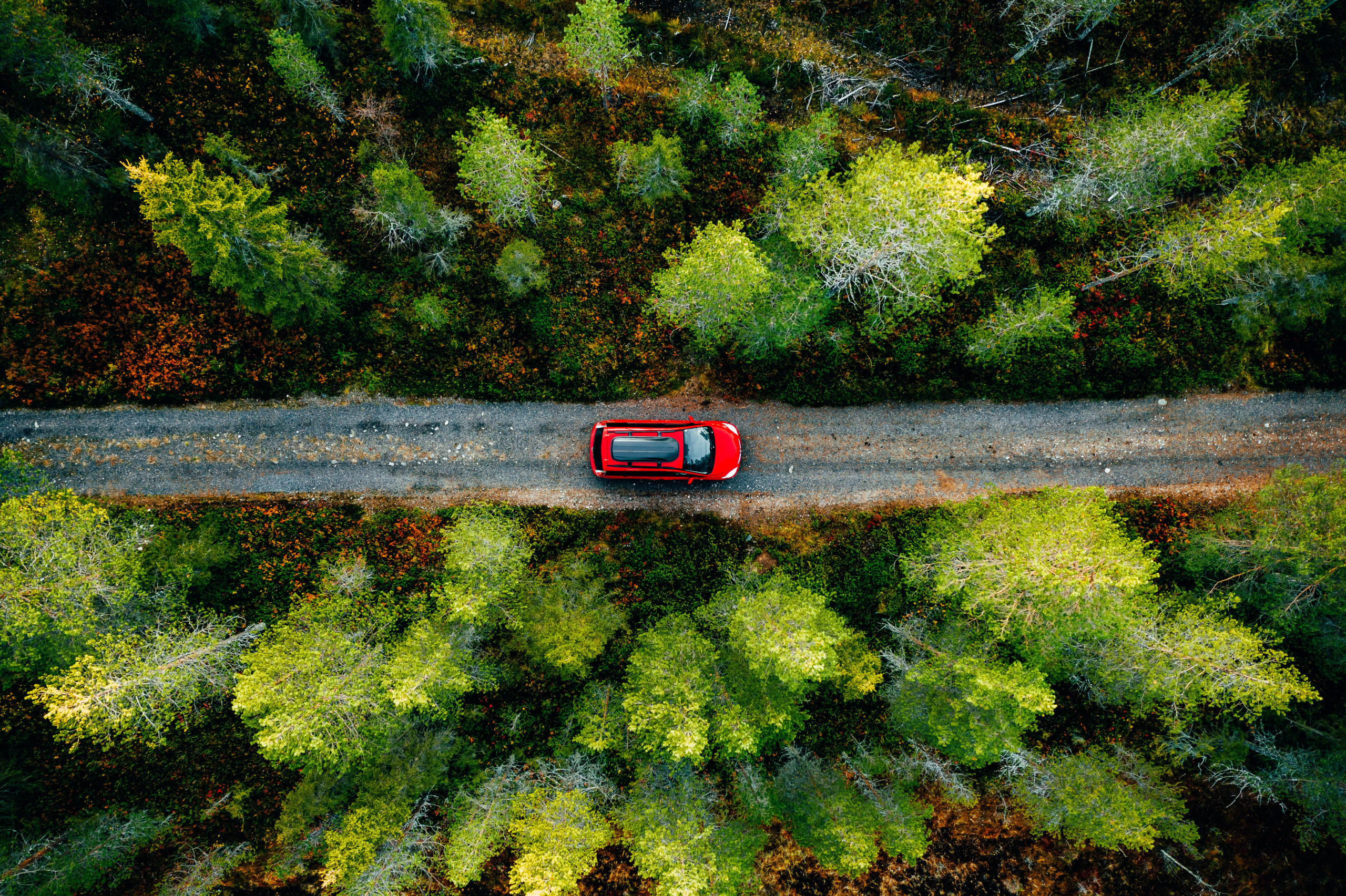 More than 396.5 million COVID-19 cases and 5.7 million deaths have been confirmed across the globe. Vaccination efforts remain a top priority among health and government officials, with the ultimate goal of reaching herd immunity. Approximately 10 billion doses have been administered around the world, with 212 million Americans, or 64.4% of the total U.S. population, now fully vaccinated.
COVID-19 Cases by Country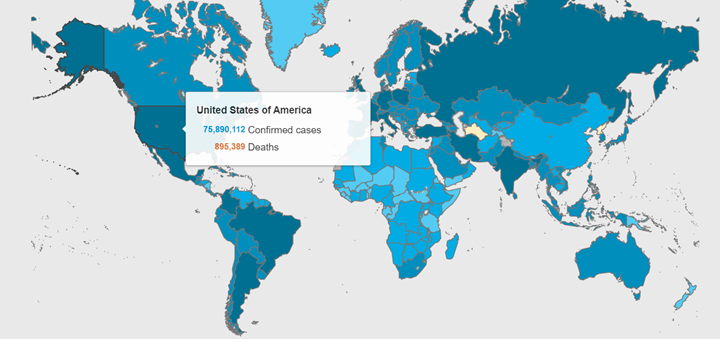 COVID-19 Cases by State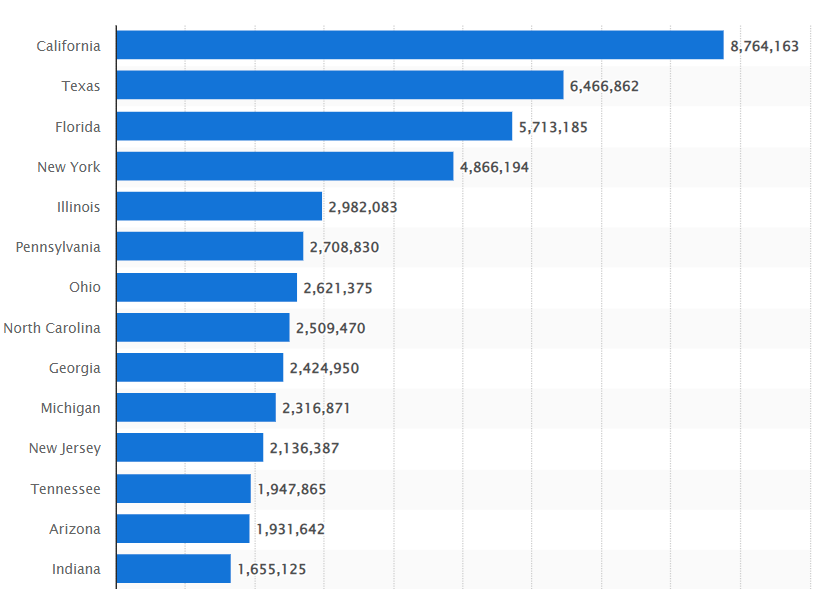 As of February 7, 2022, the state with the highest number of COVID-19 cases was California. Over 76 million cases have been reported across the U.S., with California, Texas, Florida and New York reporting the highest numbers.
COVID-19 restrictions vary by state, county and even city. Review a comprehensive list of current restrictions here.
In the midst of a pandemic, gross domestic product posted a 5.7% year-over-year gain in 2021, the fastest growth for any calendar year since 1984. Moreover, household spending continued to swell in the fourth quarter, albeit not as quickly as earlier in the year.
"Coming up on two years since the short-lived 2020 recession, the U.S. appears to be at the midpoint of an economic cycle that should continue to see growth even as the Federal Reserve raises interest rates to bring inflation under control," said Jack Kleinhenz, National Retail Federation (NRF) chief economist.
Kleinhenz expects GDP to grow between 3% – 4% in 2022, down year-over-year but still faster than the 2.3% annual pace recorded during the 2009-2020 expansion. Despite a relatively positive mid- to long-range outlook, recent data points to a noticeable drop in consumer confidence and sentiment.
The Conference Board Consumer Confidence Index® declined in January, after an increase in December. The Index now stands at 113.8 (1985=100), down from 115.2 in December. The Present Situation Index – based on consumers' assessment of current business and labor market conditions – improved to 148.2 from 144.8 last month. The Expectations Index – based on consumers' short-term outlook for income, business and labor market conditions – declined to 90.8 from 95.4.
Similarly, The Consumer Sentiment Index – a survey consisting of approximately 50 core questions covering consumers' assessments of their personal financial situation, buying attitudes and overall economic conditions –decreased to 67.2 in January. COVID, supply chain pressures, rising inflation, falling real incomes and "the extraordinary pace" of rising home and stock prices, which are likely to turn negative in the year ahead, were all cited as contributing factors, according to the University of Michigan Survey of Consumers.
Professionals in the automotive, RV and powersports industries remain steadfast in their efforts to evolve their business models and grow their brands in the face of adversity. As such, the monthly Key Performance Indicator Report serves as an objective wellness check on the overall health of our nation, from the state of manufacturing and vehicle sales to current economic conditions and consumer trends. Below are a few key data points explained in further detail throughout the report: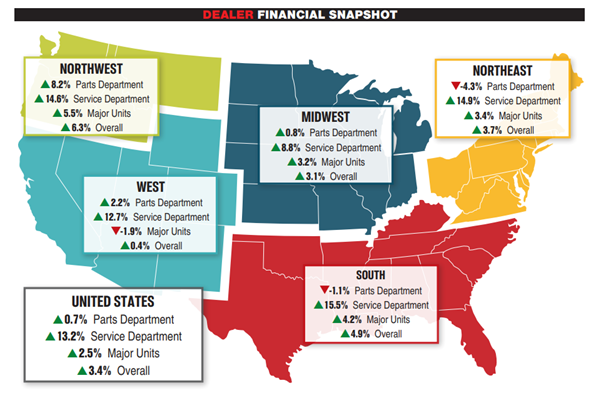 The January Manufacturing PMI® registered 57.6%, a decrease of 1.2 percentage points from the seasonally adjusted December reading of 58.8%, according to supply executives in the latest Manufacturing ISM® Report On Business®.
LMC Automotive reports Global Light Vehicle (LV) sales will hit 81 mn units/year in 2021, a 5% improvement over 2020 but still down 10% compared to 2019.
According to JD Power, total new vehicle sales in January 2022, including retail and non-retail transactions, are projected to reach 932,100 units – a 15.6% decrease from January 2021.
The monthly manufacturers survey by the RV Industry Association shows total RV shipments closing out 2021 with a record breaking 600,240 wholesale shipments – surpassing the 2017 total of 504,599 shipments by 19%, reports RV PRO Magazine.
Powersports Business says The Major Unit sales market moved into positive territory in December. Revenue from new and pre-owned Major Units grew by 2.5% on average year-over-year. Service led the way, with the average service department revenue increasing by 13.2%. Parts, following a 7.2% increase in November, slowed to a moderate .7% growth in December. Combined, the average dealership experienced a month-over-month revenue increase of 3.4% during December. Dealerships in the Northwest (5.5%) and South (4.2%) posted the largest revenue increase in Major Unit sales on average. In service, the South (15.5%) and Northeast (14.9%) came out ahead. As it relates to parts, dealers in the Northeast averaged 8.2% revenue growth.
The NFIB Small Business Optimism Index decreased slightly in January to 97.1, down 1.8 points from December. "More small business owners started the New Year raising prices in an attempt to pass on higher inventory, supplies and labor costs," said Bill Dunkelberg, NFIB chief economist. "In addition to inflation issues, owners are also raising compensation at record high rates to attract qualified employees to their open positions."
Key Takeaways, Courtesy of NFIB
Owners expecting better business conditions over the next six months increased two points to a net negative 33%. Small business owners remain pessimistic about future economic conditions as this indicator has declined 13 points over the past six months.
11% of owners cited labor costs as their top business problem, while 23% said that labor quality was their top business problem.
A net 50% (seasonally adjusted) reported raising compensation (a 48-year record high reading), yet 47% of owners reported job openings that could not be filled – a decrease of two points from December.
Inventory accumulation plans fell five percentage points.

KPI — February 2022: State of Business — Automotive Industry