Features
KPI — February 2022: State of Business — Automotive Industry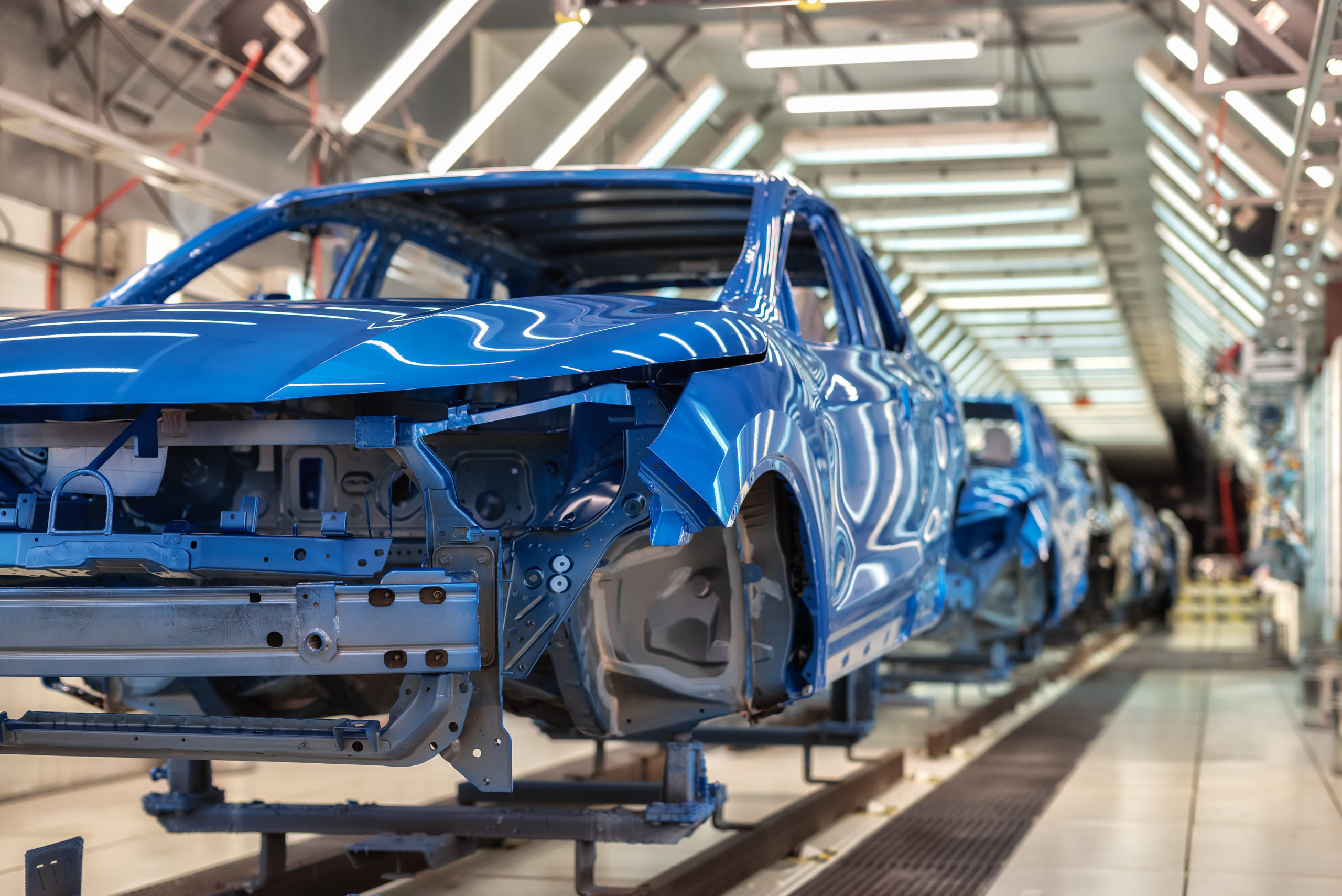 Global Light Vehicle (LV) sales crossed the finish line at 81.3 million units in 2021. Despite a 5% year-over-year increase, the global market remains down 10% compared to 2019.
"The start of 2022 faces risk from a multitude of drivers that have been affecting the market for several months, such as the Omicron variant, supply chain shortages and global inflation. The addition of geo-political concerns with a potential Russia-Ukraine conflict is adding additional economic risk," says Jeff Schuster, president of Americas operations and global vehicle forecasts at LMC Automotive. "However, we continue to expect the automotive market to weather the short-term risk and improve 6% to 86.2 million units in 2022 on a stabilizing supply of vehicles by year-end, as well as reduced disruption from the pandemic."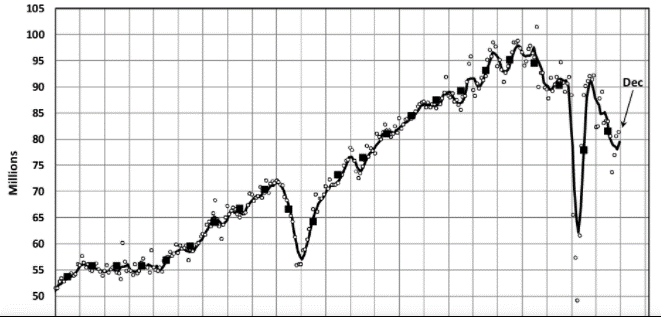 The January Manufacturing PMI® registered 57.6%, a decrease of 1.2 percentage points from the seasonally adjusted December reading of 58.8%, according to supply executives in the latest Manufacturing ISM® Report On Business®.
"The U.S. manufacturing sector remains in a demand-driven, supply chain-constrained environment, but January was the third straight month with indications of improvements in labor resources and supplier delivery performance. Still, there were shortages of critical intermediate materials, difficulties in transporting products and lack of direct labor on factory floors due to the COVID-19 omicron variant. Quits rate and early retirements hinder reliable consumption," says Timothy R. Fiore, CPSM, C.P.M., chair of the Institute for Supply Management® (ISM®) Manufacturing Business Survey Committee.
Important takeaways, courtesy of the Manufacturing ISM® Report On Business®:
Demand expanded, with the (1) New Orders Index slowing, though remaining in strong growth territory, supported by continued expansion of new export orders, (2) Customers' Inventories Index remaining at a very low level and (3) Backlog of Orders Index slowing but settling at more normal growth levels.
Consumption (measured by the Production and Employment indexes) grew during the period, though at a slower rate, with a combined negative 1-percentage point change to the Manufacturing PMI® calculation.
The Employment Index expanded for a fifth straight month, with signs that ability to hire continues to improve, yet somewhat offset by continued challenges of turnover (quits and retirements) and resulting backfilling. Limited expansion strength in production in January, primarily due to absenteeism rates as a result of omicron, was the biggest reason PMI® growth was held back.
Inputs – expressed as supplier deliveries, inventories and imports – continued to constrain production expansion, but there are clear indications of improved delivery performance.
The Supplier Deliveries Index slowed, while the Inventories Index expanded but at a slower rate.
The Prices Index increased for the 20th consecutive month, at a faster rate (an increase of 7.9 percentage points) compared to December, indicating that supplier pricing power continues to rise.
"The ongoing supply-chain disruption has had ripple effects throughout the global economy, including the specialty-equipment industry," affirmed Kyle Cheng, SEMA. In fact, he said more than 80% of industry companies reported severe or moderate impacts in 2021 due to production delays, shipping issues and higher prices.
Industry professionals are optimistic that 2022 will be a brighter year. SEMA Market Research projects most pressing issues within the global supply chain should improve in the second half of the year. However, according to the report, prices may remain elevated for longer and likely into 2023. Nevertheless, SEMA reports nearly three-quarters (74%) of industry companies expect sales growth in 2022.
U.S. New Vehicle Sales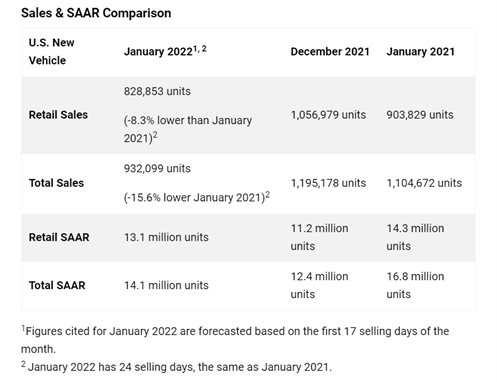 New vehicle retail sales are expected to decline year-over-year in January 2022, according to a joint forecast from J.D. Power and LMC Automotive.
Total new-vehicle sales for January 2022, including retail and non-retail transactions, are projected to reach 932,100 units – a 15.6% year-over-year decline.
"Despite optimism towards the end of 2021 that diminishing supply chain disruption would result in more vehicles being delivered to dealerships, the new vehicle supply situation has shown no meaningful improvement," says Thomas King, president of the data and analytics division at J.D. Power. "January month-end retail inventory is expected to be below one million units for the eighth consecutive month. The volume of new vehicles being delivered to dealerships in January has been insufficient to meet strong consumer demand, resulting in a significantly diminished sales pace."
Important Takeaways, Courtesy of J.D. Power:
Buyers are on track to spend $38.2 billion on new vehicles – up $4.4 billion from January 2021.
Truck/SUVs will account for a record 80.1% of new vehicle retail sales.
Average incentive spending per unit is expected to reach $1,319, down from $3,482 a year ago.
Average transaction prices are expected to reach a January record of $44,905. Despite lower volumes, higher prices mean consumers are trending to spend a healthy $37.2 billion on new vehicles this month, the highest on record for the month of January and 10% above January 2020.
Fleet sales are forecast to total 103,200 units in January, down 48.6% from January 2021 on a selling day adjusted basis. Fleet volume is expected to account for 11% of total light-vehicle sales, down from 18% a year ago.
"Although the start of 2022 is disappointing from a sales standpoint, the underlying health metrics of the industry have never been stronger," says King. "Looking forward to February, the overall industry sales pace will continue to be constrained by procurement, production and distribution and all indications are that deliveries will not rise substantially for the industry in aggregate. This means February will likely be another month of suppressed sales volume offset by near-record level pricing and profitability."
U.S. Used Market
Wholesale used vehicle prices (on a mix-, mileage- and seasonally adjusted basis) were relatively unchanged in January. The Manheim Used Vehicle Value Index registered 236.3 – a slight bump compared to last month, but a 45% year-over-year increase.
According to the most current data, Manheim Market Report (MMR) values posted weekly price decreases, which accelerated slightly in the final full week of the month.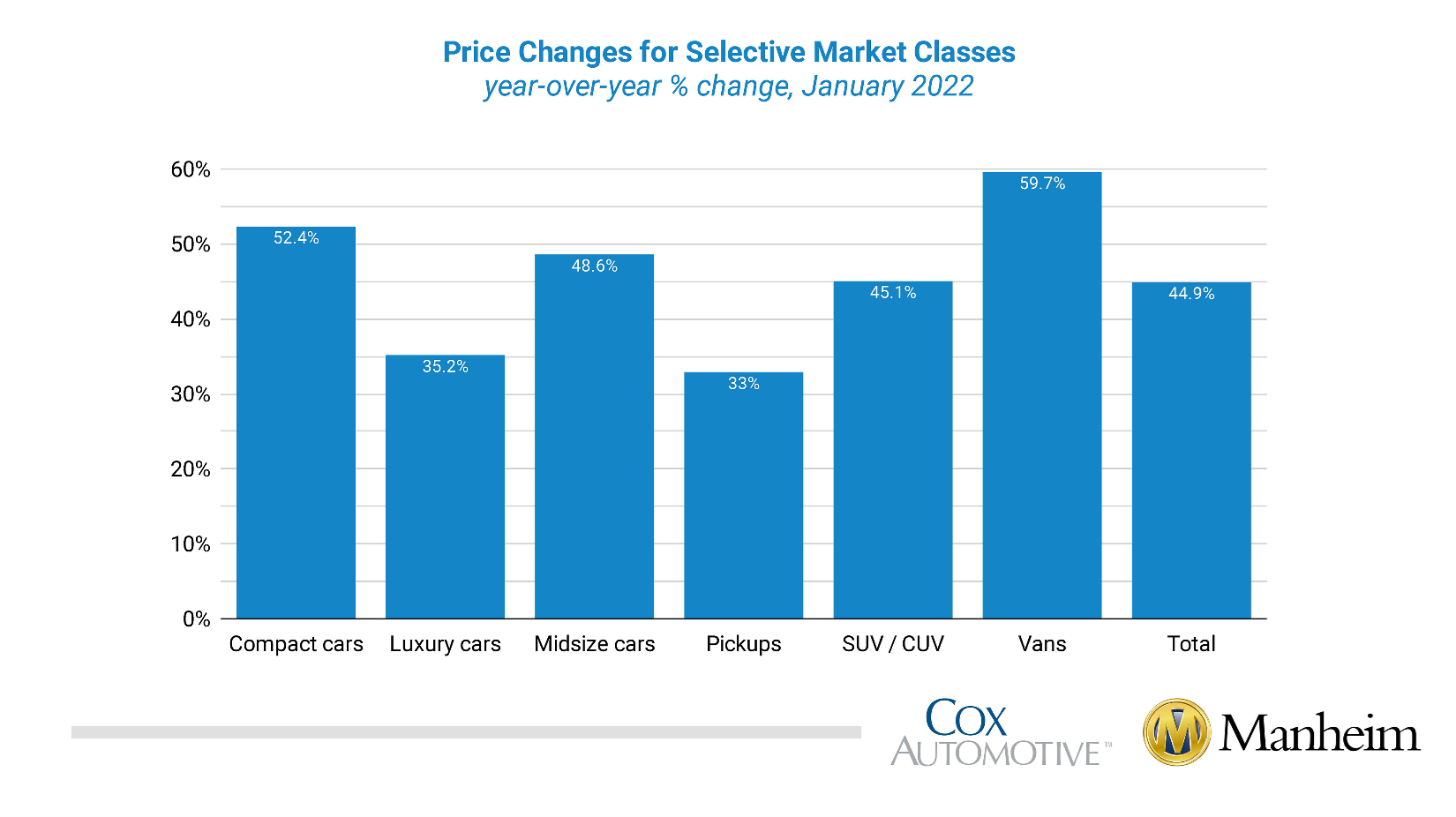 All major market segments recorded seasonally adjusted year-over-year price gains in January. Vans had the largest year-over-year performance, followed by compact cars. Meanwhile, the pickup and luxury car segments lagged the overall market. On a month-over-month basis, the segment performance was more mixed as compact cars, luxury cars and pickups declined, while midsize cars, sports cars and SUVs saw gains, according to Manheim.
Cox Automotive estimates place total used vehicle sales down .8% year-over-year in January. The used SAAR is forecast at 39 million, a decrease from 39.3 million last January and down from December's revised 40.8 million SAAR. The January used retail SAAR estimate is 22 million, up from 21.5 million last year but down slightly from 22.3 million in December.
KPI —  February 2022: Recent Vehicle Recalls