Features
KPI — August: State of Business: Automotive Industry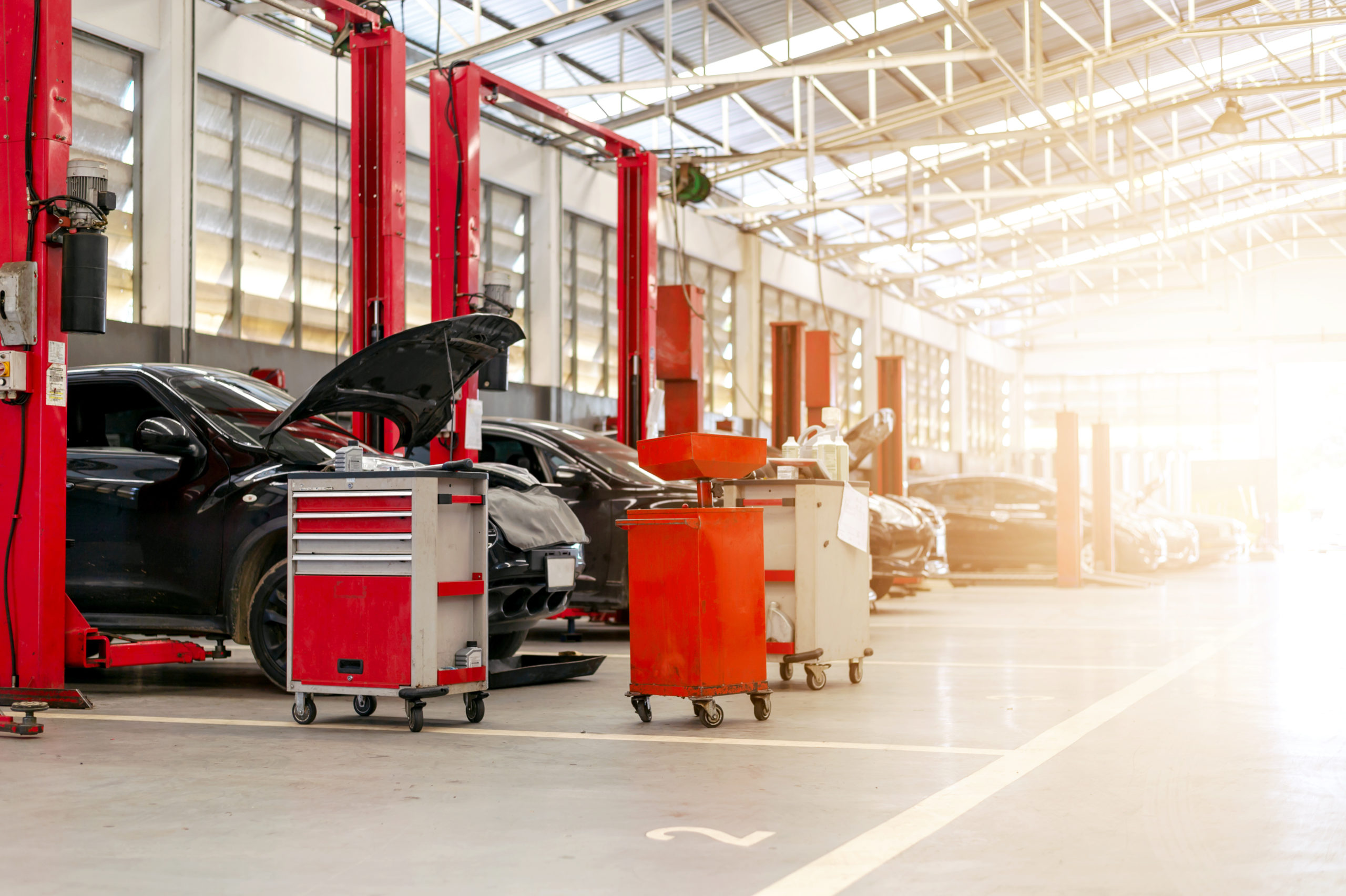 The coronavirus pandemic continues to grip nations around the globe, with more than 23 million cases and 810,000 deaths spread across 216 countries.
At the time of writing, the U.S reported 5,715,567 total cases and 176,617 deaths, according to the Centers for Disease Control and Prevention (CDC). Still, the novel virus continues to infiltrate, impact and divide every facet of society as countries seek to balance necessary public health measures with economic recovery.
Indeed, the country is torn between visible signs of recovery—like record-breaking stock market numbers and a booming housing industry—and paralyzing fear of COVID-19 resurgence upon resuming normal activities, such as in-person academics.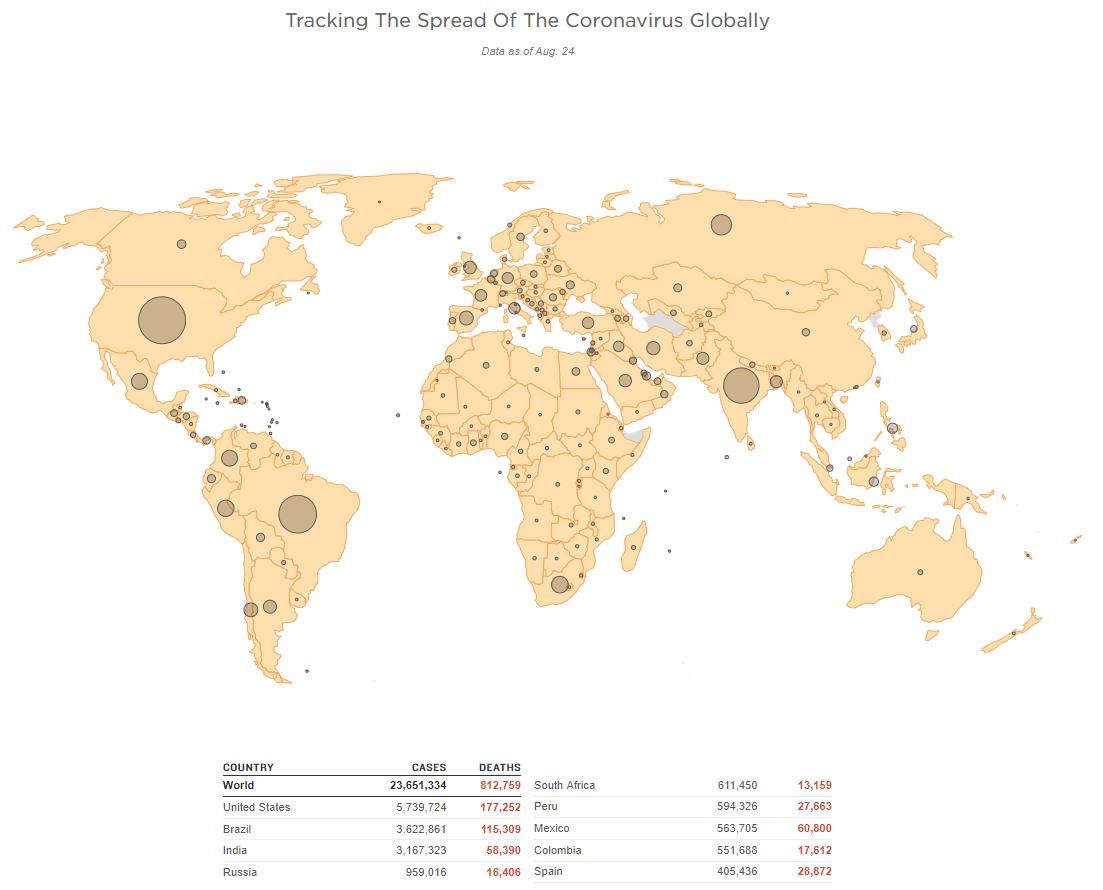 Visit the following pages for global case numbers external icon (reported by the World Health Organization) and CDC's COVID-19 travel recommendations by country. CDC recommends that travelers avoid all nonessential international travel. The list of countries below is organized based on regions defined by the World Health Organization. For U.S. information, visit CDC's COVID-19 in the U.S.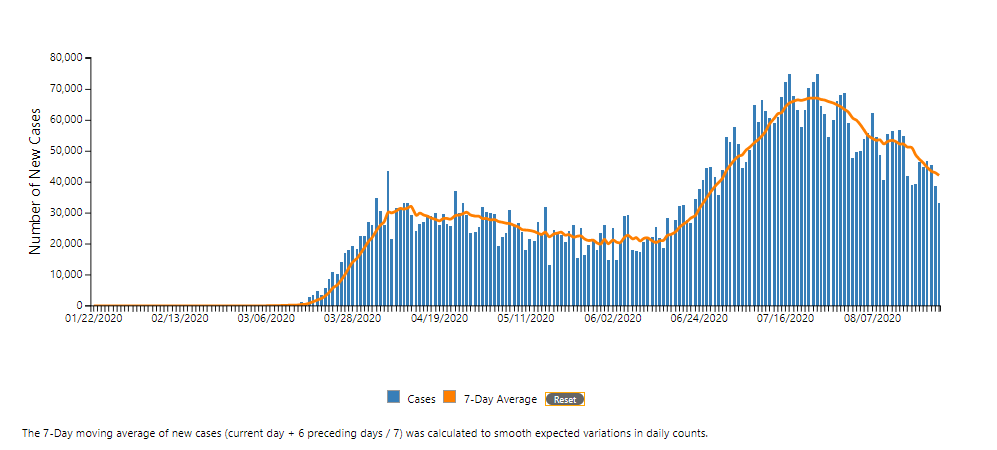 Economic Impact
Ultimately, COVID-19 can affect the global economy in three main ways, commented MarketWatch. "By directly affecting production and demand, by creating supply chain and market disruption or by its financial impact on firms and financial markets."
Despite the turmoil and fear caused by the pandemic, two of President Donald Trump's top economic advisers expect the U.S. economy "to rebound swiftly from its recession despite a recent surge in coronavirus cases that has hit the labor market, shaken consumer confidence and led states to pause or roll back reopening plans," wrote Carmen Reinicke of Business Insider.
Recently appearing on CNN's "State of the Union," White House economic advisor Larry Kudlow said, "I don't deny that some of these hot-spot states are going to moderate that recovery, but on the whole the picture is very positive." Furthermore, "I still think a V-shaped recovery is in place," he added.
In addition to expecting upwards of 20% growth in the third and fourth quarters, Kudlow addressed a few economic indicators that point to the V-shaped recovery he believes is underway. For example, sales of existing homes increased by a record 21% in June, and retail sales jumped 7.5% after a record spike in May.
Likewise, "Continuing claims, which represent people who previously filed and were approved and remain on unemployment compensation, fell to 15.5 million from 16.1 million. That represents 10.2% of February's job total. Continuous claims declined by more than 600,000 from the prior week, bringing the two-week decline to 1.5 million," which was outlined in the mid-August Manheim Used Vehicle Index synopsis.
That confidence extends itself to the automotive industry, which has weathered many historic storms. True, the industry has experienced large-scale challenges across the globe due to the pandemic, but the automotive sector continues to showcase its resiliency on the world stage.
Global Automotive Industry Impact
While global light vehicle (LV) sales may have fallen 6.8% year-over-year in July, according to LMC Automotive, data from the Jefferies Weekly Global Automotive Aftermarket Report points to momentous improvement from 3.72 million in April and 4.95 million in May to 6.4 million in June.
Moreover, a selling rate of 85.7 mn units/year is indicative of the upward trajectory observed since the peak of the pandemic in April, commented LMC Automotive.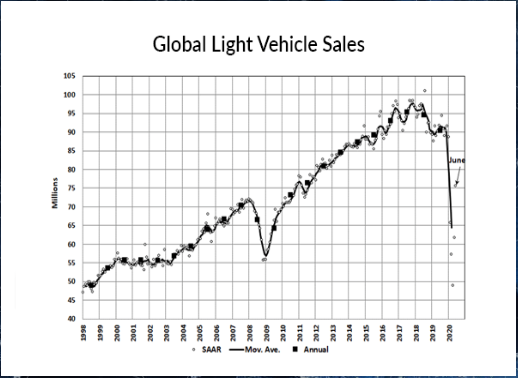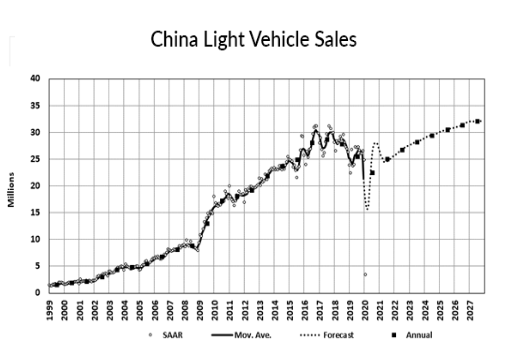 A global powerhouse, China reportedly decreased by .7% year-over-year to 1.82 mn units in June—dragged down by a plunge in import sales (-28.4%), despite an increase in demand for domestically-made vehicles (+1.3%), explained LMC Automotive. In July, however, volumes climbed 16% from a year earlier and mark a fourth consecutive month of improvement.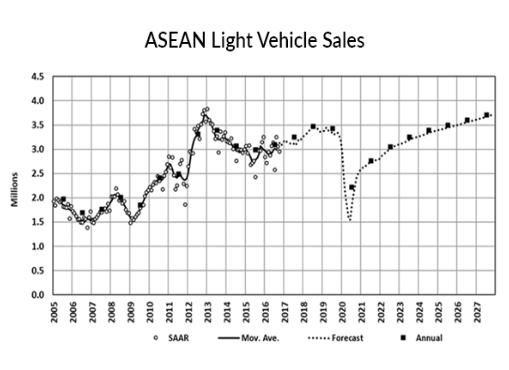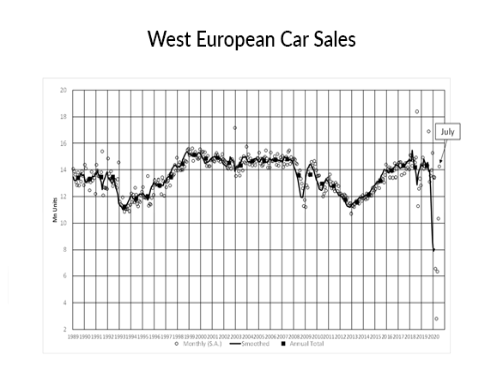 ASEAN light vehicle sales fell to a decade low of 917k units in the first half of 2020, showing a 40% decline from the same timeframe last year. Moreover, lockdown measures caused overall sales in Q2 2020 to nosedive by 62% year-over-year and 54% quarter-over-quarter.
The global passenger vehicle (PV) industry has suffered enormous losses worldwide as well and continues to try and dig out of negative territory. West European car registrations fell by 2.2% year-over-year in July, and the selling rate climbed to 14.3 mn units/year.
"Alongside the easing of lockdown restrictions, government incentive schemes are certainly playing a positive role in boosting sales demand," noted LMC Automotive.
Overall, cumulative year-to-date global PV sales are down by 25% year-over-year through July.
"Our global auto industry sits idle at an interesting intersection. The signs of a recovery are clear and plentiful, but the return to normal is anything but an easy path forward," explained Cox Automotive. "This is particularly true in the U.S., where May [June and July] auto sales for both new and used vehicles were well above April numbers but still well below historic norms."
Counterpoint Technology Market Research analysts maintain their 2020 annual outlook—a nearly 20% decline over last year, with global PV sales estimated to be around 71 million units.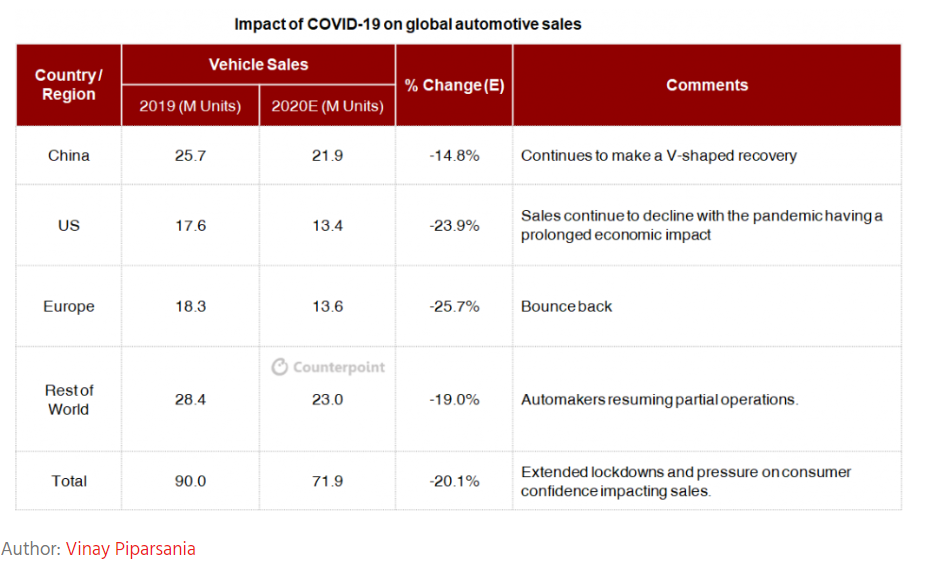 Recently, analyst Aman Madhok offered an industry-wide check-up in his article "Weekly Update: COVID-19 Impact on Global Automotive Industry," the analysis of which is below and fully credited to Counterpoint Technology Market Research and the author.
• China: Now in its fourth consecutive month of improvement, with July volumes increasing 16% from a year prior, the Chinese PV market is showing signs of V-shaped recovery. While PV sales grew to 2.1 million vehicles during July, cumulative volume dropped 13% on a year-to-date basis compared to last year's 12.4 million vehicles. Furthermore, sales of new energy vehicles (NEVs, i.e. battery-powered electric, petrol/electric hybrid and hydrogen fuel-cell vehicles) ended 12 consecutive months of year-over-year declines, with a 20% uptick to nearly 98,000 units in July. "This sale spike possibly demonstrates that NEV OEMs and customers are now at terms with the lowered government subsidies since last year," explained Counterpoint Technology Market Research, which estimates NEV sales at over 1.1 million vehicles in 2020 (a decline of 11% from last year). Tesla sold 11,000 units in July, making it the leader in fully electric vehicles. BYD secured the lead position in total NEV sales, delivering over 14,000 units.
• United States: COVID-19 continues to spike in key areas of the U.S., resulting in localized economic setbacks and "strong headwinds" for the country's PV sales. "All this while the industry continues to reel from the effects of earlier lockdowns and shelter-in-place directives that had closed thousands of dealerships in March, April and May," noted Madhok. While July PV sales volume is up versus June, it remains down nearly 19% year-to-date compared to the previous year. Fleet sales continue to sink as well, with July volumes declining nearly 30% compared to those reported in June.
• Europe and United Kingdom: PV registrations decreased 5.7% in July, with government incentives and lifting of lockdown restrictions stimulating sales demand back to near pre-pandemic levels. From a year-to-date perspective, however, Europe is estimated to suffer a 36% year-over-year decline. PV sales rebounded in the UK during July, "as dealers reopened with easing of coronavirus lockdowns, even as battery electric vehicle sales continued to surge," said Madhok. July is the first full month of business in the UK after car dealerships were allowed to reopen and, according to the Society of Motor Manufacturers and Traders (SMMT), British new car registrations increased approximately 11% year-over-year to nearly 175,000 units.
• India: India's domestic auto industry shows signs of turning a corner in recovery. In fact, for the first time in several months, it reported a single-digit decline of just 1% in passenger car wholesales—with 198,000 units shipped last month compared to 200,500 units during the same period last year. July shipments are likely the low point of a V-shaped recovery, noted Madhok, as Indian states increasingly ease lockdown measures and more dealerships open in key urban centers.
• Japan: Japan's PV sales continue to improve as well, with a relatively moderate 14% year-over-year decline in July, compared to 45% in May. Consumer trends point to a preference in purchasing smaller-sized vehicles to avoid crowded public transportation. Sales of Mini Vehicles (with an engine size smaller or equal to 660 cc) currently account for nearly 40% of total car sales in Japan.
• South Korea: Notably, the selling rate has tapered from an all-time high in June—the first phase of a temporary excise tax cut on passenger vehicles expires at the end of the month. Overall, the market continues to perform reasonably well, touting a year-to-date increase of 8%. The temporary excise cut has proven to be a key factor in stimulating demand recovery in Q2 and Q3—a second phase is expected to maintain the recovery efforts.
Automotive Aftermarket News
Though OEMs face unprecedented challenges, there are positive signs in the automotive aftermarket.
"Retail sales are currently above levels seen in January before the virus hit, strengthened by government financial stimulus and unemployment," said Kyle Cheng of SEMA. "Likewise, manufacturing is also slowly coming back, although it remains below its pre-pandemic levels."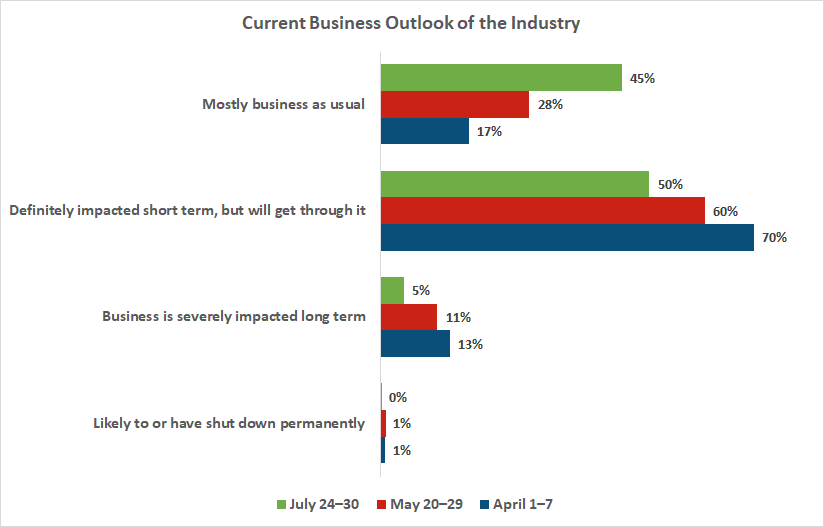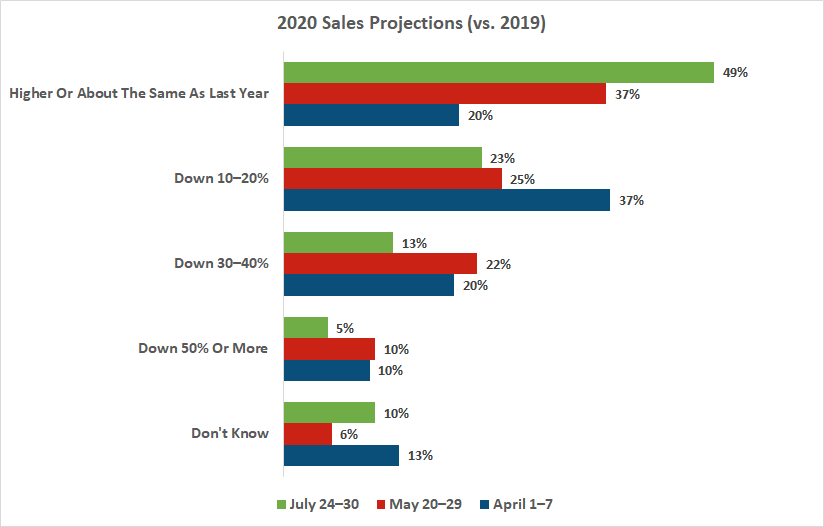 In a recent survey conducted July 24–30, approximately 95% of all companies said they were mostly business as usual or only impacted in the short term. Nearly half (45%) stated they were business as usual, compared to only 17% back in April. The number of companies reporting more severe disruptions have continued to decrease over the past few months as well.
Furthermore, "The automotive sector continues to heal, showing continually strong month-on-month growth. Though auto sales still are below their levels before the virus, they have recovered much of the decline experienced in April and May," said Cheng.
Indeed, 2020 has been a dismal year for vehicle sales. However, according to data from Informa PLC, sales of new pickup trucks are the silver lining, as they were the least impacted among passenger vehicle segments during March and April. Year-to-date pickup sales are down 10% from 2019 versus a 22% drop for overall passenger vehicle sales.
"Continued pickup sales is great for the specialty-equipment industry, as pickup parts accounted for 31% of all specialty auto aftermarket sales in 2019. The '2020 SEMA Market Report' details how the $14.28 billion spent modifying pickups breaks out by product type and sales channel," added Matt Kennedy of SEMA.
Other takeaways from the "2020 SEMA Market Report" include:
Independent specialty shops accounted for 20% of all retail dollars spent on specialty auto parts.
59% of specialty-automotive consumers are under age 40.
63% of all specialty parts bought for SUVs were installed DIY.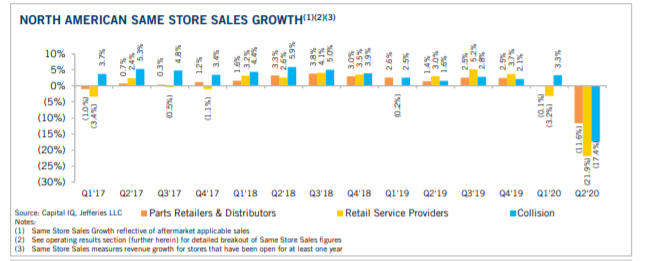 Another important resource, SEMA's "State of the Consumer Report – July 2020" explores the current state of consumers within the U.S., as well as their outlook for the future. "This quick snapshot looks at how consumers are emerging from coronavirus lockdown—including recent driving patterns, retail behavior and how they are interacting with the specialty-equipment industry," explained Gavin Knapp, director of market research at SEMA. All of these reports, and much more, are available for free download at www.sema.org/research.
eCommerce Contribution
Online vehicle, part and accessory sales were a source of steady revenue in the wake of retail closures across the country due to stay-at-home directives. Insightful slides from a Cox Automotive mid-year review are included below, in addition to a comprehensive breakdown from Hedges & Company.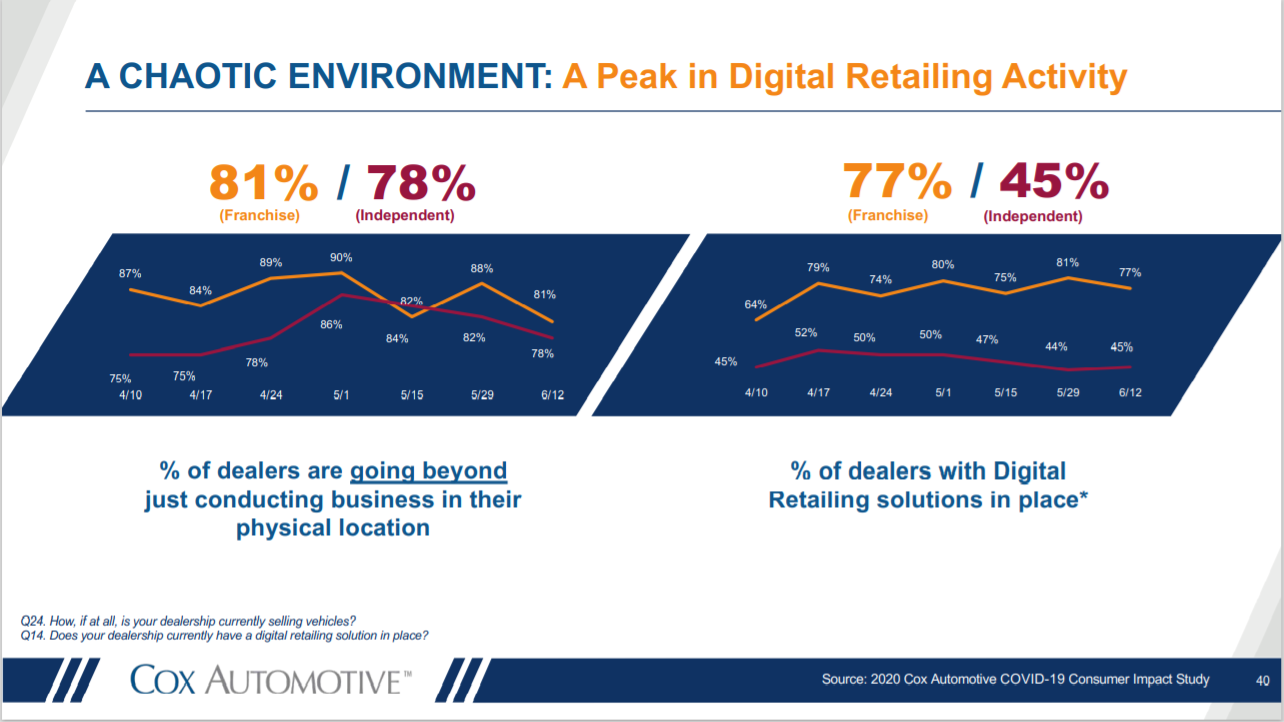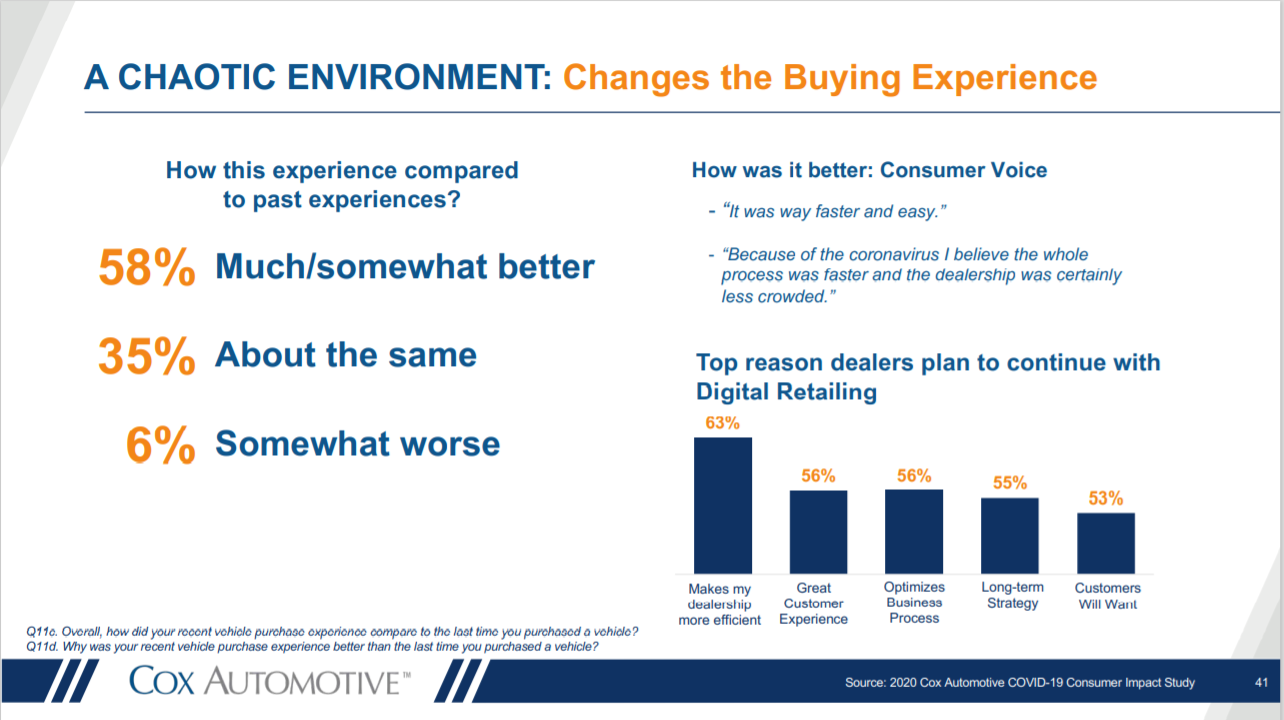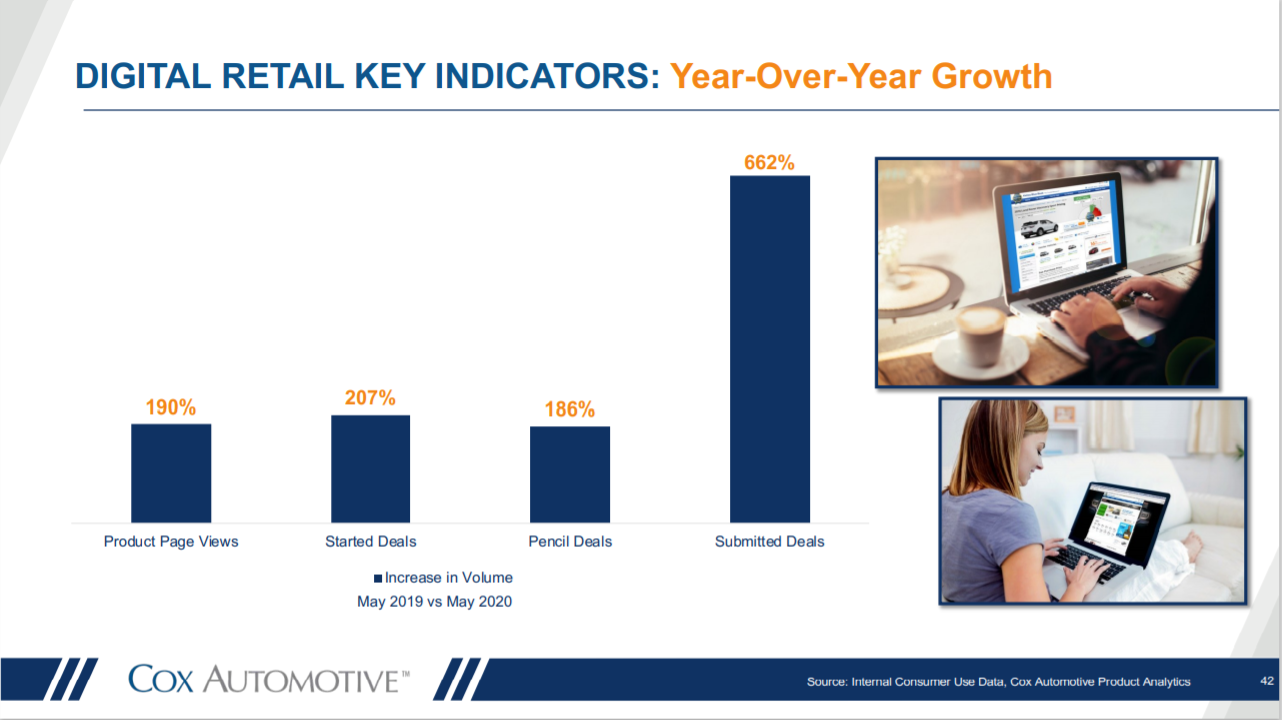 One company in particular is tracking and analyzing the weekly eCommerce activity of nearly 20 million user sessions and approximately 369,000 online purchases from parts and accessory websites across the U.S. and Canada, including retailer websites as well as manufacturer websites selling direct to consumer (DTC).
Hedges & Company—a digital marketing agency serving the automotive aftermarket, OEM parts and powersports industries—is categorizing the online sales into five market segments, including OEM replacement parts, light truck and off-road parts and accessories, performance and racing parts, aftermarket accessories, as well as powersports parts and accessories.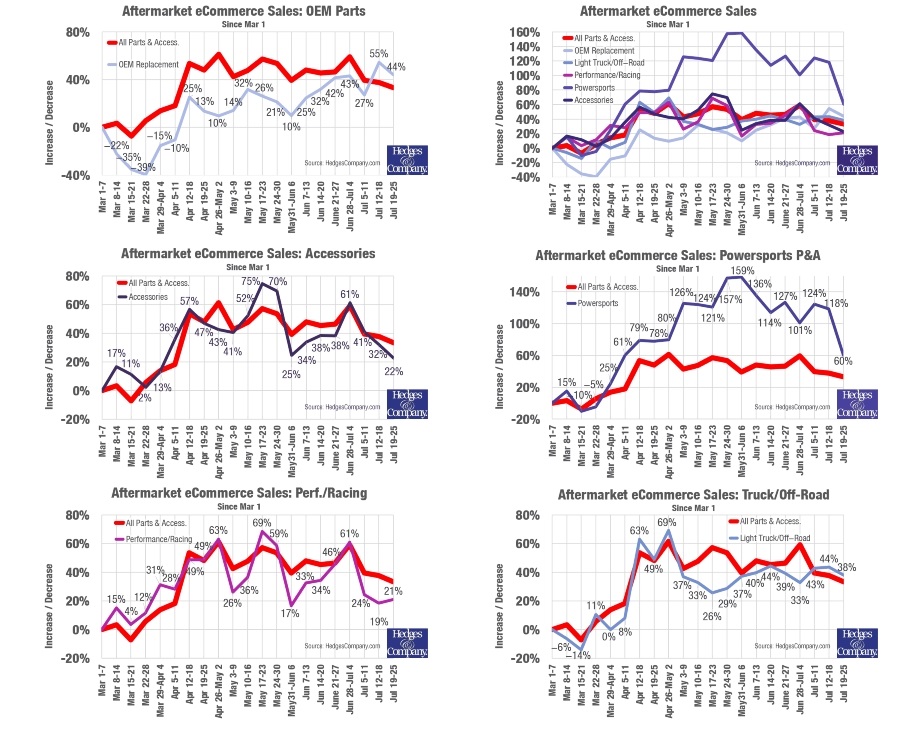 Data shows the aftermarket e-commerce channel, which includes powersports, is up significantly year-over-year. And it is a trend holding steady for months. Online revenue the week of July 19-25, 2020 showed a 33% increase from the first week of March 2020.
Below are sales increases for the week of July 19-25 compared to the week of March 1-7, which serves as a baseline before the coronavirus pandemic forced widespread shutdowns of retail businesses.
Overall aftermarket eCommerce sales = 33% increase
Automotive aftermarket accessories = 22% increase
Powersports = 60% increase
Light truck and off-road parts sales = 38% increase
OEM replacement parts sales = 44% increase
Performance/racing parts sales = 21% increase
KPI — August: New and Used Vehicle Sales