Features
KPI — August: New & Used Vehicle Sales

Total new vehicle sales improved for the third consecutive month in July, with the SAAR totaling 14.5 million units—a year-over-year decline of 14.4% but up from the 13.1 million units reported in June.
Moreover, it is "notably stronger than our initial forecast and an indication the recovery continues to head in the right direction," said Charlie Chesbrough, Cox Automotive senior economist. "[Overall] the market remains well below last year's levels, but has steadily increased since the depths of April," affirmed Chesbrough.
Case in point, the first seven months of the year indicate new light-vehicle sales are down 22.1% compared to 2019, but sales volume rose approximately 120,000 units in July—a milestone worth celebrating during recessionary conditions.
On the contrary, fleet sales are not rebounding like other categories and, similar to previous months, posted a loss in July. For comparison: retail sales were down 10% year-over-year, while fleet sales decreased by a substantial 60% during the same timeframe, according to Wards Intelligence.
Furthermore, the delicate balance of supply and demand is impacting inventory levels across the country. "In total, the U.S. supply of unsold new vehicles stood at 2.33 million units at the end of July, down from 2.55 million units at the end of June and down from 3.12 million at the end of July 2019," according to Cox Automotive. "That put the national days' supply at 62 days, down from 70 at the end of June and down from 79 in July a year ago. Even though factories have been running for a few months now, demand is outstripping their output," continued Cox Automotive.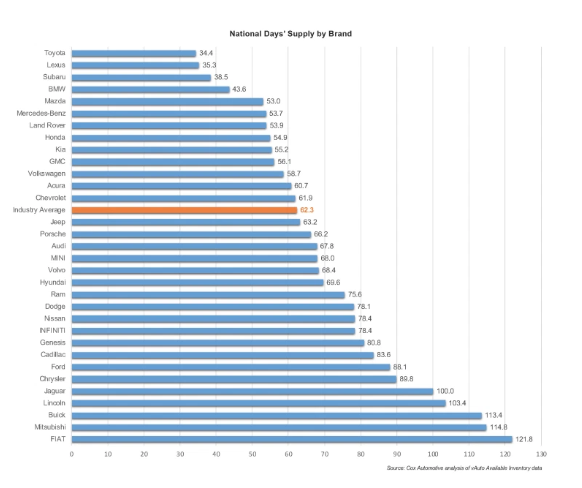 Important takeaways, courtesy of Cox Automotive:
• Low inventory means less choice when it comes to vehicle color or trim package. It also means higher prices. Recent research suggests nearly 20% of dealers have raised retail prices since the start of the pandemic. A similar percent of consumers admit they are putting the vehicle purchase on hold, waiting for a better deal.
• New vehicle sales are forecast to finish at 1.30 million units, down nearly 20% compared to August 2019. When compared to last month, sales are expected to rise nearly 90,000, an increase of 7%.
• While all major segments are expected to see increased sales compared to last month, SUVs and pickup trucks will continue to outperform.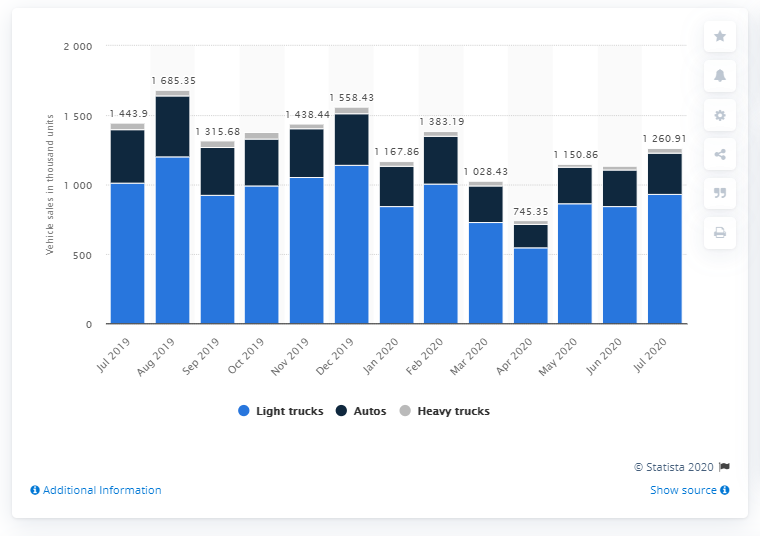 U.S. vehicle sales between July 2019 and 2020, by vehicle type
A Glimpse at August
The growth trend continues in August. Unsurprisingly, year-over-year vehicle sales are forecast to be down nearly 330,000 units, but Cox Automotive estimates the SAAR will finish near 14.9 million—a win compared to earlier predictions.
Indeed, a 7% increase in August is another positive sign of recovery. Though while the market continues to normalize, there are a number of factors preventing more robust gains. "Limited inventory for some brands, as well as the ongoing high unemployment and low confidence from the pandemic, continue to keep sales from rebounding more quickly. There's been a noticeable pull-back in incentives as well. These problems will likely persist, at least in the near term," noted Charlie Chesbrough, senior economist at Cox Automotive.
Some brands face significant shortages, noted Cox Automotive, who went on to name Toyota, Lexus and BMW as all having less than 40 days of available inventory in the latter part of the month, far below the current industry average of 60.
"Obviously, you can't sell what you don't have," added Chesbrough. "The lack of inventory likely kept some potential buyers out of the market."
Important takeaways, courtesy of NADA:
• Vehicles have been selling quickly once they reach dealer lots. According to J.D. Power, 41% of all vehicles sold in July spent fewer than 20 days on the lot, up from 35% a year ago.
• Inventory constraints in popular segments may have limited some sales in July and, according to Wards Intelligence, final inventory numbers are expected to register an eight-year low for the month. Because of such robust demand, incentive spending was dialed back in July.
• Preliminary estimates from J.D. Power peg incentive spending per unit at $4,236, down from June 2020 but up by $166 compared with July 2019.

Used Vehicle Market
Wholesale used vehicle prices (on a mix-, mileage- and seasonally adjusted basis) increased 3.4% month-over-month in the first 15 days of August—bringing the mid-month Manheim Used Vehicle Value Index to 163.4, a 15.6% increase from August 2019.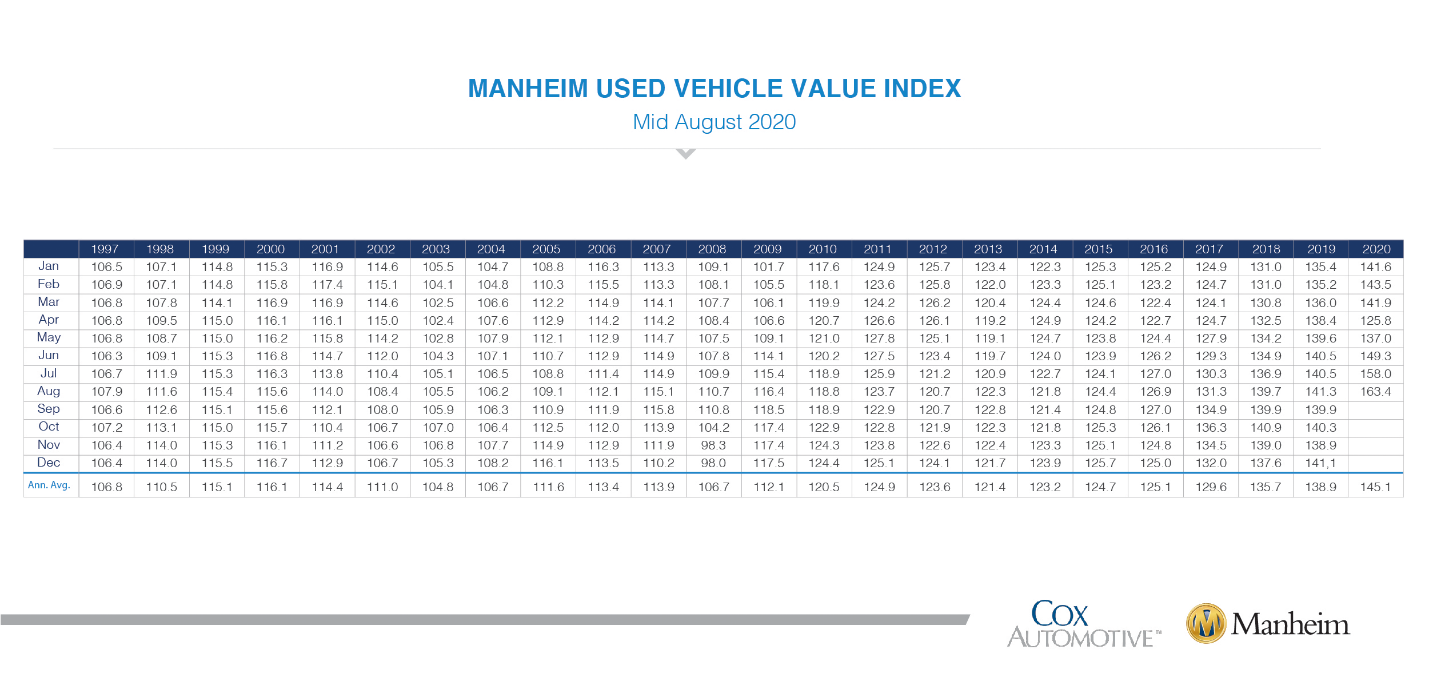 If the mid-month value of the Manheim Index holds for the full month, the Index will set a record high for the third consecutive month.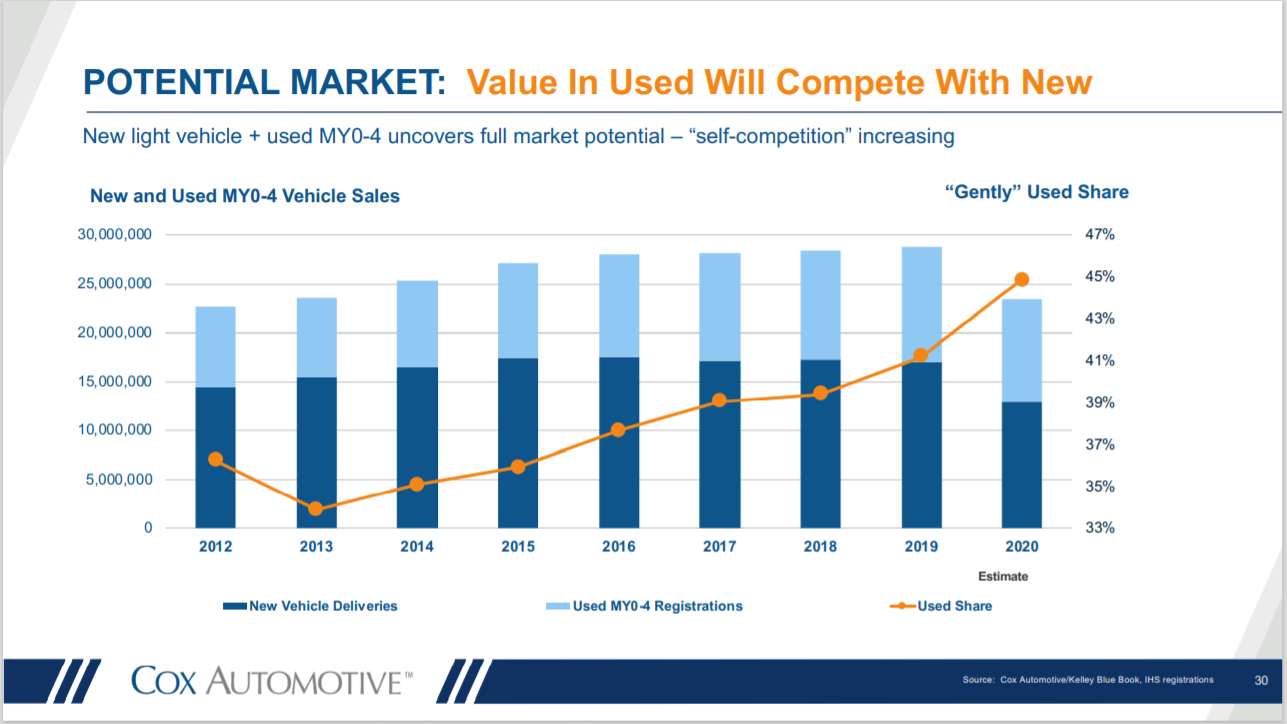 Additionally, Manheim Market Report (MMR) prices showed improvement over the last two weeks, resulting in a 1.4% cumulative increase in the first two weeks of August on the Three-Year-Old Index, according to the most recent index. In fact, MMR Retention, which is the average difference in price relative to current MMR, was at or above 99.8% every day and averaged 101% (during the first 15 days of August). Price appreciation has been slowing in recent weeks, noted Manheim.
Furthermore, all major market segments saw seasonally adjusted price increases on a year-over-year basis during the first 15 days of August. The current index shows luxury cars and pickup trucks outperformed the overall market, while most other major segments underperformed the overall market.
As used retail sales strive for full recovery, both retail and wholesale supply have come down. Normal used retail supply is about 44 days' supply, explained Manheim, but the most recent seven-day estimate of used retail supply is at 38 days.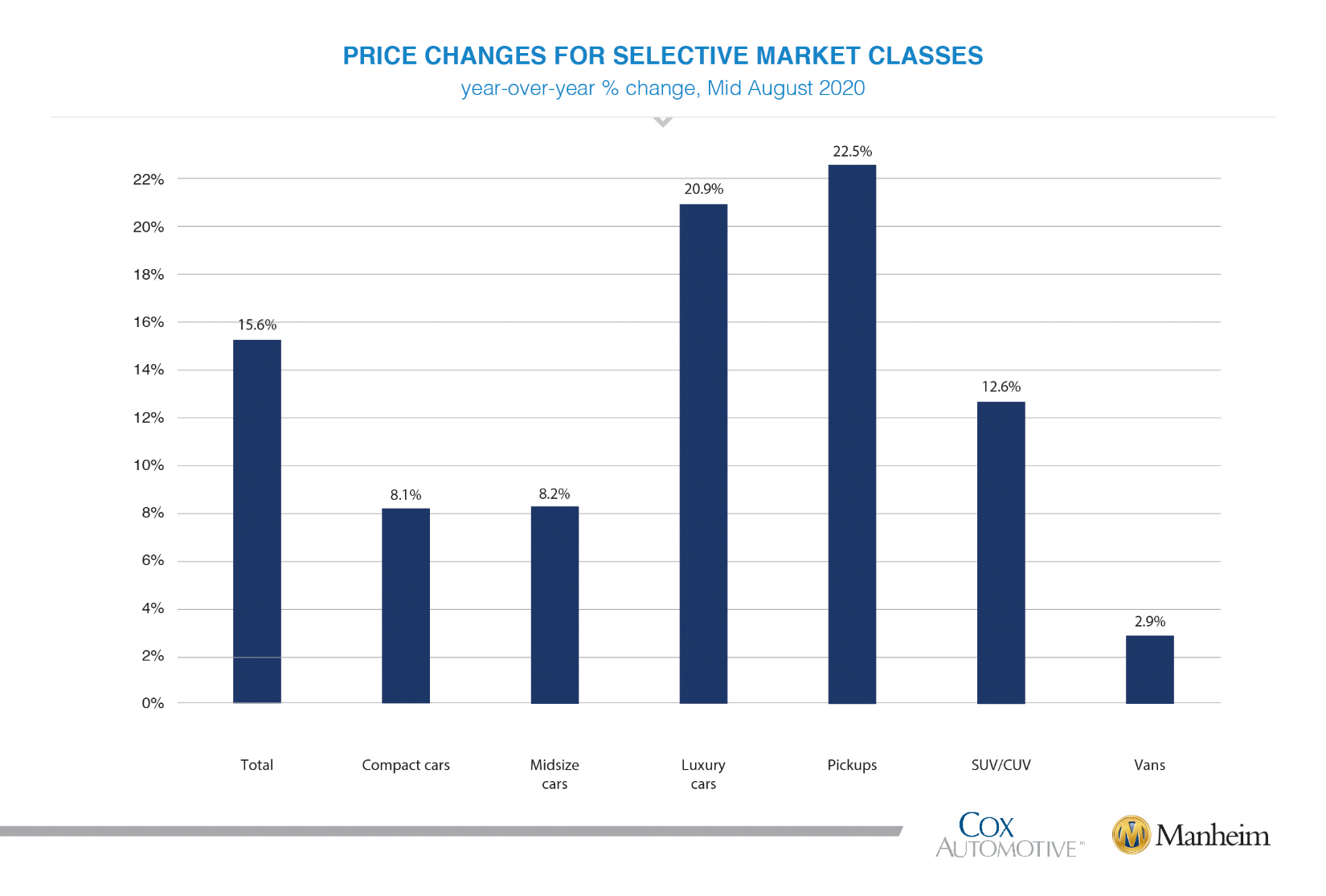 What the Professionals Say
• "Initial jobless claims were under one million for the week ending Aug. 8, which was the lowest weekly filings number since the pandemic began. Continuing claims, which represent people who previously filed and were approved and remain on unemployment compensation, fell to 15.5 million from 16.1 million. That represents 10.2% of February's job total. Continuous claims declined by more than 600,000 from the prior week, bringing the two-week decline to 1.5 million. The initial August reading on Consumer Sentiment from the University of Michigan improved slightly to 72.8 from 72.5 in July. The underlying gauges of future expectations and current conditions both improved modestly. Consumers saw declining buying conditions for vehicles driven by more negative views of vehicle prices. Risks from COVID-19 remain elevated following the summer outbreaks, but declining cases and hospitalizations are helping recover sentiment. Jobs are recovering again, too. Credit remains available, but lenders are wary of declining loan performance from waning stimulus support." –Manheim Vehicle Index, Mid-August Report
• "Our outlook has not changed much since last month. We expect new-vehicle retail sales will continue to recover for the rest of the year, while fleet sales will continue to struggle. Inventory constraints in popular segments will be a headwind for new-vehicle sales for the rest of the summer. But barring any unexpected parts delays or vehicle plant shutdowns stemming from new COVID-19 outbreaks, we expect that vehicle inventory levels will be at close to normal levels by the end of the summer. For 2020, we expect new light-vehicle sales will fall to between 13 million and 13.5 million units." –Patrick Manzi, NADA chief economist
• "American consumers continue to choose light trucks over cars, with light trucks representing 76% of all vehicles sold in July and 75.4% of all new vehicles sold so far this year." – Patrick Manzi, NADA chief economist
• "We still believe weak economic numbers coupled with fear over the coronavirus is keeping some buyers on the sidelines. In fact, according to our recent research, the number of consumers in-market for new vehicle is well below normal." – Charlie Chesbrough, Cox Automotive senior economist
KPI — August: Recent Vehicle Recalls