Features
Jeep Unveils Grand Wagoneer Concept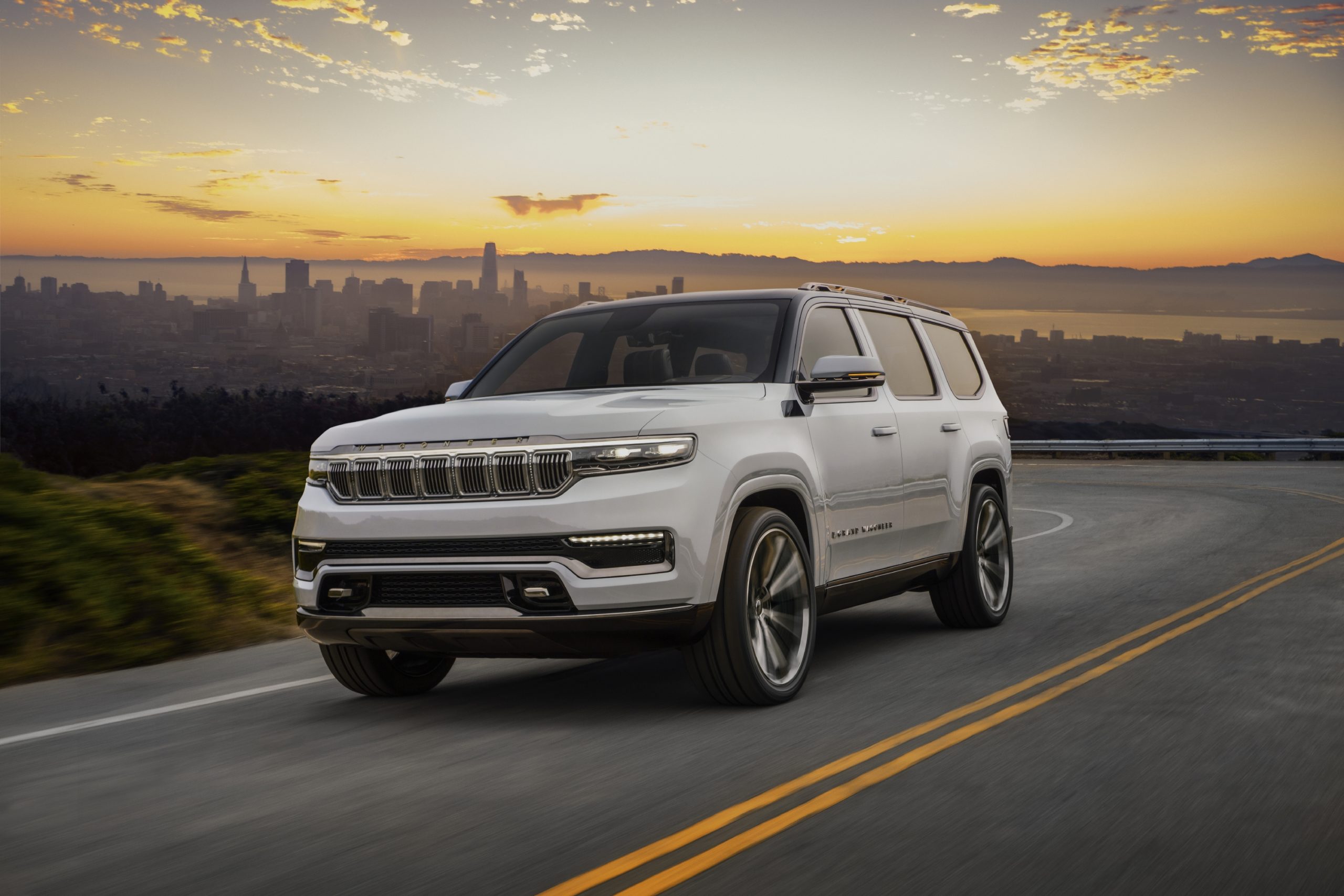 Jeep has introduced an all-new Grand Wagoneer Concept, marking the revival of the SUV, which originally launched in 1962.
"Our new Grand Wagoneer Concept marks the first step in the rebirth of Wagoneer – a true and rare premium American icon," said Christian Meunier, global president of the Jeep brand – FCA. "With the electrification of each Jeep nameplate coming in the next few years, and the reintroduction of Wagoneer, we are quickly expanding into new segments and more premium space.
"Wagoneer is unquestionably rooted in the legendary Jeep brand and its unmatched heritage of leading capability, authenticity and freedom, and its return allows us to expand to a much more premium arena with new levels of design detail, and advanced safety and technology features," Meunier added. "While Jeep vehicles bring leading capability, efficiency and performance across the mainstream SUV market, Wagoneer will ultimately become a portfolio of vehicles that will once again define 'American Premium,' making it the standard of sophistication, authenticity and modern mobility."
The Grand Wagoneer Concept includes an electrified powertrain, 4×4 off-road systems and a passenger screen.
"For more than a quarter century, the first Wagoneer and Grand Wagoneer created a new segment for American consumers as the ultimate premium SUV of its day," Meunier said. "The new Grand Wagoneer Concept is our vision of what a modern expression of this timeless icon can be, and hints at how we will redefine and recreate the benchmark premium SUV."
"The original Grand Wagoneer was the first premium SUV, and its timeless design combined with the soul of Americana helped it achieve an iconic place in many hearts," said Ralph Gilles, head of design – FCA. "The Grand Wagoneer Concept is inspired by the original, but with a modern interpretation of luxury and freedom. We strived to create an elegant design with a timeless silhouette, featuring countless beautifully crafted details that come together to give it an undeniable presence.
"The Grand Wagoneer Concept's interior is spacious and features premium materials that accentuate our team's obsession to detail and celebrates American craftsmanship," Gilles added. "A full digital cockpit takes advantage of leading technologies that are beautifully presented with expansive and easy-to-use screens and limited buttons, allowing the focus to be placed on a pleasant and intuitive experience for the driver and passengers."
With this new concept, the Grand Wagoneer nameplate features a third row of seating, a first for the model.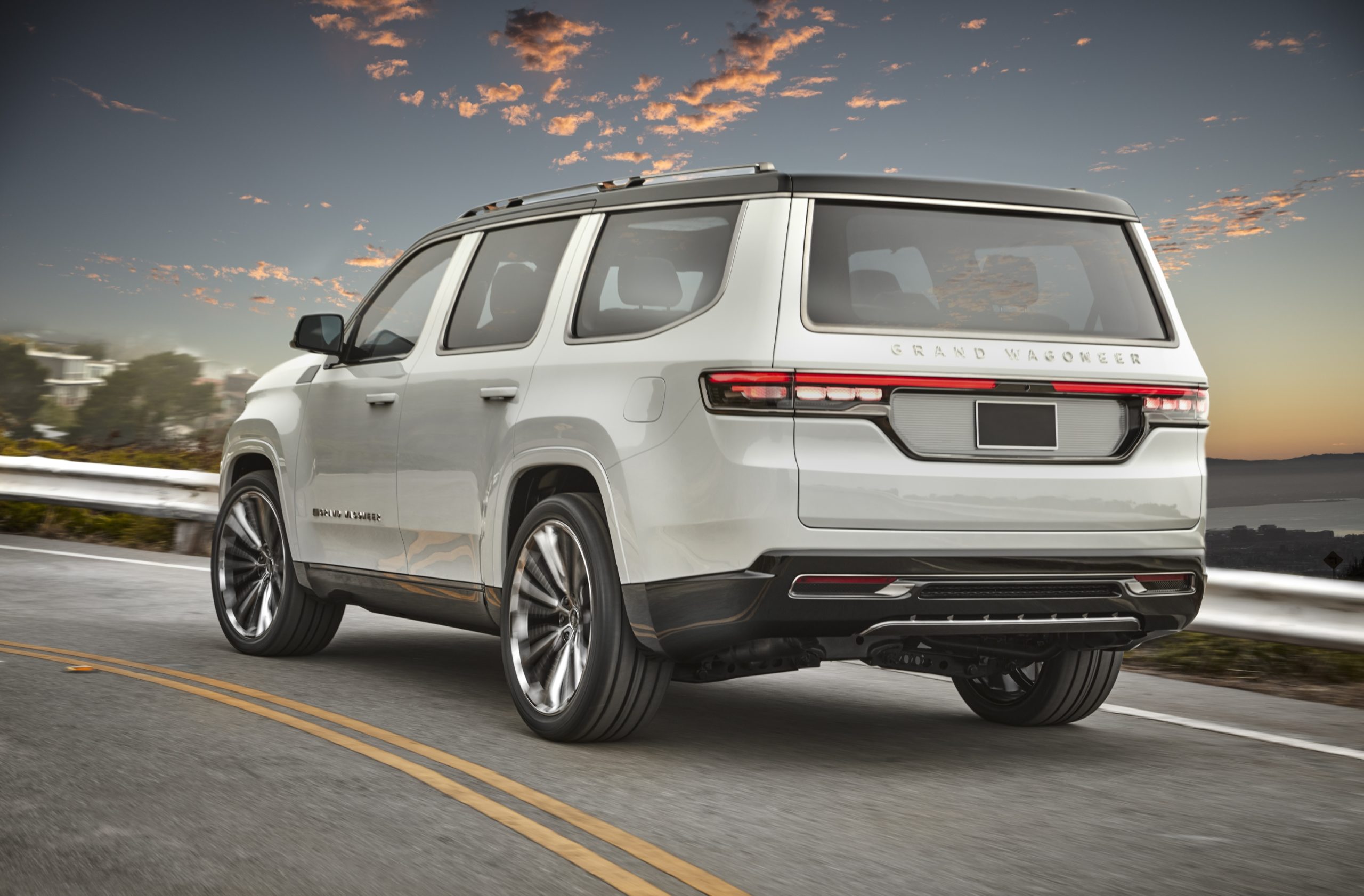 Production versions of the Wagoneer and Grand Wagoneer are slated to arrive in showrooms next year and will be built in Warren, Michigan, near downtown Detroit. As a nod to its manufacturing home and the brand's headquarters, the Concept's full-pane glass roof houses a map showcasing Detroit and the surrounding area.
When the production version of the Grand Wagoneer arrives next year, it will be offered with three available 4×4 systems, Quadra-Lift air suspension and an independent front and rear suspension.
The Grand Wagoneer Concept's exterior design is anchored by an Obsidian Black-accented grille featuring the Jeep brand's iconic seven slots. Each slot features lightweight latticework, while the space above and between each of the seven slots is lit to create a signature LED design.
The SUV itself features a new Arctic Ice exterior paint, and directly above the grille sits raised illuminated letters spelling out the word Wagoneer. The design team created a custom-made font for all of the Concept's exterior lettering.
On either side of the grille sits twin bi-functional LED projector headlamps that are surrounded by genuine teak wood. The vehicle also features a front skid plate and accented front tow hooks.
The Grand Wagoneer Concept SUV stands on 24-inch, multi-spoke, Obsidian-finished aluminum wheels featuring 3D-printed elements. A three-piece wheel cap features the Wagoneer logo suspended in acrylic.
LED taillamps wrap from the rear quarter panel to the back of the vehicle and a subtle rear diffuser sits below the power tailgate.
Flanking the SUVs full-pane glass roof on both sides are roof rails, featuring four tie-down loop openings. Each loop opening houses additional teak wood that is supported by bronze latticework.
The Grand Wagoneer Concept holds up to seven passengers with front- and second-row captain's chairs, as well as its third row.
While the original Grand Wagoneer featured an extensive use of wood on its exterior, the Grand Wagoneer Concept houses genuine heat-treated lacewood along its interior.
Nearly 45 inches of total screen span the length of the instrument panel: a 12.3-inch driver information display behind the steering wheel, a 12.1-inch horizontal touchscreen serves as the main display screen in the center console, with a 10.25-inch horizontal display touchscreen below, separated by the structural aluminum wing that controls the seats and the four-zone climate control. Additionally, a 10.25-inch passenger screen provides the front passenger with touchscreen control.
Second-row passengers have 30 inches of total screen space at their disposal with a 10.1-inch display screen housed on the center console located between the two captain's chairs. Each second-row passenger also has access to their own 10.1-inch entertainment touchscreen.
The Grand Wagoneer Concept features a plug-in hybrid electric vehicle powertrain system, in line with the Jeep brand's plans to offer electrification options on all models in the next few years.