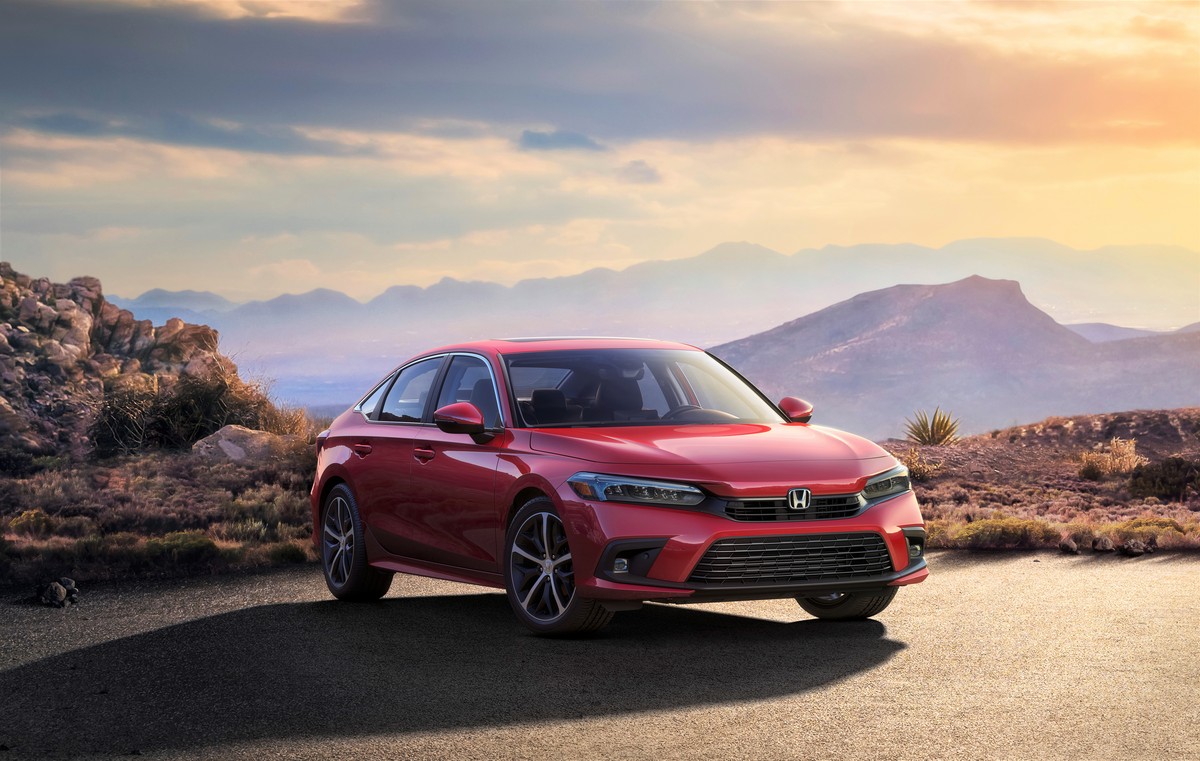 Honda recently unveiled the all-new 2022 Civic, the 11th generation of the sedan. The updated vehicle features a full slate of new and reworked elements, including an all-new exterior design, an upgraded chassis and increased powertrain performance.
"Civic has been the go-to choice for compact car buyers for almost 50 years and the all-new 11th-generation Honda Civic builds on that leadership with simple and sporty styling inside and out, best-in-class features and class-leading performance," said Dave Gardner, executive vice president of National Operations, American Honda Motor Co., Inc.
In designing the 11th-generation Civic, Honda stylists and engineers sought to create a car that would be a "breath of fresh air" in the segment by revisiting design concepts of previous generation Civics, the automaker said.
A "thin and light" body design with a low hood and front fenders and a low horizontal beltline grounds the body accentuates the wheels and tires. Inside, Honda aimed for the uncluttered cabin design of early generations of Civic. The new model's interior features exceptional visibility, intuitive ergonomics, extraordinary passenger volume and driver-focused technology, the company said.
Key to the new Civic's styling was moving the bottom of the windshield pillars rearward by nearly 2 inches (1.96 inches), which elongates its hood.
The additional stability provided by its new wider rear track is emphasized by stronger rear shoulders, wide-set LED taillights and the upswept and aerodynamically efficient trailing edge of its trunk lid. LED lighting is used extensively for the exterior, including the wide-set headlights, daytime running lights, parking lights and available fog lights. The Civic Sedan will be available in eight exterior colors, three of which are new: Meteorite Gray Metallic, Sonic Gray Pearl and all-new Civic-exclusive Morning Mist Blue Metallic.
The pulled-back A-pillars, low hood, flat dashboard and hidden windshield wipers enable a windshield with clearly defined corners for a panoramic view. The low cowl is the same height as the door sills and extends from the dash all the way to the rear doors. The outside mirrors also have been positioned away from the windshield pillars to improve visibility.
Further improving visibility is the top of the Civic's instrument panel, which has been designed with minimum cutlines to reduce windshield reflections and visual distractions.
A metal honeycomb mesh accent stretches from door to door across the dash. It serves both form and function, creating a visual dividing line between the audio, information displays and the climate controls, while the design conceals the air vents.
LX, Sport and EX grades are equipped with a 7-inch color LCD instrument display similar to that found in the Accord. An all-digital speedometer and tachometer are on the left side of the instrument panel, while a physical speedometer dial occupies the right side.
An all-digital LCD instrument display measuring 10.2 inches comes standard on Touring models. the high-definition full-color LCD panel displays a variety of information, all customizable from the steering wheel.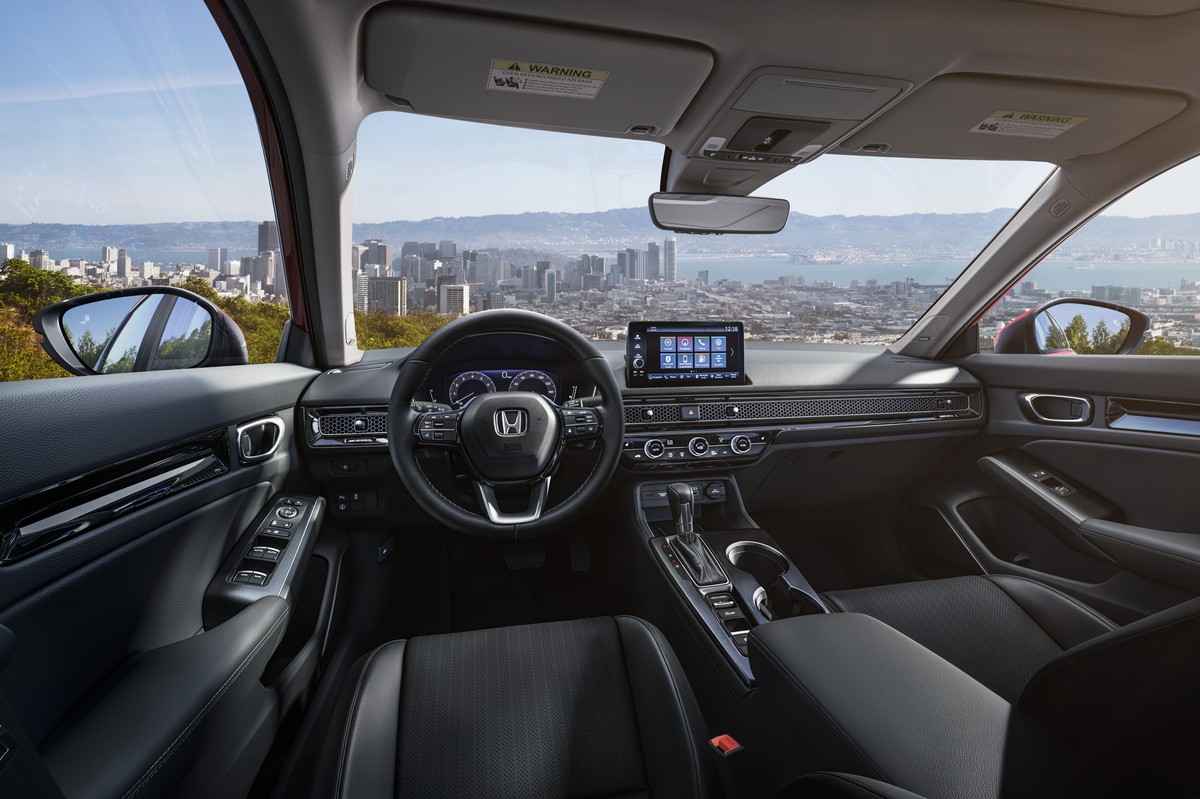 LX, Sport and EX grades also come standard with a new 7-inch color touchscreen accompanied by a physical power/volume knob and a tuning/selection knob. At the bottom is a row of hard buttons for skipping music tracks, navigating the audio menu, and selecting between phone, radio, Bluetooth or USB media, or a connected smartphone for use with Apple CarPlay and Android Auto. Civic Touring also debuts an all-new 9-inch color touchscreen. Touring trims also feature the first use of Bose sound system in a Civic.
Two 4-cylinder engines will be available for the 2022 model: A naturally aspirated 2.0-liter or a turbocharged 1.5-liter. Both are paired with an updated continuously variable automatic transmission (CVT).
Standard in LX and Sport trims, the 2.0-liter 4-cylinder produces 158 horsepower at 6,500 rpm and 138 lb.-ft. of torque at 4,200 rpm. For EX and Touring trims, the 1.5-liter turbo 4-cylinder produces 180 horsepower at 6,000 rpm (SAE net) and 177 lb.-ft. of torque at 1,700 to 4,500 rpm.
Civic's suspension has been carefully tuned to take maximum advantage of the stiffer body structure and additional 1.4-inches of wheelbase, the company said.
The front MacPherson struts feature new low-friction ball joints and front damper mount bearings to improve steering feel and self-centering, and the spring and damper alignment has been optimized to minimize operational friction.
In the rear, the track is 0.5-inch wider for enhanced stability, with a new larger compliance bushing with an improved bushing axis to minimize harshness. Additionally, the two rear lower arms are equipped with a new bushing that reduces noise and vibration inside the cabin, while also promoting better straight-line stability and turn in. The electronic power steering has been re-tuned to provide better feedback and improved straight-line stability.
New low-drag front brake calipers and low-friction front and rear wheel bearings reduce rolling resistance and help improve fuel economy ratings.
An all-new and lighter aluminum front subframe with an efficient truss and rib structure provides rigidity and stability. Additionally, a new lightweight flex tube in the exhaust system decreases noise transmission.