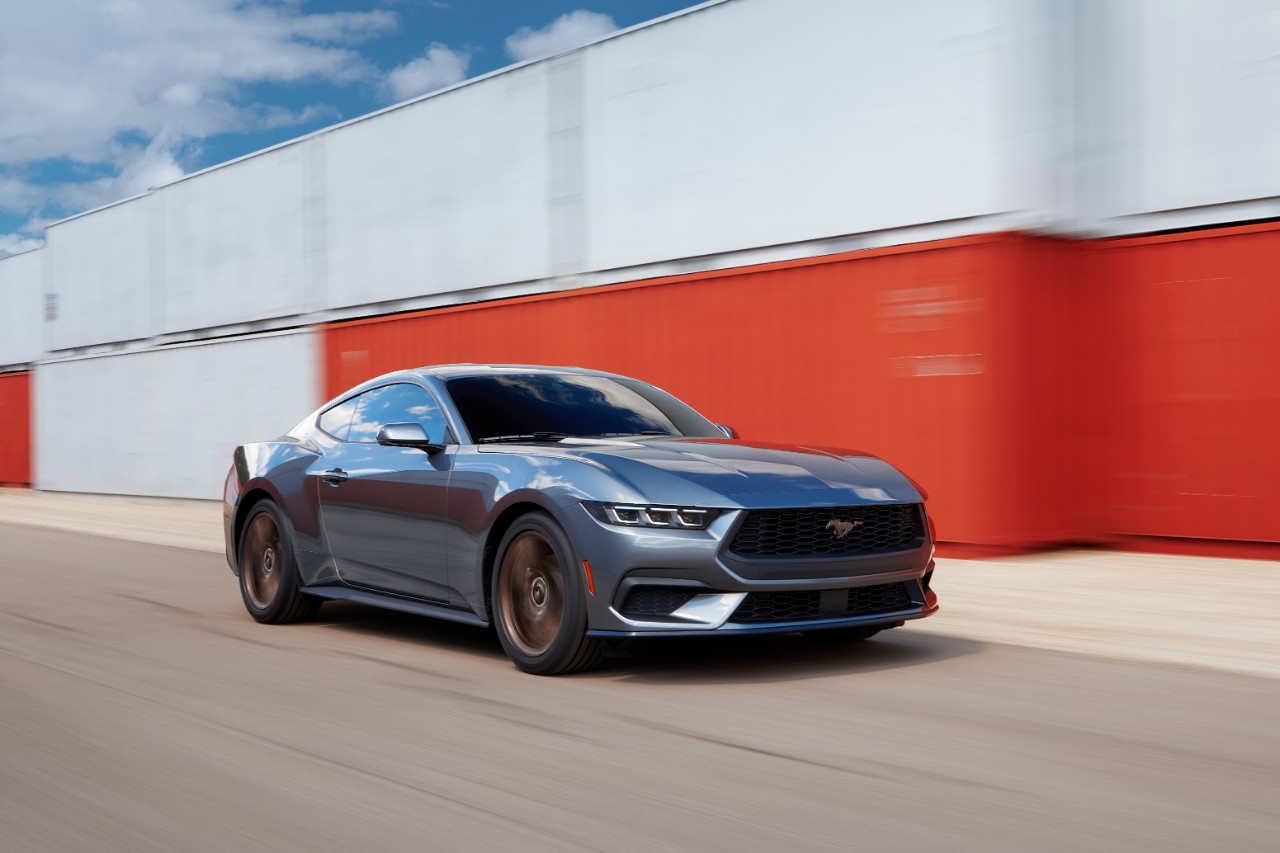 Ford has introduced the newest generation of the Ford Mustang ahead of the North American International Auto Show, the automaker announced.
"Investing in another generation of Mustang is a big statement at a time when many of our competitors are exiting the business of internal combustion vehicles," said Jim Farley, CEO of Ford Motor Company. "Ford, however, is turbocharging its ICE growth plan, adding connected technology, opinionated derivatives, and hybrid options to our most profitable and popular cars – all in the Ford Blue family – on top of investing $50 billion in electric vehicles through 2026."
Highlighting the new Mustang is its fighter jet-inspired cockpit that features two curved, customizable displays, Ford Designers said. The car's 12.4-inch digital instrument cluster can be customized to display different animated designs and new drive-mode dependent visuals.
Mustang's default instrument gauge setting has shifted from traditional, cool blue and light grey tones to a copper appearance theme also shared with Mustang Mach-E. From there, almost everything in the displays – and the ambient interior lighting – can be configured to selected tones, while instrument clusters adapt to drive mode selection.
When choosing personalized drive mode settings, the car's current setup is displayed on the center stack as real-time graphical renderings. Settings can be adjusted by swiping the graphic to rotate the car virtually. This digital instrument cluster can be optionally configured to flow into a 13.2-inch SYNC 4 center stack behind a single piece of integrated glass that's angled toward the driver.
An all-new race-inspired flat-bottomed steering wheel provides more space when getting seated, Ford said.
Outside the vehicle, animated welcome lighting greets drivers as they approach. Mustang introduces Remote Rev, providing the ability to rev the car's engine remotely using the key fob.
Mustang has a standard cloth interior featuring all-cloth seats with optional Micro Suede vinyl inserts and black seat belts, while Premium models benefit from upgraded wrapped and accent stitched across the instrument panel and door trim. EcoBoost models feature Ford's 'ActiveX' synthetic leather upholstery with multiple color options, while GT models gain leather seat inserts.
Higher series models offer an upgraded, full-leather steering wheel, as well as a choice of color accent stitching and upholstery perforation across the seat inserts, complemented by color-coordinated, asymmetric accent striping on the seat belts.
The center console can also incorporate an available wireless mobile phone charging pad while new overhead USB ports are installed above the cockpit, conveniently placed for track cameras and other devices, helping prevent wires from draping across the cabin.
The available B&O Sound System is optimized for the car's interior, Ford said, and is equipped with Apple CarPlay and Android Auto, both of which are fully compatible with SYNC 4. Amazon Alexa Built-In with Ford Streaming allows music and podcasts to be played with simple voice commands. Like the all-electric Mustang Mach-E SUV, the all-new Mustang features Ford Power-Up software update capability.
The seventh generation also adds modern new looks to its heritage-inspired design.
Its low, horizontal brow across the front emphasizes overall frontal width, while the upper grille design shape is influenced by the original 1960s design, Ford designers said, while Tri-Bar LED headlamps continue the Mustang's classic lighting signature and its roofline, stance and shortened rear overhang recall the first generation.
The roofline is optimized for driver entry and exit without removing their helmet on the track, and an extended rear deck houses a new crisp signature tri-bar lighting and redesigned diffuser for improved aerodynamic balance in the rear.
Each model in the Mustang lineup carries its own unique front end. GT is differentiated from EcoBoost models by larger grille openings, engineered to allow increased airflow, Ford engineers said. The car's aerodynamics are optimized further with the addition of new hood vents and redesigned front splitter.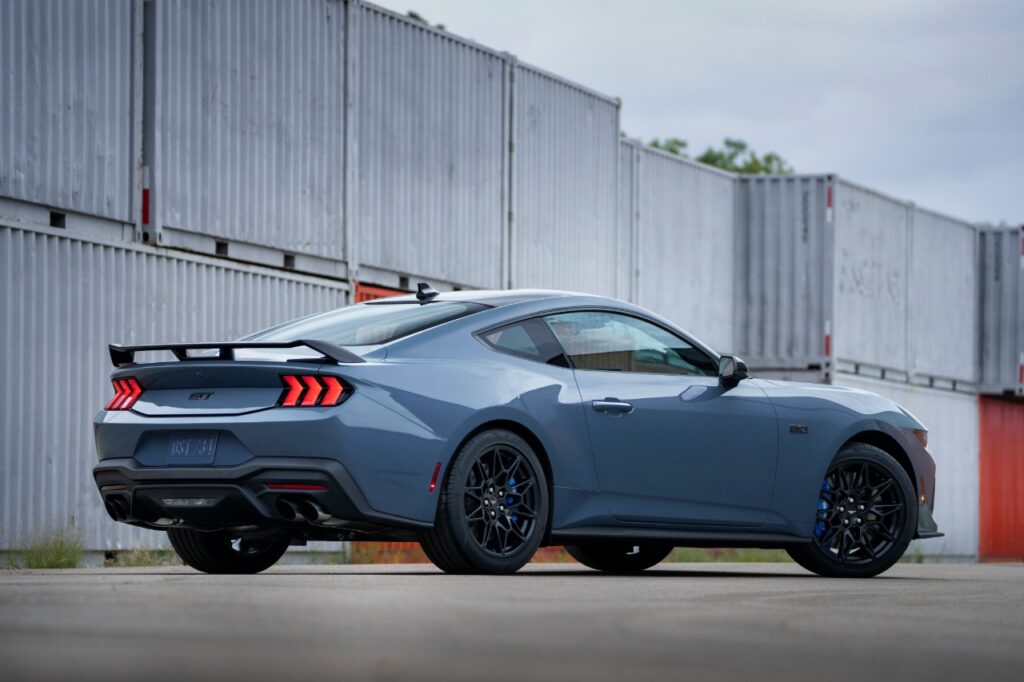 The Mustang convertible offers one-touch activation with a single-handle center latch opens and closes the fully lined and insulated fabric roof. The roof design and independent rear suspension also contribute toward increased trunk space.
The all-new Mustang launches with 11 exterior color options including two new shades, Vapor Blue and Yellow Splash, complemented by new stripe colors and designs. Customers also can choose from three Brembo brake caliper color options: Black, Red and Grabber Blue, plus an all-new lineup of alloy wheels, ranging from 17-inch standard size on base models to 19-inch for GT with optional 20-inch alloy wheels.
New for the 2024 model year is the Mustang Design Series, providing further customization options straight from the factory. The Bronze Design Series Appearance Package adds Sinister Bronze alloy wheels with bronze badges, and is available on both EcoBoost and GT models, with or without the optional Performance Pack.
The Mustang GT is now powered by an advanced, 5.0-liter Coyote V8 engine. The fourth-generation 5.0-liter is set to deliver the most naturally aspirated horsepower of any Mustang GT, Ford said, due to a dual air intake box and dual-throttle body design that helps minimize induction loss by enabling higher air flow rates. The 5.0-liter V8 will also continue to be paired with a standard six-speed manual transmission. Ford's a 10-speed automatic transmission is available.
Customers can also opt for the EcoBoost model, powered by an all-new, four-cylinder turbocharged 2.3-liter powertrain.
Mustang GT and EcoBoost models are both available with an optional Performance Pack, which adds a host of track-focused features, including a front Tower Brace, Torsen Limited Slip differential and optional MagneRide active suspension, wider rear wheels and tires, and larger, 390-millimeter front and 355-millimeter rear Brembo brakes. The GT Performance Pack adds brake ducts and a standard auxiliary engine oil cooler. Performance Pack also offers optional Recaro seats and active exhaust.
A new electronic drift brake also unlocks the rear-wheel-drive drifting capability of Mustang with the visual appeal and functionality of a traditional, mechanical hand brake, Ford said. The Performance Electronic Parking Brake comes standard with the Performance Pack on all Mustang models, engineered for novice drivers to learn and improve their drift skills while also providing expert drivers with a competition-ready system, Ford said.