Features
Dodge Introduces 2021 Durango SRT Hellcat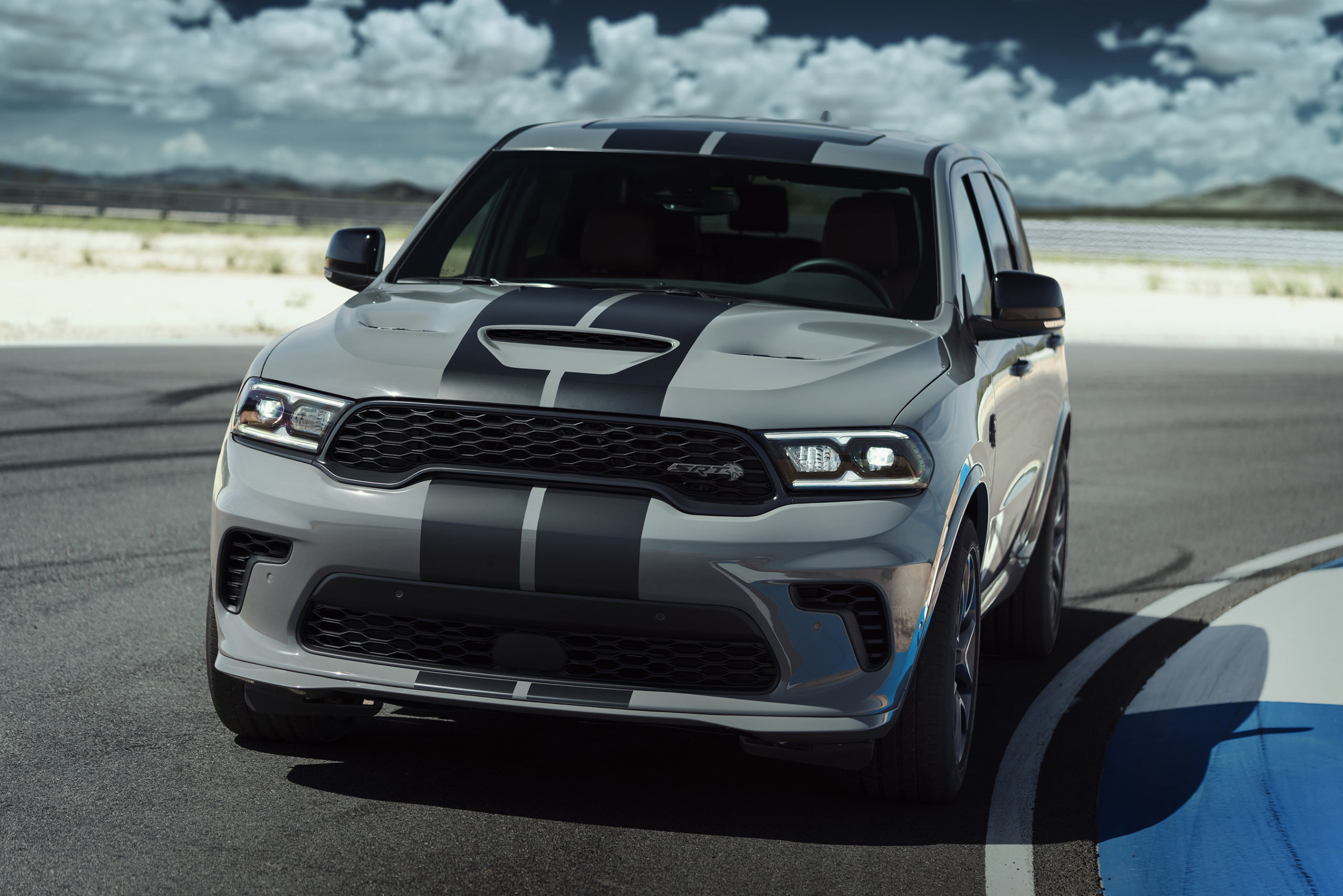 The Dodge Durango has joined the Challenger and Charger in SRT Hellcat form as Dodge recently introduced the 2021 Durango SRT Hellcat.
Powered by a supercharged 6.2-liter HEMI Hellcat V-8 engine, delivering 710 horsepower and 645 lb.-ft. of torque, the Durango SRT Hellcat runs 0-60 miles per hour (mph) in 3.5 seconds, has a National Hot Rod Association (NHRA) –certified quarter-mile elapsed time of 11.5, a top speed of 180 mph and runs 1.5 seconds faster than the SRT 392 on a 2.1-mile road course, equal to 9 car lengths after one lap.
"The Brotherhood of Muscle includes families of all sizes and the Durango delivers Dodge performance as the Charger of the three-row SUV segment," said Tim Kuniskis, Global Head of Alfa Romeo and Head of Passenger Cars – Dodge, SRT, Chrysler and FIAT, FCA – North America. "And new for 2021, we have raised the bar even higher. The 710-horsepower Hellcat is the most powerful SUV ever. It's the last piece of the puzzle and, alongside the Charger and Challenger, completes the Dodge brand's performance lineup."
Dodge will build the Durango SRT Hellcat for the 2021 model year only.
Beyond the SRT Hellcat, the entire Durango lineup for 2021 features new exterior styling, a new interior with a Challenger-inspired, driver-centric cockpit, 10.1-inch touchscreen and six distinct models – SXT, GT, Citadel, R/T, SRT 392 and SRT Hellcat.
Designed and engineered to push the boundaries of what an SUV can be, Dodge says, the 2021 Durango SRT Hellcat is powered by the supercharged 6.2-liter HEMI Hellcat V-8 engine, which delivers 710 horsepower and 645 lb.-ft. of torque, mated to a standard TorqueFlite 8HP95 eight-speed automatic transmission.
The performance improvements begin with the new front fascia design, a new chin splitter, updated engine oil cooler duct, air guide and snorkel for cold air induction. A new rear spoiler creates an improved aerodynamic balance with the new front-end design, resulting in an increase in rear downforce of more than 400 percent, Dodge says.
SRT engineers upgraded the Durango SRT Hellcat to improve handling, including several race-inspired technologies and Brembo brakes.
Compared with the previous top performance Durango, the 2020 Durango SRT 392, the new 2021 Durango SRT Hellcat has an upgraded suspension that delivers:
Thanks to a tuned internal rebound spring coupled with a matched upper top mount, the dynamic tuning range is increased
Rear damper top mounts are 18 percent stiffer
More responsiveness with 20 percent increase in total rebound control
More grip with reduced understeer by 2.5 percent, allowing the driver to go into a corner faster and exit quicker
More stability turning into corners with an improved roll gradient of 5 percent
The 2021 Durango SRT 392 adopts the rebound spring shocks and the upper rear top mounts from the SRT Hellcat suspension, which helps to deliver faster lap times and better handling compared to the outgoing model.
The Durango SRT Hellcat comes standard with electric power steering (EPS) with selectable steering tuning to better manage increased grip, both improving handling performance and delivering better steering feel and ease of turning efforts at parking lot speeds.
With EPS and standard SRT drive modes accessed via the new 10.1-inch touchscreen, drivers can tailor their driving experience by controlling transmission shift speeds, steering, paddle shifters, traction, all-wheel drive (AWD) and suspension settings.
SRT Drive modes offer selectable settings for Street (Auto), Sport and Track, while the Custom setting allows the driver to select individual preferences.
Race-inspired technologies that come standard for both 2021 Durango SRT models also bolster performance:
Launch Control – easily accessed from a toggle switch in the cockpit, manages tire slip while launching the vehicle to allow the driver to achieve consistent straight-line acceleration
Launch Assist – uses wheel speed sensors to watch for driveline-damaging wheel hop at launch and, in milliseconds, modifies the engine torque to regain full grip
It is also equipped with standard Brembo high-performance six-piston, two-piece (front) and four-piston (rear) calipers and vented rotors at all four corners measuring 15.75 inches (front) and 13.8 inches (rear).
Durango-specific tuning, weight distribution, wheelbase and reduced understeer equals more grip and improved cornering. SRT engineers took the most powerful SUV ever to the track to see what it can do.
Heart of a Hellcat
The heart of the 2021 Dodge Durango SRT Hellcat is the renown, supercharged 6.2-liter HEMI V-8, with 710 horsepower at 6,100 rpm and 645 lb.-ft. of torque.
Powertrain engineers created a dedicated cooling circuit for the charge air coolers integrated in the supercharger housing. This cooling circuit includes a pump, coolant reservoir and heat exchanger and is designed to keep the air flowing into the engine cooler than 140 degrees Fahrenheit.
The twin-screw rotors in the supercharger are set close to minimize air leakage and ensure maximum performance. A proprietary coating on the rotors enables the tight fit, minimizes wear and provides corrosion resistance.
An integrated electronic bypass valve regulates boost pressure to a maximum of 11.6 psi (80 kPa). The 2.38-liter supercharger uses a drive ratio of 2.36:1 and has a maximum speed of 14,600 rpm. It is sealed for life with a premium synthetic oil.
Other key components of the Hellcat engine include:
Cast-iron engine block with water jackets between the cylinders for optimal cooling
Forged-steel crankshaft with induction-hardened bearing surfaces
Specially tuned crankshaft damper, burst tested to 13,000 rpm
High-strength, forged-alloy pistons
Powder-forged connecting rods with high-load-capacity bushings and diamond-like, carbon-coated piston pins
Piston-cooling oil jets
Heat-treated aluminum-alloy cylinder heads
Sodium-cooled exhaust valves, hollow-stem intake valves and steel-alloy heads that stand up to temperatures as high as 1,652 degrees Fahrenheit (900 degrees Celsius)
A cold-air scoop in the lower front fascia helps feed the supercharger and the Hellcat engine's 92-mm throttle body.
Two high-flow variable pressure fuel pumps feed the high-performance demands of the Hellcat engine.