Features
Be a Trade Show Star
Ways to maximize ROI on work travel.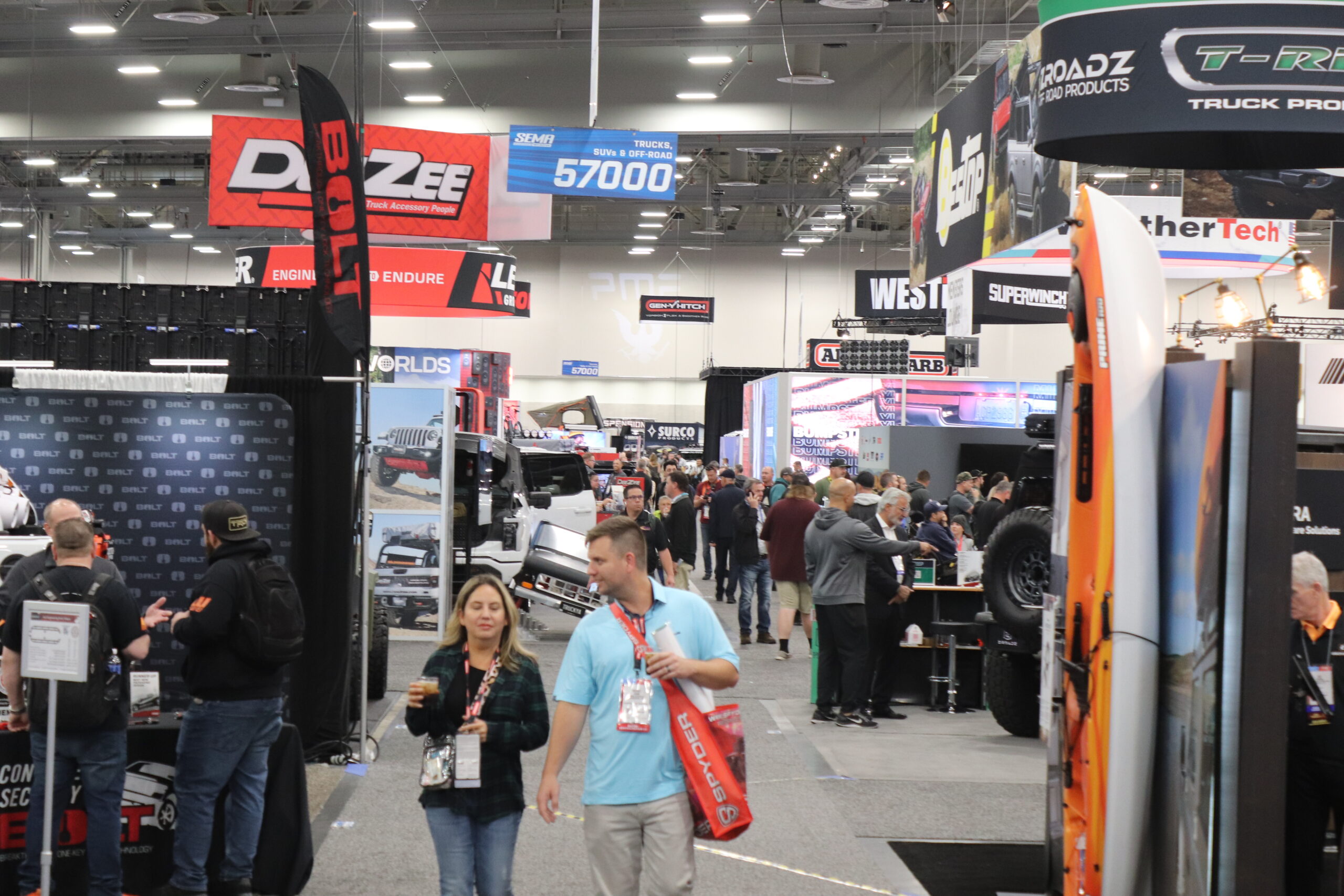 This article originally appeared in the October 2023 issue of THE SHOP magazine.
By Karl M. Stearns
They stand there like they are just about to step into the Land of Oz. Trade show attendees at the entrance to the vendor exhibits. Thousands of people are pouring in. Lights, noise, eye-candy everywhere.
And then—what? They start walking. Ambling aimlessly; looking left, looking right.
"Oh, look!" A display with shopping bags. They grab one and start trick-or-treating. Here a vendor has pens! Another one has mouse pads! Candy! Calendars, coffee mugs, junky flashlights—you name it, it all goes into the bag. Maybe even a brochure or two.
In a few hours, you see one after the other lugging not just one, but multiple bags filled with "stuff." The industrious ones bring roller carts—some with plastic milk crates strapped on. All of them are filled to the brim. You know who you are.
A serious businessperson is moved to ask, "How is this helping your business?"
When you return home from a trade show with more promotional trash than you will ever use, what did you really get out of being at the show? An unreliable flashlight? A balky pen? Well, maybe you can use it to write the check to pay for this expensive trip.
If I just described your trade show strategy, it's time to rethink.
A BUSINESS INVESTMENT
The SEMA Show is almost upon us. I love the SEMA Show. As a former chairman of the SEMA PRO Council, I was part of a dedicated group of industry leaders who drove initiatives for the restyling industry.
The SEMA Show is the single biggest gathering of automotive entrepreneurs in the world. It's a must-attend event, but also a costly endeavor.
Las Vegas hotels and restaurants used to be relatively inexpensive. They aren't anymore. This is no longer just a fun trip to The Strip and a few days of wandering around the show.
As a businessperson, you're making a large investment in the performance of your business for at least a year, and perhaps more. So, how can you avoid the Krispy Kreme donut look (you know—glazed!) when you enter the exhibit hall at SEMA Show—or, for that matter, any trade show you attend?
It starts well in advance of arrival. Here are some suggestions.
SET YOUR OBJECTIVES
There are several elements involved in attending a trade show, including educational programs, the vendor expo and social events. You sometimes must make tough decisions about what you will include and what you will have to miss.
The important thing is determining what is best for you and for your business. So, prioritize!
Most trade shows include educational programs—often before and during the days the exhibit halls are open. All trade show organizers post their education program schedules well in advance. So, take time prior to the event to access the listings and start deciding which seminars and presentations will benefit you the most.
If there are attractive programs scheduled before the show opens, make sure your plans include getting to the venue ahead of time—don't skip the days before the show. This is your time to learn, speak with subject matter experts, network and improve.
Start filling in a calendar with times and programs. Some shows, such as the SEMA Show, have apps that allow you to gather everything and keep yourself organized.
Attending the vendor expo also requires a strategy. Instead of wandering around, you need to plan very carefully to use your time wisely. More on that in just a bit.
Regarding social events: There are usually a lot of them. This is a time to get out and meet people.
It may sound old-school but bring business cards. Make sure you exchange cards or contact info with others. You will meet some fascinating people at trade show social events who can likely play a major role in the future success of your business.
Of course, there are plenty of after-hours things to do as well. Receptions, dinners, shows, night clubs. Just remember that you're there for a purpose. You want to better your business and improve yourself as an owner/manager/technician.
Don't be "that guy" that I sometimes see in the far corridors in the upper levels of the Las Vegas Convention Center—either passed out drunk or hungover, sleeping on a bench. It's sad to see, and a terrible waste of your investment in yourself.
SEE WHO YOU NEED TO SEE
The big feature of any trade show is the vendor expo. If you don't plan ahead, you'll wander around and get nothing done. Here are ways to make your time count.
Take some time over the summer to examine your purchases over the past year. Who have you been buying from? How much? Make a list.
Your major product sources should top your list, and you should start scheduling visits at their booths now.
I have always planned my vendor visits by keeping a spreadsheet. I set up columns:
Booth Number
Vendor Name
Vendor Contact
Cell Phone Number
Appointment Time & Place
Call or email your vendor contacts in advance and make definite appointments—then make sure you keep them! If possible, set your schedule based on booth proximity.
This is particularly important at the SEMA Show. It's a long walk (or short underground Tesla ride with lines) between halls at the LVCC, and you can waste a lot of time traveling back and forth.
If a meeting is extremely important, phone or text your contact the day of the show to verify you will be at their booth at the appointed time and that they will be there for you.
Schedule no more than one appointment per hour. If your meeting finishes early, it gives you time to explore the surrounding area before heading to your next meeting.
During this time, be on the lookout for new suppliers—companies that sell similar products that you are already purchasing. Meet the booth personnel. Have them scan your contact information. Get their business card (yes, I still recommend business cards). This becomes part of your follow-up strategy.
NEW PRODUCTS & BETTER DEALS
To prepare for your meetings, give some thought to needs you have identified in your market. Are there products you don't already sell that you want to investigate?
Start by searching vendor listings and include their info on your spreadsheet. This way you will be sure to stop by their booths as you are making your way through the show.
Take some time to look at your list of vendors and how much you've purchased. Are there opportunities to negotiate lower pricing? Plan to bring this up to current suppliers and come prepared with your numbers.
One thing I learned in my business was to be conscious of on-demand products—items that your customers purchase from you that they want right away. If you don't have them in stock, you'll often lose the sale.
My challenge involved products I sold to car dealers that were installed on stock units. If I had to order them, I risked the vehicle being sold before the product arrived.
When I started carrying an inventory of hard parts, that problem diminished drastically. It also allowed me to negotiate lower pricing and reduced or no shipping charges.
Your purchase numbers can also be useful if you are shopping for a new supplier. When they see you are a solid purchaser with numbers to prove it, they will be more likely to offer some attractive deals to get your business.
While on the show floor, be on the lookout for new trends. This is the place vendors test the waters with new products to gauge market interest. Others may be rolling out new lines.
Observe closely and you may be able to position yourself as the shop that plants the flag and introduces the hottest new product in your marketplace.
IF YOU BRING EMPLOYEES
Many of my colleagues bring key employees to trade shows, and others bring the whole team. It's a nice perk, but make sure you meet with them ahead of time to plan out what they will be doing.
Education and training programs, vendor exhibit visits, etc., should all be scheduled. If you leave it to chance, don't be surprised if you end up springing for an expensive trip for everyone to simply wander around.
One issue is, again, the late nights and partying. As a business owner or manager, how can you prevent this from having a negative impact? The best solution I've heard is the early morning breakfast meeting.
Employees may grumble, but it's your dime and you should set the expectations for how it's spent. The result will be that most employees will know enough to curtail the late-night playtime and make it to breakfast.
Use the morning as an opportunity to solicit their input on what they found interesting/exciting the day before and discuss what they plan on doing today.
Commend everyone for their participation and cooperation. Buy some $5 Starbucks gift cards and hand them out to everyone. Your small tokens of appreciation will go a long way toward making this a great experience for everyone.
WHEN YOU GET BACK HOME
Follow up. Follow up. Follow up.
This is where everyone—vendors and attendees—seem to fall short. Reconnect with your vendor contacts and follow up on your discussions at the show. Meet with your managers and employees and reinforce the ideas, information and training they received. As the adage goes, "rinse and repeat."
Back at the shop, you will have a few months to implement what you learned. Then it will be time to start preparing for the next show.
With careful and consistent planning, execution and follow-up, attending trade shows can be a valuable part of your business success.
Karl M. Stearns is a professional speaker and business advisor, often appearing at the SEMA Show as a guest speaker. With a long history in the automotive accessory industry, he was a member of the PRO Council Select Committee for 12 years, serving as PRO Council Chairman from 2009-11. He is a recipient of the prestigious PRO Council Jim Borre Lifetime Achievement Award as well as PRO Restyler of the Year.