News
Yukon Gear & Axle Products Now Available at Total Truck Centers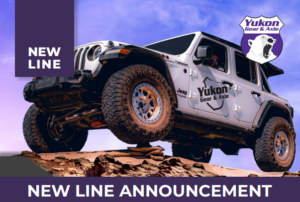 Yukon Gear & Axle products are now available through AAM Group's Total Truck Centers after joining the group as supplier partner, the company announced.
The company currently provides a variety of drivetrain parts including differentials, axles, driveshafts, super joints and ring and pinion installation kits.
In addition to Yukon Gear & Axle products, products from two other brands under the RANDYS Worldwide umbrella—ICON Vehicle Dynamics and Carli Suspension—are also available through Total Truck Centers, the company said.
"We're elated to have been chosen as a member of The AAM Group. Tim, David and John have built a truly progressive marketing, digital and operations machine dedicated to supporting the growth of its members," said Neal Hollingsworth, vice president of marketing at RANDYS Worldwide. "Their engagement with their dealer network in marketing, and providing integrated business building solutions based on driving successes, is really like no other. Our ability to have a one-stop-shop for marketing through a large network of outstanding dealers is amazing."