News
Yukon Gear & Axle Details Summer Rebate Program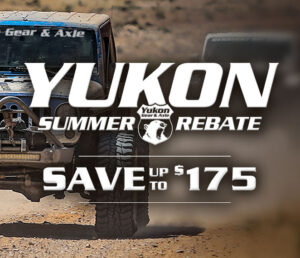 Yukon Gear & Axle has revealed new details for its 2023 Summer Rebate program, the company announced.
Retail consumers looking to upgrade their differential and drivetrain products can save up to $175 on Yukon branded products. Ten different products will offer special discounts for consumers, the company said.
"These types of rebate programs help our national dealer network with specials on top selling products that don't hurt their profitability," said Mike Naish, VP of sales. "Everyone can participate as our marketing machine does all we can to get the work out to vehicle owners and drive the message through our network of over 20,000 dealers across the US."
The Yukon Gear & Axle 2023 Rebate includes the following:
Stage 3 Gear Kits – Save $175
Stage 2 Gear Kits – Save $125
Spin Free Kits – Save $125
Zip "Air" Locker – Save $75
Dura Grip Positraction – Save $75
Grizzly Locker – Save $75
Yukon YGK Kit – Save $75
Ring & Pinions – Save – $40
Performance Driveshafts – Save $40
Hardcore Differential Covers – Save $25
"This has become an exciting annual event for us," said Neal Hollingsworth, VP of marketing. "The ability for us to even the field on discount pricing to our customers keeps everybody happy. We're seeing a lot of the customers posting the event and driving customers in not only for the parts, but the installation as well. A real win, win for our dealer network."
Yukon's Summer Rebate runs through July 31.
Click here for more information about the rebate program.
For custom promotional banners for your shop, contact bailey.cole@randysww.com.