News
Yokohama Tire to Present Customized EV Section at Electrify Expo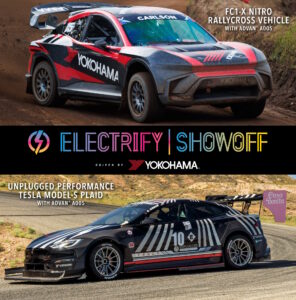 Yokohama Tire has been named presenting sponsor of the Electrify Showoff at this year's Electrify Expo event series, the company announced.
Electrify Showoff is a special new section devoted to customization trends, organizers said.
"We're thrilled to be the presenting sponsor of Electrify Showoff," said Andrew Briggs, Yokohama Tire's VP of marketing and product management. "Yokohama has held a place in the enthusiast aftermarket for a long time, so it's great to see a new wave of enthusiasts creating a new EV car culture before our eyes. We can't wait to see what this newly imagined future might hold, and Showoff is going to be THE place to see it!"
"The response we have received since launching Electrify Showoff from both brands and enthusiasts proves that we have filled an important void in the space," said BJ Birtwell, founder and executive producer of Electrify Expo. "Yokohama's sponsorship of 'Showoff' reinforces their leadership of new tire technology as well as understanding the imminent shift happening within car culture towards EVs."
Yokohama, which will have a display in the Showoff section, will showcase to attendees how its tires can be used on EVs, from daily drivers to motorsports. "As a company, Yokohama has a long history of providing tires for all categories," Briggs said, "and EVs are no exception. Yokohama was standard equipment on the original Tesla Roadster and we continue to exceed the needs of a continuously changing market."
Yokohama will have various EV motorsports vehicles and special EV builds on display at different Electrify Expos. At Long Beach, Yokohama will feature in its booth the modified electric VW ID4 AWD, which competed in the Rebelle Rally, along with the all-electric, 1055 horsepower, four-motor, four-wheel-drive FC1-X Nitrocross car and the Pikes Peak-raced 2018 Evasive Tesla Model 3, the company said.