News
Yokohama Tire Opens Development Center in North Carolina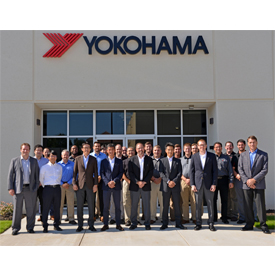 Yokohama Tire Corp. opened its new tire research and development facility in Cornelius, North Carolina. Local officials joined Yokohama executives for the ribbon-cutting festivities for the facility known as Yokohama Development Center America. The 25,000-square-foot building replaces the temporary R&D office Yokohama has utilized in Concord, North Carolina since 2016.
The Cornelius facility will consolidate separate R&D staffs currently operating at a number of locations throughout the U.S. and will be led by Shoichiro (Sho) Matsuda, YCNA vice president of corporate technical.
"Our primary focus here will be tire development," Matsuda said. "We will also support other technical groups such as quality assurance and technical services."
Thomas Kenny, director of consumer tire development, Dan Steltmann, director of commercial tire development, and Jeremy Kahrs, director of technical service, will all be based out of the new facility.
The U.S. Development Center is Yokohama's largest overseas R&D center in both functions and number of employees.
"Consolidating our R&D activities will strengthen our R&D structure and further accelerate our ability to deliver new products that meet the demands of the market. Cornelius is a great fit for our company. The proximity to the airport and the skilled workforce is going to make this facility very successful," said Tetsuya Kuze, executive vice president of Yokohama Corp. of North America.
"The opening of YDCA is another example of our continued investment in North America. We are committed to developing new products for this market across multiple segments."