News
Wounded Green Beret Raises Money & Awareness for Therapeutic Benefits of High-Speed Racing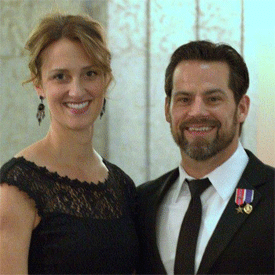 Retired Master Sgt. Sean Clifton, a wounded warrior of the U.S. Army Special Forces Green Beret, is heading to Ohio to raise awareness for wounded veterans and to raise money for nonprofit organization, VETMotorsports.
In what he is calling his 5 Tracks in 5 Weeks initiative, Clifton plans to participate in five AutoInterests LLC events across the Midwest this month.
AutoInterests is a professional High Performance Driver Education (HPDE) program that provides drivers of all skill levels with top-notch instruction and a safe, fun, friendly, educational high-performance driving environment, according to the company.
Clifton will attend the organization's events at Nelson Ledges Road Course in Garrettsville, Ohio on Aug. 10, and Mid-Ohio Sports Car Course in Lexington, Ohio on Aug. 12.
At each event, Clifton will share his wounded warrior story with veterans and civilians, while he offers full-throttle, full-track ride-alongs in exchange for VETMotorsports donations. Clifton also will accept direct donations to VETMotorsports via his Facebook page throughout the campaign.
"As someone who's both a wounded veteran and a racing enthusiast, I can tell you first-hand how exciting and therapeutic high-performance driving can be," Clifton said. "My goal with this initiative is to raise awareness and funds for VETMotorsports so we can get other veterans behind the wheel and introduce them to this incredibly supportive community and the physical and mental benefits of motorsports."
Clifton, a Dublin, Ohio resident, medically retired from the Army in 2016 after 22 years as a Special Forces Green Beret. He completed multiple tours of combat in Iraq and Afghanistan, where he was critically wounded in 2009. A Purple Heart and Bronze Star (Valor) recipient, he suffered multiple enemy gunshot wounds while conducting a raid on an enemy compound, resulting in the loss of the use of his left hand and right foot. He has undergone more than 20 procedures to repair nerve and internal organ damage.
Clifton now works as a special operations training advisor, and owns/operates GSSG LLC, a service-disabled veteran-owned small business that provides specialized consulting services for military personnel worldwide.
"I'm living proof that you can come back from devastating injuries and still live life to the fullest," Clifton said. "I want to share that message of hope-"and the thrill you can only get from a hot lap at the track-with as many other vets as I can."
"Sean is an amazing guy with an amazing story, and we're so excited that he's sharing his passion and his generosity with us and our veteran participants," said Peter Cline, VETMotorsports founder and executive director. "He's right about the lure of motorsports and the impact it can have on veterans, and his initiative is going to make sure we get even more involved."
More information about the 5 Tracks in 5 Weeks initiative is available on Clifton's Facebook page.
VETMotorsports is a non-clinical outreach program that honors and empowers active military, National Guard, Reserve, Gold Star families, and veterans with service-connected injuries and their caregivers by embedding them with professional racing teams, putting them behind the wheel to race in amateur events, and providing them with other transformative motorsports experiences, according to the group. Since its founding in 2012, VETMotorsports has helped more than 200 veterans participate in more than 80 motorcycle and auto racing events.