News
'World's Fastest' UPS Truck Up for Auction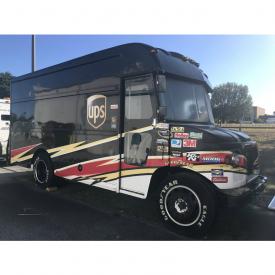 The racing UPS truck, once driven by NASCAR driver Dale Jarrett both in commercials and on track, will be auctioned off next month.
According to a Motorsport.com report from 2006, the truck was outfitted with a roll cage, a 514-cubic inch Ford SVO crate motor and a two-stage nitrous oxide injection system. All told, the truck generates about 800 horsepower and can reach a top speed of around 150 mph.
Iron Horse Auction Company of Rockingham, North Carolina, is conducting the online auction, which also includes several NASCAR race cars, a 1957 Cadillac Limousine once owned by the Reynolds family of Reynolds Tobacco, show cars and trailers and heavy-duty trucks.
The auction is scheduled to begin Dec. 4 and conclude Dec. 11.
See the truck in action below.