News
Developer Reveals Details for World of Outlaws Video Game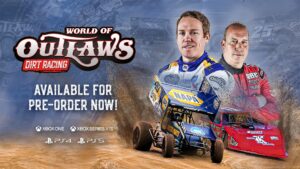 The World of Outlaws returns to console gaming for the first time in over a decade on Sept. 27, as World of Outlaws: Dirt Racing hits the PlayStation 4, PlayStation 5, Xbox One, and Xbox Series X|S, developers iRacing and Monster Games announced.
The official game of the World of Outlaws features six different dirt series including the World of Outlaws NOS Energy Sprint Cars, CASE Construction Equipment Late Models and four DIRTcar classes, and more than 40 tracks, including Eldora Speedway, Knoxville Raceway and Volusia Speedway Park. Pre-orders opened on August 15 at worldofoutlawsgame.com, with three-time World of Outlaws Sprint Car champion Sammy Swindell included as a special bonus for pre-orders only, developers said.
World of Outlaws: Dirt Racing is the latest dirt racing-themed title from developer Monster Games, but its first since being acquired by iRacing in late 2021, the company said. The new title adds new car and track models, sounds, and multiplayer technology from iRacing. All-new physics, also tuned by iRacing, and a retooled, more competitive AI add to the challenge, with real-world driver feedback held at a premium throughout the development process, the developer said.
"We're thrilled to bring World of Outlaws back to console gaming with World of Outlaws: Dirt Racing," said Monster Games founder and general manager Rich Garcia. "With the addition of iRacing resources to the established Monster platform, as well as the support of World of Outlaws, this is the most realistic, challenging, and most importantly, fun dirt racing experience ever seen on the PlayStation or Xbox. We can't wait for dirt racing fans to go wheel-to-wheel at Eldora, Knoxville, and more this fall."