News
Woodward Dream Cruise Returns for 2021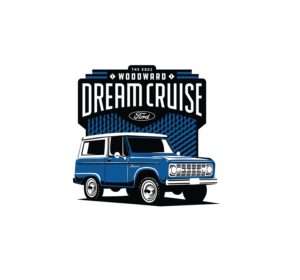 The 26th annual Woodward Dream Cruise presented by Ford is back on for this summer and is set to kick off on Aug. 21, Ford announced. The original 1966 Ford Bronco will serve as the featured heritage vehicle for this year's event.
Initially started as a small fundraiser to raise money for a soccer field in Ferndale, Michigan, the Woodward Dream Cruise started in August 1995 by a group of volunteers who looked to relive and recreate the nostalgic heydays of the 50s and 60s, when youth, music and Motor City steel roamed Woodward Avenue, America's first highway. That year, 250,000 people participated – nearly ten times the number expected. Today, the Woodward Dream Cruise is a one-day automotive event, drawing 1.5 million people and 40,000 classic cars each year from around the globe, organizers said.
"Woodward is our hometown celebration, commemorating the best of what we do and what we assemble – right here in the Motor City," said Rob Johnston, Ford Performance marketing manager. "It's fitting that this year's Dream Cruise honors the original Bronco at a time when the all-new, Michigan-built Bronco is rolling off the line."
The first-generation Ford Bronco was built from 1966 to 1977. The first-ever Bronco wore the Ford codename of G.O.A.T. for its "goes over all terrain" capability. It debuted as an agile, sports-oriented off-road 4×4 on Aug. 11, 1965, and was dubbed "a completely new line of sports-utility vehicles" – the first reference to an SUV by an American manufacturer, the company said.
In addition to Bronco models old and new, Ford will also display some of the automotive industry's most recent vehicle debuts, including the all-new 2021 Mustang Mach-E GT all-electric SUV, the all-electric 2022 Ford F-150 Lighting and the recently revealed Ford Maverick compact pickup truck.
"Once again, Ford Motor Company is stepping up to lead Woodward Dream Cruise, and we look forward to returning and elevating our annual tradition that puts Metro Detroit's automotive scene and culture in the international spotlight," said Tony Michaels, executive director, Woodward Dream Cruise. "Ford has consistently helped to make the cruise stronger, more engaging, more culturally relevant and more valuable to the Detroit region, and we are incredibly grateful for that."