News
Women in Auto Care Gives Two Awards to MAHLE Aftermarket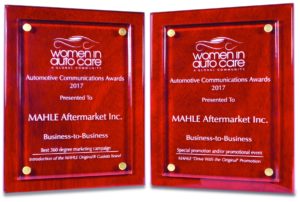 MAHLE Aftermarket Inc. was the recipient of two Automotive Communications Awards from the Women in Auto Care at the AAPEX Show in Las Vegas. Women in Auto Care was formerly the Car Care Council Women's Board.
The awards were given in two business to business award categories: Special Promotion and/or Promotional Event, for the MAHLE Drive With the Original Promotion; and Best 360 Degree Marketing Campaign, for the Introduction of the MAHLE Original Gaskets Brand.
"On behalf of all of us at MAHLE Aftermarket, I would like to thank the Women in Auto Care for recognizing the hard work and creativity that went into these marketing communications initiatives," said Jon Douglas, president of MAHLE Aftermarket Inc. "We pride ourselves on providing our aftermarket partners with the very best marketing support, and the success of both of these programs is acknowledgement of our commitment."
The MAHLE Drive With the Original promotion was an 11-month promotion that was launched at AAPEX 2016 to support the introduction of the MAHLE Original gasket brand. The promotion concluded at AAPEX 2017 with the awarding of the grand prize: a custom-built, twin-turbocharged Ford Mustang from Petty's Garage.
The introduction of the MAHLE Original Gaskets brand was supported by a multi-faceted marketing communications campaign that began in the fourth quarter of 2016 and continued throughout 2017.
The highlights of the brand introduction initiative included a comprehensive public relations program; a trade advertising campaign utilizing both print and digital channels; spokesperson engagements with Richard Petty and Bogi Lateiner; a technician promotion featuring a grand prize custom-built Petty's Garage Ford Mustang; and a social media presence utilizing Bogi and her technician expertise, as well as the custom build process of the grand prize Ford Mustang at Petty's Garage.
The four finalists for the MAHLE Drive With the Original Promotion were randomly selected from the 10,000 entries submitted throughout the past year. The four finalists each received an all-expense paid trip to Las Vegas to participate in the special grand prize ceremony held at the MAHLE Aftermarket booth on the opening day of AAPEX 2017.
Bogi Lateiner, master technician and co-host of Velocity Channel's All Girls Garage, served as the hostess for the grand prize ceremony. Petty was on hand to present each of the finalists with the opportunity to draw a key fob from his signature Charlie One Horse cowboy hat, one of which unlocked the doors of the customized, twin-turbo 1,000-horsepower grand prize MAHLE Ford Mustang from Petty's Garage.
In addition, over 2,400 instant win prizes were available in the promotion, including Richard Petty Driving Experiences, autographed Richard Petty signature Charlie One Horse cowboy hats, and autographed No. 43 die-cast model cars.
For more information about MAHLE Aftermarket and its brands, visit mahle-aftermarket.com.