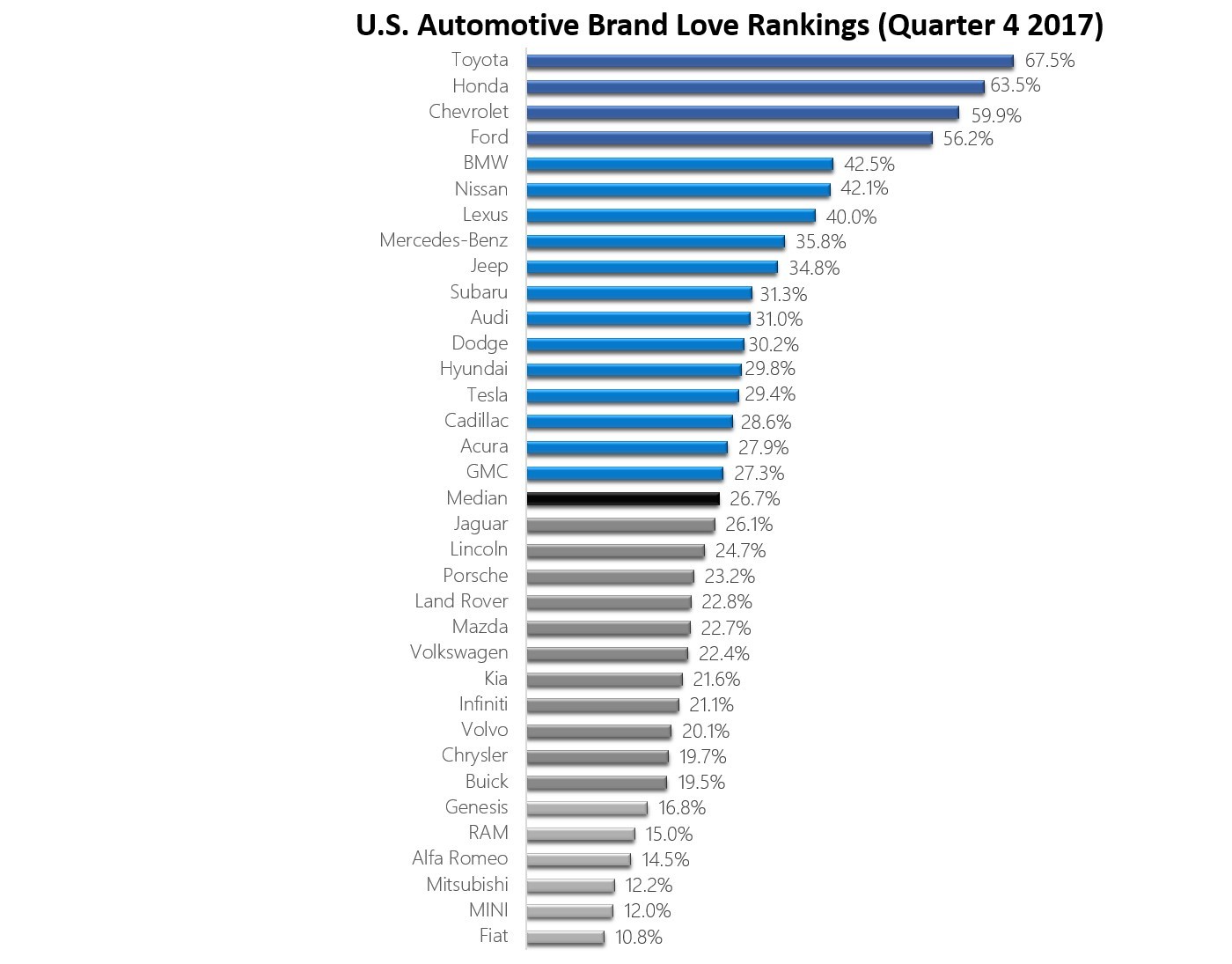 When it comes to passion for their vehicles, Toyota owners vote with their hearts.
Toyota has been rated the Most Loved Automotive Brand in the U.S., according to Insights 4 Less LLC.
Brand Love is an overall score measuring the strength of the consumer-brand relationship, according to a press release announcing the findings.
"The most-loved brands have developed high levels of trust, inspiring consumers to further endorse these brands," said Mike Weil, president, Global Automotive Research and Insights at Insights 4 Less, LLC. "It is a perpetual process and in today's market, word-of-mouth marketing is an extremely powerful endorsement."
Maybe most importantly, he notes, findings continue to show a strong relationship between brand love and sales.
"Our insights are designed to help marketers understand why their brand sells at the current level, as well as providing an insightful look into the future and opportunities for greater market success," Weil said.
Following are some of the study's key findings:
Toyota (67.5 percent) ranks highest overall on Brand Love, topping the charts on each metric.
Honda (63.5 percent) closely follows Toyota.
Chevrolet (59.9 percent) and Ford (56.2 percent) also rank in the top quartile of most-loved brands.
Luxury brands BMW (42.5 percent), Lexus (40 percent) and Mercedes-Benz (35.8 percent) rank near the top of the second quartile.
Nissan (42.1 percent) ranks in the top-five of non-luxury brands.
Non-luxury brands Mazda (22.7% percent), Volkswagen (22.4 percent) and Kia (21.6 percent) rank below the Brand Love median, limited by lower levels of market awareness.
The study is based on the responses of 1,261 U.S. new vehicle intenders surveyed the last week of October.