News
West Coast Customs Displays Black Panther Lexus at Dub Show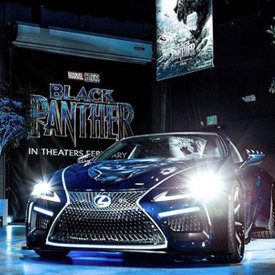 West Coast Customs Car Care featured a customized Lexus LC 500 from the current blockbuster Marvel Studios film, Black Panther, at the Los Angeles stop of the DUB Custom Car Show Tour.
"It's always great to be part of the DUB show, and it makes sense for us to be here this year with the exclusive launch of our West Coast Customs Car Care line with ACL last year," said Ryan Friedlinghaus, CEO and founder of West Coast Customs. "Timing happened to work out so that we could bring the Lexus LC 500 widebody we did for the Black Panther movie for fans to see up close."
The West Coast Customs Car Care booth also featured demonstrations with its car cleaning, finishing and tire shine products, available exclusively at Walmart stores across the country.
DUB Show attendees visiting the West Coast Customs Car Care booth received complimentary product samples from the seven-item product line which include custom blended detailers, polishes, cleaners, waxes, tire dressings, and interior detailers.