News
Webasto Receives Innovation Supplier of the Year Award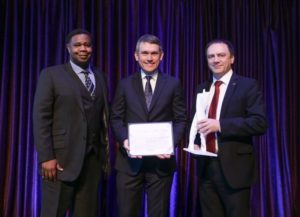 Sunroof and convertible roof company Webasto has been honored by FCA for the new top found on Jeep Wranglers.
Webasto provides the Sky One-Touch Power Top for the all-new 2018 Wrangler. FCA US LLC recently recognized "the commitment, performance and partnership" demonstrated by the company with an Innovation Supplier of the Year award.
"Great technological challenges served as an incentive for the experts for open-air driving to forge the ultimate in adventure, convenience and luxury," Webasto said in a press release announcing the award. "This combination of high-end technology and unique requirements formed an interesting challenge for Webasto. In the process, it created a unique open-air driving experience."
The system allows occupants to retract the full-length open canvas roof with a push of a button. It also marks the first time that a folding soft top has pinch protection if the front edge of the roof encounters resistance, according to the release. Extra roof bows were added to prevent flapping when the vehicle's doors and side windows are removed.
When open, the convertible system does not take up trunk space, since the folding roof slides behind the C-column. The rear side window opens manually and is attached to the vehicle frame with quick-release fasteners.
Easily accessible, both the left and right windows can be removed individually, with no tools needed, and stowed in a carry bag.