News
Waterjet System Companies OMAX, Hypertherm Join Forces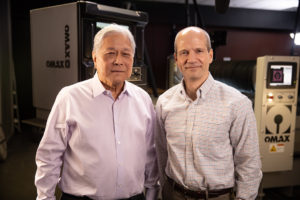 OMAX Corp., a manufacturer of abrasive waterjet systems, and Hypertherm, a U.S.-based manufacturer of industrial cutting systems and software, have agreed to establish OMAX as a wholly owned subsidiary of Hypertherm.
The agreement, first announced on March 20, formally combines OMAX's direct drive pumps, software and applications technologies with Hypertherm's complementary portfolio of intensifier-based pumps and abrasive recycling systems, according to a press release.
"As one of the world's top waterjet manufacturers, we are excited to officially join forces with a company that shares our values and vision to deliver the industry's broadest and most technologically advanced lineup of waterjet products," said John Cheung, OMAX co-founder and CEO. "The Hypertherm culture and business philosophy is remarkably similar and complementary to OMAX, and I have no doubt the company I founded will keep a keen focus on the needs of our valued customers, as we have done for the past 25 years. The OMAX Corp., and all it stands for, is in great hands with a very bright future ahead of it."
Based in Kent, Washington, OMAX Corp. offers advanced abrasive waterjet systems that cut virtually any material and thickness. Owner of the OMAX, MAXIEM, GlobalMAX, and ProtoMAX brands, the company provides a comprehensive selection of JetMachining Centers.
"We are confident the combination of OMAX and Hypertherm will advance our strategy of delivering diverse, technology-driven cutting solutions focused on dramatic improvements in customer outcomes. In uniting with OMAX, Hypertherm can combine the strengths of two highly talented engineering groups-OMAX engineers in Washington state with our waterjet group in Minnesota-to accelerate new waterjet technologies to market," said Evan Smith, Hypertherm president and CEO. "We have great respect for OMAX and its products and look forward to working closely with the OMAX team to build upon its founding legacy."
Hypertherm designs and manufactures industrial cutting products for use in a variety of industries such as shipbuilding, manufacturing, and automotive repair. Its product line includes cutting systems, CNC motion and height controls, CAM nesting software, robotic software and consumables.