News
VP Racing Joins the Retail Oil Change Center Ranks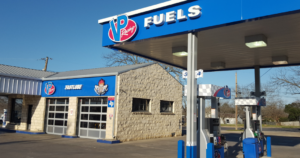 VP Racing Fuels Inc. has opened its first-ever VP FASTLUBE quick lube center in Fredericksburg, Texas.
"Our store owner in Fredericksburg gets it," said Karen Madden, vice president, VP Branded Retail. "With everything the VP brand and our programs have to offer, just as we've seen with our branded gas stations and c-stores, the FASTLUBE platform is poised to take off from coast-to-coast."
VP FASTLUBE offers an attractive image, credit card and preferred supplier programs, and savings on bulk oils, according to the company. Licensees will benefit from VP's brand recognition among motorsports and performance enthusiasts and the fast-growing brand awareness generated by VP-branded gas stations.
"VP's massive branding expansion in c-stores, POWERWASH car wash centers and now FASTLUBE is taking place in the United States, Canada and Mexico," added Madden.