News
VP Racing Fuels Teams Up with Retailer to Recognize First Responders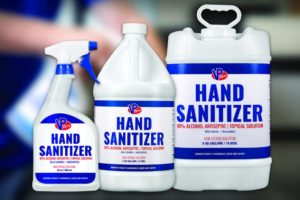 VP Racing Fuels, a manufacturer of performance fuels, lubricants and additives, has partnered with A&A Auto Stores in Pennsylvania to recognize and thank the region's first responders with free VP Hand Sanitizer on July 23 at 16 A&A Auto store locations.
"As our frontline heroes keep us safe during the COVID-19 pandemic, we in the motorsports community also depend on our first responders to keep us safe at race tracks, team shops, and most importantly our homes in times of emergency needs," said Donato Bonacquisto, VP Consumer Products – East Coast. "During this COVID pandemic, we want to make sure we can do our part in helping to keep them safe with our VP Hand Sanitizer, which is why we've decided to work with A&A Auto as we recognize their efforts and thank them for their service."
VP Hand Sanitizer will be available in all 16 participating stores. During the promotion, on July 23, each first responder wearing their uniform to a participating A&A Auto store will receive a free quart of VP Hand Sanitizer while supplies last.
Rudy Forlenza, General Manager of the A&A Auto stores, stated that "when approached by VP with this idea, A&A Auto couldn't say no. It is a perfect way to give something back to those groups of people who have taken a huge personal risk to keep all of us safe." A&A Auto markets itself as "Your Hometown Auto Store," and they take their role within the community very seriously and are proud to partner with VP Fuel in this endeavor, the company said.