News
VP Racing Fuels to Power Evernham for 2018 Race Season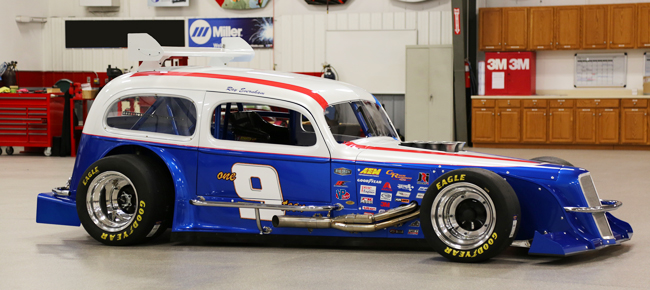 VP Racing Fuels has started a partnership with Ray Evernham for the 2018 racing season and his new project vehicle, called the Ghost. Ghost is a modified retro racer that may look like a show piece, but it is far from it.
Evernham, a NASCAR Hall of Fame crew chief and team owner, has combined his admiration for old school automotive styling and aesthetics with his knowledge and access to modern day technology and performance with Ghost. The concept for the car was born out of his passion for vintage race cars, respect for innovation and concern for safety. This modified racer molds all three of those together into a car that will turn heads on and off the race track, while also giving Evernham the peace of mind needed to drive it to its full potential, according to VP Racing.
"When preparing for the 2018 race season with my new race car, the Ghost, the last decision we had to make was the fuel that would help us produce the most power out of the car's SB2 motor," Evernham said. "We have used VP Racing Fuels products for years with my vintage race cars so they were my first call. VP is not just a great partner because of their wide variety of products but also because of the technical support they provide. Their technicians will be working hand-in-hand with our partners at AEM Electronics to make sure the fuel map matches up properly with the type of fuel that is being run so everything is working seamlessly."
Evernham will be taking his modified to several vintage races next year but will focus efforts and the web series on these five events:
SVRA event at Indianapolis Motor Speedway
Vintage event at Pocono Raceway
Drag session at zMax Dragway
Landspeed Trial Run on the Bonneville Salt Flats
Pikes Peak Hill Climb (car will be driven by Al Unser, Jr.
More About Ghost
Housed under a 1936 Chevrolet sedan body, this specialty-built race car has the appearance of a modified that would have been raced during the 1960s, but features state-of-the-art mechanics and electronics. The chassis was custom designed and built from the ground up by Evernham and his team at Big Iron Garage the old-fashioned way, without any help from computers.
The car was built with a wide range of adjustability so it can be set up to compete on different types of tracks, including ovals, road courses, drag strips and hill climbs and is powered by an All-Aluminum Chevrolet SB2 by Pro Motor Engineering and delivers 410 CI, 850 peak horsepower and 626 ft/lbs of peak torque. Evernham plans to drive the car himself, while also putting other professional drivers behind the wheel to test its limits.