News
VP Racing Fuels Launches NFT Collection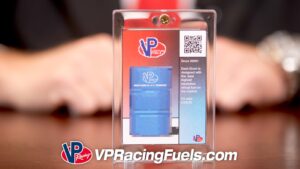 VP Racing Fuels has launched an NFT collection that will feature virtual fuel in the form of a high-resolution VP 54-gallon fuel drum, the company announced.
The debut token is currently available, along with "World Leader in JPG Technology" t-shirts, which will be included with the first 100 drum token purchases. Fans who wish to only purchase the t-shirt can do so on the VP website.
"We'll have a limited number of 54-gallon virtual fuel drum tokens, each with a unique fill date label," said VP CEO Alan Cerwick. "There is also a great mascot NFT collection of the Mad Scientist® that will feature different backgrounds and outfits. Those will drop at some point after the fuel drum tokens."
As an April Fool's Day joke, VP announced that the company was leaving the racing and automotive industry and shifting its focus to technology and the production of NFTs.
"Ultimately, there are two ways to look at this," said Cerwick. "To begin with, happy April Fools' Day! We would never dream of stopping what we do. We are not getting out of the racing and automotive industry. We just wanted to have some fun with this.
"Secondly, the NFTs are a real thing. This is not an April Fools' Day joke. We see a terrific opportunity to expand our brand in the metaverse and believe our great fans and consumers will be just as passionate about our NFTs as they are about our fuels, additives and lubricants."
Click here to watch the announcement.