News
VP Racing Fuels Back for Season Two of 'Horsepower Wars'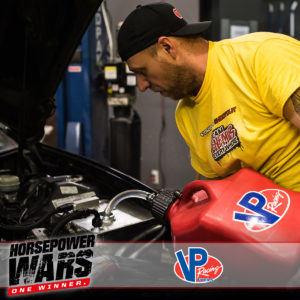 Power Automedia's motorsports series Horsepower Wars and fuel supplier VP Racing Fuels are together again for season two.
VP's high performance street and racing fuels will be an integral part of the series' sophomore season, not only for making sure teams have the fuel they need to get their entries down the track and around the corners, but for putting all teams on a level playing field, according to a press release.
"Due to the huge success we noticed last year, we are proud to renew our involvement with Horsepower Wars and showcase the increased performance of the builds using our recommended fuel blends," said Donato Bonacquisto, director of marketing for VP Racing Fuels.
As the spec fuel of choice in many racing series, VP Racing has the experience to select specific fuels for each Horsepower Wars build-off and head-to-head challenge.
For the Junkyard Challenge, for example, VP will supply 100-octane unleaded fuel to teams, while C9 (95-octane unleaded) is the required fuel for Pony Wars. In the $10,000 Drag Shootout, teams are given the option to use either X85 (ethanol) or C16 (leaded race gas).
www.HorsepowerWars.com
www.VPRacingFuels.com
www.powerautomedia.com/