News
VOXX Debuts Smart Mirror with Android OS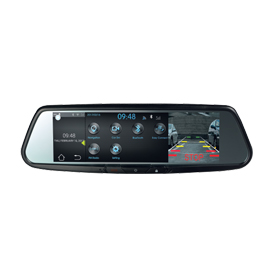 VOXX Electronics Corp. (VEC) has made available its Audiovox Smart Mirror powered by Android. With safety and convenience in mind, the Audiovox Smart Mirror provides users with unparalleled visibility and productivity, according to the company.
"VOXX has been dedicated to delivering new products and accessories to the aftermarket that focus on driver safety and reducing distracted driving," said Aron Demers, senior vice president of VOXX Electronics Corp. "With consumer awareness for in-vehicle safety products at an all-time high, we feel this product is the perfect solution for those who want to stay connected with their favorite apps while keeping their attention and focus on the road ahead."
The Audiovox Smart Mirror comes with a built-in HD Driving Video Recorder (DVR) featuring a six-layer glass lens camera that records at 1080x720p with a 180-degree viewing angle. Equipped with touch-free controls to reduce distractions, the DVR will record snapshots using the built-in proximity sensor; approaching objects will trigger the system to start recording.
In addition to the front facing camera, the Smart Mirror comes with three video inputs to connect to one of VOXX's many back-up cameras and/or blind spot vision products to automatically see and view what is behind the vehicle when placed in reverse or while using the turn signal to activate.
The product can connect to a hotspot via Wi-Fi for users to utilize their favorite apps for navigation, music or finding restaurants. It also features a Bluetooth speaker phone built right into the Smart Mirror to answer and end calls. The built-in microphone helps to minimize noise and deliver clear voice prompts from the built-in speaker, or through the vehicles audio system.